The following bible verses below are expatiating on the sunshine which is outlining in detail what the scriptures say about the context which will definitely help us to know the intake of it according to God.
Bible Verse about Sunshine
The bible verses outlined below discuss more sunshine. The scriptures are carefully explained in detail about the mind of God towards the sunshine.
Psalm 113:3
From the rising of the sun to the place where it sets, the name of the LORD is to be praised
This verse conveys the concept that the Lord our God, should be praised and worshiped at every given point in time, even from dawn to dusk.
The rising of the sun is seen as the beginning of the day, and its setting is a sign of the end of the day.
Probably this verse is saying that we should praise God and honor him at all times even as each day go by.
Psalm 50:1
The LORD, the Mighty One, is God, and he has spoken; he has summoned all humanity from where the sun rises to where it sets
This scripture reiterates the fact that God is in charge of the whole universe and has total control of all happenings and occurrences.
God is the pioneer of illumination, he makes the day and also the night. This is to tell us that he has power over the affairs of the earth.
Jeremiah 31:35
It is the LORD who provides the sun to light the day and the moon and stars to light the night, and who stirs the sea into roaring waves. His name is the LORD of Heaven's Armies, and this is what he says
This verse speaks of God's authority over the physical universe and emphasizes his role as the Creator who positions the sun, moon, and stars to provide light for the earth.
This verse absolutely emphasizes the omnipotency of God and wisdom in creating the natural order and providing for his creation's needs.
The reference to "sunshine" in this verse refers to the sun as a source of light during the day.
Isaiah 60:19
The sun will no more be your light by day, nor will the brightness of the moon shine on you, for the LORD will be your everlasting light, and your God will be your glory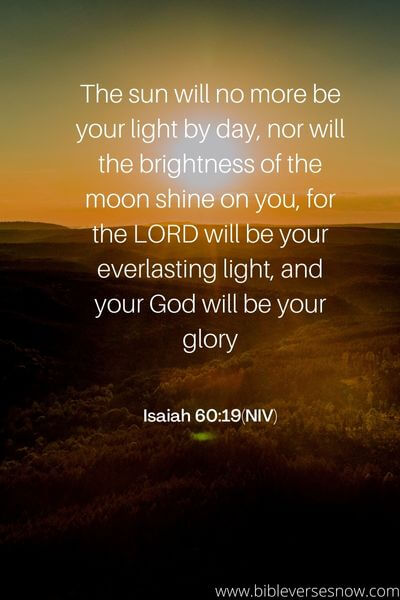 This verse deliberately refers to a future time when God will establish a new order in which the sun and moon will no longer be required sources of light.
This simply means that instead of that God will be the source of light, providing eternal illumination and glory to us his people.
Psalm 84:11
For the LORD God is a sun and a shield; the LORD gives grace and glory; He withholds no good thing from those who walk with integrity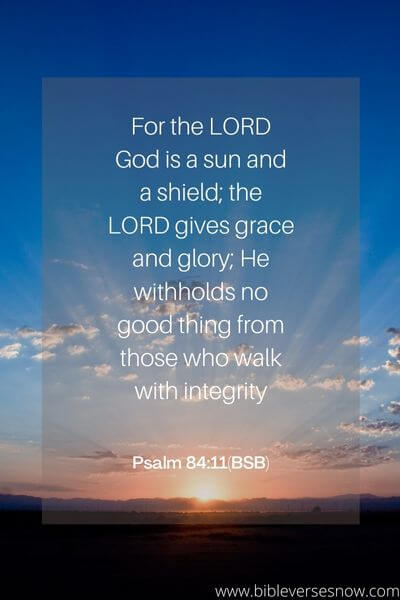 This verse compares the Lord to a sun, which provides warmth and light, and to a shield, which provides protection.
It also states that God will favor and honor us if we live righteously and don't withhold anything good from us.
In this verse, the reference to "sunshine" refers to the Lord being like a sun which provides warmth and makes illumination possible.
Bible Verses about Sunshine and Rain
The bible verses stated below comprise of the context sunshine and rain we will likely know what the bible says about it with numerous clarity.
Zechariah 10:1
Ask the LORD for rain in the spring, for he makes the storm clouds. And he will send showers of rain so every field becomes a lush pasture
This verse is talking about the request for rain especially when crops need to be watered and fields need to be replanted.
The Lord is described as the one who creates storm clouds and can provide necessary rain as well. This shows that God has the power to make both sun and rain to help humanity in every affair to which they want to pursue.
Leviticus 26:4
I will give you rains in their season, and the land will yield its produce, and the trees of the field will bear their fruit
In this verse, God has promised us an unlimited flow of water by giving us rain which will definitely help us grow our plants for consumption and for commercial use as well
He further tells us that his plan for us is to fertilize our lands and bless us humans so we reap from the fruit of our labor, with regards to those planting to cultivate their yielded fruits.
1 Kings 8:35-36
35) When the heavens are shut up and there is no rain, because they have sinned against You, and they pray toward this place and confess Your name and turn from their sin when You afflict them,

36) then hear in heaven and forgive the sin of Your servants and of Your people Israel, indeed, teach them the good way in which they should walk. And send rain on Your land, which You have given Your people for an inheritance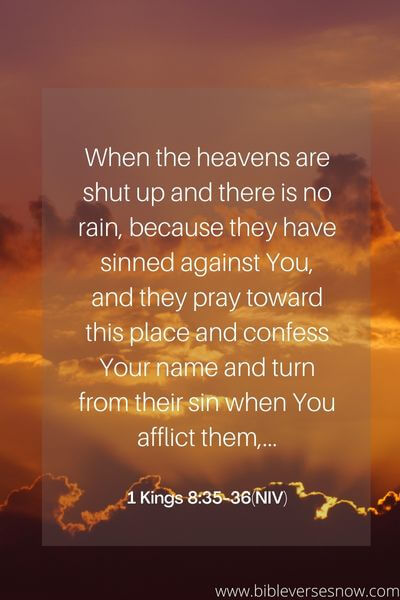 This verse discusses how the people of Israel responded to times of difficulty in the land, such as drought, invasion, and disease, by praying to the Lord.
God promises to listen to their prayers, forgive their sins, and heal their land. This is to ensure the safety and welfare of his children are not at stake.
We should note that the lord our God will not allow us to suffer from hardship, pain, reproach, and disease because of the love he has for us all. We should always call on his name at this time and he will answer us.
Psalm 68:9
You gave abundant showers, O God; you refreshed your weary inheritance
This verse mentions God sending abundant rain to revive and refresh his inheritance, which is most likely a reference to Israel and its people.
Rain represents God's grace and provision for his people, giving them new life and energy.
This is to say that we all are in need of the rain from God in order to be covered with grace and have a new life to sustain and stand the test of time.
Bible Verse about Sunshine
The bible verses highlighted below relate to us about sunshine with respect to the king james version which is creating a distinctive awareness to us of what God says about sunshine in the scriptures.
Numbers 6:25
The LORD make His face shine upon you, And be gracious to you
In this verse, the point that God makes his face shine upon us simply means that God will favor us and show forth his grace in us.
When we say "shine" in the scriptures simply means God's presence and his glory which he, in turn, bestows and showers on us and his children.
Psalms 119:105
Thy word is a lamp unto my feet, and a light unto my path
This verse discusses the guidance provided by God's word to individuals as they navigate through life.
Just as a lamp illuminates the path for someone walking in the dark, God's word provides guidance and aids in the discovery of the correct path to take.
This verse is said to mean that God's word provides wisdom and comfort in times of uncertainty, assisting individuals in avoiding obstacles and making wise decisions.
Proverbs 4:18
But the path of the just is as the shining light, that shineth more and more unto the perfect day
This place of the bible is simply telling us that the path of the just and those who work in light of God are safe and are shining day by day.
Certainly, this is to tell you that our success and journey through life basically come as we live every day of our life, so basically if we live well and with Christ, we rest assured of a profound destined destination.
Matthew 5:14
You are the light of the world. A city that is set on a hill cannot be hidden
This verse is reiterating the fact that Christians should live exemplary live, influence others positively, and shine Christ's light in a dark world.
The statement "city set on a hill" simply means being a visible and prominent witness to the world, one that is difficult to conceal.
This verse is interpreted as a challenge to be salt and light in the world, living in such a way that others are drawn to Christ.
Psalm 97:11
Light is sown for the righteous, and gladness for the upright in heart
In this verse, God made a promise to bring joy and light to only those who are righteous and have upright hearts.
The term light represents God's presence and guidance, while gladness represents the blessings that come from being close to God.
This verse encourages people to live righteous and upright life because it leads to happiness and light.
In this context, "sunshine" stands for God's blessings, which bring happiness and clarity to those who follow His ways.
Bible Verse about the Setting Sun
The bible verses below state clearly in this context " the setting sun"  which enables us to know the mind of God and what best explains the context for clear knowledge acquisition.
Isaiah 60:20
Your sun will no longer set, and your moon will not wane; for the LORD will be your everlasting light, and the days of your sorrow will cease.-
In this verse, the "setting sun" is seen as a context that means a time of darkness or mourning.
The verse implies that the sun and moon will no longer be required as sources of light in the future because God will be the source of everlasting light and there will be no need for mourning or darkness.
This verse tells us about the promise of hope and comfort to those who are in the dark, and it is a reference to the coming of the Messianic age which simply means the world to come.
Malachi 1:11
For from the rising of the sun to its setting my name will be great among the nations, and in every place incense will be offered to my name, and a pure offering. For my name will be great among the nations, says the LORD of hosts
In this verse, the "setting sun" is used to refer to a far point, where the sun sets which symbolizes the entire world.
The verse is saying that the Lord's name will be great and honored from one end of the world to the other.
This verse definitely shows the promise of God's presence and glory pervading the entire world.
Isaiah 45:6
That men may know from the rising to the setting of the sun
That there is no one besides Me.
I am the Lord, and there is no other
This verse implies that God's presence and power are known and recognized by all people, from one end of the world to the other. This simply means that God is known worldwide.
This verse declares God's sovereignty and uniqueness, emphasizing that no other deity exists apart from God. Others are termed as false creatures in form of God.
What does Sunshine Mean in the Bible?
In the bible, it is clearly stated in John 8:12 which says "I am the light of the world. Whoever follows me will not walk in darkness, but will have the light of life".
This simply means when you're in Christ you definitely are in the light and darkness will surely abstain from you knowing that you possess God, his works, and his image.
Questions on Bible Verse about Sunshine
What is the sunshine of God?
The sunshine of God simply means God's blessings upon humanity prior to helping them succeed in their journey through life.
Does the sunshine of God exist?
Yes, it does exist. In the sense that it is what guides and keeps us to stand the test of time and grow as well even as we journey through our affairs and our pursuit in life.
Is sunshine mentioned in the Bible?
Yes, Sunshine is mentioned in the bible, In Psalms, 27:1 says "The Lord is my light and my salvation; whom shall I fear? The Lord is the stronghold of my life; of whom shall I be afraid?"
This further reiterates that God is the maker of everything that exists around us including the sun which we experience on a daily base.
Where in the Bible is let your light shine?
Let your light shine is stated in the book of Matthew 5:16 which states "Let your light so shine before men, that they may see your good works, and glorify your Father which is in heaven"
This simply means that when once the light of God shines on us it is definitely a blessing to us all and it's definitely what we all are anticipating.
Matthew 5:16
Let your light so shine before men, that they may see your good works, and glorify your Father which is in heaven
This verse is encouraging us Christians to live out our faith through good deeds in order to inspire others to recognize God's presence in their lives.
It also reminds us that our actions can have a positive impact on the world and bring God's glory.
With regard to this fact, we should rest assured that the presence of God in our lives is what brings light to us and under our path as he promised to order our steps.
What verse says God is the sun?
The verse that says that God is the sun is Psalms 84:11 which says, For the Lord God is a sun and shield; the Lord bestows favor and honor; no good thing does he withhold from those whose walk is blameless.
This text simply means that God will definitely shower us with blessings and favor this is the promise he has kept for us and so shall he fulfill.
Psalm 84: 11
For the LORD God is a sun and shield; the LORD bestows favor and honor; no good thing does he withhold from those whose walk is blameless
This verse emphasizes more on God's generosity and his goodness to those who live righteous lives and trust in him.
This scripture also makes us know that God is also associated with light, warmth, and protection emphasizing his role as a source of comfort and support.
This verse encourages us to put our trust in God and seek his protection, knowing that God will not withhold anything good from those who live a life pleasing to him.