Insecurity refers to a feeling of uncertainty or anxiety about oneself, one's abilities, or one's relationships with others. It can manifest in various ways, such as a lack of confidence, self-doubt, fear of rejection, failure, or constant comparison. Past experiences, social conditioning, or a lack of positive feedback and support from others can trigger insecurity.
It can also adversely affect one's mental health, relationships, and well-being.
Due to many circumstances around us, sometimes feeling insecure is unavoidable, but there is only one place we can find security: the word of God.
Bible Verse on Insecurity
Do not be anxious about anything, but in every situation, by prayer and petition, with thanksgiving, present your requests to God.
And the peace of God, which transcends all understanding, will guard your hearts and your minds in Christ Jesus.
Finally, brothers and sisters, whatever is true, whatever is noble, whatever is right, whatever is pure, whatever is lovely, whatever is admirable—if anything is excellent or praiseworthy—think about such things.
Whatever you have learned or received or heard from me, or seen in me—put it into practice. And the God of peace will be with you.
Finally, be strong in the Lord and in his mighty power.
Put on the full armor of God, so that you can take your stand against the devil's schemes.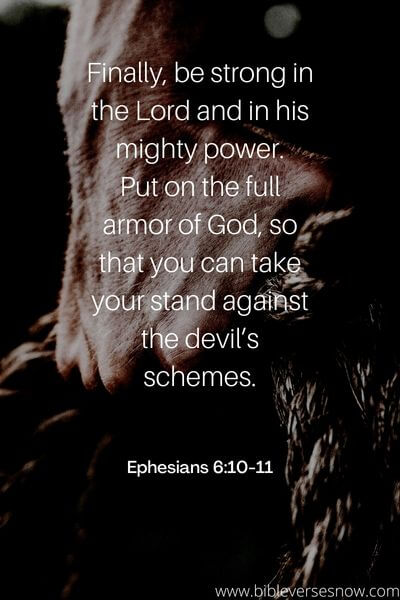 For our struggle is not against flesh and blood, but against the rulers, against the authorities, against the powers of this dark world and against the spiritual forces of evil in the heavenly realms.
Therefore put on the full armor of God, so that when the day of evil comes, you may be able to stand your ground, and after you have done everything, to stand.
Stand firm then, with the belt of truth buckled around your waist, with the breastplate of righteousness in place,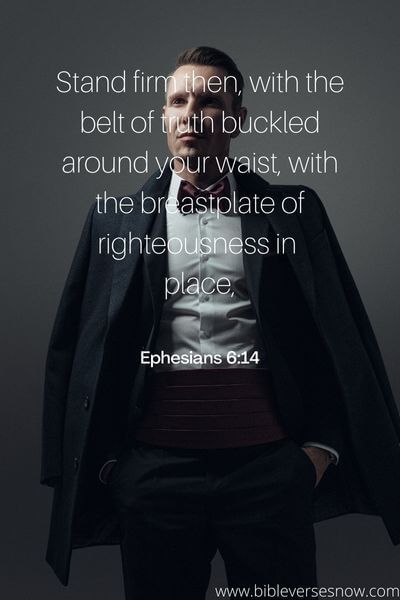 No temptation has overtaken you except what is common to mankind. And God is faithful; he will not let you be tempted beyond what you can bear. But when you are tempted, he will also provide a way out so that you can endure it.
Therefore, my dear friends, flee from idolatry.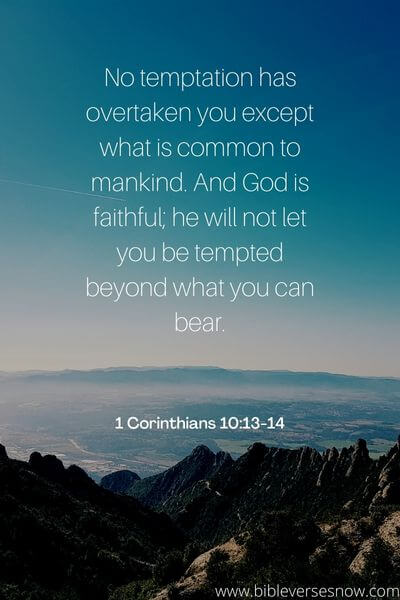 Do not conform to the pattern of this world, but be transformed by the renewing of your mind. Then you will be able to test and approve what God's will is—his good, pleasing and perfect will.
As for you, you were dead in your transgressions and sins,
in which you used to live when you followed the ways of this world and of the ruler of the kingdom of the air, the spirit who is now at work in those who are disobedient.
Command those who are rich in this present world not to be arrogant nor to put their hope in wealth, which is so uncertain, but to put their hope in God, who richly provides us with everything for our enjoyment.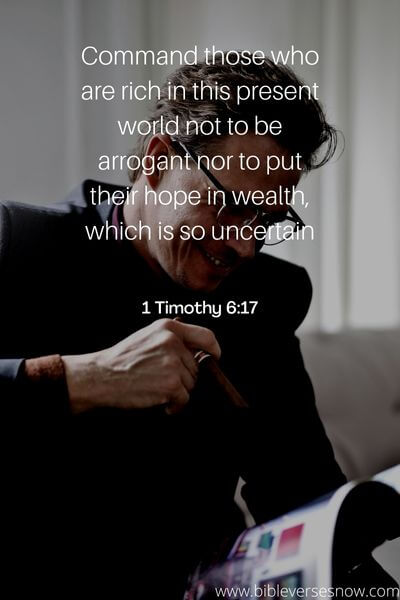 So do not worry, saying, 'What shall we eat?' or 'What shall we drink?' or 'What shall we wear?'
For the pagans run after all these things, and your heavenly Father knows that you need them.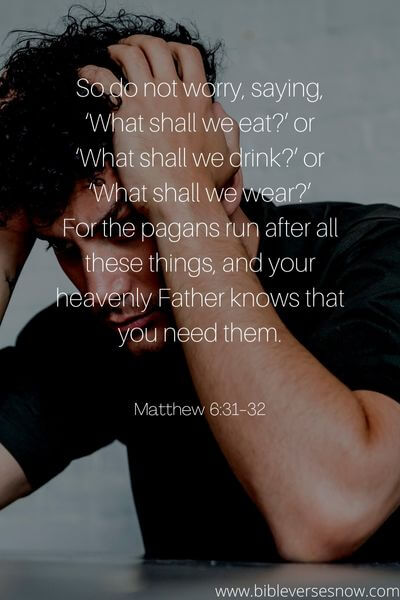 But seek first his kingdom and his righteousness, and all these things will be given to you as well.
Therefore do not worry about tomorrow, for tomorrow will worry about itself. Each day has enough trouble of its own.
Do not be anxious about anything, but in every situation, by prayer and petition, with thanksgiving, present your requests to God.
Be alert and of sober mind. Your enemy the devil prowls around like a roaring lion
Do not love the world or anything in the world. If anyone loves the world, love for the Father is not in them.
Therefore confess your sins to each other and pray for each other so that you may be healed. The prayer of a righteous man is powerful and effective.
Bible Gateway
And we, who with unveiled faces all reflect the Lord's glory, are being transformed into his likeness with ever-increasing glory, which comes from the Lord, who is the Spirit.
The thief comes only to steal and kill and destroy; I have come that they may have life, and have it to the full.
Then you will know the truth, and the truth will set you free."
If the LORD delights in a man's way, he makes his steps firm; 24 though he stumble, he will not fall, for the LORD upholds him with his hand.
Bible Gateway
"Whoever sheds the blood of man, by man shall his blood be shed; for in the image of God has God made man.
Bible Verses on Feeling Insecure
If you abide in me, and my words abide in you, ask whatever you wish, and it will be done for you. By this my Father is glorified, that you bear much fruit and so prove to be my disciples.
Therefore, since we have been justified by faith, we have peace with God through our Lord Jesus Christ. Through him we have also obtained access by faith into this grace in which we stand, and we rejoice in hope of the glory of God. Not only that, but we rejoice in our sufferings, knowing that suffering produces endurance, and endurance produces character, and character produces hope, and hope does not put us to shame, because God's love has been poured into our hearts through the Holy Spirit who has been given to us. …
I have been crucified with Christ. It is no longer I who live, but Christ who lives in me. And the life I now live in the flesh I live by faith in the Son of God, who loved me and gave himself for me.
Likewise, you who are younger, be subject to the elders. Clothe yourselves, all of you, with humility toward one another, for "God opposes the proud but gives grace to the humble." Humble yourselves, therefore, under the mighty hand of God so that at the proper time he may exalt you, casting all your anxieties on him, because he cares for you.
Brothers, I do not consider that I have made it my own. But one thing I do: forgetting what lies behind and straining forward to what lies ahead, I press on toward the goal for the prize of the upward call of God in Christ Jesus.
For the anger of man does not produce the righteousness of God.
For we are his workmanship, created in Christ Jesus for good works, which God prepared beforehand, that we should walk in them.
Bible Verses that Help with Insecurity
Keep your heart with all vigilance, for from it flow the springs of life.
For the word of God is living and active, sharper than any two-edged sword, piercing to the division of soul and of spirit, of joints and of marrow, and discerning the thoughts and intentions of the heart.
For everything there is a season, and a time for every matter under heaven:
"I can do nothing on my own. As I hear, I judge, and my judgment is just, because I seek not my own will but the will of him who sent me.
This is the message we have heard from him and proclaim to you, that God is light, and in him is no darkness at all.
You then, my child, be strengthened by the grace that is in Christ Jesus, and what you have heard from me in the presence of many witnesses entrust to faithful men, who will be able to teach others also. Share in suffering as a good soldier of Christ Jesus. No soldier gets entangled in civilian pursuits, since his aim is to please the one who enlisted him. An athlete is not crowned unless he competes according to the rules. …
I praise you because I am fearfully and wonderfully made; your works are wonderful, I know that full well.
For whoever keeps the whole law and yet stumbles at just one point is guilty of breaking all of it.
If we confess our sins, he is faithful and just and will forgive us our sins and purify us from all unrighteousness.
Bible Verses for Body Insecurity
For even the Son of Man came not to be served but to serve, and to give his life as a ransom for many."
I praise you because I am fearfully and wonderfully made; your works are wonderful, I know that full well.
For whoever keeps the whole law and yet stumbles at just one point is guilty of breaking all of it.
If we confess our sins, he is faithful and just and will forgive us our sins and purify us from all unrighteousness.
And I tell you that you are Peter, and on this rock I will build my church, and the gates of Hades will not overcome it.
Scriptures on Insecurity KJV
"Therefore I tell you, do not be anxious about your life, what you will eat or what you will drink, nor about your body, what you will put on. Is not life more than food, and the body more than clothing?
Jesus said to them again, "Peace be with you. As the Father has sent me, even so I am sending you."
Have I not commanded you? Be strong and courageous. Do not be frightened, and do not be dismayed, for the Lord your God is with you wherever you go."
So we can confidently say, "The Lord is my helper; I will not fear; what can man do to me?"
So that we would not be outwitted by Satan; for we are not ignorant of his designs.
On the other hand, the one who prophesies speaks to people for their upbuilding and encouragement and consolation.
Bible Verses to Fight Insecurity
"Fearing people is a dangerous trap, but trusting the Lord means safety"
"We are confident of all this because of our great trust in God through Christ. It is not that we think we are qualified to do anything on our own. Our qualification comes from God"
"The Lord is my shepherd; I have all that I need…You prepare a feast for me in the presence of my enemies. You honor me by anointing my head with oil. My cup overflows with blessings"
"But blessed are those who trust in the Lord and have made the Lord their hope and confidence. They are like trees planted along a riverbank, with roots that reach deep into the water…they never stop producing fruit".
"But you are not like that, for you are a chosen people. You are royal priests, a holy nation, God's very own possession. As a result, you can show others the goodness of God, for he called you out of the darkness into his wonderful light".
Bible Verses to Overcome Insecurity
For God gave us a spirit not of fear but of power and love and self-control.
Do not neglect to show hospitality to strangers, for thereby some have entertained angels unawares.
If you then, who are evil, know how to give good gifts to your children, how much more will the heavenly Father give the Holy Spirit to those who ask him!"
The one who conquers will have this heritage, and I will be his God and he will be my son.
But in your hearts honor Christ the Lord as holy, always being prepared to make a defense to anyone who asks you for a reason for the hope that is in you; yet do it with gentleness and respect,
I praise you because I am fearfully and wonderfully made; your works are wonderful, I know that full well.
For whoever keeps the whole law and yet stumbles at just one point is guilty of breaking all of it.
What does the Bible say about Insecurity?
Romans 8:38-39 is a powerful reminder of our security as believers in Christ. The passage states, "For I am convinced that neither death nor life, neither angels nor demons, neither the present nor the future, nor any powers, neither height nor depth, nor anything else in all creation, will be able to separate us from the love of God that is in Christ Jesus our Lord."
This passage speaks to the issue of insecurity by reminding us that we are secure in our relationship with God as believers. Nothing can separate us from His love, no matter what we face. This includes our feelings of inadequacy or insecurity.
When we put our faith in Christ, we are secure in knowing that we are loved and accepted by God, regardless of our flaws and shortcomings. We can find peace in knowing that our worth and value come from God, not from our achievements or the opinions of others.
What does the Bible say about Overcoming Insecurity
Timothy 1:7 This passage is often interpreted to mean that fear, including insecurity, does not come from God but rather from negative thoughts and beliefs that we hold onto.
To overcome insecurity, we can pray to God and seek His guidance and strength. Additionally, we can work on changing our thought patterns and beliefs about ourselves by focusing on positive affirmations and surrounding ourselves with supportive and uplifting people.
Finally, we can find comfort in knowing that we are not alone in our struggles and that many others have faced similar challenges.
How to Deal with Insecurity Biblically
Remember that you are fearfully and wonderfully made in God's image (Psalm 139:14). God made you unique and valuable.
Trust in God's plan for your life (Proverbs 3:5-6). He has a purpose for you, and His plan is perfect.
Focus on the positive (Philippians 4:8). Instead of dwelling on negative thoughts, think about things that are true, noble, right, pure, lovely, and admirable.
Surround yourself with positive influences (Proverbs 13:20). Spend time with people who build you up and encourage you.
Pray for strength and guidance (Philippians 4:6-7). God is always listening and ready to help you through your struggles.
By applying these biblical principles to your life, you can overcome insecurity and find peace and confidence in who God created you to be.