One of the most often discussed and debated components of Christianity is the concept of dating.
Much of the skepticism stems from the use of modern dating methods in comparison to biblical contextual traditions.
Although some biblical marriage testimonies are culturally outdated, the Bible remains current in giving core truths for a godly marriage.
Below are some bible portions to clarify your doubts about Christian dating.
Bible verses about dating a Christian
1 Corinthians 6:18-20
Flee from sexual immorality. All other sins a person commits are outside the body, but whoever sins sexually, sins against their own body.
~ 1 Corinthians 6:18 (NIV)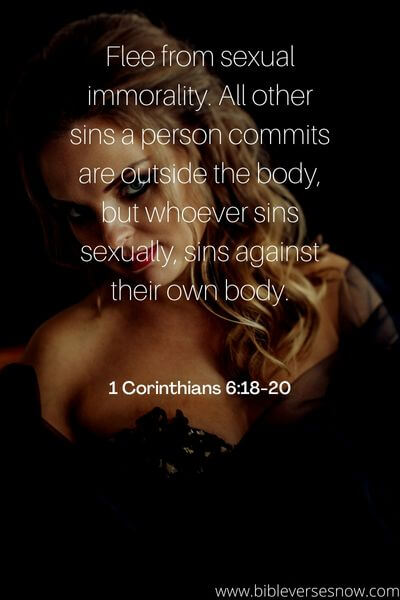 This verse is about protecting ourselves from sins of the flesh, which can be particularly tempting.
As Paul writes in 1 Corinthians 6:16-17, "Don't you know that you yourselves are God's temple and that God's Spirit dwells in your midst?
If anyone destroys God's temple, God will destroy that person; for God's temple is sacred, and you together are that temple."
. In regards to this, Christians should stay away from these things in their dating so they don't sin against God.
Proverbs 13:20
He that walketh with wise men shall be wise: but a companion of fools shall be destroyed.

~ Proverbs 13:20, (KJV)
This proverb is telling you that you should surround yourself with wise people, people whose company will help you to grow in wisdom.
It also suggests that being around foolish people will cause you more harm than it helps.
When you are about dating anyone, make sure a fellow is a wise person so you will be able to learn tangible things from your partner.
If the people around you make good choices and strive to do the right thing, you might also be inspired to do so yourself.
Corinthians 13:4-8
Love is patient, love is kind. It does not envy, it does not boast, it is not proud.

~ 1 Corinthians 13:4, (NIV)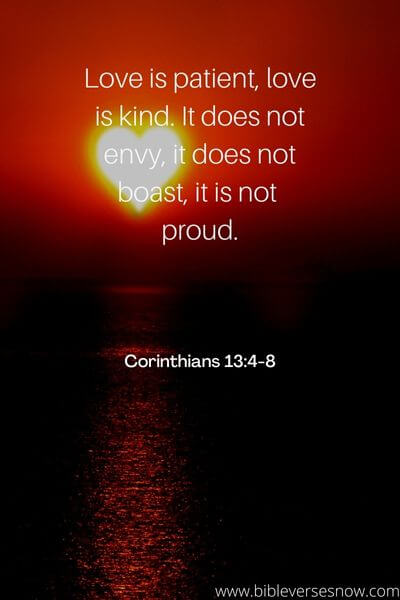 Paul writes about what love looks like in action so we can get an idea of what it means to love others, which helps us understand how we can do better at loving each other.
The first three verses of 1 Corinthians 13 talk about the fact that even if you have all kinds of gifts (like speaking in tongues or prophesying), but you aren't acting with love, then those gifts are meaningless.
Then he goes on to describe what love looks like, and in doing so, he gives us a guide for our own lives. In your relationship, one of the things you should look out for is true love from your partner.
Ephesians 5:3
But sexual immorality and all impurity or covetousness must not even be named among you, as is proper among saints.

~ Ephesians 5:3, (ESV)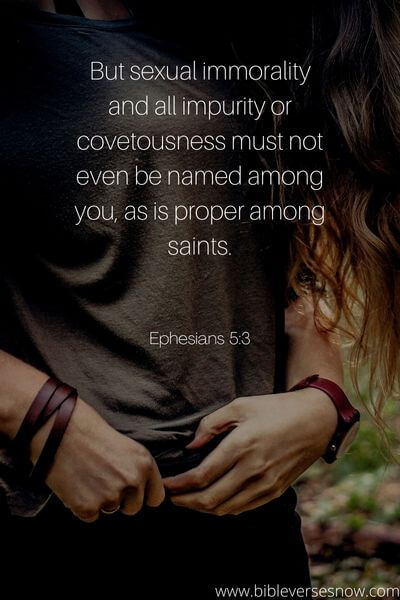 This verse explains that we should not let any kind of bad behavior be a part of our relationship.
Paul declares that sexual sin is dishonorable, shameful, and impure.
He warns Christians not to be part of it, not even to mention it among themselves. Instead, believers are called to live in a way that honors God and other people.
Corinthians 7:2
But because of the temptation to sexual immorality, each man should have his own wife and each woman her own husband.

~ 1 Corinthians 7:2, ESV
Paul's solution to this issue of premarital sex is for every man to have his own wife, and every woman her own husband.
This suggestion implies that in order to avoid the immoralities of pre-marital sex, men and women should be married.
The idea of marriage was an established institution at the time Paul wrote this letter, so he was able to appeal to this societal tradition as a reason for potential readers to follow his advice.
As believers in the dating stage, you should fast track and marry your partner to avoid committing sin before God.
Galatians 5:19
When you follow the desires of your sinful nature, the results are very clear: sexual immorality, impurity, lustful pleasures.

~ Galatians 5:19, (NLT)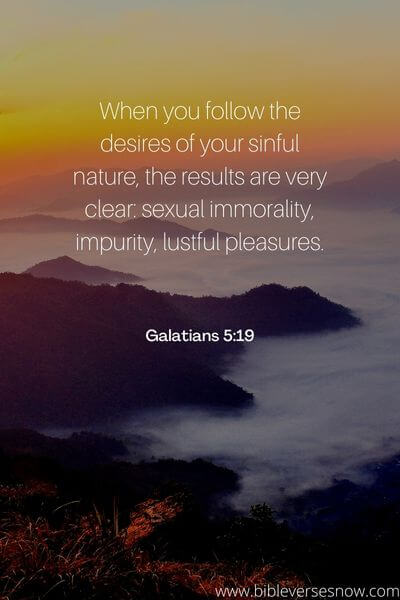 Galatians 5:19 explains that sexual immorality and licentiousness are works of the flesh.
The Bible is clear that God hates sin, and as such, it is important to understand what sin is and how we can avoid it.
In Galatians 5, Paul teaches us about the difference between our works and God's work. He explains that if we are living in sin, then we are working against God's plan for our lives.
That is why Christians should avoid this in their dating life.
2 Timothy 2:22
Flee also youthful lusts: but follow righteousness, faith, charity, peace, with them that call on the Lord out of a pure heart.

~ 2 Timothy 2:22, KJV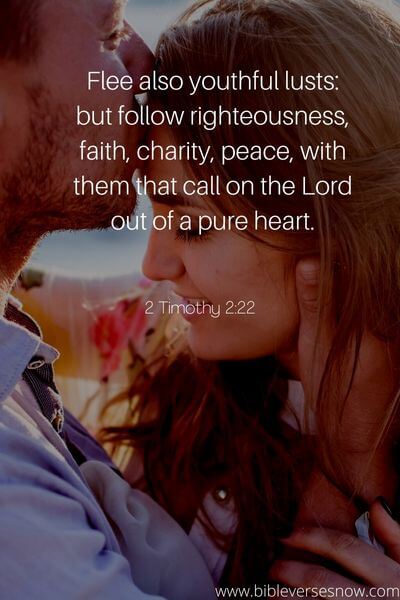 This verse means you should choose to do what is right instead of acting on your impulses or emotions.
It also says that if you act for the good of others and follow the teachings of Christ, you will have peace in your heart.
In your relationship, you should run from anything that stimulates youthful lust. Instead, pursue righteous living, faithfulness, love, and peace.
Enjoy the companionship of those who call on the Lord with pure hearts.
James 1:5
If any of you lacks wisdom, let him ask God, who gives generously to all without reproach, and it will be given him.

~ James 1:5, ESV
This is a great verse for anyone who feels overwhelmed or unable to make decisions.
All you have to do is ask God for help! He will give it in abundance!
When you are faced with a difficult situation in your relationship, all you need to do is to ask God for direction and he will answer you.
Proverbs 3:5-8
Trust in the LORD with all thine heart; and lean not unto thine own understanding.

~ Proverbs 3:5
In this verse, King Solomon tells his son to trust in the Lord with all of his heart and not to depend on his own understanding.
King Solomon urges us to listen to God's words and trust him above our own knowledge and understanding.
That way, we won't get caught up in our own plans and make unwise decisions that will lead us away from the path that God wants us to take.
Mark 7:21-22
For from within, out of the heart of man, come evil thoughts, sexual immorality, theft, murder, adultery

~ Mark 7:21, ESV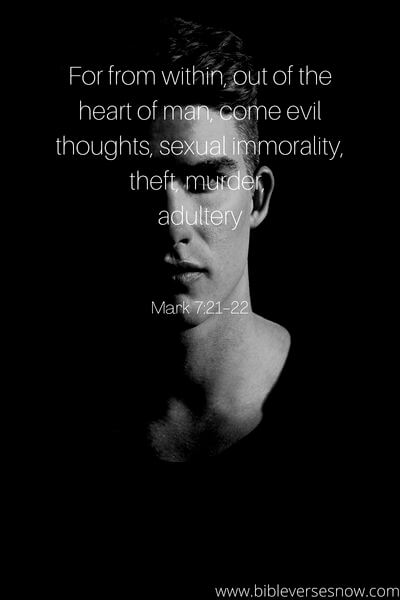 It's hard for us to know what's in someone else's heart, but we can tell by the way they behave.
If someone appears 'good' on the outside but inside they're selfish and cruel, it won't take long for that selfishness and cruelty to come out in their actions.
So be careful of judging others based on how they look or how they talk. In your relationship with some people, you should watch out for what they do more than what they say.
What does the bible say about dating age
James 1:5
If any of you lack wisdom, let him ask of God, that giveth to all men liberally, and upbraideth not; and it shall be given him.

~ James 1:5, KJV
There are so many things in the world that are hard to understand. One of those things is the age bracket of the person you should date.
There are also times when we have specific questions about your relationship: what should you do with this problem you are having with a friend or family member?
When that happens, we can go straight to the source of all answers which is God.
He knows exactly what you need, and he wants to give it to you, all you have to do is ask.
Genesis 17:17
Then Abraham fell upon his face, and laughed, and said in his heart, Shall a child be born unto him that is an hundred years old? and shall Sarah, that is ninety years old, bear?

~ Genesis 17:17, KJV
This passage is part of the story where God agrees to give Abraham and his wife Sarah a child. Although they were both very old, God told them that they would have a son in a year's time.
Abraham was 99 years old when God came to him and promised that he and Sarah would have a son. He made it clear that they would be the parents of many nations through their son. The only problem was that he was 99, and she was 90.
But God didn't seem to think that was a problem at all. He said simply: "Is anything too difficult for the Lord?" In our relationship, we should learn to trust God like Abraham. When we trust God for direction, we will help us in making the right decision.
Ruth 3:9
And he said, Who art thou? And she answered, I am Ruth thine handmaid: spread therefore thy skirt over thine handmaid; for thou art a near kinsman.

~ Ruth 3:9
In this verse, Ruth is talking to Boaz who will later be her husband. When she goes to him and asks him to spread his skirt over her, she is asking him to marry her. (Note: the word "skirt" here is also usually translated as "wing," which is why it's not uncommon to see an older version of this verse translated as "spread thy wings over thine handmaid.")
Ruth's mother-in-law Naomi instructs Ruth to come to see Boaz so that he would know she was ready for marriage. She describes the plan in detail before sending Ruth off to do the deed. In today's dating world, when you pray and trust in God for direction, He will lead you to the right partner just like Ruth was led to her right partner.
Bible verses about waiting for the right person
Genesis 2:18
And the LORD God said, It is not good that the man should be alone; I will make him an help meet for him.

~ Genesis 2:18, KJV
The verse specifically is talking about how God made Adam, the first human being.
So when God says that it isn't good for humans to be alone, he means that he himself has decided that loneliness is bad.
He's essentially saying that loneliness is not something he intended for people to experience. Why? Because we are so much better together than we are alone.
Proverbs 31:10
Who can find a virtuous woman? for her price is far above rubies.

~  Proverbs 31:10
They describe a noble and hard-working woman. It's clear that this chapter of Proverbs was written in praise of such a good woman, and it describes her characteristics in great detail. The verse above highlights the value of such a woman, saying that she is beyond price, as money cannot buy her, she must be found.
While in search of the person to date, you should make yourself valuable like the type of woman this verse describe.
Ecclesiastes 4:9
Two are better than one; because they have a good reward for their labour.

~ Ecclesiastes 4:9
This verse is about the value of being in a relationship with someone and it uses the metaphor of a bunch of people working together. A group effort is more fruitful than a single person's work because "two hands are better than one," and two people can help each other out when they're tired or need something done.
Proverbs 19:14
House and riches are the inheritance of fathers: and a prudent wife is from the LORD.

~ Proverbs 19:14 
This proverb gives house and wealth to parents and prudence to the Lord. The speaker seems to be saying that while your parents turn over their house and their wealth to you, the only way you can get a good wife is through the Lord.
House and wealth are both material things that give you security in life. However, it's possible for these things to be taken away from you, or for them to not be enough for your needs. You can go broke, lose your job, or find yourself with more expenses than you anticipated. And because your parents aren't going to be there forever, your house and wealth may not be as secure as they seem initially. But, as this proverb points out, if you ask the Lord for help in getting a wife who will stand by you through whatever comes up in life, you'll have a partner who can work with you when hard times come.
Proverbs 27:17
Iron sharpeneth iron; so a man sharpeneth the countenance of his friend.

~ Proverbs 27:17
The proverb is saying that people are shaped by the people around them. It starts by saying that iron sharpens iron, and then goes on to say that one person can sharpen another person.
What this verse is trying to tell us is that we should surround ourselves with people who make us stronger, wiser, and sharper.
This can be interpreted in many ways, it could mean being friends with people who are smarter than you in certain subjects, or it could mean having a team of friends who have different skills than you do so that you can learn from each other.
What the bible says about relationships before marriage
Ephesians 5:3
But among you there must not be even a hint of sexual immorality, or of any kind of impurity, or of greed, because these are improper for God's holy people.

~ Ephesians 5:3, NIV
This verse is important because it gives us clear instructions on what we shouldn't be doing as singles preparing for marriage. We all make mistakes and fall short from time to time, but this verse encourages us to avoid temptation in the first place. Temptation can be so much easier to steer clear of if we don't put ourselves in situations where we're likely to fall into sin.
Colossians 3:5
Put to death, therefore, whatever belongs to your earthly nature: sexual immorality, impurity, lust, evil desires and greed, which is idolatry.

~ Colossians 3:5, NIV
You have been instructed to put to death everything that may want you to commit any sin in your relationship.
When you are planning on going into any relationship, pray to God for guidance so you will be able to make the right decisions.
1 Thessalonians 4:3
It is God's will that you should be sanctified: that you should avoid sexual immorality;

~ 1 Thessalonians 4:3, NIV
The apostle Paul in writing to the Christian church at Thessalonica encouraged them saying, "For this is the will of God, even your sanctification.".
God wants you to abstain from immorality. Your relationship should be free from sin.
Revelation 21:8
 But the cowardly, the unbelieving, the vile, the murderers, the sexually immoral, those who practice magic arts, the idolaters and all liars–they will be consigned to the fiery lake of burning sulfur. This is the second death.

~ Revelation 21:8, NIV
God gives us a glimpse of the eternal home we will have with Him in Revelation 21; this is a deep yet comforting promise.
This verse is often referred to as the "new city" or "new Jerusalem" because it promises that one day God's beautiful New Earth will be created and all of those who love and serve Him will live in the perfect home He has prepared for each of us.
But this home is only for those without sin, those that are free from immorality in their relationship.
Frequently Asked Question on bible verses about dating a Christian
What does the Bible say about dating as a Christian?
Although the Bible talks little specifically about dating, it does include essential lessons that can be applied to the subject.
The Bible outlines certain important relationship ideas but does not go into detail. For example, 1 Corinthians 13 teaches us how to interact with people, but it doesn't say anything about how a Christian should or shouldn't act while dating.
The Bible doesn't specifically mention dating, but it does talk a lot about relationships, healthy interactions, and ideas that can be applied to dating.
What does God say about dating someone who isn't Christian?
The Bible doesn't say much about dating in particular. There's a good explanation for it. Dating is a relatively new phenomenon in human history. Outside of a marriage bond, the concept of choosing someone to go out with and spend one-on-one time with is still relatively new.
While the Bible does not mention dating, it does talk volumes about relationships, godly interactions, and concepts that can be applied to how you date.
To begin with, dating is not mentioned in the Bible, so we are left to figure out what behavior is appropriate on our own, and sadly, when there is no clear counsel from God, people have created all sorts of alternatives.
Furthermore, we are frequently left to our own devices in determining what God expects of us in terms of being content as a single person who may or may not one day be in a relationship. That, I suppose, is why we've come!
Is it good for a Christian to be in a relationship?
Yes, being in a relationship is beneficial to a Christian as long as the relationship is cheerful, peaceful, and harmonious. A Christian should never be involved with someone who does not share his or her views and ideas.
Christians should avoid being yoked together with nonbelievers, according to the Bible (2 Corinthians 6:14). They should not date, marry, or conduct business with non-Christians. This is due to the fact that they are not spiritually compatible.
As a result, a Christian should date another Christian if they want God to bless their relationship. They wish to please God by having a happy, tranquil marriage.
What are some Bible verses about dating?
But this I say, friends, the time is short: it remains, that both they who have spouses be as if they had none; 1 Corinthians 7:29-31 And those who mourn, as if they did not weep; and they who joy as if they did not rejoice; and they who buy, as if they did not possess; and they who use this world as if they did not abuse it: for the manner of this world passeth away.
Matthew 19:9 – And I say unto you, Whosoever puts away his wife, except for fornication, and marries another, commits adultery; and whoever marries her who is sent away commits adultery.
My son, observe thy father's commandment, and abandon not thy mother's law: bind them always upon thine heart, and tie them about thy neck, says Proverbs 6:20-22. When you go, it will lead you; when you sleep, it will keep you; and when you awake, it will converse with you.