Financial problems refer to any situation where an individual or organization is experiencing difficulties managing its finances. This could include issues such as being unable to pay bills on time, having high debt levels, living paycheck to paycheck or struggling to save money.
Financial problems can arise due to various reasons, such as unexpected expenses, job loss, overspending, medical bills, or a lack of financial planning. It can be a stressful and overwhelming experience, impacting an individual's quality of life, relationships, and mental health.
Remember that financial difficulties are temporary and can be overcome with faith, persistence, and wise decision-making. Trust in God's provision and seek help and guidance when needed.
Bible Verses about Financial Problems
The rich rules over the poor, and the borrower is the slave of the lender.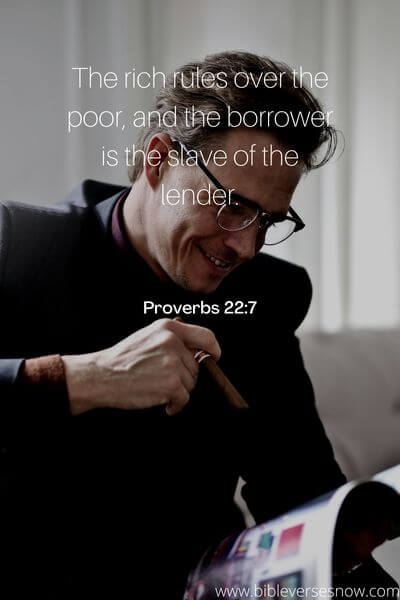 Keep your life free from love of money, and be content with what you have, for he has said, 'I will never leave you nor forsake you.
Whoever loves money never has enough; whoever loves wealth is never satisfied with their income. This too is meaningless.
For what will it profit a man if he gains the whole world and forfeits his soul? Or what shall a man give in return for his soul?
Do not lay up for yourselves treasures on earth, where moth and rust destroy and where thieves break in and steal, but lay up for yourselves treasures in heaven, where neither moth nor rust destroys and where thieves do not break in and steal.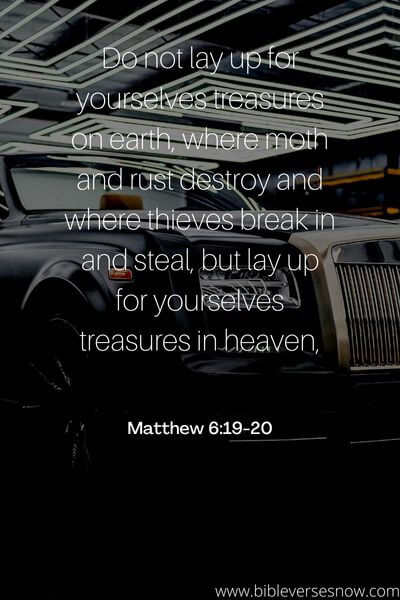 And my God will supply every need of yours according to his riches in glory in Christ Jesus.
The Lord is my shepherd; I shall not want.
Better is a little with righteousness than great revenues with injustice.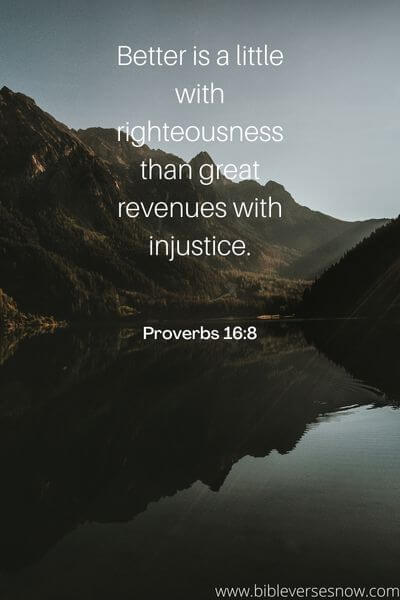 But seek first the kingdom of God and his righteousness, and all these things will be added to you.
A faithful man will abound with blessings, but whoever hastens to be rich will not go unpunished.
What does God Say about Financial Problems?
The Bible has many verses that speak to financial problems and provide guidance for managing money. One example is found in Philippians 4:19, This verse reminds us that God is our provider and will provide for our needs, even in times of financial difficulty.
Additionally, Proverbs 3:9-10 advises us to honor the Lord with our wealth and trust in Him to provide for us. Finally, 1 Timothy 6:17-19 encourages us to not put our hope in wealth, but rather to be generous and to put our hope in God, who richly provides us with everything we need.
These verses remind us to trust in God and to be wise with our finances, while also being generous and relying on God's provision.
Bible verses about financial hardship
 For I know the plans I have for you, declares the LORD, plans for welfare and not for evil, to give you a future and a hope.
Saying, "Father, if you are willing, remove this cup from me. Nevertheless, not my will, but yours, be done.
And my God will supply every need of yours according to his riches in glory in Christ Jesus.
Finally, brothers, pray for us, that the word of the Lord may speed ahead and be honored, as happened among you,  and that we may be delivered from wicked and evil men. For not all have faith. But the Lord is faithful. He will establish you and guard you against the evil one.
casting all your anxieties on him, because he cares for you.
Count it all joy, my brothers, when you meet trials of various kinds, for you know that the testing of your faith produces steadfastness. And let steadfastness have its full effect, that you may be perfect and complete, lacking in nothing.
 And we know that for those who love God all things work together for good, for those who are called according to his purpose.
Blessed is the man who remains steadfast under trial, for when he has stood the test he will receive the crown of life, which God has promised to those who love him.
And Jesus said to his disciples, "Truly, I say to you, only with difficulty will a rich person enter the kingdom of heaven. 24 Again I tell you, it is easier for a camel to go through the eye of a needle than for a rich person to enter the kingdom of God.
But if anyone does not provide for his relatives, and especially for members of his household, he has denied the faith and is worse than an unbeliever.
 For in Christ Jesus you are all sons of God, through faith.
What Does the Bible say about money problems?
The Bible has many verses that address the issue of money problems and guide how to manage finances. One such verse is in Proverbs 22:7, Reminding us of the importance of avoiding debt and living within our means.
Another verse that speaks to money problems is 1 Timothy 6:10. This verse warns us of the dangers of greed and materialism, which can lead us away from God and cause us to make poor financial decisions.
Finally, Matthew 6:24 reminds us that we cannot serve both God and money and that we should seek first the kingdom of God and trust Him to provide for our needs.
These verses encourage us to be wise and responsible with our finances, to avoid greed and materialism, and to trust in God's provision for our nee
How do you pray when you have financial problems?
Dear God,
I come to you today to lift up the financial troubles of my loved one. You know the struggles they are going through and the weight that is on their shoulders. I ask that you grant them the strength to endure this difficult time and provide them with the necessary resources to overcome their financial difficulties.
I pray that you will bless them with the wisdom and knowledge to make sound financial decisions and that you will guide them toward financial stability. Help them to find creative solutions to their problems and to have the courage to take the necessary steps to improve their situation.
Lord, please provide for all their needs and peace of mind. Help them to trust in you completely and to know that you are in control of all things. May they find comfort in your love and know that you will never abandon them.
I pray that you will bless their finances and that they will experience financial abundance and prosperity. Help them to use their resources wisely and to be good stewards of what they have.
Thank you for your love and provision and for always being there for us in times of need. We trust in your goodness and grace and know that you will provide for all our needs according to your riches in glory.
In Jesus' name, I pray.
Amen.
What is a Good Bible verse for a financial Breakthrough?
One Bible verse that can offer encouragement for a financial breakthrough is Philippians 4:19.
This verse reminds us that God can provide for all of our needs, including our financial needs, and that we can trust Him to provide for us according to His abundance and generosity.
It's a powerful reminder that we don't have to rely solely on our efforts or resources but can turn to God for help and provision in times of need.
How do I ask God for a Financial Blessing?
Prayer is a way to communicate with God and ask for blessings. One way to ask for a financial blessing is to pray sincerely, express gratitude for what you have, and ask for guidance and help in achieving financial stability.
Some people also believe that giving to charity or helping others in need can bring blessings and abundance into their lives. Ultimately, it is up to an individual's personal beliefs and practices how to ask for blessings.
Below are some tips on how to ask God for financial Blessings;
Gratitude: Start your prayer by expressing gratitude for what you already have. Recognizing and appreciating the blessings in your life can help shift your mindset to a more positive and open state.
Clarity: Clearly articulate your financial needs and goals. Be specific about what you're asking for and why you need it. This can help you focus your thoughts and intentions.
Faith: Believe that your prayers will be answered. Have faith in a higher power or the universe to provide for you. This can help you release any anxiety or attachment to the outcome.
Action: Take action towards your financial goals. Pray for guidance on what steps to take and follow through with action. This can help demonstrate your faith and commitment to your financial goals.
Giving: Consider including a prayer of generosity or giving thanks for your resources that allow you to give back to others. This can help cultivate a sense of abundance and gratitude, which can, in turn, attract more blessings into your life.