God providing for our needs is a common theme in Christian belief. It suggests that God is a benevolent and caring entity who looks after the needs of his followers, providing them with the necessary resources to lead a fulfilling life.
This belief is often supported by various scriptural passages and stories, where God is depicted as the ultimate provider, meeting the needs of his people in times of scarcity and trouble. For instance, the Bible's story of the Israelites' exodus from Egypt illustrates how God provided them with food and water in the wilderness.
However, it is essential to understand that the belief that God provides for our needs does not imply that we should be passive or complacent in our daily lives. Rather, we should work hard and be responsible for our actions while trusting that God will provide us with the necessary means to fulfill our needs.
Bible Verses About God Providing for Our Needs
But seek first his kingdom and his righteousness, and all these things will be given to you as well.
And my God will meet all your needs according to the riches of his glory in Christ Jesus.
The Lord is my shepherd, I lack nothing.
The lions may grow weak and hungry, but those who seek the Lord lack no good thing.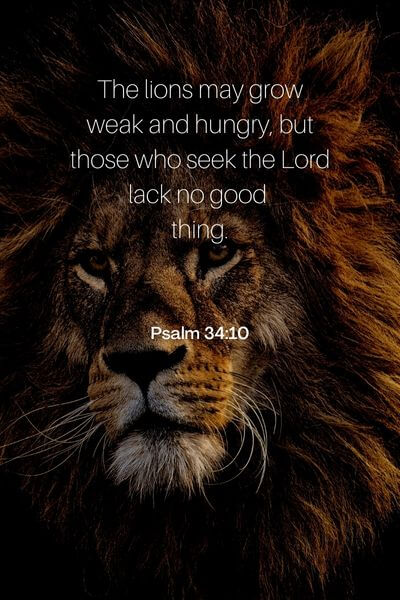 Consider the ravens: They do not sow or reap, they have no storeroom or barn; yet God feeds them. And how much more valuable you are than birds.
And God is able to bless you abundantly, so that in all things at all times, having all that you need, you will abound in every good work.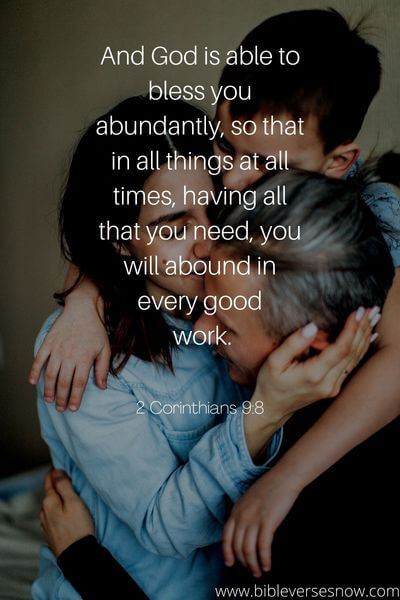 So do not fear, for I am with you; do not be dismayed, for I am your God. I will strengthen you and help you; I will uphold you with my righteous right hand.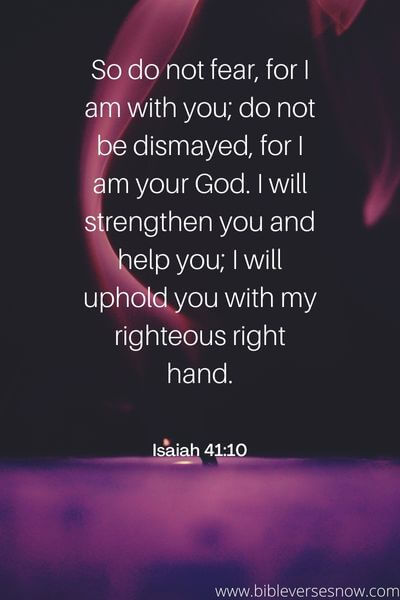 Every good and perfect gift is from above, coming down from the Father of the heavenly lights, who does not change like shifting shadows.
Trust in the Lord with all your heart and lean not on your own understanding; in all your ways submit to him, and he will make your paths straight.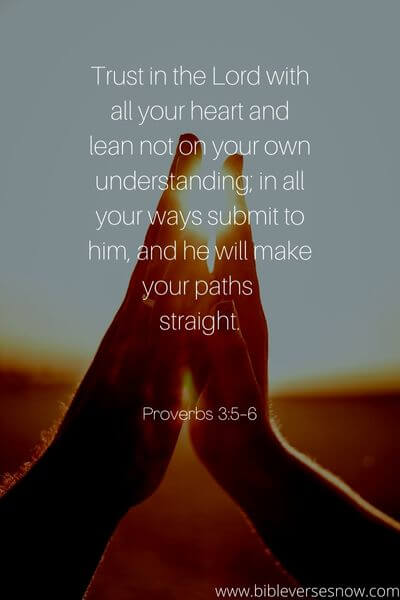 He humbled you, causing you to hunger and then feeding you with manna, which neither you nor your ancestors had known, to teach you that man does not live on bread alone but on every word that comes from the mouth of the Lord.
You open your hand and satisfy the desires of every living thing.
Ask and it will be given to you; seek and you will find; knock and the door will be opened to you. For everyone who asks receives; the one who seeks finds; and to the one who knocks, the door will be opened.
When the Israelites saw it, they said to each other, "What is it?" For they did not know what it was. Moses said to them, "It is the bread the Lord has given you to eat.
He gives food to every creature. His love endures forever.
Consider how the wild flowers grow. They do not labor or spin. Yet I tell you, not even Solomon in all his splendor was dressed like one of these. If that is how God clothes the grass of the field, which is here today, and tomorrow is thrown into the fire, how much more will he clothe you of little faith.
The Lord will guide you always; he will satisfy your needs in a sun-scorched land and will strengthen your frame. You will be like a well-watered garden, like a spring whose waters never fail.
The Lord does not let the righteous go hungry, but he thwarts the craving of the wicked.
Verses About God Providing Financially
Look at the birds of the air; they do not sow or reap or store away in barns, and yet your heavenly Father feeds them. Are you not much more valuable than they?
Trust in the Lord and do good; dwell in the land and enjoy safe pasture. Take delight in the Lord, and he will give you the desires of your heart.
Give, and it will be given to you. A good measure, pressed down, shaken together and running over, will be poured into your lap. For with the measure you use, it will be measured to you.
God Provides Everything We Need Verses
So do not worry, saying, 'What shall we eat?' or 'What shall we drink?' or 'What shall we wear?' For the pagans run after all these things, and your heavenly Father knows that you need them. But seek first his kingdom and his righteousness, and all these things will be given to you as well.
For the Lord God is a sun and shield; the Lord bestows favor and honor; no good thing does he withhold from those whose walk is blameless.
God provides meaning
The phrase "God provides" speaks to the belief that no matter what happens, God will take care of us and provide us with whatever we need. This phrase holds special meaning for people who strongly believe in God as they believe it will answer their prayers and provide them with the necessary resources to live comfortable lives.
It can also be interpreted in a secular way, as many people believe that no matter what life throws at them, people and resources are available to help them through tough times.
In this sense, "God provides" can be seen as a reminder that no matter what happens, someone or something is there to provide us with the resources and support we need.
Does God promise to provide for our needs?
God has promised to provide for our needs, and the Bible has many verses that could support this belief.
God says He will supply our needs. Even before we can ask Him, He already knows what we need. He is merciful and gracious, giving us everything we need to live our lives to the fullest for His honor and delight.
For example, in Philippians 4:19, God promises in this verse to meet our needs according to his riches in glory.
Ultimately, it is up to each individual to decide if they believe God is providing for their needs, but the Bible has made it clear that God is a reliable source of provision.
What Does God Say About Providing for Our Needs?
The Bible teaches us that God cares for and provides for our needs.
God is a loving, caring, and infinite being devoted to providing for His children. He is the source of all blessings and goodness, and only through His grace and mercy can we experience joy and peace.
Even when times are difficult, we may not understand why God's love is always present. He promises never to leave or forsake us, and He is always ready and willing to be our refuge and strength.
In His infinite wisdom, He knows what we need and when we need it, and He provides for us in ways beyond our comprehension. The Bible encourages us to cast all our anxieties onto Him and trust that He will provide for our needs according to His plan.
God will supply all your needs meaning
God will supply all your needs means that if a person turns to God and trusts Him, He will provide for them. This could mean providing a person with a job, money, or protection from harm.
The idea that God will provide people with what they need is rooted in the belief that He is all-knowing and all-powerful.
He is aware of every need and can make it possible for it to be met. It also reflects that He cares for His people and desires the best for them.
Therefore, if a person turns to God, He will provide for them in ways beyond their understanding.
Ways God provides our needs
The Bible reminds us that our Father in Heaven always provides for our needs. In Matthew 6:31-32, we're told that God always provides for the birds of the air and the lilies of the fields and that we are more valuable to Him than these things. This is a firm assurance that God will never leave us in need.
One way God provides for us is through His promises. He promises to be with us, never to leave us, to provide for our every need, and to make a way when there seems to be no way. He is faithful to His promises and will never abandon us.
Another way God provides for us is through His people. He often uses other people, like family, friends, and church members, to meet our needs. He gives us love and kindness, sometimes through people in our lives.
God can also provide for us through miraculous provision. He can do the impossible, move heaven and earth, and make things happen that no human can control. We can rely on God to open doors, close doors, and move mountains for us.
God provides for us in many ways. Knowing that He is always watching over us and providing for us fills us with hope and assurance. We can always trust Him to care for us, no matter the circumstances.
Examples of God Providing in The Bible
God provided a beautiful garden for Adam and Eve to live in and gave them all the animals and plants they needed.
God provided a sacrificial lamb for Abraham when he was about to sacrifice his son Isaac.
God provided the Israelites with manna from Heaven and water from the rock in the desert.
God provided a way for us to be forgiven for our sins – through the death and resurrection of Jesus Christ.
God provided us with His Word, the Bible, so we can gain wisdom and understanding of who He is and what He desires for us.
Stories of God's Provision in The Bible
Many stories in the Bible demonstrate God's provision for his people. Here are a few examples:
The story of Abraham and Isaac: In Genesis 22, God calls on Abraham to sacrifice his son Isaac. As Abraham prepares to follow God's command, God provides a ram caught in a thicket as a substitute for Isaac, showing his provision for Abraham's obedience.
The story of the Exodus: In Exodus 14, God parts the Red Sea, allowing the Israelites to escape the pursuing Egyptian army. He also provides manna and quail for them to eat in the wilderness.
The story of Elijah and the widow of Zarephath: In 1 King 17, Elijah meets a widow who has only enough flour and oil for one more meal for herself and her son. Elijah tells her to make him a meal first, promising that God will provide for her. The widow obeys, and God miraculously provides enough flour and oil to sustain them for many days.
The story of the feeding of the 5,000: In Matthew 14, Jesus feeds a crowd of 5,000 people with only five loaves of bread and two fish, demonstrating God's provision and abundance.
The story of the widow's mite: In Mark 12, Jesus observes a poor widow giving two small coins to the temple treasury. He notes that she has given more than the wealthy donors because she has given all she has, demonstrating God's provision for those who trust in him.
God is our provider in every sense of the word. He provides us with the essentials of life: food, water, shelter, and love. He loves us unconditionally and provides guidance, support, and protection.
He is the source of all that is good in our lives, and He looks out for us even when we don't realize it. He provides us with a sense of purpose and helps us stay focused and motivated.
Ultimately, He is the one who gives us the strength and courage to keep going in difficult times. We are nothing without His presence in our lives; for that, He is our provider.