Conception is the first step in human reproduction and is essential for the continuation of the species.
It typically occurs during sexual intercourse but can also occur through assisted reproductive technologies such as in vitro fertilization (IVF) or intrauterine insemination (IUI).
Many factors can affect conception, including age, health, lifestyle, and fertility issues.
It is essential for individuals and couples trying to conceive to understand the basics of conception and to seek biblical advice, medical advice, and assistance if they are experiencing difficulties.
These verses speak to the power of human life and the importance of conception. The Bible affirms that children are a blessing from God and should be treasured, making the concept of conception vital.
Bible verses for conception
Through faith also Sara herself received strength to conceive seed, and was delivered of a child when she was past age, because she judged him faithful who had promised.

Therefore sprang there even of one, and him as good as dead, so many as the stars of the sky in multitude, and as the sand which is by the sea shore innumerable.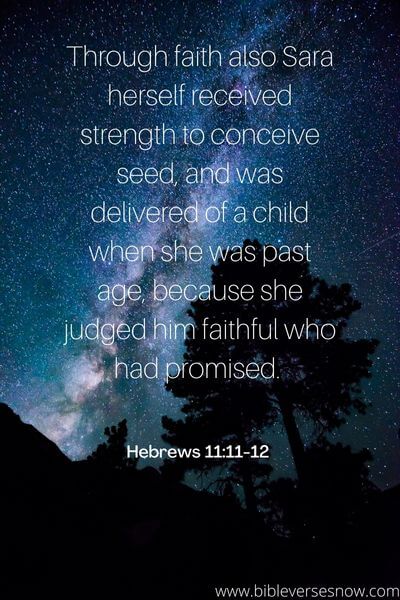 And Isaac intreated the Lord for his wife, because she was barren: and the Lord was intreated of him, and Rebekah his wife conceived.
He maketh the barren woman to keep house, and to be a joyful mother of children. Praise ye the Lord.
But the angel said unto him, Fear not, Zacharias: for thy prayer is heard; and thy wife Elisabeth shall bear thee a son, and thou shalt call his name John.
I wait for the Lord, my soul doth wait, and in his word do I hope.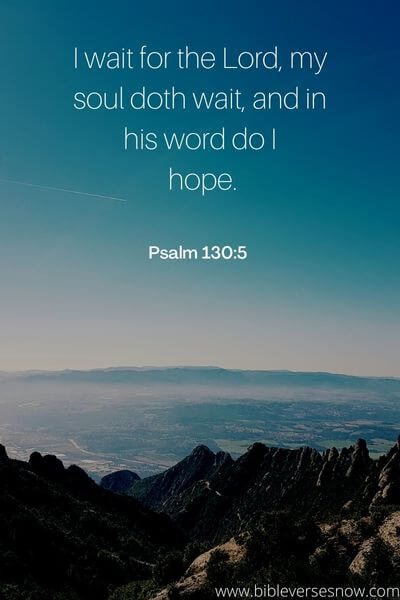 For Sarah conceived, and bare Abraham a son in his old age, at the set time of which God had spoken to him.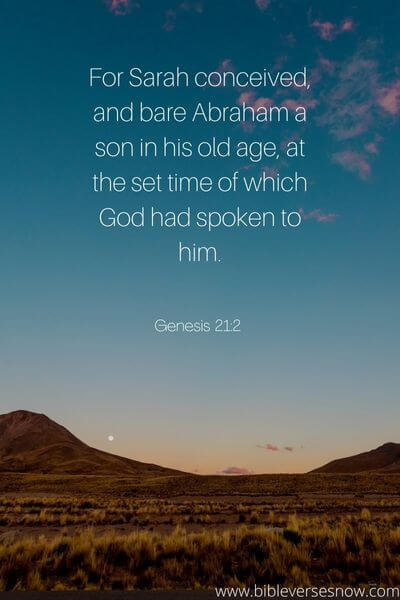 And he said, I will certainly return unto thee according to the time of life; and, lo, Sarah thy wife shall have a son. And Sarah heard it in the tent door, which was behind him.
And the Lord visited Hannah, so that she conceived, and bare three sons and two daughters. And the child Samuel grew before the Lord.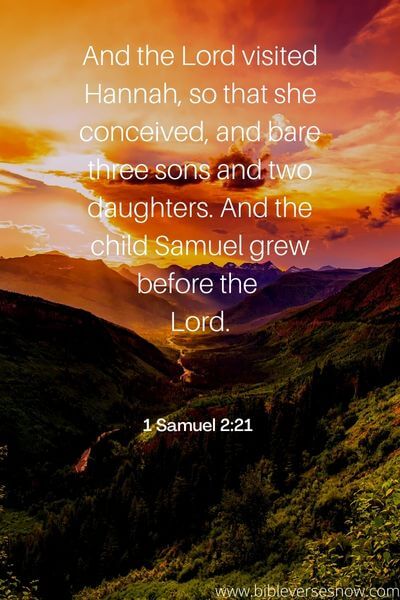 And God remembered Rachel, and God hearkened to her, and opened her womb.
And, behold, thy cousin Elisabeth, she hath also conceived a son in her old age: and this is the sixth month with her, who was called barren.For with God nothing shall be impossible.
Thou shalt be blessed above all people: there shall not be male or female barren among you, or among your cattle.
And there was a certain man of Zorah, of the family of the Danites, whose name was Manoah; and his wife was barren, and bare not. And the angel of the Lord appeared unto the woman, and said unto her, Behold now, thou art barren, and bearest not: but thou shalt conceive, and bear a son.
For thou shalt eat the labour of thine hands: happy shalt thou be, and it shall be well with thee. Thy wife shall be as a fruitful vine by the sides of thine house: thy children like olive plants round about thy table.
And ye shall serve the Lord your God, and he shall bless thy bread, and thy water; and I will take sickness away from the midst of thee. There shall nothing cast their young, nor be barren, in thy land: the number of thy days I will fulfil.
Shall I bring to the birth, and not cause to bring forth? saith the Lord : shall I cause to bring forth, and shut the womb ? saith thy God.
(As it is written, I have made thee a father of many nations,) before him whom he believed, even God, who quickeneth the dead, and calleth those things which be not as though they were.  Who against hope believed in hope, that he might become the father of many nations; according to that which was spoken, So shall thy seed be.
And God blessed them, and God said unto them, Be fruitful, and multiply, and replenish the earth, and subdue it: and have dominion over the fish of the sea, and over the fowl of the air, and over every living thing that moveth upon the earth.
For, lo, thou shalt conceive, and bear a son; and no razor shall come on his head: for the child shall be a Nazarite unto God from the womb: and he shall begin to deliver Israel out of the hand of the Philistines.
And if the woman be not defiled, but be clean; then she shall be free, and shall conceive seed.
So Boaz took Ruth, and she was his wife: and when he went in unto her, the Lord gave her conception, and she bare a son.
What Bible verse says life begins at conception?
For thou hast possessed my reins: thou hast covered me in my mother's womb.I will praise thee; for I am fearfully and wonderfully made: marvellous are thy works; and that my soul knoweth right well.

My substance was not hid from thee, when I was made in secret, and curiously wrought in the lowest parts of the earth.

Thine eyes did see my substance, yet being unperfect; and in thy book all my members were written, which in continuance were fashioned, when as yet there was none of them.
Before I formed thee in the belly I knew thee; and before thou camest forth out of the womb I sanctified thee, and I ordained thee a prophet unto the nations.
My substance was not hid from thee, when I was made in secret, and curiously wrought in the lowest parts of the earth.
Listen, O isles, unto me; and hearken, ye people, from far; The Lord hath called me from the womb; from the bowels of my mother hath he made mention of my name.
For he shall be great in the sight of the Lord, and shall drink neither wine nor strong drink; and he shall be filled with the Holy Ghost, even from his mother's womb.
Bible study for trying to conceive
God blesses Adam and Eve and tells them to "be fruitful and multiply.
If you believe, you will receive whatever you ask for in prayer.
Bible Verses about Having a Baby
For this child I prayed; and the Lord hath given me my petition which I asked of him:
Lo, children are an heritage of the Lord : and the fruit of the womb is his reward.
(As it is written in the law of the Lord, Every male that openeth the womb shall be called holy to the Lord;)
As for Ephraim, their glory shall fly away like a bird, from the birth, and from the womb, and from the conception.
Behold, a virgin shall be with child, and shall bring forth a son, and they shall call his name Emmanuel, which being interpreted is, God with us.
And he took them up in his arms, put his hands upon them, and blessed them.
Can a woman forget her sucking child, that she should not have compassion on the son of her womb? yea, they may forget, yet will I not forget thee.
For this child I prayed; and the Lord hath given me my petition which I asked of him:
Out of the mouth of babes and sucklings hast thou ordained strength because of thine enemies, that thou mightest still the enemy and the avenger.
But Jesus said, Suffer little children, and forbid them not, to come unto me: for of such is the kingdom of heaven.
What Does Bible Say about Conception?
The concept that God is involved in the process of conception is a belief held by many Christians and is based on the idea that human life is a precious and sacred gift from God.
God is the creator of life, and He is intimately involved in the process of bringing new life into the world. This belief is grounded in the idea that God is all-knowing and all-powerful and can create and sustain life.
From a Christian perspective, conception is more than just a physical event. It is viewed as a miracle that reflects the handiwork of God.
This belief is supported by the fact that every human being is unique and has a distinct personality, character, and purpose. Christians believe that this uniqueness is a reflection of God's creative power and design.
What is Conception
Conception is the process by which a sperm cell from a man fertilizes an egg from a woman, forming a zygote. The zygote is the first stage of development of a new human being, and it contains all the genetic information needed to form a complete person.
Conception occurs when a sperm and an egg unite during sexual intercourse or through artificial insemination. The fertilization of the egg by the sperm triggers a series of biological changes that result in the formation of the zygote.
The zygote then begins to divide and develop into an embryo, eventually becoming a fetus and, after approximately nine months, a fully formed baby.
The process of conception is a critical event in the creation of new life, and it is essential for the continuation of the human species.
It is a complex biological process that involves many factors, including the health and viability of the sperm and egg, the timing of ovulation, and the proper functioning of the reproductive organs.
How do I pray to get pregnant?
Prayer is a personal and intimate act of faith, and how you pray to get pregnant may vary based on your beliefs and practices. However, here are some general steps you may consider when praying to get pregnant:
Find a quiet and comfortable place to focus and connect with your faith.
Begin by expressing gratitude for the blessings in your life and for the opportunity to seek the gift of parenthood.
Ask for guidance, strength, and patience throughout trying to conceive. Pray for wisdom to make healthy choices, the patience to endure any difficulties, and the strength to trust your faith.
Ask for fertility and the ability to conceive. You can ask for guidance and blessings from your chosen deity, or you can be more specific in your prayer by asking for the health and well-being of your reproductive system and the ability to conceive a healthy and happy child.
End your prayer by expressing your gratitude, trust, and faith in your chosen deity and thanking them for the blessings you have received and yet to come.