A closer connection with God frequently results in a stronger ability to connect with others and have an impact on their lives.
The ultimate objective of getting closer to God is to develop a closer relationship with God, to live in line with divine will, and to discover serenity, comfort, and purpose via this relationship. You can accomplish this step with the help of Bible passages.
Bible Verses for Getting Closer to God
A spiritual journey towards a better comprehension and relationship with a greater force, usually referred to as God, is what is meant by "becoming closer to God."
This can be accomplished through praying, meditating, performing deeds of kindness and service, reading religious books, and asking religious authorities or communities for assistance.
Philippians 4:6-7
Do not be anxious about anything, but in everything by prayer and supplication with thanksgiving let your requests be made known to God. And the peace of God, which surpasses all understanding, will guard your hearts and your minds in Christ Jesus.-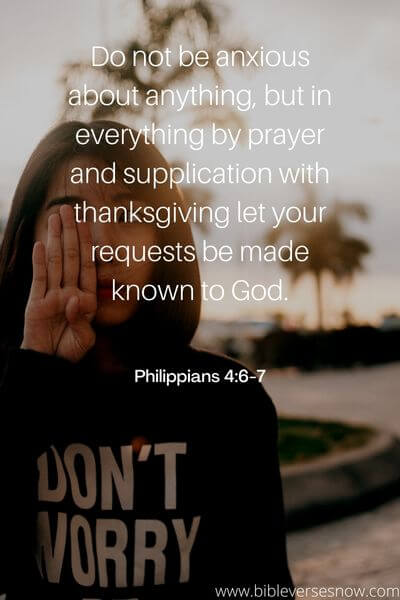 This scripture instructs us not to be anxious, but rather to offer our concerns and requests to God in prayer and gratitude.
It says that if we do this, God will give us serenity that surpasses our comprehension. This serenity will guard our brains and hearts and bring us closer to God.
The Bible urges us to bring our problems to God and to put our trust in Him, knowing that He would care for us and provide us peace. We can then put our trust in God to guide us and strengthen our connection with Him.
James 4:8
Draw near to God, and he will draw near to you.-
This verse is frequently taken to suggest that if individuals approach God and desire a greater connection with Him, He will respond by drawing near to them.
The thought is that God is always accessible to those who seek Him, and that a closer relationship with Him can be built by prayer, Bible reading, and obedience to His instructions.
The verse encourages people to take the initiative in strengthening their relationship with God, and He promises to reciprocate.
John 14:6
Jesus said to him, "I am the way, and the truth, and the life. No one comes to the Father except through me.-
The only way to salvation and a relationship with God the Father is through Jesus.
In other words, we can have eternal life and a direct connection to God because of Jesus' death and resurrection. This verse is seen as a statement of Jesus' divinity and authority as God's Son.
Psalm 63:1
O God, you are my God; earnestly I seek you; my soul thirsts for you; my flesh faints for you, as in a dry and weary land where there is no water.-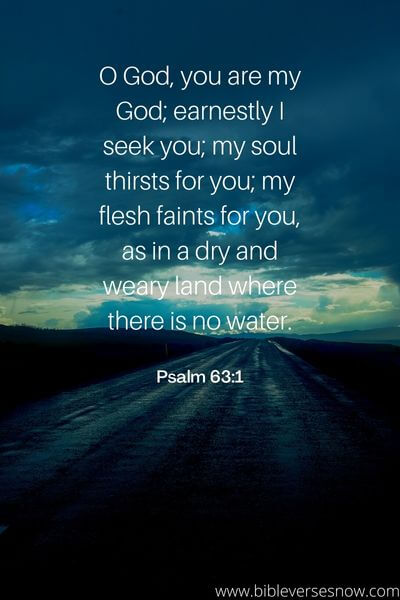 David was desperate for an intimate relationship with God, and this verse attests to his perseverance in this pursuit.
He emphasized his desire to be filled with God's presence and love in order to overcome the spiritually thirsty land he was in. This verse can be applied to our own life as we strive to become more like God.
When we are in a spiritual dry land and wish to connect more completely with God, we must seek Him earnestly.
This entails devoting time and energy to studying and meditating on His word, constantly praying, and being aware of His presence in our life.
We must also be intentional about having serious discussions with Him and partaking in activities that allow us to do so intimately.
Matthew 6:33
But seek first his kingdom and his righteousness, and all these things will be given to you as well.-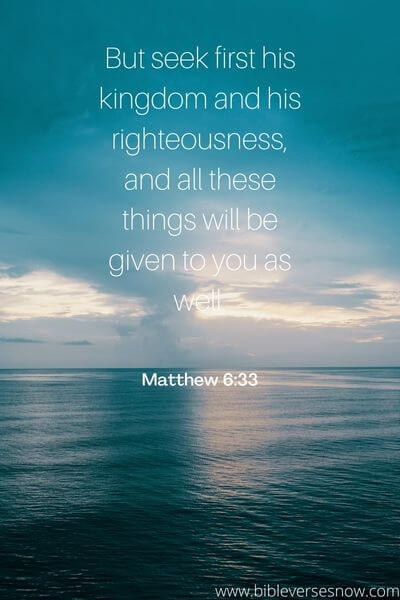 This passage is fundamentally about putting the spiritual over the material. We can trust that all of our wants will be satisfied if we focus our energy and attention on God and His justice.
This does not imply that we shall be assured worldly abundance or even physical comfort, but rather that our wants will be supplied in many ways.
Through our religion, we can experience serenity and joy, a feeling of purpose in our spiritual path, and inner peace as we endeavor to do God's will.
We can be encouraged and reminded of God's promise of provision and blessing by studying this scripture, as well as the significance of prioritizing the spiritual over the material.
What the Bible says about getting closer to God?
The Bible teaches that the only way to grow closer to God is via faith in Jesus Christ, who is the only way to the Father.
Accepting Jesus as Lord and Savior entitle one to forgiveness of sins as well as the Holy Spirit, who aids in the development of a closer connection with God.
Prayer, reading and studying God's Word, worshiping, serving others, and living a holy and obedient life are some more methods to grow closer to God in the Bible.
It's also crucial to remember that our relationship with God is two-way and that He longs to be near us and reveal himself to us.
John 15:4-5
Abide in me, and I in you. As the branch cannot bear fruit by itself, unless it abides in the vine, neither can you, unless you abide in me. I am the vine; you are the branches. Whoever abides in me and I in him, he it is that bears much fruit, for apart from me you can do nothing.-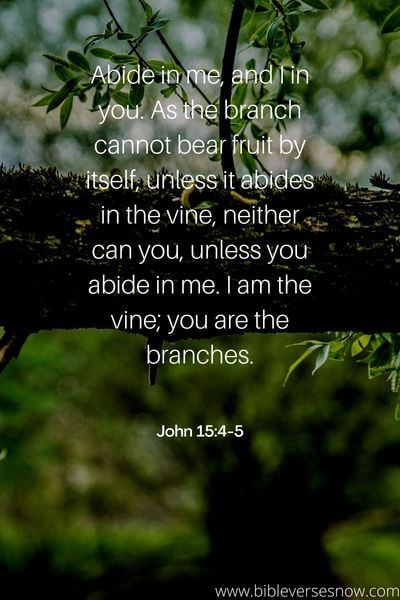 These passages are taken from Jesus' lectures to his disciples, in which he compares himself to a vine and his followers to its branches.
The lesson is that, just as a branch must stay linked to the vine in order to yield fruit, Christians must stay connected to Jesus in order to live a fruitful life.
This bond is maintained by a relationship of trust, obedience, and reliance on Jesus. By remaining near to Jesus, believers can obtain the strength and insight they require to live a life that pleases God and benefits others.
Deuteronomy 6:5
You shall love the Lord your God with all your heart and with all your soul and with all your might.-
The text emphasizes the necessity of having a close relationship with God that is based on love and dedication, and how this should be the cornerstone of one's life and deeds.
How Do you Search God with all Your Hearts?
When we take the time to sit still and reflect on God's goodness, He can be found in the depths of our hearts.
The Bible says in Psalm 119:2, "Blessed are those who observe his precepts and seek him with all their hearts." We can seek God with all of our hearts by studying His Word, praying, and reflecting on His promises.
In His name, we should also seek friendship with other believers and serve others. When we make an attempt to understand God, He will meet us in the depths of our souls and reveal Himself to us.
What are Three Ways to Get Closer to God?
It is critical for Christian teenagers to understand what the Bible says about how to get closer to God.
Knowing how to become closer to God can help you grow in your faith. What are some possible approaches?
Prayer and meditation: Spending time in peaceful reflection and communication with God can help you connect and comprehend God more deeply.
Reading and studying the Bible: Immersing yourself in God's word can bring guidance, and inspiration, and help you grow in your knowledge and relationship with Him.
Serving others in the name of God and living a life of love, compassion, and charity can draw you closer to Him and His teachings.
God is closer than you think Bible verse
Many individuals believe that God is closer than we realize, that He walks alongside us and guides our daily lives.
Is this, however, true? God is undoubtedly a spiritual presence, but He is much more than a friendly guide.
He is a powerful force that provides immense comfort and security. He is an ever-present, ever-vigilant being who never stops loving, supporting, and strengthening us.
He hears our petitions and comforts us in our hour of need. He is always there for us, no matter what our situation is.
Psalm 145:18
The Lord is near to all who call upon him, to all who call upon him in truth.-
This verse is very encouraging because it reminds us that no matter how scary or tough the situation appears to be, God is never too far away and is always willing to help us.
The Lord is constantly present and eager to respond to our cries and petitions. We don't have to feel alone in our difficulties since He is with us.
The reality of this verse is a great source of comfort and strength. Whatever we are going through, we can take comfort in knowing that God is close by and would never abandon us. He is always present and ready to support us in our times of joy and sorrow. All we need to do is summon Him.
Bible verses about Drawing Closer to God
Many of us want to get closer to God, yet it can be difficult when our lives are full of distractions.
It is not always simple to draw closer to God, but there are ways we can do so in our daily lives.
Hebrews 10:22
Let us draw near with a true heart in full assurance of faith, with our hearts sprinkled clean from an evil conscience and our bodies washed with pure water.-
This verse encourages Christians to approach God with honesty and faith, as well as to purify themselves both inside and externally through confession and repentance.
It highlights the significance of having a pure conscience and living a pure life in order to draw closer to God.
Psalm 73:28
But for me it is good to be near God; I have made the Lord God my refuge, that I may tell of all your works.-
Furthermore, growing closer to God permits us to share His works. This could include teaching others about His power, mercy, and the ways He has provided for us.
It could also entail informing others about our own encounters with Him and how He has changed our lives.
In any event, drawing near to God allows us to proclaim His magnificence to the rest of the world.
Isaiah 55:6
Seek the Lord while he may be found; call upon him while he is near.-
When we draw close to God, we can expect a number of blessings. As we accept His grace and mercy, we shall experience peace, pleasure, and fulfillment in our lives.
We may also anticipate God to provide us with counsel and knowledge, as He will show us the way to go and the decisions we should make.
Above all, we will have a relationship with our heavenly Father, which is the most precious of all gifts.
What Happens When you Get Closer to God
As we get closer to God, our lives gain meaning and purpose. We can build our spiritual connection with the divine and obtain insight and understanding via prayer and meditation.
We also become more aware of our inner power, courage, and faith, which allows us to live with more clarity, focus, and joy.
As we become more capable of seeing the divine in others, we become more compassionate and understanding of our fellow humans.
As we go along our spiritual path, we may begin to feel a sense of serenity and love that can improve our lives and the lives of people around us.
How to Get Closer to God Spiritually
spiritually growing closer to God is a pleasant and changing experience. Here are some basic ways to strengthen your spiritual connection with God:
Read the Bible regularly and pray, which are the source of divine revelation and guidance.
Attend worship services and other religious activities to connect with other believers and learn from religious leaders.
Practice acts of kindness and charity to others, as a way of serving God and demonstrating love.
Develop a quiet time for reflection and meditation, focusing on God's presence in your life.
Surround yourself with supportive, like-minded individuals who can encourage you on your spiritual journey.
Reconnecting with God Bible verses
The process of re-establishing a strong and meaningful relationship with a higher power, commonly referred to as God, is referred to as reconnecting with God.
Depending on an individual's upbringing and values, this process may involve rekindling an existing relationship or beginning a new one.
Here are some Bible verses to help you reconnect with God:
Proverbs 28:13
Whoever conceals his transgressions will not prosper, but he who confesses and forsakes them will obtain mercy.-
This text encourages the reader to confess their faults to God and repent of them. Concealing or hiding sins will not lead to success or prosperity, but will instead lead to continued remorse and shame.
When a person confesses their faults to God and repents of them, they will find mercy and forgiveness.
This verse underlines the significance of being open and honest with God in order to fully experience his grace and mercy.
2 Chronicles 7:14
If my people who are called by my name humble themselves, and pray and seek my face, and turn from their wicked ways, then I will hear from heaven and will forgive their sin and heal their land.-
This passage is frequently regarded as a message of hope and healing for individuals who have abandoned their faith and relationship with God.
If people return to God, confess their sins, and live a moral life, it is thought that God will forgive them and heal their spiritual, emotional, and bodily well-being.
This verse encourages individuals to seek a closer relationship with God via prayer and humility, as well as to repent of their wayward ways, in order to experience God's love, mercy, and blessings.
Psalms to Get Closer to God
The psalms contain numerous insights into God's relationship with humans. Deep passion, hope, and faith in the Lord are expressed by the psalmist.
The psalms remind us that even when we face difficulties and tribulations, we may still turn to God for strength and peace.
Throughout the book of Psalms, we learn that we can approach God with confidence, knowing that He will answer our petitions and offer us the assistance and guidance we require.
The psalms emphasize the necessity of remaining faithful to God, believing in His promises, and seeking Him in all aspects of life. May we be encouraged to draw closer to God as we study the Psalms.
Psalm 27:4-5
One thing have I asked of the Lord, that will I seek after: that I may dwell in the house of the Lord all the days of my life, to gaze upon the beauty of the Lord and to inquire in his temple. For he will hide me in his shelter in the day of trouble; he will conceal me under the cover of his tent; he will lift me high upon a rock.-
These verses show the psalmist's strong longing to be near God and take safety in His presence. The psalmist longs to stay in God's temple, to gaze upon His splendor, and to find comfort and safety in times of hardship.
Being hidden in God's tent or hoisted up on a rock represents the security and strength that comes from being near to God.
This psalm emphasizes the need of seeking God and His protection throughout trying times.
Psalm 42:1-2
As a deer pants for flowing streams, so pants my soul for you, O God. My soul thirsts for God, for the living God. When shall I come and appear before God?-
It is a desperate and longing plea to God, reflecting the psalmist's intense desire to be closer to God.
The psalmist expresses his abandonment and longing for God in this prayer, asking why God has abandoned him and why God's presence appears to be hidden.
The psalmist shares his anguish, but also his faith and hope in the Lord, hoping that God will deliver him from his troubles and restore his soul one day.
Even in difficult and uncertain times, the psalmist is resolved to maintain trusting in God. He also depicts his unwavering faith in God's ability to protect and support him.
Psalm 145:18
The Lord is near to all who call upon him, to all who call upon him in truth.-
This psalm emphasizes God's accessibility to those who seek Him with sincerity and honesty.
It highlights that God is always ready to respond to those who pray to Him with sincere faith and devotion. It inspires us to have a personal relationship with God via prayer and worship.
In conclusion, Getting closer to God is a personal process that takes time and effort. It entails studying one's faith, praying and meditating, attending religious services, and performing good actions and charitable activities.
A strong relationship with God necessitates dedication, humility, and an open heart. It can bring a sense of calm, purpose, and fulfillment to one's life while also assisting in navigating the trials and hardships of daily living.