Bible verses for hurt feelings are repleted with verses on how to appropriately deal with hurt feelings. Hurt emotions are classified as sadness and sorrow. Many people believe that damaged sentiments are difficult to deal with and can quickly lead to despair.
19 Bible verses for hurt feelings
The Bible also teaches about the significance of forgiveness and reconciling with others when damaged sentiments develop.
Jesus talks about the value of forgiveness in the Lord's Prayer (Matthew 6:12) and the parable of the unmerciful servant in the New Testament (Matthew 18:21-35).
Romans 5:3-5
3 And not only this, but we also exult in our tribulations, knowing that tribulation brings about perseverance

4 And perseverance, proven character; and proven character, hope

5 And hope does not disappoint, because the love of God has been poured out within our hearts through the Holy Spirit who was given to us.-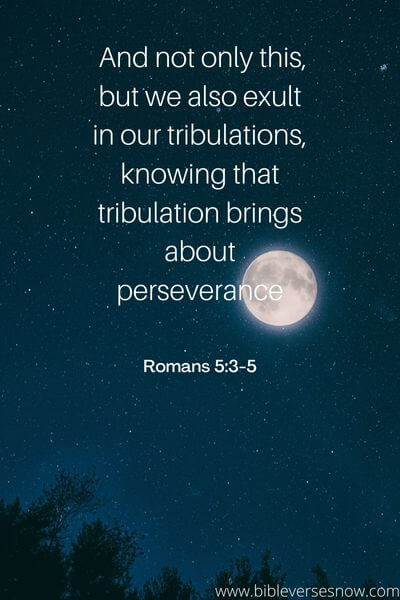 God has reconciled with us. We stand in His grace and rejoice in the confident hope of sharing in His glory. Our pain leads to growth, which leads to even more powerful hope.
God has demonstrated His love for us by sending Christ to die for us while we were still sinners. In Christ, we are redeemed from God's wrath and reconciled to God.
Philippians 4:7
Then you will experience God's peace, which exceeds anything we can understand. His peace will guard your hearts and minds as you live in Christ Jesus.-
Relying on Christ's strength not only permits believers to be content but also generates peace in our interactions with other Christians. This also necessitates a conscious decision to focus our attention on positive things.
Matthew 6:14-15
14 For if you forgive others for their transgressions, your heavenly Father will also forgive you.

15 But if you do not forgive others, then your Father will not forgive your transgressions.-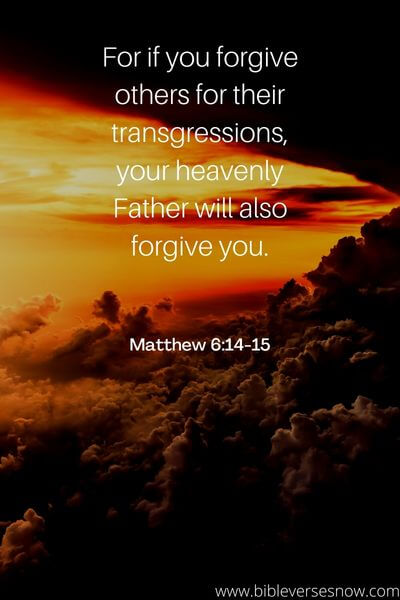 In the absence of any other context, Jesus appears to be arguing that we win God's forgiveness by forgiving the misdeeds of others against us and that we lose forgiveness when we refuse to forgive others.
Whether difficult or not, Jesus is speaking with God's authority, and He always means what He says.
Romans 8:28
And we know that God causes everything to work together for the good of those who love God and are called according to his purpose for them.-
God's Spirit assists us in the waiting season by taking our unformed prayers to God. We believe that God uses every circumstance in our life for His purposes and that He picked us to be His children a long time ago.
John 16:33
I have said these things to you, that in me you may have peace. In the world you will have tribulation. But take heart; I have overcome the world.-
This passage highlights the broad message of that discourse: that adversity and persecution will occur, but believers must remain steadfast, knowing that it is all part of God's wisdom and plan.
Rather than panicking or doubting, Christ's disciples should feel at ease.
Bible verse for hurting heart
The Bible teaches that it's necessary to be alert to the emotional needs of people and to offer comfort and support to those who are experiencing hurt or pain.
It also underlines the significance of seeking healing and restoration while we are suffering from a broken heart.
Psalm 34:18
The LORD is near to the brokenhearted; He saves the contrite in spirit.-
God keeps an eye on the righteous and responds to their cries for help. He relieves the virtuous from their difficulties and approaches them.
He protects and redeems the righteous. On the other hand, He opposes and condemns the wicked.
Matthew 11:28
Come to me, all you who are weary and burdened, and I will give you rest.-
This is a personal invitation from Jesus. He can provide you rest if you're fatigued and struggling. This also represents the way to God the Father, yet it is not one of toil and toiling.
Following Jesus relieves us of the burden of our own sin because He has already completed that work.
Revelation 21:4
He will wipe away every tear from their eyes, and death shall be no more, neither shall there be mourning, nor crying, nor pain anymore, for the former things have passed away.-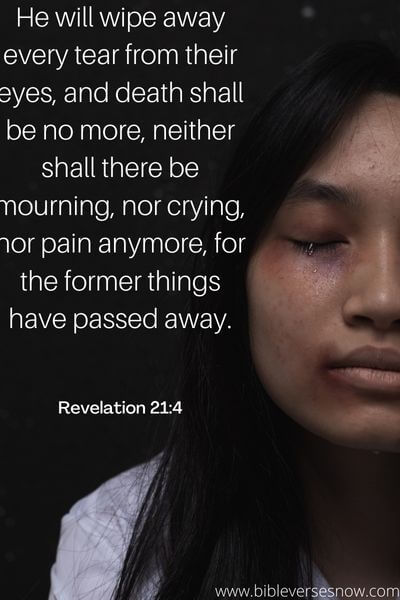 It described the complete and ultimate conquest of all sin and evil. This verse explains the reality that occurs when God has carried out His judgment. All wrongs have been righted, all sin has been separated, and all suffering has ended.
Bible verse about being hurt by someone you love
The Bible teaches that it's crucial to approach relationships with an open heart and to express love and forgiveness, even after we have been injured by someone we love.
It also underlines the significance of seeking healing and restoration after experiencing hurt or pain in our relationships.
Psalm 46:1-2
1 God is our refuge and strength,
A very present help in trouble.

2 Therefore we will not fear, though the earth should change
And though the mountains slip into the heart of the sea.-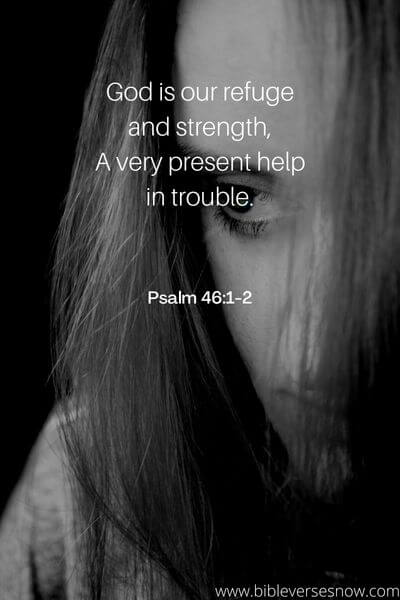 Whatever we are going through, God is always waging a good fight for us and with us.
The reality is that we will face adversity, yet God promises to be our refuge.
God has not let us down. He has vowed to be there for us in the midst of disaster.
Psalm 71:20
You have allowed me to suffer much hardship, but you will restore me to life again and lift me up from the depths of the earth.-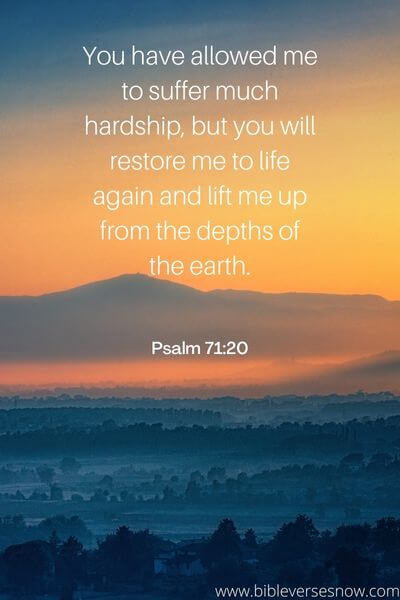 God will be present even if we shall face trouble, challenges, and difficulties in this life. He will be present, regardless of whether our issues are caused by our decisions or other factors.
Romans 8:28
And we know that God works all things together for the good of those who love Him, who are called according to His purpose.-

It indicates that none of the situations are conditions that must be met for God to be working for our welfare.
For instance, if you love God, you can have faith that He is on your side. He loves you in return, and when we love someone, we want the best for them.
Isaiah 43:18
Do not call to mind the former things; pay no attention to the things of old.-
We must ask God for forgiveness, learn from our previous mistakes, attempt to make amends with those we have wronged and anticipate the new things the Lord will do in our life. We all have a past, and some of it is not so good.
Christians need to stop dwelling on the past because God wants us to look forward to the future and forget about the past because Jesus paid the price for us on the cross and atoned for all of our sins. "I, even I, am He who forgets your sins for my own sake and blots out your trespasses." (Isa. 43:25)
What does God say about hurt feelings?
What does God have to say about grievances? The Bible holds that the final authority for human experiences is God's Word. And hurt sentiments are unquestionably part of the human experience.
We learn a lot by experiencing hurt sentiments. But why are we subjected to damaged feelings? Our emotions may be unpleasant, frightening, and something we wish didn't exist in the world.
Despite the agony and pain, though, hurt feelings actually aid in our development. In actuality, God intended for injured feelings to serve as spiritual testimonies.
Pain is sadness. Painful emotions exist. Furthermore, just though someone doesn't comprehend the reason behind these feelings, that doesn't make them any less valid. Naturally, a lot of us desire to avoid suffering, especially suffering on an emotional level.
To start the healing process, it's sometimes necessary to experience the anguish of damaged feelings. It's crucial to show others kindness and compassion and make an effort to prevent them from suffering harm or being injured.
What God says about someone that hurts you?
It might be time to consider what God teaches us about hurting people if you're feeling a little depressed. These days, it seems like everyone is discussing injured feelings and not in a positive way.
It might be challenging to know how to react when someone says something harsh. Knowing how to respond appropriately can significantly affect how you feel after the occurrence.
I come not to be served, but to serve, said Jesus. People frequently treat us differently depending on what we do for them, I've discovered.
Are you ever charitable or do you only seek advantages? Don't let individuals who abuse your kindness get away with it since they are harming themselves.
Scripture to Read when your feelings are hurt
When you're feeling angry, unhappy, or injured, the Bible can be a very helpful guide. Even while reading Scripture during a time of hurt sentiments may seem strange, doing so really helps the painful feelings by providing us with a positive focus.
Psalm 27:13-14
13 I would have despaired unless I had believed that I would see the goodness of the LORD in the land of the living.

14 Wait for the LORD; Be strong and let your heart take courage; Yes, wait for the LORD.-
A man who exhibits a live faith in the living God wrote them. He was convinced that God would come to his aid no matter what challenges or threats were in his way; all he had to do was wait patiently for the Lord to take appropriate action.
Bible verses about hurt and betrayal
In our world, there are many hurtful things that can happen to us, some of which may not have been done on purpose, while others may have been.
There are several instances of hurt and betrayal in the Bible but these verses will ease some pain from hurt and betrayal.
Matthew 6:14-15
14 For if you forgive others for their transgressions, your heavenly Father will also forgive you.

15 But if you do not forgive others, then your Father will not forgive your transgressions.-
It argues that one must be willing to forgive others in order to merit God's pardon. God will not pardon those who do not forgive.
In terms of subject matter, it is likewise comparable to the Parable of the Unforgiving Servant found in Matthew and becomes more evident (18:21–35).
Mark 11:25
And whenever you stand praying, forgive, if you have anything against anyone, so that your Father also who is in heaven may forgive you your trespasses
God is the universe's sacred creator. Every day, we sin against Him. Every sin disqualifies us from being in His presence. But we continue to expect Him to forgive us and grant us our requests.
On the other side, we frequently have little disagreements with other individuals. We don't strive to forgive, beg for forgiveness, or reestablish those connections out of pride, shame, or apathy. God sacrificed His Son in order to forgive us.
We may not take five minutes to reconcile with someone who is no more a sinner than we are while expecting God to pardon our horrible offenses.
Romans 3:23
For everyone has sinned; we all fall short of God's glorious standard.-
So, what exactly did Christ Jesus do? By his blood, God offered him as a sacrifice. That phrase propitiation simply means one who would suffer the judgment, the wrath, that we deserve as a result of our wrongdoing.
God the Father has recommended Jesus. God the Son bore the judgment we deserve in our place, so we don't have to do anything to earn salvation. Forgiveness and forgiveness before God are not earned. It is given and received via trust.
Bible verses about letting go of hurt feelings
So, what exactly did Christ Jesus do? By his blood, God offered him as a sacrifice. That phrase propitiation simply means one who would suffer the judgment, the wrath, that we deserve as a result of our wrongdoing.
God the Father has recommended Jesus. God the Son bore the judgment we deserve in our place, so we don't have to do anything to earn salvation. Forgiveness and forgiveness before God are not earned. It is given and received via trust.
Ephesians 4:31-32
31 Let all bitterness and wrath and anger and clamor and slander be put away from you, along with all malice.

32 Be kind to one another, tender-hearted, forgiving each other, just as God in Christ also has forgiven you.-
Seek God to restore you and assist you in letting go. God is willing and more than capable of assisting you in overcoming your anger and bitterness and replacing it with His peace and pleasure.
Commit it to God through prayer; nothing is too tough for God. God will once again soothe you, heal you, and fill your mouth with joy.
Philippians 4:6-7
6 Be anxious for nothing, but in everything by prayer and supplication with thanksgiving let your requests be made known to God.

7 And the peace of God, which surpasses all comprehension, will guard your hearts and your minds in Christ Jesus.
God says that if we come to Him in tough circumstances, He will give us serenity that is beyond belief and comprehension. And this calm will protect and guard our hearts and thoughts.
The peace mentioned here is supernatural; it isn't the kind of peace that comes and goes or is dependent on our circumstances.
Job 8:21
He will once again fill your mouth with laughter and your lips with shouts of joy.-
God just wouldn't set him away completely but would help him out of his current situation and restore him to prosperity, and he would not leave him until he had filled his heart with so much joy that his mouth and lips.
Which were also full of it, would burst forth in strong expressions of it, and in the most exulting strains, as if it were a time of jubilee with him; see ( Psalms 126:2 )
Is it a sin to hurt someone's feelings
The existence of injured feelings cannot be denied. It, like death, futility, and taxes, is a reality of life.
In general, purposely hurting someone's feelings is deemed wrong. Most major faiths teach that it is necessary to treat others with kindness and respect, and intentionally causing harm to others violates this ideal.
While it is common to make errors or have disagreements with people, it is critical to strive to settle these concerns in a respectful and caring manner. If you have injured someone's feelings, you must apologize and make restitution.
How to deal with hurt feelings biblically
Handling damaged sentiments Turning to God for solace and forgiveness, whether for the actions that created the hurt or for any bad thoughts we may have towards the person who caused the hurt, is a biblically common practice.
When it comes to dealing with damaged sentiments and seeking healing and reconciliation, the Bible has a lot to say. Here are some biblical principles to consider:
Seek forgiveness: If you have been harmed by someone else, you should think about asking for forgiveness from that person. This may entail confessing your own wrongs and requesting forgiveness for any hurt or grief you have caused.
Offer forgiveness: If you have been wronged, you should also consider extending forgiveness to the individual who has wronged you. This can be challenging, but it is a vital step in the healing and reconciliation process.
Seek counsel: If you are struggling with injured sentiments, it can be good to seek counsel from a trusted friend, pastor, or counselor. They can listen to you and offer advice and support while you work through your emotions.
It is critical to have faith in God's purpose and His capacity to bring healing and restoration into your life. The Bible informs us that God is sovereign and in control of all things and that He can bring good out of even the most painful circumstances.
In conclusion, hurt feelings are a normal and natural part of life, and it's crucial to take the time to recognize, validate, and manage these emotions in healthy ways.
It's vital to remember that, as human beings, we will all suffer injured feelings at some point in our lives.
However, the Bible teaches that it is essential to strive for forgiveness and seek reconciliation wherever feasibly. This can be tough, but it's an important component of having a healthy and full life.