A narcissistic person may be obsessed with their appearance, achievements, or social status and may seek out constant praise and validation from others.
People who exhibit narcissistic traits often have an inflated sense of self-importance and may feel entitled to special treatment or privileges. They are characterized by an excessive love for oneself, a deep need for admiration and attention, and a lack of empathy for others.
It's also important to remember that God loves us unconditionally, even when others mistreat us or try to tear us down. We are called to place our trust in Him and to seek His guidance and wisdom as we navigate difficult relationships
Dealing with a narcissistic person requires a similar approach. We can love and pray for them, but we must also set clear boundaries and protect ourselves from their toxic behavior. This might mean limiting contact with the person, seeking counseling or therapy to work through the emotional impact of the relationship, or even ending the relationship altogether if it becomes too harmful.
Bible Verses for Narcissistic Abuse
"Ah, Sovereign LORD, you have made the heavens and the earth by your great power and outstretched arm. Nothing is too hard for you. You show love to thousands but bring the punishment for the fathers' sins into the laps of their children after them. O great and powerful God, whose name is the LORD Almighty, great are your purposes and mighty are your deeds. Your eyes are open to all the ways of men; you reward everyone according to his conduct and as his deeds deserve."
"A worthless person, a wicked man, goes about with crooked speech, winks with his eyes, signals with his feet, points with his finger, with perverted heart devises evil, continually sowing discord; therefore calamity will come upon him suddenly; in a moment he will be broken beyond healing. There are six things that the Lord hates, seven that are an abomination to him: haughty eyes, a lying tongue, and hands that shed innocent blood, a heart that devises wicked plans, feet that make haste to run to evil, a false witness who breathes out lies, and one who sows discord…"
"The deeds of faithless men I hate; they will not cling to me. Men of perverse heart shall be far from me; I will have nothing to do with evil. Whoever slanders his neighbor in secret, him will I put to silence; whoever has haughty eyes and a proud heart, him I will not endure."
"Warn a divisive person once, and then warn him a second time. After that, have nothing to do with him. You may be sure that such a man is warped and sinful; he is self-condemned."
"The eyes of the Lord are on the righteous and his ears are attentive to their cry: the face of the Lord is against those who do evil, to cut off the memory of them from the earth."
"But make up your mind not to worry beforehand how you will defend yourselves. For I will give you words and wisdom that none of your adversaries will be able to resist or contradict. You will be betrayed even by parents, brothers, relatives, and friends, and they will put some of you to death. All men will hate you because of me. But not a hair of your head will perish. By standing firm you will gain life."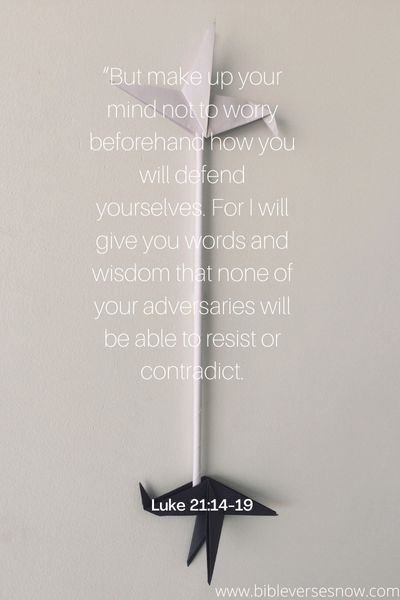 "Do not give to dogs what is sacred; do not throw your pearls to pigs. If you do, they may trample them under their feet, and then turn and tear you to pieces."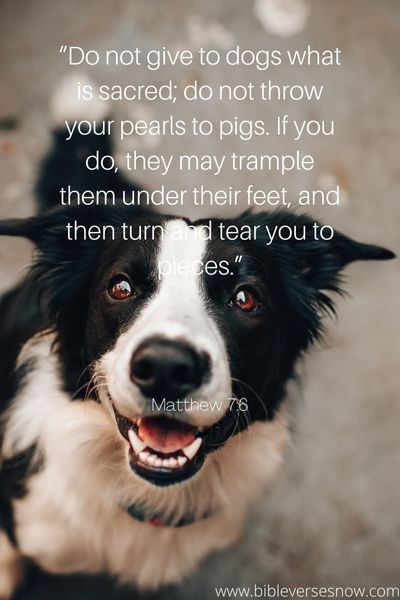 "A sow that is washed goes back to her wallowing in the mud…"
"They have greatly oppressed me from my youth, but they have not gained the victory over me. Plowmen have plowed my back and made their furrows long. But the Lord is righteous; he has cut me free from the cords of the wicked."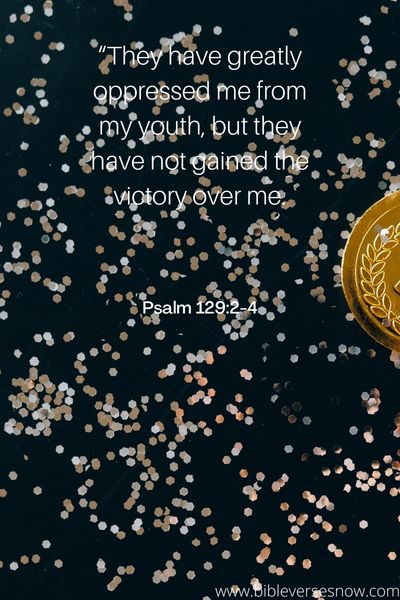 "When I say to the wicked, 'O wicked man, you will surely die', and you do not speak out to dissuade him from his ways, that wicked man will die for his sin, and I will hold you accountable for his blood. But if you do warn the wicked man to turn from his ways and he does not do so, he will die for his sin, but you will have saved yourself."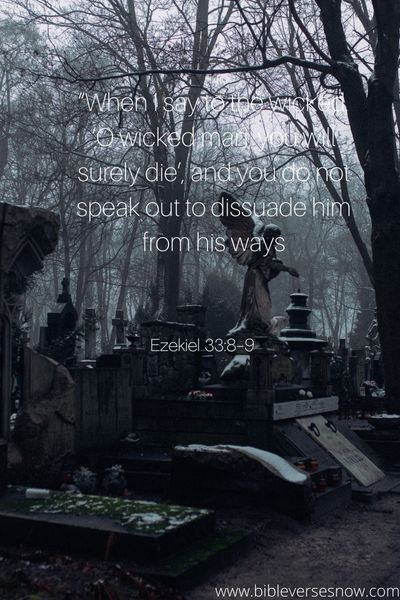 "No good tree bears bad fruit, nor does a bad tree bear good fruit. Each tree is recognized by its own fruit. People do not pick figs from thorn bushes, or grapes from briers. The good man brings good things out of the good stored up in his heart, and the evil man brings evil things out of the evil stored up in his heart. For out of the overflow of his heart, his mouth speaks."
"Do not let any unwholesome talk come out of your mouths, but only what is helpful for building others up…get rid of all bitterness, rage and anger, brawling and slander, along with every form of malice. Be kind and compassionate to one another…"
"All of you, clothe yourselves in humility toward one another, because God opposes the proud but gives grace to the humble. Humble yourselves, therefore, under God's mighty hand, that He may lift you up in due time."
"If you have any encouragement from being united in Christ, if any comfort from his love, if any fellowship with the Spirit, if any tenderness and compassion, then make my joy complete by being like-minded, having the same love, being one in spirit and purpose. Do nothing out of selfish ambition or vain conceit, but in humility consider others better than yourselves."
But understand this, that in the last days there will come times of difficulty. For people will be lovers of self, lovers of money, proud, arrogant, abusive, disobedient to their parents, ungrateful, unholy, heartless, unappeasable, slanderous, without self-control, brutal, not loving good, treacherous, reckless, swollen with conceit, lovers of pleasure rather than lovers of God, having the appearance of godliness, but denying its power. Avoid such people. …
I appeal to you, brothers, to watch out for those who cause divisions and create obstacles contrary to the doctrine that you have been taught; avoid them. For such persons do not serve our Lord Christ, but their own appetites, and by smooth talk and flattery they deceive the hearts of the naive. For your obedience is known to all, so that I rejoice over you, but I want you to be wise as to what is good and innocent as to what is evil.
Likewise, you who are younger, be subject to the elders. Clothe yourselves, all of you, with humility toward one another, for "God opposes the proud but gives grace to the humble." Humble yourselves, therefore, under the mighty hand of God so that at the proper time he may exalt you,
Before destruction a man's heart is haughty, but humility comes before honor.
For they cannot sleep unless they have done wrong; they are robbed of sleep unless they have made someone stumble.
They profess to know God, but they deny him by their works. They are detestable, disobedient, unfit for any good work.
Make no friendship with a man given to anger, nor go with a wrathful man, lest you learn his ways and entangle yourself in a snare.
Pride goes before destruction, and a haughty spirit before a fall.
You will recognize them by their fruits. Are grapes gathered from thornbushes, or figs from thistles?
"Judge not, that you be not judged. For with the judgment you pronounce you will be judged, and with the measure you use it will be measured to you. Why do you see the speck that is in your brother's eye, but do not notice the log that is in your own eye? Or how can you say to your brother, 'Let me take the speck out of your eye,' when there is the log in your own eye? You hypocrite, first take the log out of your own eye, and then you will see clearly to take the speck out of your brother's eye.
"If your brother sins against you, go and tell him his fault, between you and him alone. If he listens to you, you have gained your brother. But if he does not listen, take one or two others along with you, that every charge may be established by the evidence of two or three witnesses. If he refuses to listen to them, tell it to the church. And if he refuses to listen even to the church, let him be to you as a Gentile and a tax collector.
And this is the judgment: the light has come into the world, and people loved the darkness rather than the light because their works were evil.
The heart is deceitful above all things, and desperately sick; who can understand it?
My little children, I am writing these things to you so that you may not sin. But if anyone does sin, we have an advocate with the Father, Jesus Christ the righteous. He is the propitiation for our sins, and not for ours only but also for the sins of the whole world. And by this we know that we have come to know him, if we keep his commandments. Whoever says "I know him" but does not keep his commandments is a liar, and the truth is not in him, but whoever keeps his word, in him truly the love of God is perfected. By this we may know that we are in him: …
But now I am writing to you not to associate with anyone who bears the name of brother if he is guilty of sexual immorality or greed, or is an idolater, reviler, drunkard, or swindler—not even to eat with such a one. For what have I to do with judging outsiders? Is it not those inside the church whom you are to judge? God judges those outside. "Purge the evil person from among you."
James, a servant of God and of the Lord Jesus Christ, To the twelve tribes in the Dispersion: Greetings. Count it all joy, my brothers, when you meet trials of various kinds, for you know that the testing of your faith produces steadfastness. And let steadfastness have its full effect, that you may be perfect and complete, lacking in nothing. If any of you lacks wisdom, let him ask God, who gives generously to all without reproach, and it will be given him. …
Christian Narcissistic Abuse
As Christians, we are called to extend grace and forgiveness to others, but that doesn't mean we must tolerate their bad behavior.
We can forgive them for the harm they have caused us, but we can also hold them accountable for their actions and work towards healing and reconciling our relationships with such people if possible.
How will God Judge a Narcissist?
As a Christian, I believe God judges each person based on their actions and the state of their heart rather than on a specific personality trait like narcissism. This means that God looks at the whole person, not just one aspect of their character.
In the Bible, we are told that God values humility, kindness, and compassion above all else. These qualities are often lacking in a narcissistic person, who is more concerned with their own needs and desires than the needs of others.
However, this doesn't mean that God cannot forgive a narcissistic person or bring about a change in their heart.
The Bible teaches us that God is love and mercy and that he desires all people to be saved and to know the truth.
This means that even narcissists can turn to God, repent their wrongdoing, and seek forgiveness and redemption.
How does God want us to Deal with a Narcissist?
Dealing with a narcissistic person can be incredibly challenging for Christians, as we are taught to love and forgive others, even when they mistreat us.
However, it's important to remember that we are also called to protect our emotional and mental well-being and set healthy boundaries in our relationships.
As Christians, we are called to love our neighbors as ourselves, but that doesn't mean we should tolerate abuse or mistreatment.