If you are a Christian who deals with negative thoughts in life, the best way to overcome this is to submit to God. Don't be persuaded by what you see; don't hang around bad influences.
Be still and focus on Christ to get rid of life's troubles. Keep meditating on God's promises to help with depression and worries. Let go of all anger and evil speech by walking by the Spirit.
Avoid the devil, and don't give him an opportunity. Continually give thanks to the Lord for all He's done for you and all He continues to do.
In (Romans 12:21) the bible states, "Don't let evil get the best of you, but conquer evil by doing good." The Good News: Do good rather than act on your negative emotions.
The apostle Paul advises us in our key verse, Philippians 4:8, to think about true, noble, right, pure, lovely, admirable, excellent, and praiseworthy things. The next time you're fighting negative thoughts, "rattle your cage" by remembering you have the mind of Christ.
As you carefully read further, you'll get more informative insights about the topic "Bible verses for negative thoughts."
Bible Verses for Negative Thoughts
Finally, brothers and sisters, whatever is true, whatever is noble, whatever is right, whatever is pure, whatever is lovely, whatever is admirable, if anything is excellent or praiseworthy, think about such things.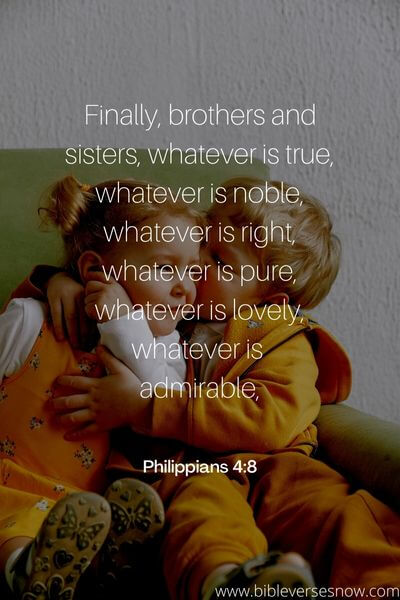 And we know that in all things God works for the good of those who love him, who have been called according to his purpose.
I sought the Lord, and he answered me; he delivered me from all my fears.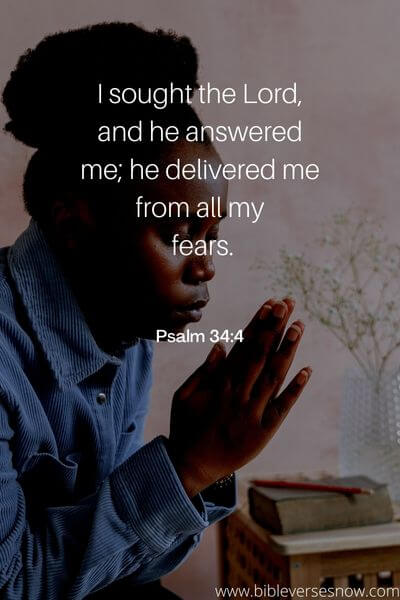 So do not fear, for I am with you; do not be dismayed, for I am your God. I will strengthen you and help you; I will uphold you with my righteous right hand.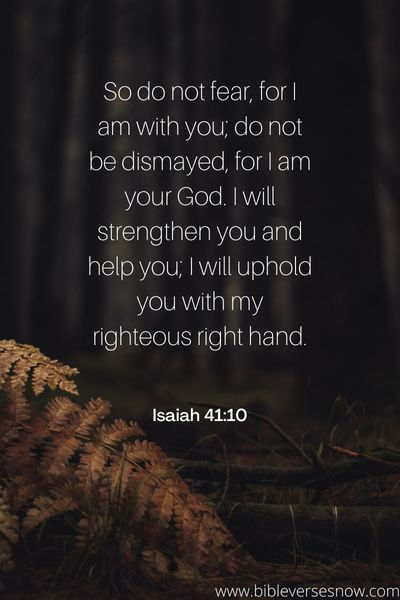 We demolish arguments and every pretension that sets itself up against the knowledge of God, and we take captive every thought to make it obedient to Christ.
Therefore do not worry about tomorrow, for tomorrow will worry about itself. Each day has enough trouble of its own.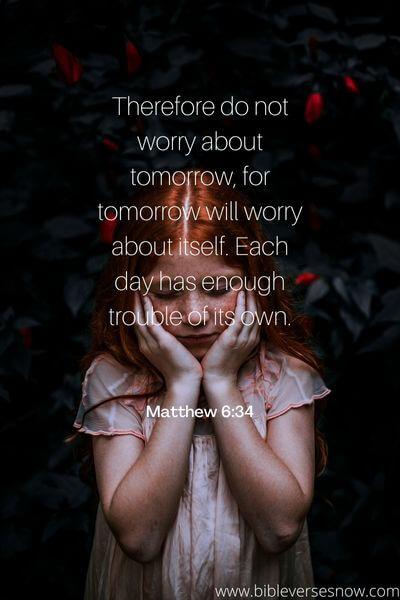 Do not be anxious about anything, but in every situation, by prayer and petition, with thanksgiving, present your requests to God.
Cast your cares on the Lord and he will sustain you; he will never let the righteous be shaken.
Whoever dwells in the shelter of the Most High will rest in the shadow of the Almighty. I will say of the Lord, 'He is my refuge and my fortress, my God, in whom I trust.
Trust in the Lord with all your heart and lean not on your own understanding; in all your ways submit to him, and he will make your paths straight.
Cast all your anxiety on him because he cares for you.
You will keep in perfect peace those whose minds are steadfast, because they trust in you.
I keep my eyes always on the Lord. With him at my right hand, I will not be shaken.
Peace I leave with you; my peace I give you. I do not give to you as th world gives. Do not let your hearts be troubled and do not be afraid.
May the God of hope fill you with all joy and peace as you trust in him, so that you may overflow with hope by the power of the Holy Spirit.
When you pass through the waters, I will be with you; and when you pass through the rivers, they will not sweep over you. When you walk through the fire, you will not be burned; the flames will not set you ablaze.
Set your minds on things above, not on earthly things.
I praise you because I am fearfully and wonderfully made; your works are wonderful, I know that full well.
Consider it pure joy, my brothers and sisters, whenever you face trials of many kinds, because you know that the testing of your faith produces perseverance. Let perseverance finish its work so that you may be mature and complete, not lacking anything.
Bible verses about Bad thoughts KJV
The thoughts of the wicked are an abomination to the LORD: but the words of the pure are pleasant words.
For out of the heart proceed evil thoughts, murders, adulteries, fornications, thefts, false witness, blasphemies.
Because that, when they knew God, they glorified him not as God, neither were thankful; but became vain in their imaginations, and their foolish heart was darkened.
Finally, brethren, whatsoever things are true, whatsoever things are honest, whatsoever things are just, whatsoever things are pure, whatsoever things are lovely, whatsoever things are of good report; if there be any virtue, and if there be any praise, think on these things.
Set your affection on things above, not on things on the earth.
Casting down imaginations, and every high thing that exalteth itself against the knowledge of God, and bringing into captivity every thought to the obedience of Christ.
But every man is tempted, when he is drawn away of his own lust, and enticed. Then when lust hath conceived, it bringeth forth sin: and sin, when it is finished, bringeth forth death."
Bible verse about Thinking bad about others
Do not gloat when your enemy falls; when they stumble, do not let your heart rejoice, or the Lord will see and disapprove and turn his wrath away from them.
But I tell you, love your enemies and pray for those who persecute you.
Brothers and sisters, do not slander one another. Anyone who speaks against a brother or sister or judges them speaks against the law and judges it. When you judge the law, you are not keeping it, but sitting in judgment on it.
Finally, brothers and sisters, whatever is true, whatever is noble, whatever is right, whatever is pure, whatever is lovely, whatever is admirable if anything is excellent or praiseworthy think about such things.
Bible verses about Controlling your thoughts
We demolish arguments and every pretension that sets itself up against the knowledge of God, and we take captive every thought to make it obedient to Christ.
Do not conform to the pattern of this world, but be transformed by the renewing of your mind. Then you will be able to test and approve what God's will is—his good, pleasing and perfect will.
Above all else, guard your heart, for everything you do flows from it.
Set your minds on things above, not on earthly things.
Bible study on negative thinking
How do I overcome negative thoughts spiritually? The key point here is to stay positive! Learn to view things from a half-glass angle and practice talking and thinking about only positive things.
Get engaged with activities and hobbies that make you happy. Leave on daily meditations and spend time with your family more. Indulge yourself in positive conversations and watch positive content if you are addicted to social media.
What does God say about negative thoughts?
Negative thinking is sure a miserable thing – you will always see yourself believing and expecting the worst to happen.
It can also make Christianity a lot more difficult because a Christian believes God is good and rewards us (Hebrews 11:6). God can free us from our negative thinking by teaching us to trust him and love other people.
Most irrational thought patterns can be controlled once you're aware of them. The same implies negative thinking. Still, cognitive distortions sometimes go hand in hand with mental health conditions, such as personality disorders. This makes it more challenging to reframe.
Scriptures to Replace Negative Thoughts
Here's a list of scriptures about negative thoughts and what to do with them: Choose the ones that apply to the specific thoughts coming into your mind, and declare them over yourself! Replace any "yours" with "me" or "I" and speak them over yourself!
Do this aloud so the enemy can hear you because the Word of God is a secure way to run him off!
Hebrews 4:12
Romans 13:14
2 Timothy 1:7
Jeremiah 29:11
Matthew 10:30-31
2 Corinthians 10:5
Isaiah 61:3
Matthew 6:34
Psalm 119:105
Romans 8:37
Philippians 4:19
Philippians 4:13
Ephesians 6:11
James 4:7
How to Overcome Negative Thoughts Biblically
The apostle Paul advises Christians from our key verse, Philippians 4:8, to always think about true, noble, right, pure, lovely, admirable, excellent, and praiseworthy things. Whenever you are fighting negative thoughts, "rattle your cage" by remembering you have the mind of Christ.
Steps to Retrain Your Brain to Reject Negative Thoughts
Be Aware of Your Thoughts.
Turn Negatives into Positives.
Understand What Triggers You.
Create a Personal Mantra.
Practice Daily Gratitude.
Pay It Back.
Switch Up Your Environment.
Develop a Morning Routine.
How do I Cast down Negative Thoughts?
Whenever you are plagued by negative thinking, try any or all of these four tips for clearing your mind of negative thoughts.
Here are four steps that could help you start letting go of those negative thoughts:
Take a few steps back. First, it can be helpful to remember that you are not your thoughts, you're simply holding onto them right now.
Acknowledge them.
Feel into them.
Thank them and make room.
Sermon on Negative Thinking
Be a Positive Person. No matter where you find yourself, what you do, or who you are around. No matter the effort you put in, you cannot get away from negative talk & negative people. Negative, negative, negative, that's all you hear.
Today's most significant thing is these positive or motivational speakers that try to feed you full of bologna and sausage of the secular world. If you permit me, I would like to show you how the bible teaches us to be positive people in a hostile world.
THINK POSITIVE THOUGHTS.
Phil 4:8 "Whatsoever things are of good report, think on these things."
Some people fail to discipline their thinking.
Replace negative thoughts with positive thoughts.
Stay in God's Word.
HEAR POSITIVE SOUNDS.
Stop listening to filth, smut & destruction on the airwaves.
Listen to good, not bad.
Listen to the Lord & heed His word.
SEE POSITIVE SIGHTS.
Hebrews 12:2 "Looking unto Jesus the author & finisher of our faith."
Some look for the bad in people & circumstances, seeing only faults &negatives.
We must look for the good & look through Jesus' eyes.
SPEAK POSITIVE WORDS.
Psalms 105:2 "Talk of all His wondrous works."
People talk most about evil & wrong events.
We should talk positively, seeking to glorify God, exalting His goodness, grace & love.
PERFORM POSITIVE DEEDS
Col 3:23 "And whatsoever you do, do it heartily as unto the Lord & not unto men."
The deeds of some are harmful. They are selfish, dishonest & displeasing to God.
We must be truthful, ready to lift those who are down & witness for Christ.
ATTEND POSITIVE PLACES.
Psalms 122:1 "I was glad when they said let us go into the house of the Lord."
Christians hurt their influence when they go to the wrong places for entertainment.
Be a cheerful Christian. Attend church
Video
Summary
The most positive and beautiful thing you could ever do now is to accept Jesus Christ as your Lord & Savior.
Maybe you did accept Him but have not been living for Him, you need to come today to recommit your whole life to Him.
You may not have a church home. We would love you to join us in this "Growing Fellowship of Excitement."
Secondly, you will need to draw closer to God in prayers. This prayer will help you overcome negative thinking; Loving God, please grant me peace of mind and calm my troubled heart. My soul is like a turbulent sea.
I can't find my balance, so I stumble and worry constantly. Please give me the strength and clarity of mind to find my purpose and walk the path you've laid out for me.