Unplanned pregnancy is when a woman becomes pregnant without intending or planning to do so. This can occur due to various reasons, such as contraceptive failure, lack of access to contraception, incorrect use of contraception, sexual assault, or simply not planning for a pregnancy at the time.
An unplanned pregnancy can be a complicated and overwhelming experience, and many emotions, including shock, anxiety, fear, and uncertainty, can accompany it. The decision to continue the pregnancy, terminate it or choose adoption is personal. Many factors, such as personal beliefs, financial situation, support network, and future goals, can influence it.
If you find yourself in this situation, seeking out support and information is essential to make the best decision for yourself. And the word of God is where you should begin.
Bible Verses for Unplanned Pregnancy
For you formed my inward parts; you knitted me together in my mother's womb. I praise you, for I am fearfully and wonderfully made. Wonderful are your works; my soul knows it very well. My frame was not hidden from you, when I was being made in secret, intricately woven in the depths of the earth. Your eyes saw my unformed substance; in your book were written, every one of them, the days that were formed for me, when as yet there was none of them.
"Before I formed you in the womb I knew you, and before you were born I consecrated you; I appointed you a prophet to the nations."
"When men strive together and hit a pregnant woman, so that her children come out, but there is no harm, the one who hit her shall surely be fined, as the woman's husband shall impose on him, and he shall pay as the judges determine.
Now they were bringing even infants to him that he might touch them. And when the disciples saw it, they rebuked them. But Jesus called them to him, saying, "Let the children come to me, and do not hinder them, for to such belongs the kingdom of God. Truly, I say to you, whoever does not receive the kingdom of God like a child shall not enter it."
Behold, I was brought forth in iniquity, and in sin did my mother conceive me.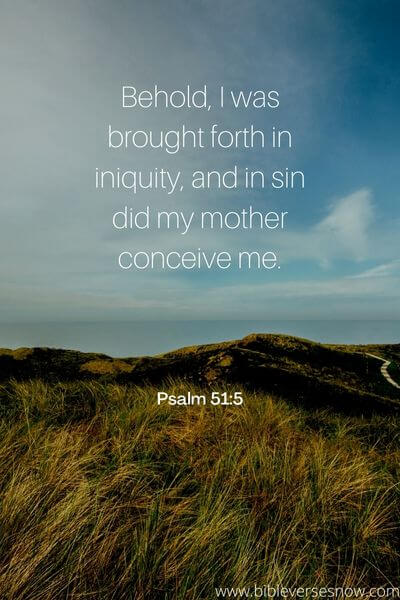 Now they were bringing even infants to him that he might touch them. And when the disciples saw it, they rebuked them.
Then the Lord God formed the man of dust from the ground and breathed into his nostrils the breath of life, and the man became a living creature.
And now the Lord says, he who formed me from the womb to be his servant, to bring Jacob back to him; and that Israel might be gathered to him— for I am honored in the eyes of the Lord, and my God has become my strength—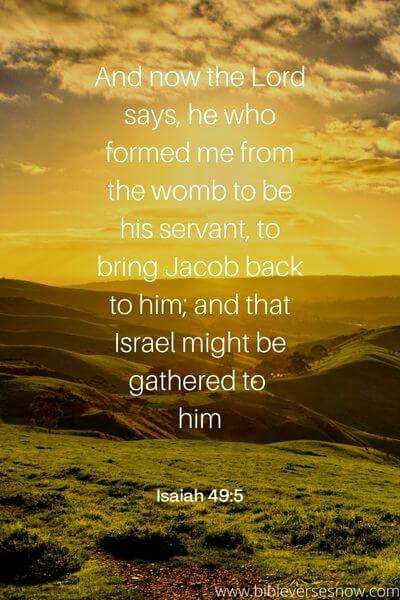 Listen to me, O coastlands, and give attention, you peoples from afar. The Lord called me from the womb, from the body of my mother he named my name.
But when he who had set me apart before I was born, and who called me by his grace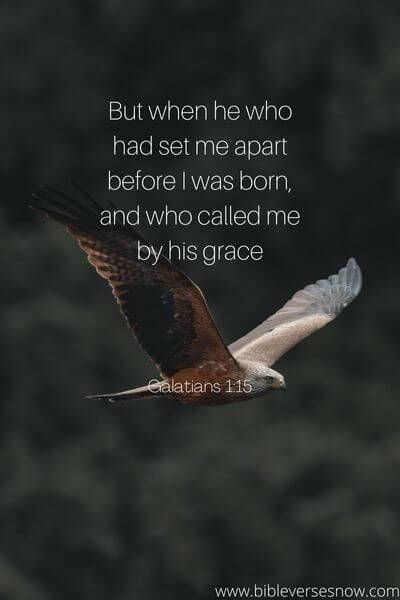 How then can man be in the right before God? How can he who is born of woman be pure?
Did not he who made me in the womb make him? And did not one fashion us in the womb?
But you are doing away with the fear of God and hindering meditation before God.
Or why was I not as a hidden stillborn child, as infants who never see the light?
"Let the day perish on which I was born, and the night that said, 'A man is conceived.
None shall miscarry or be barren in your land; I will fulfill the number of your days.
If a ransom is imposed on him, then he shall give for the redemption of his life whatever is imposed on him.
But if the ox has been accustomed to gore in the past, and its owner has been warned but has not kept it in, and it kills a man or a woman, the ox shall be stoned, and its owner also shall be put to death.
But if there is harm, then you shall pay life for life,
The children struggled together within her, and she said, "If it is thus, why is this happening to me?" So she went to inquire of the Lord.
Bible verses about pregnancy before marriage
"If a man meets a virgin who is not betrothed, and seizes her and lies with her, and they are found, then the man who lay with her shall give to the father of the young woman fifty shekels of silver, and she shall be his wife, because he has violated her. He may not divorce her all his days.
Let marriage be held in honor among all, and let the marriage bed be undefiled, for God will judge the sexually immoral and adulterous
"Everyone who divorces his wife and marries another commits adultery, and he who marries a woman divorced from her husband commits adultery.
But sexual immorality and all impurity or covetousness must not even be named among you, as is proper among saints.
But I say to you that everyone who looks at a woman with lustful intent has already committed adultery with her in his heart.
For this is the will of God, your sanctification: that you abstain from sexual immorality;
For this is the will of God, your sanctification: that you abstain from sexual immorality; that each one of you know how to control his own body in holiness and honor, not in the passion of lust like the Gentiles who do not know God;
"Therefore a man shall leave his father and mother and hold fast to his wife, and the two shall become one flesh."
Therefore the Lord himself will give you a sign. Behold, the virgin shall conceive and bear a son, and shall call his name Immanuel.
But because of the temptation to sexual immorality, each man should have his own wife and each woman her own husband.
Happy are you, O land, when your king is the son of the nobility, and your princes feast at the proper time, for strength, and not for drunkenness!
Yet you are he who took me from the womb; you made me trust you at my mother's breasts. On you was I cast from my birth, and from my mother's womb you have been my God.
Behold, children are a heritage from the Lord, the fruit of the womb a reward.
Every good gift and every perfect gift is from above, coming down from the Father of lights, with whom there is no variation or shadow due to change. Of his own will he brought us forth by the word of truth, that we should be a kind of firstfruits of his creatures.
For I know the plans I have for you, declares the Lord, plans for welfare and not for evil, to give you a future and a hope.
Bible Verses on Pregnancy and Safe Delivery
Whatever is good and perfect is a gift coming down to us from God our Father, who created all the lights in the heavens. He never changes or casts a shifting shadow. He chose to give birth to us by giving us his true word. And we, out of all creation, became his prized possession.
Children are a gift from the Lord; they are a reward from him. Children born to a young man are like arrows in a warrior's hands.
Yes, you have been with me from birth; from my mother's womb you have cared for me. No wonder I am always praising you!
I prayed for this child, and the Lord has granted me what I Asked of him.
They will have no fear of bad news; their hearts are steadfast, Trusting in the LORD.
But women will be saved through childbearing— if they continue in faith, love, and holiness with propriety.
How do you come to terms with an unwanted pregnancy?
Coming to terms with an unwanted pregnancy can be difficult and emotional. It's important to remember that there is no right or wrong way to feel and that everyone's situation is unique. Here are some steps you can take to help you come to terms with your situation:
Allow yourself to feel all the emotions of an unwanted pregnancy, such as fear, sadness, anger, or confusion. These emotions are natural and normal, and it's essential to acknowledge and process them to move forward.
It's essential to have people you can turn to for emotional support during this time. This could be a trusted friend or family member, a therapist, or a support group for women facing similar situations.
Educate yourself on all your options, including continuing the pregnancy and parenting, adoption, or abortion. Research reputable sources and talk to healthcare professionals to understand the pros and cons of each option.
Think about your values and goals in life and how each option may impact them. This can help you make a decision that is right for you.
Ultimately, deciding what to do with an unwanted pregnancy is yours. Take the time you need to make an informed decision that aligns with your values and goals.
Whatever your decision, taking care of yourself physically and emotionally is essential. This may include seeking medical care, practicing self-care, and seeking support from those around you.
Is an unplanned Baby a Blessing?
For some parents, an unplanned pregnancy may be seen as a blessing and a source of joy and fulfillment. They may embrace the unexpected arrival of a child and view it as a chance to grow and learn as parents.
On the other hand, an unplanned pregnancy can also be a source of stress, anxiety, and uncertainty for some parents, especially if they do not feel ready to raise a child or have limited resources to provide for a growing family.
Whether an unplanned baby is a blessing depends on individual perspectives and life experiences. Parents need to make informed and thoughtful decisions about their family planning, considering their values, beliefs, and personal circumstances.
Trusting God with an unplanned pregnancy
Trusting God can provide comfort and support during an unplanned pregnancy; individuals need to prioritize their physical, emotional, and spiritual health and consider their values and beliefs when making decisions about the pregnancy.
By doing so, individuals can make informed decisions that align with their personal beliefs and values while ensuring the best possible outcome for themselves and their children.
Regardless of how one trusts God with an unplanned pregnancy, it is essential to remember that every pregnancy is a unique and personal experience. It is essential to prioritize one's physical, emotional, and spiritual health and make informed decisions that align with one's values and beliefs.
Pregnancy Bible study
Pregnancy is a time of significant physical, emotional, and spiritual change, and studying the Bible can provide comfort and guidance. Here are some key themes and passages related to pregnancy in the Bible:
This passage describes God's plan for humanity to be fruitful and multiply and highlights the importance of reproduction in God's design for the world.
This passage tells the story of Hannah, who prayed to God for a child and was eventually blessed with a son, Samuel. Hannah's prayer is a powerful example of turning to God during the struggle and asking for His help.
This passage tells the story of Jesus' birth and highlights the miraculous nature of pregnancy and childbirth. It also emphasizes the importance of faith and trust in God's plan as Mary and Joseph navigated the challenges of an unexpected pregnancy and birth.
This passage speaks to the wonder and beauty of God's creation and specifically references God's role in forming us in the womb. It can be a powerful reminder of the sacredness of pregnancy and the importance of nurturing new life.
This verse encourages us to trust the Lord with all our hearts and lean not on our understanding. During pregnancy, it can be easy to feel overwhelmed or uncertain about the future, but this passage reminds us to trust God's plan and seek His guidance.
Studying the Bible during pregnancy can provide comfort and guidance during significant change and transition. Expectant mothers can deepen their faith and trust in God's plan for their lives and their growing families by reflecting on key themes and passages related to pregnancy and childbirth.