Encouragement is an important key to success. Some people may have the talent of encouraging others, while others have no such talent. In this article, we have gathered the best Bible verses on encouragement to others that can motivate you and change your life.
Bible verses on encouragement to others
Hebrews 10:24-25
"And let us consider how we may spur one another on toward love and good deeds, not giving up meeting together, as some are in the habit of doing, but encouraging one another and all the more as you see the Day approaching."
A key aspect of the life of an obedient believer is encouraging others and receiving encouragement from others. This is in line with the central theme in Hebrews which is "holding fast."
Christians are urged not to abandon their faith by the book of Hebrews. We should "hold fast" to the truth when persecution and fear put pressure on believers.
"Be strong and take heart,
all you who hope in the Lord."
There are many obstacles in life. The believer is susceptible to illness at any time, there will be persecution, and the believer feels pressure and stress as a result of various trials.
However, those who put their trust in God and His timing can overcome every obstacle.
Prayer and trust are both necessary while waiting on the Lord. It also entails keeping vigil for the second coming of our devoted Lord, who made the proclamation, "Behold, I am coming soon, bringing my recompense with me, to repay each one for what he has done."
Psalm 121:1-2
"I lift up my eyes to the mountains—
where does my help come from?
My help comes from the Lord,
the Maker of heaven and earth."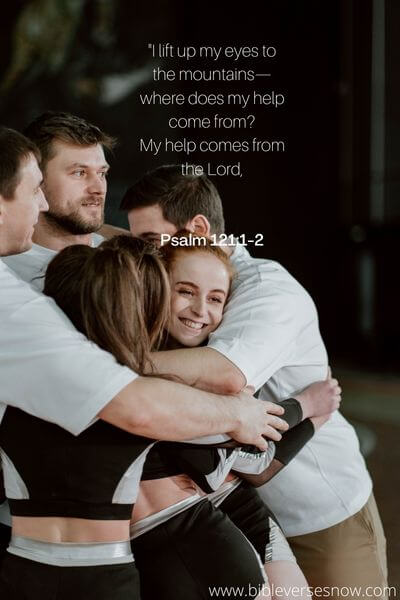 Since we have the Holy Spirit dwelling in our hearts for all eternity and have been granted access to God's throne room through the blood of Jesus Christ, we are not required to travel up the mountainous road to Jerusalem three times a year to ask for forgiveness and mercy like the children of Israel.
The Lord, who created the heavens and the earth, is the source of our strength, help, provision, and protection. Praise God, He will never leave us or forsake us but will always be there for us.
"Each of us should please our neighbors for their good, to build them up."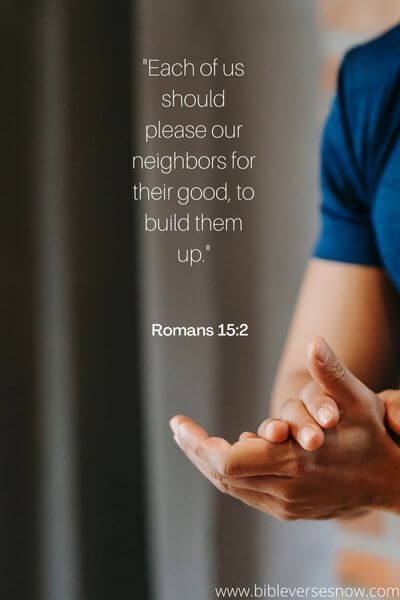 Paul states that those who are steadfast in their Christian faith and fully convinced of God's grace and their freedom in Christ should put others' needs before their own. They ought to take on the task of uplifting their neighbors.
Paul stated in Romans that Christians should put one another's needs ahead of their own.
Jesus referred to this as the greatest commandment in terms of interpersonal relationships. Putting our neighbor's satisfaction, or good outcome before our good outcome is a key component of loving our neighbors as we love ourselves.
"What, then, shall we say in response to these things? If God is for us, who can be against us?"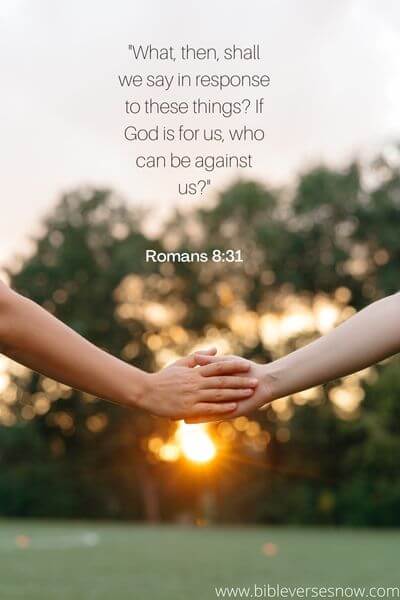 Paul keeps encouraging Christians who are still living in this world. As we wait to be forever glorified with God, we are indeed going through suffering, just like the rest of creation.
However, just because we experience suffering does not negate God's support or presence in our lives. Paul has demonstrated that God is working to fulfill a purpose in us that He began before He even created the world.
We must understand that God is always with us, and no matter what we pass through, He will guide us and save us.
"Therefore encourage one another and build each other up, just as in fact you are doing."
Thessalonian Christians are urged by these verses to be active, alert, and focused on their spiritual lives.
This verse teaches that Christians should be motivated to uplift and edify one another with the assurance of spending eternity with Jesus. We need to remind one another that a better day is coming rather than being appalled by the way the world is turning out.
We eagerly anticipate the time when Jesus returns to rapture in His church. In the interim, we should support one another in growing in Christ-likeness and equipping ourselves to serve Him.
"May the God who gives endurance and encouragement give you the same attitude of mind toward each other that Christ Jesus had."
Paul believes that the best source of inspiration and perseverance is God.
In addition to being the one to whom we will all give an account for our lives, God will also encourage and uplift us.
Paul prays to God to grant the Roman Christians the capacity to live in harmony with one another, just as they all follow or are in step with Jesus.
Isaiah 40:31
"But those who hope in the Lord
will renew their strength.
They will soar on wings like eagles;
they will run and not grow weary,
they will walk and not be faint."
The Lord is a God of comfort and grace, and even though Isaiah repeatedly warned Israel that punishment was coming if they did not turn from their evil ways, words of consolation were still spoken to them.
In His lovingkindness, He gives grace to the lowly and renews the strength of those who wait upon Him by faith. He never breaks His Word and He never grows weary.
Although these words were directed at Israel, they have relevance to everyone who is a child of God today.
They serve as a reminder for all of us to repent of any wrongdoing in our lives, live by faith rather than sight, and put our complete trust in the Lord rather than relying on our own understanding.
2 Timothy 1:7
"For God gave us a spirit not of fear but of power and love and self-control."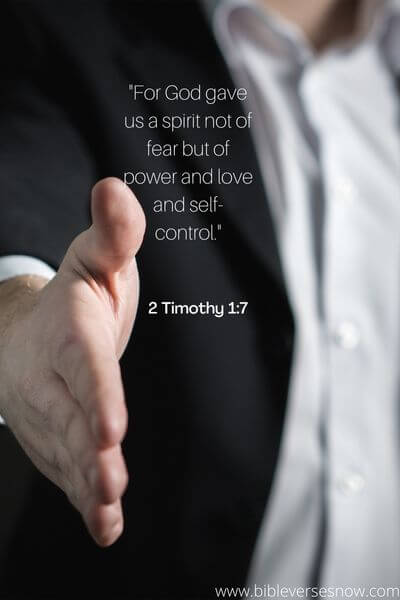 The apostle Paul was able to uplift Timothy from his confinement in a Roman prison by reminding him (and by extension all of us)that God had not given us a spirit of fearfulness, but one of power, love, a sound mind, and godly judgment.
Jesus Himself forewarned us that we would experience hardships and trials in this world, but He also urged us to remember that He has overcome the world because He who is in us is greater than the one who is in the world.
John 14:27
"Peace I leave with you; my peace I give to you. Not as the world gives do I give to you. Let not your hearts be troubled, neither let them be afraid."
Christ offers a different kind of peace than what is found in this world. We can only anticipate injustice and death from the natural world.
The "peace" that Christ brings here is hope and assurance that surpasses what a corrupt world can provide. It is enduring, certain, and unchangeable.
Since He has established a permanent residence within our bodies, through all of the time and into all of eternity, we have been given peace, peace—the wonderful peace of the Spirit of Christ deep within our inner beings.
KJV bible verses on encouraging others
Philippians 2:4
not looking to your own interests but each of you to the interests of the others.
Paul understood that being kind and considerate to one another, having the love of Christ in their hearts, being one in spirit, and having a common purpose are some of the factors that contribute to Christian joy and walking in fellowship with the Lord.
We are all obligated to put the needs of others ahead of our own because he understood that doing so will help us to keep our joy in the Lord. He also knew that doing so will help our brothers and sisters in Christ.
Everyone who professes to be a Christian is expected to treat others with humility and selflessness, regardless of age or position.
To put it another way, we should prioritize the needs of others over our own, but this does not mean we should neglect our own needs entirely.
Psalms 23:4
 Yea, though I walk through the valley of the shadow of death, I will fear no evil: for thou art with me; thy rod and thy staff they comfort me.
David says that he doesn't feel afraid because God is with him. It's interesting to note how David grew closer to the Lord under the "shadow of death."
David put his trust in the Lord to keep him safe, just as a shepherd would keep his sheep safe from any hungry beasts.
Jesus, the Good Shepherd, is always by his followers' sides. He vowed to always be by our side. As surely as He is with us "beside still waters," He is with us when we walk over difficult terrain. "I give them eternal life, and they will never perish. No one will take them out of my hand", Jesus declared.
Matthew 11:28
"Come to me, all you who are weary and burdened, and I will give you rest.
Jesus extends a unique invitation to everyone who hears Him. He extends an invitation, saying, "If you're struggling and worn out, I can help."
We all must bear the heavy yoke of sin's enslavement as we run the treadmill of life; it wears us out physically, spiritually, and emotionally.
However, the call of Christ to "Come to Me, all you who work and are heavily laden," gives the weary rest, comfort for the grieving, relief for the burdened, and rest for the soul.
Although everyone is extended this kind invitation to "come" in the Gospel of Matthew, Jesus first extended it to Israel.
Daily bible verses for encouragement
John 16:33
 I have said these things to you, that in me you may have peace. In the world you will have tribulation. But take heart; I have overcome the world."
Born-again believers are filled with joy because they understand that Christ has already won the ultimate victory and that nothing in this world can reverse that. It should reassure believers that tough times will come because Christ made it clear that they would beforehand: God is not surprised by these circumstances.
Take to heart these words from Christ Jesus, no matter how bleak your life situation and difficulties may be "have courage! I've conquered the world."
Isaiah 41:10
"fear not, for I am with you; be not dismayed, for I am your God; I will strengthen you, I will help you, I will uphold you with my righteous right hand."
We should keep in mind that this verse was said to His people by the Creator of the Universe. He is the one who reassures His followers that they need not be alarmed because He can calm the furious storm and mend broken hearts.
He is the one who warns us not to worry and gives us the order not to worry about bad people. He invites us to place all our worries in His capable hands because He loves us and has promised to stick by us through thick and thin, even to the end of the age.
We are told not to be disheartened or discouraged by the Lord Jesus because He is our God, and that fact alone ought to be enough.
Psalm 34:4–5
I sought the LORD, and he answered me; he delivered me from all my fears. 5 Those who look to him are radiant; their faces are never covered with shame.
In this verse, David informs us that when he asked the Lord for help, the Lord responded.
Today's believers may also be afraid of everything from the threat of advancing nuclear missiles to physical harm, illness, job insecurity, relationship problems, and political destruction. But faith takes the place of anxiety.
What is expected of us is that we pray in faith.
Matthew 6:31–34
So do not worry, saying, 'What shall we eat?' or 'What shall we drink?' or 'What shall we wear?'  For the pagans run after all these things, and your heavenly Father knows that you need them. But seek first his kingdom and his righteousness, and all these things will be given to you as well. Therefore do not worry about tomorrow, for tomorrow will worry about itself. Each day has enough trouble of its own.
When faced with a lack, worrying and acting anxiously is like switching from a child of God to an unbeliever. Scripture reminds us that in the world system, it is the unbelievers, the Gentiles, and the pagans who worry and act anxiously about the necessities of life.
The Lord tells us to "fear not" repeatedly in the Bible. What a blessing it is for our hearts to read these Scriptures and allow the words to comfort and reassure our weary souls.
Proverbs 3:5–6
Trust in the LORD with all thine heart, and lean not unto thine own understanding. In all thy ways acknowledge him, and he shall direct thy paths.
Being completely devoted to the Lord is not only a good and fruitful obligation, but it also eliminates the negative aspects of fear and doubt, keeps us steadfast through the ups and downs of life, and replaces self-confidence with a trusting "God-confidence."
God expects an intelligent response to the promises He has made to us because He has revealed His plans and purposes to humanity and communicated them to us through His Word. He expects us to show an unwavering, conscious reliance on everything He has said, free from misgivings, fear, or any other negative emotions.
10 Bible verses that give encouragement
Isaiah 43:2
When you pass through the waters, I will be with you; and when you pass through the rivers, they will not sweep over you. When you walk through the fire, you will not be burned; the flames will not set you ablaze.
1 Corinthians 16:13
Be on your guard; stand firm in the faith; be courageous; be strong.
Philippians 4:19
And my God will meet all your needs according to the riches of his glory in Christ Jesus.
Psalms 37:4
Take delight in the LORD, and he will give you the desires of your heart.
Proverbs 3:5-6
Trust in the LORD with all your heart and lean not on your own understanding;

in all your ways submit to him, and he will make your paths straight.
Psalms 31:24
Be strong and take heart, all you who hope in the LORD.
John 14:27
Peace I leave with you; my peace I give you. I do not give to you as the world gives. Do not let your hearts be troubled and do not be afraid.
Psalms 55:22
Cast your cares on the LORD and he will sustain you; he will never let the righteous be shaken.
Deuteronomy 31:8
The LORD himself goes before you and will be with you; he will never leave you nor forsake you. Do not be afraid; do not be discouraged."
Psalms 32:8
 I will instruct you and teach you the way you should go; I will counsel you with my loving eye on you.