Hidden enemies can be difficult to detect and can be incredibly destructive to our lives and relationships. They can be so subtle that we don't even realize they're there, yet they can have a profound effect on our lives.
Oftentimes, hidden enemies can be family members, friends, or even co-workers who are jealous or resentful of our success, our relationships, or our lifestyle. They might act passive-aggressively, or even manipulate us into making bad decisions in order to sabotage us or make us look bad.
Bible Verses on Hidden Enemies
It's important to be aware of the power of hidden enemies and to look out for signs of manipulation or sabotage. If you suspect that someone is trying to undermine you, it's important to take a step back, assess the situation, and see if there is any evidence of malicious intent.
The Bible is an invaluable source of guidance and hope when it comes to battling hidden enemies.
Psalm 5:8
Lead me, O Lord, in your righteousness because of my enemies; make your way straight before me.-
This verse is a prayer to God asking for guidance and protection from those who may be working against us.
The psalmist is aware of those who are trying to harm him, but he is placing his trust in God to lead him in the right direction and protect him from their deceit.
The verse can be an encouragement to those who are feeling attacked by hidden enemies, reminding them that they can trust in God to guide and protect them.
Psalm 64:2-3
Hide me from the secret discussion of evildoers, From the restlessness of the workers of injustice, Who have sharpened their tongues like a sword. They aimed bitter speech as their arrows.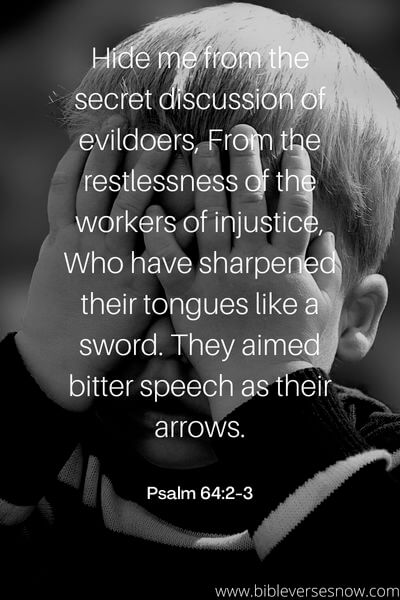 In this passage, the Psalmist is expressing a fear of secret enemies who are plotting against him. These enemies are described as "wicked" and "workers of iniquity," which suggests that they are morally corrupt and engaging in nefarious activities.
The Psalmist also describes these enemies as using their words as weapons, sharpening their tongues like swords, and using bitter words as arrows to attack them.
The Psalmist is asking for God's protection from these secret plots and the harm that these enemies seek to inflict upon him.
Isaiah 54:17
No weapon that is fashioned against you shall succeed, and you shall refute every tongue that rises against you in judgment. This is the heritage of the servants of the Lord and their vindication from me, declares the Lord.-
In this passage, the prophet Isaiah is speaking to the people of Israel and assuring them that God will protect them from their enemies.
He states that any weapon fashioned against them will not succeed, meaning that any plans or schemes that their enemies come up with to harm or destroy them will ultimately fail.
Isaiah also says that the people will "confute every tongue that rises against you in judgment," meaning they will silence and disprove any accusations or false statements made against them by their enemies.
Psalm 91:1-16
He who dwells in the shelter of the Most High will abide in the shadow of the Almighty. I will say to the Lord, "My refuge and my fortress, my God, in whom I trust." For he will deliver you from the snare of the fowler and from the deadly pestilence. He will cover you with his pinions, and under his wings you will find refuge; his faithfulness is a shield and buckler. You will not fear the terror of the night, nor the arrow that flies by day…..-
The passage also speaks of God's ability to deliver the faithful from deadly diseases and other forms of harm, and to protect them from the attacks of the wicked.
Overall, this passage is an encouragement to trust in God's protection and to seek refuge in Him in times of danger, including from hidden enemies.
Bible Verses About Enemy Attacks
In the Bible, an enemy attack is interpreted as a spiritual battle between good and evil. Throughout the Scriptures, there are numerous examples of God's people being attacked by their enemies.
In these cases, God is often seen providing protection and guidance to His people, showing that He is sovereign over all.
Enemy attacks in the Bible symbolize spiritual warfare between good and evil. God provides protection and guidance to His people, and Jesus defeats the enemy by showing His power and authority.
Thus, the biblical meaning of an enemy attack is a reminder that God is sovereign and that His people can conquer evil with His help.
Deuteronomy 28:7
The Lord shall cause your enemies who rise up against you to be defeated before you; they will come out against you one way and will flee before you seven ways.-
This passage can be understood as a promise of God's protection and deliverance from the attack of enemies.
It is a reminder that God is powerful and will defend and protect His people when they are under attack. It's also an encouragement to trust in God's ability to defeat their enemies and to have confidence in His protection and deliverance.
Joshua 10:19
But do not stay there yourselves; pursue your enemies and attack them in the rear. Do not allow them to enter their cities, for the Lord your God has delivered them into your hand.-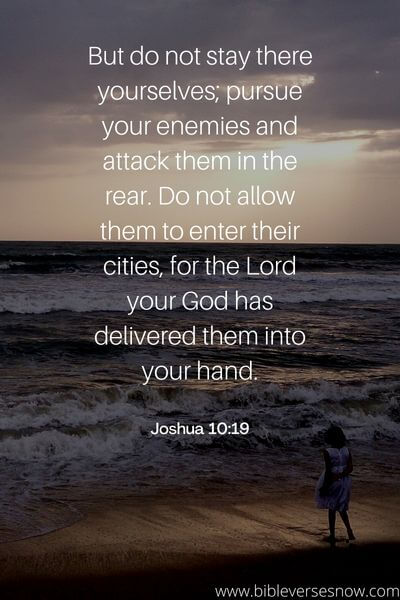 This passage is an encouragement for us Christians to trust in God's protection and deliverance from the attack of enemies.
Joshua is reminding his soldiers that ultimately, it is not them, but God who will fight for them and defeat their enemies.
God is powerful and will defend and protect His people when they are under attack and have confidence in His protection and deliverance. It's also an encouragement to have faith and trust in God during difficult times and to rely on Him for strength and guidance in the face of enemies' attacks.
Jeremiah 1:19
They will fight against you, but they will not overcome you, for I am with you to deliver you," declares the Lord.-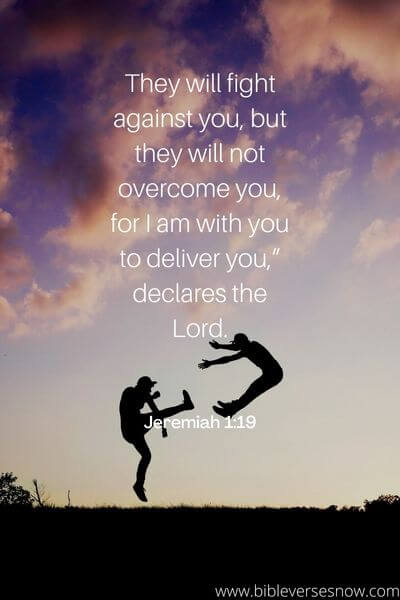 According to this bible verse, despite any form of attack, we might be facing from the enemies God is giving us the assurance that they shall never prevail.
In this instance, the passage is referring to physical attacks from enemies, but the same protection applies to spiritual warfare as well. God is always with us, ready to help us, no matter what equation we face.
He promises us that our enemies cannot push us past the limits of His protection and that with Him on our side, we shall remain safe and secure.
Bible Verses About Secret Enemies
A "secret enemy" is a person or group that one is aware of but pretends to be friendly with while secretly plotting against them. The term can also refer to a hidden or undisclosed enemy.
It is important to be aware of the people around you and their intentions, but it is also important to remember that not everyone is an enemy and to give others the benefit of the doubt.
2 Corinthians 11:26
I have been constantly on the move. I have been in danger from rivers, in danger from bandits, in danger from my fellow Jews, in danger from Gentiles; in danger in the city, in danger in the country, in danger at sea; and in danger from false believers.-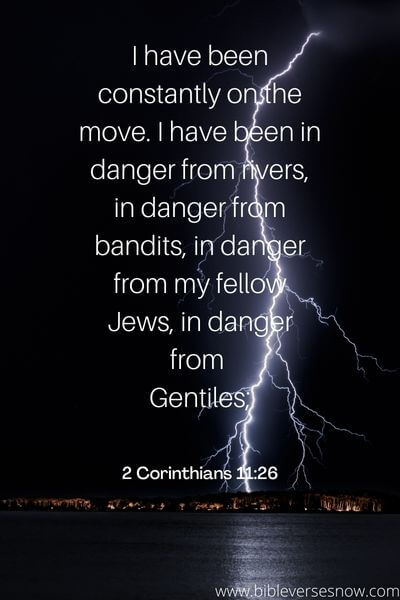 This verse is a reminder that even those who appear to be allies may not have our best interests at heart and it's important to be aware and discerning of those around us, especially in matters of faith and spirituality.
Additionally, it also reminds us that we may face adversaries in many forms and places, and encourages us to keep our faith in God, who is always there to protect us and guide us through difficult times.
Psalm 141:9
Keep me from the snares they have laid for me, and the traps set by evildoers.-
The Psalmist is asking God to keep him safe from the traps and snares that his enemies have set for him.
These traps and snares can be understood as the schemes and plots of his secret enemies, who are trying to catch him off guard and harm him.
Proverbs 27:6
Faithful are the wounds of a friend; profuse are the kisses of an enemy.-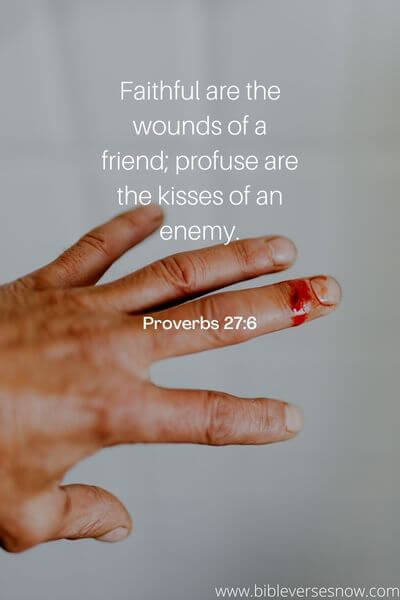 This verse is emphasizing the idea that sometimes, even though it may be uncomfortable or difficult to hear, constructive criticism or hard truths from a friend can be more valuable than flattery or false praise from an enemy.
The enemy's kisses are insincere and meant to deceive, whereas a friend's wounds come from a place of concern and care for the person's well-being.
Bible Verses When You have Enemies
When we have enemies, we should always look to God for help. He is a source of strength, comfort, and guidance in our darkest moments.
He promises to fight for us when we are weak and to give us peace and serenity when we are weighed down by our enemies.
He reminds us of His promises to protect us and gives us the courage to stand firm in the face of adversity. With God's help, we can find victory, no matter what enemies may stand against us.
Exodus 23:22
If you listen carefully to what he says and do all that I say, I will be an enemy to your enemies and will oppose those who oppose you.-
The verse is saying that if we carefully obey God's commands and do everything that He says, He will be their enemy's enemy and will protect them from their adversaries.
This verse is emphasizing the importance of obedience to God's laws and commands. It also implies that God will be with His people and protect them from their enemies if they are obedient to Him.
Proverbs 24:17
Do not gloat when your enemy falls; when they stumble, do not let your heart rejoice.-
As Christians, the verse is warning us to not take pleasure in the misfortune of others, even if they are our enemies.
To gloat over one's enemy's misfortune or downfall would be considered unkind and unfeeling. It is important to keep in mind that we should not take pleasure in the suffering of others.
Deuteronomy 20:1
When you go to war against your enemies and see horses and chariots and an army greater than yours, do not be afraid of them, because the LORD your God, who brought you up out of Egypt, will be with you.-
This verse is giving a message of encouragement to us. It is reminding us that even though our enemies may have superior military forces, we should not be afraid because God is always on our side.
God is the one who ultimately gives victory and it is important to trust in Him in difficult situations.
Bible Verses About Hidden Evil
Hidden evil can manifest in many forms from seemingly innocuous lies and manipulations to malicious acts that are meant to cause harm.
It can be difficult to identify hidden evil because it is so often disguised as something benign or even good.
The Bible is a powerful tool in fighting off evil and darkness, even when it is not visible to the naked eye.
One must be willing to battle the unseen and use the Word of God to do so. Scripture is a potent source of strength and courage, providing hope and comfort in the face of adversity.
 Psalm 46:2
Therefore, we will not fear, though the earth give way and the mountains fall into the heart of the sea.-
God is ever present to protect, even in the midst of hidden evil. It is a reminder that even when we can't see the evil around us, God is still with us, and He will protect us from it.
This verse is a powerful reminder to trust in God and His ability to protect us from all evil, even if it isn't visible.
2 John 1:7
For many deceivers have gone out into the world, those who do not confess the coming of Jesus Christ in the flesh. Such a one is the deceiver and the antichrist.-
This verse is referring to individuals or groups of people who deny that Jesus Christ came in the flesh, meaning that they do not believe that Jesus was fully human and fully God.
The verse describes these individuals as "deceivers" and "antichrists" because they are spreading false teachings and leading people away from the truth about Jesus.
The passage is a warning against the hidden evil of false doctrine and those who would spread it.
Proverbs 26:24-25
He who hates you will himself be consumed, and he who deals treacherously with you will deal treacherously with himself. When one takes away a face, he will take away the heart, and when one causes the face of the upright to fall, it is a blow to their own soul.-
These verses are warning against the hidden evil of deceit and treachery. The first part of the verse states that those who try to consume or harm others will ultimately be consumed or harmed themselves. This is a reminder that ultimately, evil will not succeed in the long term.
The second part of the verse, "When one takes away a face, he will take away the heart," is saying that when someone deceives or harms another person, they are also deceiving and harming themselves.
Bible Verses to Destroy Evil Plans
According to the Bible, evil plans are not meant to be destroyed, but rather to be avoided and resisted. There are many ways evil plans can be destroyed.
We are instructed to "resist the devil and he will flee from you". We are also told to "submit to God and resist the devil". We are further commanded to "abstain from every form of evil".
The Bible encourages us to reject evil by cultivating a lifestyle of holiness and righteousness, trusting in God, and relying on His strength and wisdom to overcome any temptation or challenge.
Psalm 37:12-13
The wicked plots against the just, and gnashes at him with his teeth. The Lord laughs at him, for He sees that his day is coming.-
God is in control and those who do evil will ultimately be held accountable for their actions.
It can also be seen as a message of hope for those who are facing opposition from wicked or evil people, that ultimately justice will be served.
Trust in God's plan and that He will ultimately bring about justice.
Isaiah 54:17
No weapon formed against you shall prosper, and every tongue which rises against you in judgment you shall condemn. This is the heritage of the servants of the Lord, and their righteousness is from Me," says the Lord.-
This verse gives reassurance and protection to God's people. It suggests that any plans or schemes that are formed against them will be destroyed and ultimately not successful.
It's a promise from God that those who serve him will be vindicated, defended, and protected from any evil plans or plots against them.
This verse reminds us to trust in God's protection and that He will ultimately bring about justice and defend His people from those who seek to harm them.
God will Expose your Enemies' Bible Verse
God's will is divine and beyond our understanding, but it is often said that He will ultimately bring justice and vindication to those who have been wronged.
It is not for us to know the timing or the specific ways in which God will expose the enemies of those who have been wronged, but it is certain that His justice will eventually be revealed.
We can have faith that God will bring an equitable resolution to all who have suffered injustice and that He will bring light and truth to all who have been wronged.
Isaiah 54:15
If anyone does attack you, it will not be my doing;whoever attacks you will surrender to you.-
However, this bible verse serves as a reminder that your opponents' intentions will fail. They will come together to bring you down, but none of their strategies will work.
God will deliver your adversaries while thwarting all of their plans. Your adversaries will be forced by God to confess all of their sinful schemes and submit to you. So instead of freaking out, trust God to reveal all of your enemies.
Psalm 121:7
The Lord will keep you from all harm he will watch over your life.-
This verse is saying that God will protect and keep us safe from harm, and will watch over our lives.
It suggests that if we put our trust in God, He will be our defender and shield against our enemies.
In this sense, it can be seen as a message of comfort and reassurance that God is always with us and will not abandon us.
Bible Verses on Love Your Enemies
The Bible commands us to pray for those who persecute us and to love our adversaries. No matter how challenging it may be to remember, this is a lesson that needs to be heeded.
Even if we disagree, we should remember that we are all human and should learn to love one another.
This is a fantastic method to appreciate, comprehend, and have compassion for those with whom we may not always agree or understand them.
Even though it can be challenging, we can learn to love our adversaries, which the Bible tells us is crucial.
Romans 12:20
On the contrary: "If your enemy is hungry, feed him; if he is thirsty, give him something to drink. In doing this, you will heap burning coals on his head.-
This verse is a call to love and extend kindness and forgiveness toward one's enemies. The idea of "heaping burning coals on his head" is thought to be a metaphor for bringing shame or guilt to an enemy through acts of kindness and forgiveness.
This verse is encouraging us to return good for evil and to love our enemies, instead of seeking revenge or hating them.
It is a call to practice empathy and to put oneself in the enemy's shoes and treat them with compassion, even if they have hurt or wronged them.
1 Peter 3:9
Do not repay evil with evil or insult with insult. On the contrary, repay evil with blessing, because to this you were called so that you may inherit a blessing.-
This is an incredibly challenging concept and one that is hard for us to accept and live out. We are so used to responding to our enemies with anger, hatred, and violence. But this passage teaches us to respond with love and grace.
This verse also serves as a reminder that God loves our enemies and He desires that they receive the same grace and mercy He has given to us.
He wants us to remember that we are all His creation, and He desires that none of us should perish.
We can extend grace and kindness to our enemies and show them the same love and compassion we want for ourselves. Only then can we truly live out the way of Jesus?
Bible Verses About Victory Over Enemies
Victory over enemies is more than just winning; it is an intense feeling of satisfaction and self-confidence that comes from conquering a challenge or overcoming an obstacle.
It can be a feeling of immense relief and gratification after a long period of difficulty and hardship.
Through faith in God, they can achieve victory over their enemies.
Psalm 18:29
With your help I can advance against a troop; with my God I can scale a wall.-
With God's help, one can overcome even the most difficult obstacles and enemies. The imagery of advancing against a troop and scaling a wall suggests that with God's help, one can overcome any obstacles that may stand in the way, including those posed by enemies.
It implies that God can give you the strength and power to face any enemy or any adversity, no matter how great or how powerful they may seem.
It is a reminder that God is always with us, and that with His help, we can overcome anything that comes our way.
Revelation 3:21
To the one who is victorious, I will give the right to sit with me on my throne, just as I was victorious and sat down with my Father on his throne.-
This verse is speaking about the ultimate victory over enemies that will be given to those who follow Jesus Christ.
The phrase "the one who is victorious" refers to those who have persevered in their faith in Jesus, even when faced with opposition or persecution.
This verse is promising us a reward of sharing in Jesus' victory and reign, by sitting with Him on His throne.
In conclusion, Loving and praying for one's enemies is seen as a way of imitating the love and grace of God, and it also can be an act of forgiveness, which is essential in the Christian faith.
Furthermore, it also serves as a way to show that we are followers of Christ and to break the cycle of hatred and violence.
It's also important to note that the Bible teaches that justice is important and it is the responsibility of God and not of humans to take revenge.
Therefore, when we pray for our enemies, we are entrusting the matter to God and leave the judgment to Him.