According to the Bible, there are several hindrances to spiritual growth that are mentioned. In order to grow spiritually, the bible expects us to confess our sins, break the bad habit of doubting God's word and have self-control and discipline in all that we do here on earth.
As you move on to reading the Bible verses on hindrances to spiritual growth, these verses show us the causes of hindrances to spiritual growth and how to overcome them in our lives.
21 Bible Verses On Hindrances To Spiritual Growth
Below are a few bible verses that mainly talks about what causes hindrances to spiritual growth in our lives.
These verses of the scriptures are guides and instructions that can help anyone who is willing to do away with sin, so to overcome these hindrances in their lives.
1 John 2:15 NIV
Do not love the world or anything in the world. If anyone loves the world, love for the Father is not in them.-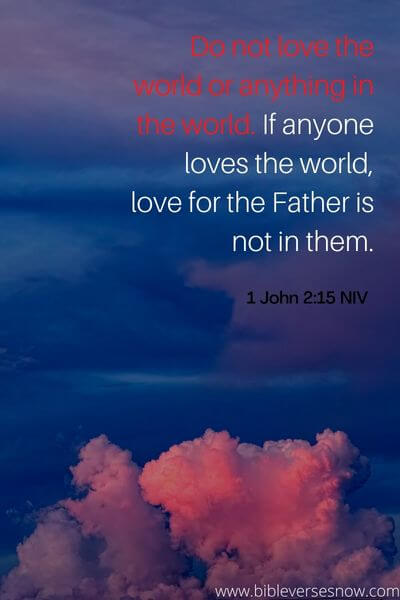 It describes one hindrance to spiritual growth, being overly concerned with worldly things.
It also teaches us to focus on things above rather than on things on earth (Colossians 3:2).
Our spiritual development is hindered when we place a higher value on the things of this world than we do on our relationship with God and our pursuit of His will.
We must value our relationship with God and put more of our attention on the things of heaven than the things of the earth if we want to grow spiritually.
Galatians 5:17 NIV
For the flesh desires what is contrary to the Spirit, and the Spirit what is contrary to the flesh. They are in conflict with each other, so that you are not to do whatever you want.-
This passage from Galatians, speaks about the conflict between the desires of the flesh and the wants of the Spirit.
The battle between the desires of the flesh and the desires of the Spirit can hinder spiritual growth.
The selfish and sinful desires of the flesh are greed, lust, and pride. If we give in to these desires, they might pull us away from God and hinder our spiritual growth.
The wants of the Spirit, on the other hand, are good and honorable desires, such as joy, love, and peace. We grow spiritually when we obey the precepts of the Spirit.
We must decide to pursue the wants of the Spirit rather than the desires of the flesh if we want to grow spiritually.
Galatians 6:7 ESV
Do not be deceived: God is not mocked, for whatever one sows, that will he also reap.-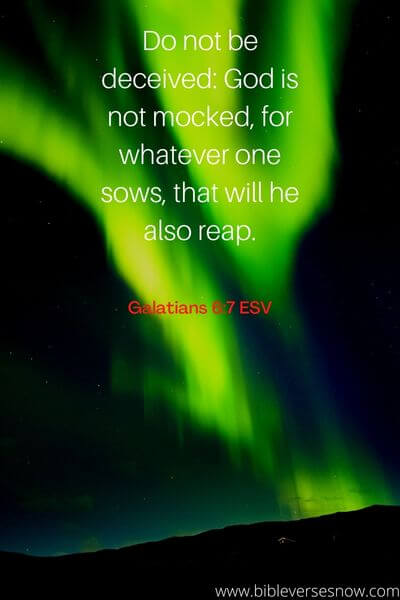 It mainly discusses the effects of sins and how they can hinder spiritual growth.
"For whatever one sows, that will he also reap.(Galatians 6:7), this means that our actions and choices have an impact. If we plant the seeds of sin, we will eventually reap its results. However, if we plant seeds of justice, we shall eventually reap its benefits.
We must be mindful of the decisions we make and the actions we take if we are to grow spiritually. We must also make an effort to plant seeds of righteousness rather than sin.
Matthew 6:24 NLT
"No one can serve two masters. For you will hate one and love the other; you will be devoted to one and despise the other. You cannot serve God and be enslaved to money.-
This verse (Matthew 6:24) serves as a reminder to us to be careful of the things that we let rule our lives and to be careful not to let them get in the way of our relationship with God.
Also, in this verse, Jesus is specifically talking about the perils of allowing material things to become a hindrance to spiritual growth.
He is cautioning against trying to serve both God and material things (worldly things) because they are contradictory.
Our spiritual growth may be hindered if we let our worldly things or other possessions rule our lives because it may cause us to put our own interests and goals ahead of those of God.
Spiritual Hindrances
Spiritual hindrances can therefore be caused by a person's inability to grow spiritually or achieve spiritual fulfillment.
These hindrances can be in the form of someone having bad ideas, feelings, beliefs, and actions that prevent him/her from connecting with their higher self or a higher power.
Also, Fear, doubt, anger, resentment, ego, and love of material things are also what usually cause spiritual barriers.
It can be helpful to exercise patience, self-reflection, and self-compassion to get through spiritual hindrances. Seeking the advice and support of a true preacher of God or counselor may also be beneficial.
What Does The Bible Say About Hindrances
Therefore, the Bible emphasizes the significance of refraining from actions or words that could cause people to lose confidence in God and exhorts us to stand steady in the face of any hindrances that may stand in the way of our getting closer to God.
Hebrews 12:1 NIV
Therefore, since we are surrounded by such a great cloud of witnesses, let us throw off everything that hinders and the sin that so easily entangles. And let us run with perseverance the race marked out for us.-
It is a verse that serves as an encouragement to us to keep going despite any hindrances we face as we follow Jesus and work to build our faith.
It also exhorts us, that we should cast away all hindrances that may prevent us from moving forward in this race.
The verse also makes reference to "sin," which has a tendency to ensnare us and keep us from living a good and faithful life.
We can run the course of faith with persistence and honesty by casting aside these hindrances and sins.
Bible Verses Concerning Spiritual Growth
Spiritual growth is achieved when one is a true follower of Christ.
2 Peter 3:18 NIV
But grow in the grace and knowledge of our Lord and Savior Jesus Christ. To him be glory both now and forever! Amen.-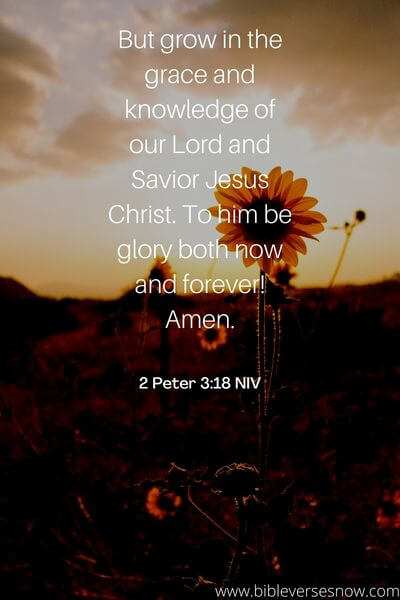 2 Peter 3:18  NIV is a word of encouragement to believers, encouraging them to grow in the grace and knowledge of Jesus Christ.
Grace and knowledge are the undeserved kindness and knowledge that God extends to believers through his son Jesus Christ.
The verse highlights how important it is to make an effort to develop one's relationship with God.
It also serves as a reminder to Christians that God's glory is the ultimate objective of this progress.
Romans 12:2 NLT
Don't copy the behavior and customs of this world, but let God transform you into a new person by changing the way you think. Then you will learn to know God's will for you, which is good and pleasing and perfect.-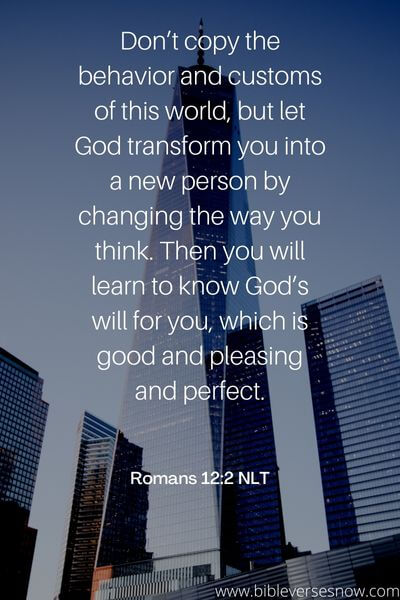 It teaches that changing one's thoughts is an important step in spiritual growth.
It exhorts believers to allow God to alter their perspective and thinking rather than conforming to the standards of the world.
Colossians 3:12-13
12 So, as those who have been chosen of God, holy and beloved, put on a heart of compassion, kindness, humility, gentleness and patience;

13 bearing with one another, and forgiving each other, whoever has a complaint against anyone; just as the Lord forgave you, so also should you.-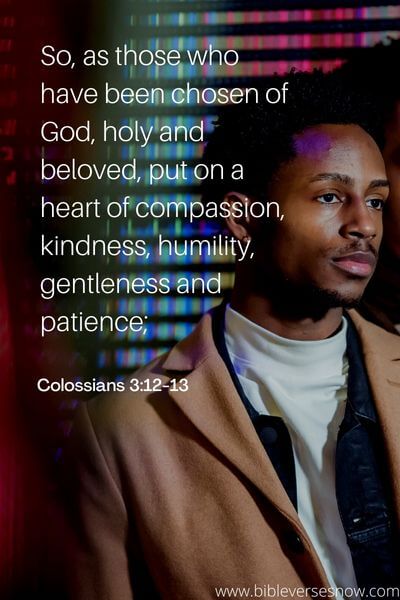 These verses stress the significance of character qualities and virtues in spiritual growth. Then exhort believers to "clothe themselves" in qualities like kindness, humility, gentleness, and patience, as well as to engage in acts of forgiving others.
The verse further highlights the importance of love in promoting spiritual growth by saying that it should be the main virtue that unites all other virtues.
Hindrances To Spiritual Growth
There are several things that can serve as hindrances to spiritual growth. These things are:
Sins
Bad habit of doubting God's word
Pride
Breaking God's commandments
Worldly loss
Discipline
Self-control etc.
Sins: Sin damages our relationship with God and hinders us from growing spiritually. As a result, sin can seriously hinder spiritual growth. In order to escape this, we must confess our sin, repent of it, and seek God's pardon and direction for living a good and holy life.
The habit of doubting God's word: Doubting God can create a distance between us and Him (God). It can be difficult to put our trust in God when we have doubts about His existence, benevolence, and love. As our relationship with God is important to our spiritual growth, this can make it challenging to advance in spiritual growth.
Pride: Pride is often portrayed in (Proverbs 16:18) as a significant hindrance to spiritual growth.
Pride can cause us to concentrate more on ourselves than on God and other people. When we are proud, we could be more focused on raising ourselves and celebrating our successes than we are on serving God and others. This may hinder our spiritual growth and make us lose focus on what's important.
Breaking God's commandments: Breaking the commandments of the Lord, can hinder spiritual growth, distance us from God, and finally lead us to destruction.
Worldly loss: Worldly loss, such as valuing materialistic things more than God, can hinder spiritual development. It can be tempting to let feelings of loss or grief dominate us and turn our attention away from God and His goodness. This might make it challenging to experience faith-based optimism and joy as well as to partake in the spiritual activities that deepen our relationship with God.
Discipline: Discipline, is very important considering spiritual development because it enables us to establish dependable routines and practices that build our relationship with God. However, a lack of discipline in our spiritual lives can hinder us from growing spiritually.
Self-control: Self-control is another important factor of spiritual growth, can enable us to withstand temptation and live in accordance with God's principles and values. Without self-control, it may be easier to give in to temptation and partake in negative or destructive habits. This can hinder our spiritual growth because it can destroy our efforts to live a life that pleases God and our relationship with Him.
Things That Hinder Our Relationship With God
According to the Bible, there are a lot of things that hinders us from getting closer to God these thing is called "The Spirits of the World," which causes negative thoughts, temptations, and harmful actions and words.
By pushing away the good in our lives and choosing evil instead of good, they try to distance us from God with their images and deceptions.
But if we turn from these sins, God will probably accept us back as His beloved children.
Spiritual Obstacles In The Bible
The bible highlights several spiritual obstacles that you must immediately overcome, such as wicked desires, anger, greed, attachment, and pride. Satan, according to Jesus, sought to prevent the Father from sending His Son (John 12:31; Luke 10:18).
The majority of Christians are unaware of further barriers, which the Bible refers to as spiritual obstacles.
It means that sin, our personal spiritual foe, is something we must constantly fight with since it prevents us from carrying out God's will and directives.
Overcoming Hindrances To Spiritual Growth
Overcoming hindrances to spiritual growth needs prayers and abstinence from all works of the devil (Sin) to be able to receive the very best from God.
Therefore, these sins could include wrath, pride, anger, and many other behaviors that the Lord our God considers unpleasant.
Sermon On Hindrances To Advancement
Let us today do away with sin and welcome the Lord Almighty into our lives. If we continue to live in sin, it has the potential to damage our life.
It can also obstruct our progress in whatever we may want to do and hinder us from growing spiritually.
Conclusion
Sin is what hinders progress and spiritual growth and also damages the relationship with God. In order to escape this, you need to confess your sins, repent of them, and accept Jesus as your personal Lord and Saviour into your life to live inside of you, pardon and direct your ways and give you spiritual growth and progress that you need.