Longing for Heaven is often tied to the belief that it is the ultimate destination of the soul after death. Heaven is described in various ways in the Bible, including as a place of rest, joy, and communion with God.
Christians believe that in Heaven, they will be reunited with loved ones who have passed away and be in the presence of God. Heaven is often associated with the hope and assurance of eternal life, which is offered through faith in Jesus Christ.
The Apostle Paul spoke about the Christian's longing for Heaven in his letter to the Philippians  (Philippians 1:21).
This verse expresses the Christian's desire to be with Christ in Heaven, which is seen as a better state than the struggles and challenges of this life. The hope of Heaven is also described in the book of Revelation, where it is portrayed as a place of no more tears, pain, or death.
Longing for Heaven Bible Verses
But our citizenship is in heaven. And we eagerly await a Savior from there, the Lord Jesus Christ
No eye has seen, no ear has heard, and no mind has imagined what God has prepared for those who love him.
I press on to reach the end of the race and receive the heavenly prize for which God, through Christ Jesus, is calling us.
I am torn between two desires: I long to go and be with Christ, which would be far better for me.
For here we have no lasting city, but we seek the city that is to come.
But as it is, they desire a better country, that is, a heavenly one. Therefore God is not ashamed to be called their God, for he has prepared for them a city.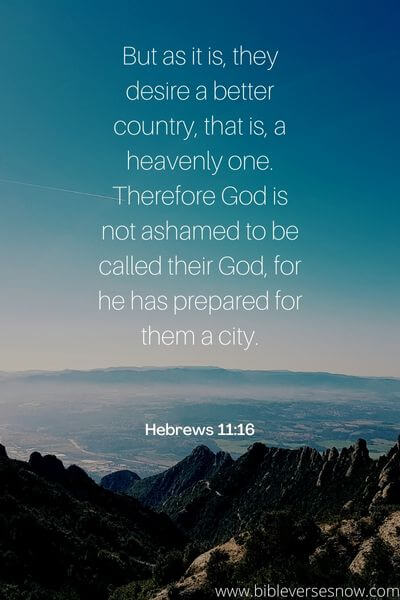 He will wipe every tear from their eyes. There will be no more death or mourning or crying or pain, for the old order of things has passed away.
Set your minds on things above, not on earthly things.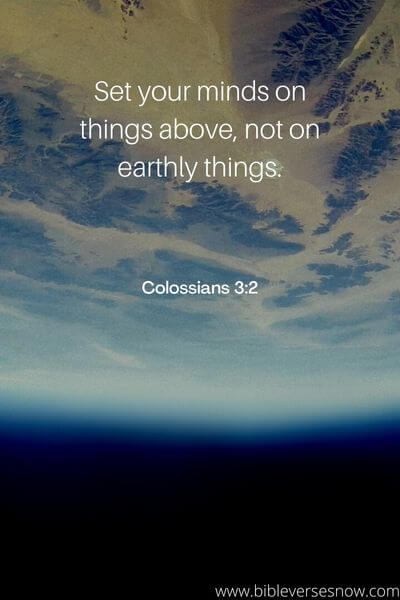 For to me, to live is Christ and to die is gain.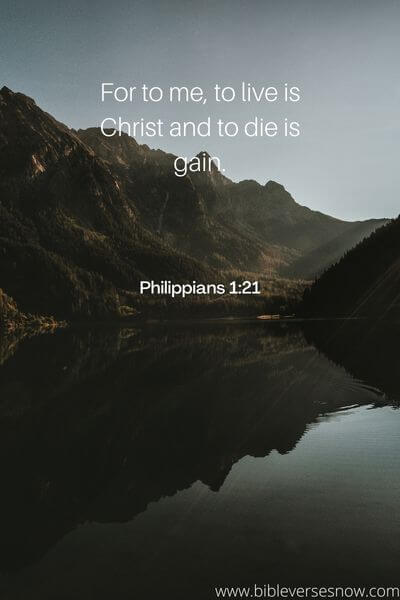 And if I go and prepare a place for you, I will come back and take you to be with me that you also may be where I am.
Bible verses about the Joy of Heaven
Therefore you now have sorrow; but I will see you again and your heart will rejoice, and your joy no one will take from you.
Blessed are you when men hate you, and when they exclude you, and revile you, and cast out your name as evil, for the Son of Man's sake. Rejoice in that day and leap for joy! For indeed your reward is great in heaven, for in like manner their fathers did to the prophets.
And they sang a new song, saying: 'You are worthy to take the scroll, and to open its seals; for You were slain, and have redeemed us to God by Your blood out of every tribe and tongue and people and nation.
Then I looked, and behold, a great multitude which no one could number, of all nations, tribes, peoples, and tongues, standing before the throne and before the Lamb, clothed with white robes, with palm branches in their hands, and crying out with a loud voice, saying, 'Salvation belongs to our God who sits on the throne, and to the Lamb!
And I heard a voice from heaven, like the voice of many waters, and like the voice of loud thunder. And I heard the sound of harpists playing their harps. They sang as it were a new song before the throne, before the four living creatures, and the elders; and no one could learn that song except the hundred and forty-four thousand who were redeemed from the earth.
Longing for God's presence verses
O God, You are my God; early will I seek You; my soul thirsts for You; my flesh longs for You in a dry and thirsty land where there is no water.
One thing I have desired of the Lord, that will I seek: that I may dwell in the house of the Lord all the days of my life, to behold the beauty of the Lord, and to inquire in His temple.
Whom have I in heaven but You? And there is none upon earth that I desire besides You. My flesh and my heart fail; but God is the strength of my heart and my portion forever.
I stretch out my hands to You; my soul longs for You like a thirsty land.
Blessed are those who hunger and thirst for righteousness, for they shall be filled.
What does the Bible say about longing for God?
The Bible teaches that the longing for God and seeking after Him is a natural and necessary part of the Christian life. God promises to reveal Himself to those who earnestly seek Him and draw near to those who draw near to Him.
The psalmist in (Psalm 42:1) expresses a deep longing for God, using the metaphor of a deer panting for water to describe the intensity of their desire.
The psalmist is not just expressing a casual interest in God but a deep and intense desire to be in God's presence. The phrase "my soul pants for you, my God" conveys that the psalmist longs for God. It is a passionate, all-consuming desire that cannot be satisfied by anything else.
This verse is a beautiful expression of the longing and yearning we humans can have for a relationship with God. It reminds us that God is the ultimate source of satisfaction and fulfillment and that our souls will not be at peace until we find our rest in Him.
Longing for God meaning
Longing for God refers to a deep, passionate desire for a relationship with God. It is a spiritual yearning to know and experience God's presence, love, and guidance in our lives. Longing for God can take many forms, such as a desire to read and study the Bible, pray, worship, serve others, or experience God in nature or through other people.
Longing for God can arise from a sense of emptiness or dissatisfaction with the world, recognizing our sin and need for forgiveness, or a desire to find meaning and purpose.
It is a natural response to the human condition, marked by a deep longing for something greater than ourselves.
Longing for God is not just a feeling but an action. It involves seeking after God with our whole hearts, minds, and souls and making a deliberate effort to cultivate a relationship with Him.
This might involve prayer and meditation, attending church or other spiritual gatherings, practicing acts of service and compassion, or engaging in spiritual disciplines like fasting or silence.
Intense longing for God
Intense longing for God refers to a deep and passionate desire to know, experience, and be close to God. It is a powerful feeling that arises from recognizing our limitations and a yearning for something greater than ourselves.
An intense longing for God is often characterized by a sense of emptiness or dissatisfaction with the world, a recognition of our sinfulness and need for forgiveness, and a desire to find meaning and purpose in life.
It can manifest itself in various ways, such as a desire to read and study the Bible, pray, worship, serve others, or seek out experiences of God's presence in nature or through other people.
Where does the desire and longing for God come from
The desire and longing for God can come from the heart, often understood as the center of our thoughts, emotions, and desires.
In the Bible, the heart is often used to symbolize the innermost part of our being, where we experience our deepest longings and desires.
When we experience a longing for God, it can express our heart's deepest yearnings.
We may feel a sense of emptiness or dissatisfaction with the world or a burning desire for something more. Our hearts may be drawn towards God through experiences of beauty, love, compassion, or a sense of divine invitation or calling.
What did Jesus say about going to heaven?
Jesus made it clear what it takes for a man to make heaven when he said in (John 14:6) about him being the way, the truth, and the light and that no one can access God but only through him.
He emphasized that faith in him is necessary for entering heaven. He told his disciples that he was the only path to the Father and that without faith in him, one could not enter heaven.
This statement is often interpreted as a central tenet of the Christian faith, emphasizing that Jesus is the only way to salvation and eternal life. It also suggests that salvation is not achieved through one's actions or good deeds but through faith in Jesus as the Son of God and the savior of humanity.
What does the Bible say about getting to heaven?
The Bible teaches that all people are sinners and are separated from God because of their sins (Romans 3:23). God loves us and desires to reconcile us to himself. He offers salvation as a gift to all who believe in his Son, Jesus Christ (Ephesians 2:8-9).
Through his death and resurrection, Jesus paid the penalty for our sins, and his sacrifice made it possible for us to be forgiven and to have a restored relationship with God.
This gift of salvation is received through faith in Jesus Christ. In other words, it cannot be earned through good works or any other means, but it is offered as a gift that we receive by putting our trust in Jesus as our savior and Lord (John 3:16; Romans 10:9).
The Bible clearly states that salvation is not achieved through our efforts or good deeds. We cannot earn our way into heaven by being good enough, doing enough good deeds, or following religious rules and rituals. Instead, it is a gift we receive through faith in Jesus.