In the realm of faith and spirituality, there is perhaps no greater yearning than the desire to experience the profound and transformative love of God. Prayer, a sacred act of communication with the divine, becomes the vessel through which we seek and cultivate a deeper connection with our Creator. It is in prayer that we lay bare our hearts, offering our hopes, fears, and aspirations before the throne of God, seeking His infinite love to permeate our very beings.
Whether it is in moments of joy or times of sorrow, prayer for God's love becomes a sacred invitation, a humble plea for the divine embrace that has the power to heal, restore, and ignite within us an unquenchable flame of devotion. So, let us embark on a spiritual journey, exploring the depths of prayer for God's love, as we open our hearts and souls to the boundless and unconditional love that awaits us in the presence of the Almighty.
Prayer For God's Love
Dear Heavenly Father,
I come before You with a humble heart, recognizing that Your love is the foundation of all existence. Your love is beyond measure, beyond comprehension, and it surpasses all human understanding. I am in awe of Your boundless love that extends to every corner of creation.
Lord, I pray that Your love may envelop me completely. Fill every fiber of my being with Your unconditional and transformative love. Let it penetrate every thought, every word, and every action. Help me to experience the depth of Your love in every aspect of my life.
I surrender myself to Your love, knowing that it is the greatest force in the universe. Thank You, dear Lord, for the immeasurable gift of Your love. May it be my constant source of strength, joy, and peace. I offer this prayer in the name of Jesus, who embodied Your love fully. Amen.
1. A Prayer to Experience God's Unconditional Love
Dear Heavenly Father, I come before You with a humble heart, longing to experience Your unconditional love. Help me to truly grasp the depth and breadth of Your love for me. Open my eyes to see Your love in every aspect of my life, and soften my heart to receive it fully. May Your love overwhelm me and transform me from within.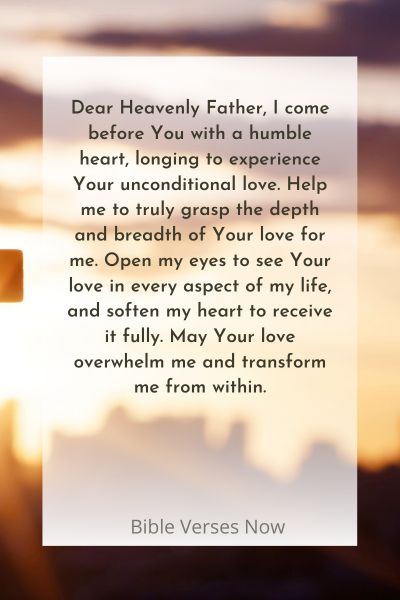 "Give thanks to the God of heaven, for his steadfast love endures forever."
2.  A Prayer for God's Tender Embrace
Gracious God, I yearn for Your divine love to surround me like a gentle embrace. Fill me with Your compassion and mercy, and let me feel Your presence in every moment. Help me to seek Your love above all else, knowing that it is the greatest gift I could ever receive. Grant me the grace to share Your love with others and reflect Your love in all that I do.
"We love because he first loved us."
3. A Prayer for Open Hearts
Heavenly Father, I pray for open hearts within us, that we may fully embrace Your infinite love. Remove any barriers or walls that prevent us from receiving Your love completely. Fill us with Your Spirit, that we may overflow with love for You and for one another. Help us to love as You love us, unconditionally and without reservation.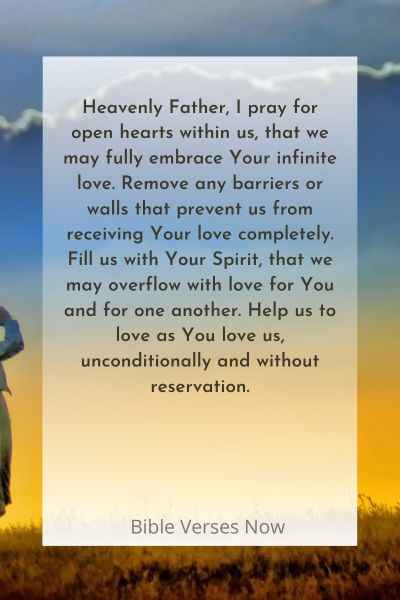 "And hope does not put us to shame, because God's love has been poured into our hearts through the Holy Spirit who has been given to us."
4. A Prayer for God's Love to Fill Every Corner of Our Being
Loving Father, I surrender myself to You completely. Fill every corner of my being with Your boundless love. Let Your love flow through me, touching every aspect of my life and transforming me from within. May Your love be the driving force behind my thoughts, words, and actions. I am forever grateful for Your unwavering love.
"so that Christ may dwell in your hearts through faith—that you, being rooted and grounded in love, may have the strength to comprehend with all the saints what is the breadth and length and height and depth."
5. Inviting God's Love to Heal and Transform Our Lives
Dear God, I invite Your love to heal and transform every area of my life. Pour out Your love upon my wounds, bringing healing, restoration, and wholeness. Let Your love be the catalyst for change, renewing my mind, transforming my character, and guiding my steps. May Your love be the source of strength and renewal in my life.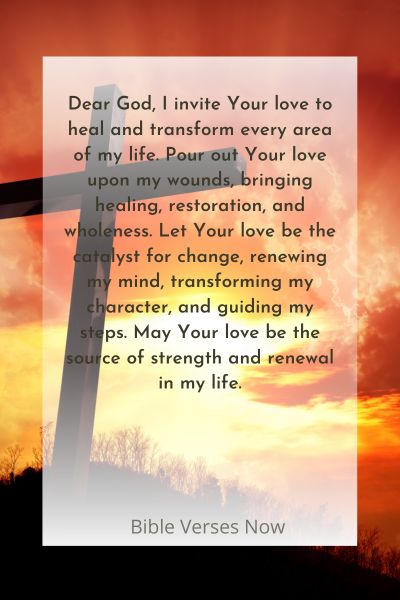 "He heals the brokenhearted and binds up their wounds."
6. A Prayer for Faith and Assurance
Faithful Father, I place my trust in Your unfailing love. In moments of doubt and uncertainty, help me to remember that Your love never wavers. Grant me the faith to trust in Your perfect plans and to rest in the assurance that Your love will carry me through every trial and tribulation. Strengthen my trust in You, O Lord.
Romans 8:38-39
"For I am convinced that neither death nor life, neither angels nor demons, neither the present nor the future, nor any powers, neither height nor depth nor anything else in all creation, will be able to separate us from the love of God that is in Christ Jesus our Lord."
7. A Prayer for God's Love to Guide and Illuminate Our Path
Heavenly Guide, I seek Your love to illuminate my path. May Your love be the guiding light that directs my steps and leads me in the way of righteousness. Help me to walk in alignment with Your perfect will, knowing that Your love will never lead me astray. I surrender my plans to You, trusting that Your love will always prevail.
Psalm 119:105
"Your word is a lamp to my feet and a light to my path."
8. A Prayer of Gratitude and Surrender
Gracious God, I humbly surrender myself to Your abundant love. I am grateful for the countless ways You have shown Your love to me. Help me to surrender my will to Yours, knowing that Your plans are greater than my own. Fill me with gratitude for Your love, and empower me to live a life that reflects Your love for others.
Galatians 2:20
"I have been crucified with Christ. It is no longer I who live, but Christ who lives in me. And the life I now live in the flesh I live by faith in the Son of God, who loved me and gave himself for me."
9. Seeking God's Love in Times of Loneliness and Isolation
Loving Father, in moments of loneliness and isolation, I seek solace in Your comforting love. Wrap Your loving arms around me, reminding me that I am never alone. Help me to find companionship in Your presence and to experience the fullness of Your love even in the absence of human connection.
Deuteronomy 31:6
"Be strong and courageous. Do not fear or be in dread of them, for it is the Lord your God who goes with you. He will not leave you or forsake you."
10. Praying for God's Love to Mend Broken Relationships
Merciful God, I bring before You the brokenness in my relationships. I pray for Your love to mend what is fractured and restore what is lost. Soften hardened hearts and heal wounded souls. Teach me to love as You love, that reconciliation and forgiveness may flow in abundance. May Your love be the catalyst for healing and restoration.
1 Peter 4:8
"Above all, love each other deeply, because love covers over a multitude of sins."
11. A Prayer for God's Love to Bring Comfort in Times of Grief
Compassionate Father, in moments of grief and sorrow, I seek solace in Your comforting love. Wrap Your arms around me, providing the solace and strength that only Your love can bring. Comfort me with Your presence, and remind me that even in the midst of pain, Your love remains steadfast and unchanging.
Psalm 34:18
"The LORD is close to the brokenhearted and saves those who are crushed in spirit."
12. Embracing God's Love to Overcome Fear and Anxiety
Heavenly Father, I surrender my fears and anxieties to Your perfect love. Help me to embrace Your love and find refuge in Your presence. Fill me with Your peace that surpasses all understanding, casting out fear and anxiety from my heart. Grant me the courage to trust in Your love and to walk forward in faith.
1 John 4:18
"There is no fear in love. But perfect love drives out fear because fear has to do with punishment. The one who fears is not made perfect in love."
13. A Prayer for God's Love to Empower and Strengthen Us
Mighty God, I pray for Your love to empower and strengthen me. Fill me with Your Spirit, that I may be rooted and grounded in Your love. Grant me the strength to face every challenge, knowing that Your love equips me for all that lies ahead. May Your love be my constant source of strength and resilience.
Ephesians 3:16
"I pray that out of his glorious riches, he may strengthen you with power through his Spirit in your inner being."
14. A Prayer for God's Everlasting Love
Heavenly Father, I am in awe of Your everlasting love that nurtures and sustains my soul. In the midst of life's demands and distractions, help me to prioritize my relationship with You. Fill me with a hunger for Your Word and a thirst for Your presence. May Your love be the wellspring of life that nourishes my soul.
Psalm 42:1-2
"As the deer pants for streams of water, so my soul pants for you, my God. My soul thirsts for God, for the living God. When can I go and meet with God?"
15. A Prayer of Celebration and Joy
Heavenly Father, I lift my voice in joyful celebration of Your boundless love. Thank You for pouring out Your love upon me and filling my life with purpose and meaning. May my heart overflow with gratitude and may my life be a testament to Your love. I rejoice in You, O Lord, for You are the source of true and everlasting joy.
Psalm 118:24
"This is the day that the LORD has made; let us rejoice and be glad in it."
Conclusion
In the depths of our souls, where the longing for love resides, prayer becomes a sacred journey, an intimate connection with the divine. Through prayer, we open our hearts to the boundless love of God, allowing it to flow into every crevice of our being, illuminating our path, healing our wounds, and transforming our lives.
So let us continue to pray for God's love to envelop us, to guide us, and to ignite a flame of joy within us. With hearts filled with gratitude and souls set ablaze, we embark on a remarkable journey of divine love, knowing that in every prayer, we draw closer to the embrace of our Heavenly Father, who loves us with an unfathomable, everlasting love.