Prayer has long been recognized as a powerful tool for seeking solace, comfort, and divine intervention in times of distress and hardship. One such challenging situation is when someone we care about finds themselves in a coma, a state of deep unconsciousness.
Through prayer, we invoke divine grace, seeking guidance, strength, and miraculous healing for the one who lies in the shadows of unconsciousness. It is a spiritual journey that brings comfort to the family, friends, and loved ones involved, as they turn to their faith and entrust the comatose person's fate to the hands of the divine.
Prayer for Someone in a Coma
Heavenly Father,
I come before You with a heavy heart, lifting up to You someone dear to me who lies in a coma. I humbly ask for Your divine intervention, healing, and awakening in their life. You are the ultimate source of life and restoration, and I trust in Your limitless power.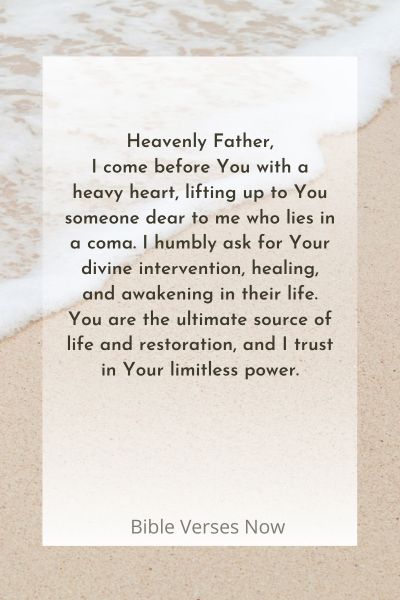 Lord, I pray for a miracle. Touch their body, mind, and spirit with Your healing hands. Bring forth a profound awakening, breaking through the barriers of unconsciousness. Restore their health, consciousness, and vitality according to Your perfect will.
Grant comfort and strength to their family and loved ones during this challenging time. Surround them with Your love, peace, and unwavering faith. Provide them with the endurance and resilience needed to support their dear one in their coma. In the name of Jesus, who has the power to heal and restore, I pray. Amen.
1. A Prayer for Divine Healing and Awakening
Heavenly Father, I humbly come before You, seeking Your divine intervention in the life of the one who lies in a coma. I pray for miraculous healing and awakening from this state of unconsciousness. You are the ultimate healer, Lord, and I trust in Your power to restore health and consciousness. Breathe life into their body, awaken their senses, and bring them back to the embrace of their loved ones.
"Lord my God, I called to you for help, and you healed me."
2. A Prayer for Comfort and Strength in Times of Coma
Dear Lord, I lift up the person in a coma, their family, and friends, and I pray that You wrap them in Your comforting embrace. Give them strength during this challenging time, fill their hearts with peace, and alleviate their anxieties. Surround them with love and support, and let them find solace in knowing that You are with them every step of the way.
"So do not fear, for I am with you; do not be dismayed, for I am your God. I will strengthen you and help you; I will uphold you with my righteous right hand."
3. A Prayer for the Restoration of Health and Consciousness
Gracious God, I come before You with a plea for the restoration of health and consciousness for the one trapped in a coma. By Your boundless love and mercy, touch their body and mind, bringing forth healing and awakening. Let their senses be reawakened, their thoughts be clear, and their body be revitalized. I trust in Your power to make the impossible possible.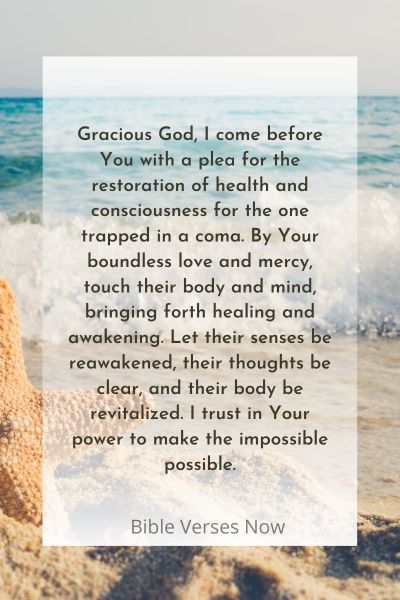 "But I will restore you to health and heal your wounds, declares the Lord."
4. A Prayer for the Light of Hope to Reach the Comatose Soul
Dear Heavenly Father, in this moment of darkness and uncertainty, I pray that the light of hope penetrates the depths of the comatose soul. Illuminate their spirit with Your divine presence, infuse them with the strength to overcome this state, and let hope be their guiding light. May they find solace in Your promises and emerge from this coma with renewed purpose and vitality.
"You are my refuge and my shield; I have put my hope in your word."
5. A Prayer for Peace and Serenity in the Comatose Journey
Dear Heavenly Father, In this challenging comatose journey, we come before You seeking peace and serenity. We entrust our loved one into Your loving hands, knowing that You hold their life in Your divine care. Grant them comfort and healing, Lord, as we place our trust in Your perfect will. Help us find strength and solace in Your presence, knowing that You are with us every step of the way.
"And the peace of God, which transcends all understanding, will guard your hearts and your minds in Christ Jesus."
6. A Prayer for the Family and Loved Ones of the Comatose Patient
Loving God, I lift up the family and loved ones of the comatose patient in prayer. Provide them with strength, comfort, and unwavering faith during this challenging time. Grant them the assurance of Your presence and shower them with Your love. Help them navigate through their emotions, and unite them in support and hope for their dear one's recovery.
Psalm 34:18
"The Lord is close to the brokenhearted and saves those who are crushed in spirit."
7. A Prayer for Medical Professionals Guiding the Comatose Individual
Dear Lord, I pray for the medical professionals who are caring for the comatose individual. Grant them wisdom, skill, and discernment as they make decisions regarding their patient's well-being. Guide their hands and minds, that they may provide the best care possible. Strengthen their resolve, encourage their hearts, and bless them abundantly for their dedication.
James 1:5
"If any of you lacks wisdom, you should ask God, who gives generously to all without finding fault, and it will be given to you."
8. A Prayer for the Inner Healing and Spiritual Rejuvenation of the Comatose
Heavenly Father, I pray for the inner healing and spiritual rejuvenation of the one in a coma. In their unconscious state, may their spirit be touched by Your divine presence. Bring forth restoration, healing, and a deep spiritual awakening within their soul. Let them experience Your love and grace, even in their current condition.
Psalm 23:3
"He restores my soul. He guides me in paths of righteousness for his name's sake."
9. A Prayer for the Comatose Mind to Be Touched by Divine Grace
Merciful God, I lift up the comatose mind before You, asking for Your divine grace to touch and restore it. Pierce through the darkness that veils their consciousness, and let Your light shine upon their thoughts and memories. Restore their cognitive functions, grant clarity, and awaken their mind to the world around them.
Psalm 119:130
"The unfolding of your words gives light; it gives understanding to the simple."
10. A Prayer for the Comatose Soul's Connection to the Universal Energy
Eternal God, I pray for the comatose soul's connection to the universal energy that flows through all creation. May their spirit be intertwined with the divine, feeling the interconnectedness of all life. Awaken within them a sense of belonging and purpose, and let them find solace in knowing that they are part of Your grand design.
Colossians 1:17
"He is before all things, and in him all things hold together."
11. A Prayer for the Comatose Person's Journey Towards Consciousness
Lord of miracles, I lift up the comatose person's journey towards consciousness to Your loving hands. Guide them on this path of awakening, leading them from darkness into the light. Grant them the strength to overcome the obstacles that lie in their way, and may their journey be marked by progress, hope, and eventual awakening.
Isaiah 42:16
"I will lead the blind by ways they have not known, along unfamiliar paths I will guide them; I will turn the darkness into light before them and make the rough places smooth. These are the things I will do; I will not forsake them."
12. A Prayer for Divine Intervention and Miraculous Awakening from Coma
Heavenly Father, I come before You with a fervent plea for divine intervention and a miraculous awakening from coma. You are the God of miracles, and I believe in Your power to break through the barriers of unconsciousness. Speak life into the comatose person's being, awaken their senses, and restore them to full health and consciousness.
Ephesians 3:20
"Now to him who is able to do immeasurably more than all we ask or imagine, according to his power that is at work within us."
13. A Prayer for the Comatose Patient's Path to Recovery and Renewal
Loving Father, I lift up the comatose patient's path to recovery and renewal before You. May their body be infused with strength and vitality, their cells be rejuvenated, and their organs function optimally. Guide them on the journey of healing, renew their energy, and grant them a full restoration of health.
Psalm 103:2-3
"Praise the Lord, my soul, and forget not all his benefits—who forgives all your sins and heals all your diseases."
14. A Prayer for the Comatose Body to Find Restoration and Vitality
Gracious God, I pray for the comatose body to find restoration and vitality. Infuse every cell, every tissue, and every organ with Your healing power. Let strength flow through their limbs, vitality course through their veins, and life fill their being. May their body experience a miraculous transformation, emerging from the coma with renewed vigor.
Isaiah 40:31
"But those who hope in the Lord will renew their strength. They will soar on wings like eagles; they will run and not grow weary, they will walk and not be faint."
15. A Prayer for Divine Presence and Guidance in the Comatose State
Dear God, I pray for Your divine presence and guidance to encompass the comatose individual. Though their physical body is unresponsive, may their spirit be receptive to Your loving presence. Guide them through this state of unconsciousness, providing them with comfort, peace, and assurance that they are never alone.
Joshua 1:9
"Have I not commanded you? Be strong and courageous. Do not be afraid; do not be discouraged, for the Lord your God will be with you wherever you go."
Conclusion
In times of great adversity, when someone we love lies in a coma, prayer becomes a powerful source of solace, hope, and divine intervention. Through heartfelt supplication, we entrust the comatose individual and their journey to the hands of a loving and merciful God.
We seek divine healing, awakening, and restoration for their physical, mental, and spiritual well-being. We pray for comfort and strength for their family and loved ones, as well as guidance for the medical professionals involved in their care.  As we offer our prayers, we trust in the infinite power and boundless love of our Creator, knowing that even in the depths of a coma, there is the potential for light, awakening, and renewal.