Listed below are thank you Jesus for the blood bible verse which is a message we as Christians need to consider as important as we are in existence.
Thank You Jesus For The Blood Bible Verse
The numerous bible verses outlined below is clearly talking about the message of thanksgiving for the blood of Jesus which we should be aware of as Christians.
Ephesians 1:7
In him we have redemption through his blood, the forgiveness of sins, in accordance with the riches of God's grace.-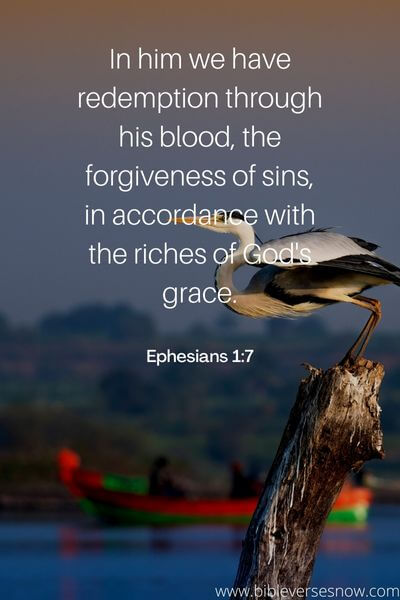 This verse declares that we have been redeemed in Jesus Christ, and our sins have been cleansed, as a result of God's wonderful grace.
This verse emphasizes Jesus's sacrifice on the cross. He paid the penalty for mankind's crimes with his blood.
Jesus took our merited punishment and established a path for us to be reconciled to God through trust in Him.
As Christians, we may now be assured that our sins have been totally atoned for and that we have been made righteous in God's eyes.
Hebrews 9:22
And according to the law almost all things are purified with blood, and without shedding of blood there is no remission.-
This verse emphasizes the significance of blood shedding in the purification process and how it was required for forgiveness under the old covenant.
He then goes on to say that Jesus Christ made the ultimate and complete sacrifice for sin forgiveness by offering his own blood as the final sacrifice for sin.
For Christians, this verse definitely serves as a reminder of the significance of Jesus' sacrifice and his shed blood in bringing forgiveness and salvation to humanity.
Thank You Jesus Meaning
At its core, saying "thank you Jesus" is an acknowledgement of everything He's done for us. It's a way of giving Him glory and thanking Him for His goodness.
This might include thanking Him for answered prayers, for His protection and provision, or for anything else we feel grateful for.
But sometimes, people use this context to express emotions like joy, happiness, relief, or excitement. For instance, if something good happens that we didn't expect, we might say "thank you Jesus" as a way of celebrating.
No matter what the context, though saying "thank you Jesus" is always an act of worship and praise.
Words To Thank You Jesus For The Blood
Thank you, Jesus, for shedding your blood to save us. Your death on the cross was a love sacrifice, and your resurrection is a demonstration of your strength and majesty.
Your blood serves as a reminder of your mercy and grace. You show us the way to eternal life and intercede with your Father in Heaven on our behalf. You are our advocate, defender, and guardian.
Your blood is valuable, and we will be eternally grateful for your sacrifice. You have set us free from the bonds of sin and given us the gift of eternal life.
We appreciate your kindness and grace. We thank you for the blood you bled for us, and we thank you for the hope you gave us.
May our hearts be overflowing with gratitude for everything you've done for us. May our lives be a reflection of your grace and mercy. We honour and thank you for your blood. Amen.
Bible Verse For The Blood Of Jesus
The bible verses well scripted below with elaborated explanations talk more about the blood of Jesus which is important to know exactly what the bible says about this context.
Ephesians 1:7
In him we have redemption through his blood, the forgiveness of sins, in accordance with the riches of God's grace.-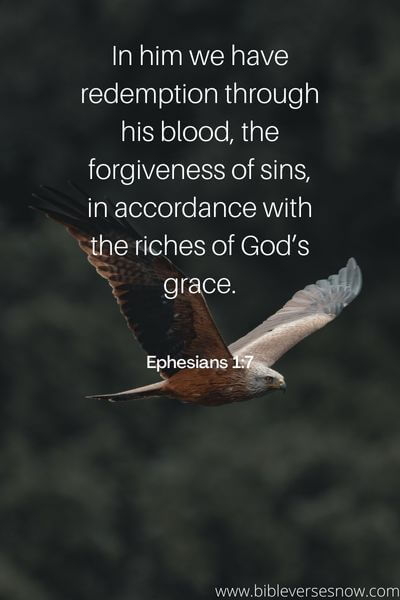 This verse transitions to the payment Jesus made for us "through his blood." Paul is referring to Christ's death on the cross as sufficient payment for the sins of all who believe.
This freedom was not free, since it is paid for by Christ's death it cost Him everything. As a result, for the believer, the ultimate price has already been paid.
1 John 1:7
But if we walk in the light, as he is in the light, we have fellowship with one another, and the blood of Jesus his Son cleanses us from all sin.-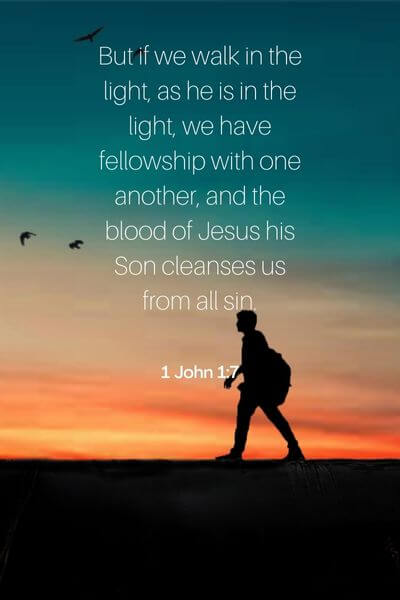 This verse refers to the idea that Jesus Christ's blood has the power to cleanse and purify a person from their sins.
The phrase "walking in the light" refers to living in accordance with God's truth and righteousness.
As we know, when a person has fellowship with God and lives in this manner, they are purified and made holy by Jesus' sacrifice on the cross.
1 Peter 1:19
But with the precious blood of Christ, like that of a lamb without blemish or spot.-
The emphasis here is on the significance of Jesus Christ's death. He calls Jesus' blood "precious," which means valuable or highly valued.
The description of Jesus as a "lamb without blemish and without spot" is the practice of sacrificing unblemished lambs to atone for sins.
In this case, Peter is claiming that Jesus' death was a perfect and sinless sacrifice for humanity's sins.
Hebrews 10:10
And by that will we have been sanctified through the offering of the body of Jesus Christ once for all.-
The term "sanctification" here is also translated as "made holy." The context here is important.
While the Bible often speaks of lifelong, progressive growth in holiness often referred to as "sanctification" the topic at hand here is salvation.
The writer of Hebrews is currently speaking of the difference between temporary, repeated animal sacrifices, and the single, perfect sacrifice of Jesus.
The context indicates that this reference to "sanctification" is a reference to our salvation from eternal judgment, not our progressive growth in Christ.
What is the Blood Of Jesus Prayer
The phrase "blood of Jesus" is used several times in the New Testament and is the expression of the sacrificial death and full atoning work of Jesus on our behalf.
References to the Savior's blood include the reality that He literally bled on the cross, but more significantly that He bled and died for sinners.
The blood of Jesus has the power to atone for an infinite number of sins committed by an infinite number of people throughout the ages, and all whose faith rests in that blood will be saved. Here are a number of prayers that has to do with the Blood of Jesus:
Dear Jesus, Thank You, Lord, for shedding Your Blood for us. May the Water and Blood that came from the side of Jesus create a protecting fountain of grace, one which flows directly from the throne of God to us. Come, Lord, and fill us with Your Holy Spirit."
Thank You Jesus For The Blood Prayer
Blood in Christian theology refers to the physical blood actually shed by Jesus Christ primarily on the Cross, and the salvation which Christianity teaches was accomplished thereby, or the sacramental blood (wine) present in the Eucharist or Lord's Supper, which some Christian denominations believe to be the same blood of Christ shed on the Cross. Here are a number of prayers thanking Jesus for the Blood
Lord Jesus, we thank You so much for your precious blood that has redeemed us from our sinful past.
We thank You so much for suffering on the cross for our sins. May we never take it lightly that only by Your precious blood can we be saved from our sins and restored to a relationship with you for eternity? Amen
I thank You, Father God, for the Birth and Life, Crucifixion and Death, Resurrection and Ascension of our Lord Jesus, the Christ.
I acknowledge the Power that His Shed Blood has to Forgive, Justify, Reconcile, Propitiate and Regenerate. Amen
I thank You that The Blood of Jesus Christ also Cleanses, Heals, Delivers, Sanctifies and Protects. Amen
I realize that the Actuality of this Power of Jesus' Blood to Save, Heal, Deliver and Protect us has been made available for me to appropriate through my Faith. Amen
Lord Jesus, I gratefully receive the Salvation and Righteousness that You're Finished
Work on the Cross of Calvary has been achieved on my behalf. Amen
I humbly receive Your Blood's effect over the elements of my spirit, my soul, and my body; over my mind, will, and emotions and over my conscious, subconscious and unconscious minds. Amen
I appropriate the Blood of Jesus over my thoughts, words, and actions; the motivations and intents of my heart and over all my relationships; past, present, and future. Amen
Dear  Lord, Whenever I open my spirit and soul to be influenced in any way or to influence others in any way, I ask that the Blood of Jesus and His Cross will be a filter of selection and protection as to what flows into or through me. Amen