The best is yet to come bible verse is one of the most powerful verses in our lives. It serves as a reminder that there is nothing we have to worry about right now, or in the future. Things will be good and great
You will encounter a variety of challenges in life, both good and negative Because tomorrow will worry about itself, don't worry about it today. There is already enough difficulty in each day.  It gets better from here. When we concentrate on the finished work of Christ on the Cross for our lives rather than on the distractions this world has to offer, we can accomplish the greatest things. and a very important way you can live a full and happy life is if you accept Jesus into your world and surrender your spirit to Him.
There is this popular old song I grew up to hear my parents sing and still do. It goes thus:' because he lives I can face tomorrow, because he lives all fear is gone. And now I know oh He owns my future. My life is worth living just because he lives'.  This song, quite short would echo the very words of Jesus in John 14: 19 '… because I live you shall also live.
The best is yet to come!
The best is yet to come Bible verse
Joshua 1:9 KJV-
Have not I commanded thee? Be strong and of a good courage; be not afraid, neither be thou dismayed: for the LORD thy God is with thee whithersoever thou goest.

Joshua 1:9 KJV-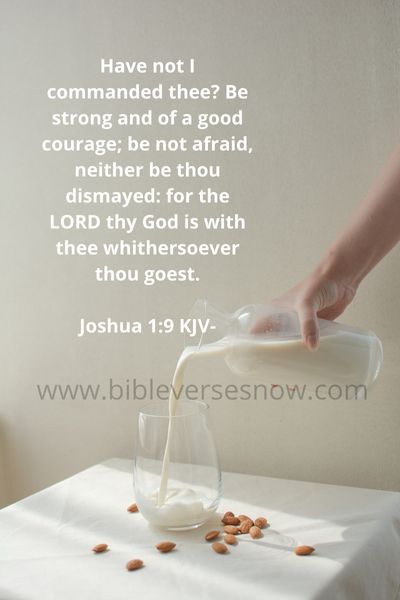 Are you walking on a difficult path right now? God is assuring us that the best is yet to come because eye hath not seen, nor ear heard, neither have entered into the heart of man, the things which God hath prepared for them that love him. Find a quiet place where you will not be disturbed and commune with the Father.
2 Corinthians 2:14 KJV-
Now thanks be unto God, which always causeth us to triumph in Christ, and maketh manifest the savour i of his knowledge by us in every place.

2 Corinthians 2:14 KJV
No other person can comfort us as Jesus. David saw God and confessed who he was to him saying ' the Lord is my shepherd I shall not want, he makes me lie down in green pastures, leads me beside still waters, He restoreth my soul…' Does God ever seem too far away? No, he is our very present help that is why we call him omnipresent God. Listen for the Spirit, the best is yet to come
The best is yet to come Bible verse KJV
Galatians 1:20 KJV-
Now the things which I write unto you, behold, before God, I lie not.

Galatians 1:20 KJV-
Paul writes to the Galatians to assure them of the efficacy of what he was saying. Literally, "behold" or "take note, before God …" Here the apostle was setting forth historical evidence and calling God as his witness as well. The fact is people need and should have assurance, but it should, of course, be based on credible evidence that what they are asked to believe or have believed is the truth. Paul here speaks of the One through whom he has wrought miracles and turned the world upside down.
Matthew 11:28 KJV-
Come unto me, all ye that labour and are heavy laden, and I will give you rest.

Matthew 11:28 KJV-
Labor here in this verse does not only connote sin but also the burdens of this present world we are living in including unemployment, heartbreaks, burglary, financial loss, sin, and guilt of sin. lay down their burdens at his feet, look to, and lay hold by faith on his person, blood, righteousness, and sacrifice; God is saying I will give you rest- spiritual rest, peace of mind, sanctification for there remaineth therefore a rest to the people of God.
Isaiah 43:18-20 KJV-
Remember ye not the former things, neither consider the things of old. Behold, I will do a new thing; now it shall spring forth; shall ye not know it? I will even make a way in the wilderness, and rivers in the desert.

Isaiah 43:18-20 KJV-
It was a gloomy and frustrating period. They could not help themselves despite their determination considering the situation at home. We believe they were completely worn out and discouraged. At the point they decided to pack up, wash their net and return home, the LORD OF ALL appeared:
Luke 5:4 KJV-
He said unto Simon launch out into the deep, and let down your nets for a draught".

Luke 5:4 KJV-
Maybe you are waiting for such commands. A command of assurance as was given to Simon that is called Peter. That command has now come to you now.
The Bible tells us of a story about Jacob whose name was later changed to Israel. He lived a life of "struggling to make it from the womb. In the womb, he was always struggling to gain the position of a firstborn but failed.
In growing up Jacob had to continue struggling still to supersede his brother Esau. Jacob got the elder brother's birth position: And Jacob sold his birthright unto Jacob. Jacob did not end his struggles there until he fought with an angel to get to the top and come out of the entanglement of this world.
Observing the story of Jacob to Israel carefully we see the strong and heavy rain that fell on him and his ways. This did not make him give up until the sunshine came face to face with him. Why then should you coil back on the light rain you have seen? Remember no matter the rain, soon it will cease and there will be sunshine. Sunshine brings joy and happiness and that is what awaits you if you will not allow the flood to drown you. It was a deep sorrow of uncertainty for Mary Magdalene and other women during the crucifixion and death of Jesus Christ. It was total darkness and rain of life. So, are you facing downtime? The best is yet to come.
1 Corinthians 2: 9 the best is yet to come Bible verse
What no human mind has imagined, what no sight has seen, and what no ear has heard. The things that God has in store for those who love Him are in. This is just straight forward promise of what God is about to do.
I Corinthians 2:9 KJV-
But as it is written, Eye hath not seen, nor ear heard, neither have entered into the heart of man, the things which God hath prepared for them that love him.

I Corinthians 2:9 KJV-
It could be that you are about to give up and give in. But here, the Bible is saying the best is yet to come, there is light just right there- hold on a sec, a minute, an hour, a day, a week, a month. yes, I know what want. I know you need that admission, that visa. I know you needed the other job but this one came; just hold on for the best is yet to come.
The Best is yet to come Bible verse Joshua
Joshua 1:9 KJV-
Have not I commanded thee? Be strong and of a good courage; be not afraid, neither be thou dismayed: for the Lord thy God is with thee whithersoever thou goest.

Joshua 1:9 KJV-
God was having a discussion with Joshua after the death of Moses. He'd be reminding him (Joshua) to be fearless don't be disheartened, to be strong, and that the He-the lord is with him wherever he would go, as an ever-present One. Today, that same voice is echoing in our spirit 'Lo! I am with you'. There are 360 (three hundred and sixty) fear nots in the Bible; one for each day.
Listen, every day is God's day, the day you choose to believe is your day. Your best is yet to come.
The Best is yet to come Bible study,
2 Hebrew 10:38 KJV-
Now the just shall live by faith

Joshua 1:9 KJV-
We always expect the best from all our endeavours-investments ,projects. we develop a kind of faith that no matter what may happen the positive side of it. is what we always hope for although the Scripture says that the expectation of the righteous shall not be cut off. Along the line, creeps in some distractive and discouraging moments. The best is for us to continue putting our trust in the Lord (faith), knowing that at the final analysis whether what we expected happens or not, the glory would still go to God. Continue to exercise faith despite the rocky roads, bends, and potholes; it shall surely come to pass.
Blessed be God, even the Father of our Lord Jesus Christ, the Father of mercies, and the God of all comfort; [4] Who comforteth us in all our tribulation, that we may be able to comfort them which are in any trouble, and by the comfort wherewith we ourselves are comforted of God…as a mother comforts her child, so I will comfort you.
God of Comfort" can also be translated as "father ." To be a father means to have compassion for others. Our heavenly Father is aware of our want to be understood, to experience empathy.
He is curious about what we are dealing with. Each time we feel alone, we should remember that he hath send the Holy Spirit to be our comforter. They looked unto Him and were lightened and their faces were not ashamed. no one can walk with by sight and say all is well. The best is yet to come is a language of faith. The slogan of those whose hope is on God.
Better days are yet to come Bible verse
And Simon answering said unto Him, Master, we have toiled all the night, and have taken nothing… and when they had this done, they inclosed a great multitude of fishes…
Simon hath been on the sea for some time with his friends. His intention was to make a lot of catches.  However, things did not go as planned. many times we get contracts and get to our business places hoping to make lots of sales after putting in much effort, and yet no sales. this was the precarious case Simon found himself.
however, that morning came sunshine. Our God of Covenant has made it clear that He is Lord over all things He established the ordinances of day and night and Jeremiah 31:35 assures us that as long as these ordinances exist His covenant with us shall be permanent. The disciples toiled the whole night, using all the tactics and knowledge of fishing they had but still failed to have a catch.
when Jesus showed up in Simon's situation, there was a turnaround encounter. I just want to let you know that your turnaround encounter is here; your better days are yet to come.
The best is yet to come to Bible verse NIV
Matthew 11:28 NIV-
Come to me, all you who are weary and burdened, and I will give you rest.

Matthew 11:28 NIV-
Jesus is calling us to come even now. Will you answer the call to hand it over all to him? The word "labor" in this passage refers to both sin and the hardships of the world we currently live in, such as unemployment, breakups, break-ins, financial loss, sin, and the guilt of sin. God is telling his people to lay their burdens at his feet, to look up to him, and to put their faith in his person, blood, righteousness, and sacrifice. He is also promising to give them rest—spiritual rest, mental calm, and sanctification—because there is still a rest for God's people.
Better things are yet to come Bible verse
Hebrew 11 :1 KJV –
Now faith is the substance of things hoped for, the evidence of things not seen.

Hebrew 11 :1 KJV –
The Bible says that without faith it is impossible to please God.  Faith itself is the very confidence that we have toward the assurance and fulfillment of the unseen. The Bible mention many people who through faith hath their inheritance: Abraham, Sarah, Noah, Jacob. When his death was imminent, Joseph by faith instructed and discussed the Israelites' flight from Egypt.
What does Jeremiah 29 verse 11 mean?
Jeremiah 29:11-12 KJV-
For I know the thoughts that I think toward you, saith the LORD, thoughts of peace, and not of evil, to give you an expected end.

Jeremiah 29:11-12 KJV
In Exodus (4:22-23), the first passage where God presents himself as the Father to the Israelites. And just like earthly fathers would take utmost care of their children so does God-the father. Jesus asked whilst teaching the people
Matthew 7:9 KJV-
For what man is there of you, whom if his son asks bread, will he give him a stone?

Matthew 7:9 KJV-
And verse 11 states ' ye then, being evil, know how to give good gifts unto your children, how much more shall your Father which is in heaven give good things to them that ask him?' It shows the fatherly role God plays in our lives. He is the father of all creation and wants us all to step into our purpose (noting that the place of purpose is the place of the pursuit of happiness, peace, love, joy).
I attended a wedding a few weeks back, and possibly everyone hath lost some degree of hope including the celebrant, maybe, and just like Sarah (Abraham's wife in the Bible) soliloquized 'how would this thing be? She too must have asked herself in the secret place. You could tell from the emotional scenes when indigenous choruses were raised: the reactions, the enormous crowd, acting like the Biblical twenty-four Elders.
The Church's yearly theme: Supernatural Reality, was inscribed on her wedding program.
You see, it reignited my thoughts that destiny has a time(and for knowledge's sake, fulfilling destiny is an act of worship.)
So many times while waiting and learning the process, we rather think that we have been abandoned or this isn't gonna work. When actually our time for manifestation hasn't yet come.
What does Psalm 37 say?
Psalm 37:1 KJV
Fret not thyself because of evildoers, neither be thou envious against the workers of iniquity.

Psalm 37:1 KJV
This portion of the Bible generally emphasizes life on earth, faith, patience and how are responses should be whilst even waiting for God's divine intervention. it speaks about not being jealous of the ungodly man re-echoing Psalm 1:1 which generally speaks on the benefits of walking in righteousness. The chapter ends with '…Lord shall help them, and deliver them: he shall deliver them from the wicked, and save them because they trust in him.'
What does Isaiah 43 verse 2 mean?
There are certain seasons when we feel like the world is crashing on us and God has forgotten about us. There are seasons of pain, brokenness, and struggles. God is saying right here, Yes, you'll make it out here strong.
Isaiah 43:2 KJV
When thou passest through the waters, I will be with thee; and through the rivers, they shall not overflow thee: when thou walkest through the fire, thou shalt not be burned; neither shall the flame kindle upon thee.

Isaiah 43:2 KJV
Here, God was speaking to the Israelites, and now speaking to us about being with us through troubling times. Giving is the hope that He that is in us is greater than he that is in the world. an encouragement to every Christian today that God will be with you during your trying times and hard seasons. You may think He is not there but He always is, like He says in His Word. Trust in God's presence every day of your life and rest in His comforting arms when you don't know what to do or say.
What does Ecclesiastes 9 7 say?
Ecclesiastes 9:7 KJV-
Go thy way, eat thy bread with joy, and drink thy wine with a merry heart; for God now accepteth thy works.

Ecclesiastes 9:7 KJV
The old Testament book of Ecclesiastes seems to be a gloomy one. It tells the unsuccessful quest of man (generally considered to be King Solomon) for happiness on earth apart from God.  The main theme of Ecclesiastes is 'under the sun' meaning that it tells of life as seen from the human viewpoint.
However, here in Ecclesiastes the Bible tells us to Go thy way, eat thy bread with joy, and drink thy wine with a merry heart; for God now accepteth thy works.  We cannot just obtain fulfillment in life by luxury, marriage, employment, or by procreation. Realizing that God has given you life in his universe and every single one of those things as a gift to appreciate is when you find significance. In the bible in the following verses:
Ephesians 1:3 KJV-
Blessed be the God and Father of our Lord Jesus Christ, who hath blessed us with all spiritual blessings in heavenly places in Christ.

Ephesians 1:3 KJV-
This tells us that God has equipped us to enjoy life as joint heirs in Christ. The call to a full life is the call to making God's word the standard for our lives. God calls us to fulfill his purpose for our lives, and this results in our own feeling of happiness (not as the world understands). the call to be holy, come out from them, and be separate. Drink thy wine because God now accepts thy work meaning that we are in line with God's word- making it the standard for our lives.
God bless you.