The biblical narrative is rich with teachings and insights into the consequences of human actions, both on an individual and generational level.
One recurring theme is the notion of The Sins of the Father, which raises questions about the interplay between personal choices and the impact they have on future generations.
In this article, we delve into key Bible verses that address this profound topic. We will explore what the scriptures reveal about generational sins, their consequences, and the path to redemption and forgiveness.
 The Sins Of The Father Bible Verses
"You shall not bow down to them or worship them; for I, the LORD your God, am a jealous God, punishing the children for the sin of the parents to the third and fourth generation of those who hate me."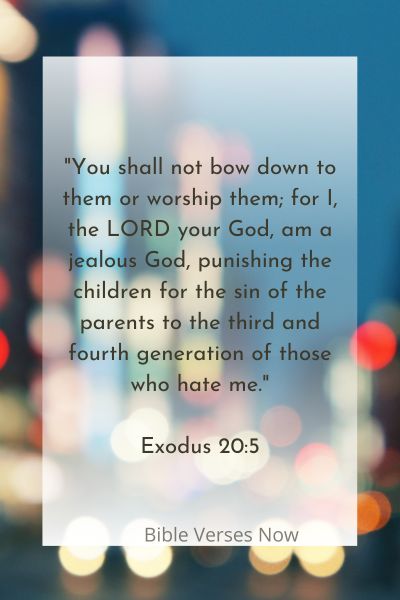 "The LORD is slow to anger, abounding in love and forgiving sin and rebellion. Yet he does not leave the guilty unpunished; he punishes the children for the sin of the parents to the third and fourth generation."
"The one who sins is the one who will die. The child will not share the guilt of the parent, nor will the parent share the guilt of the child. The righteousness of the righteous will be credited to them, and the wickedness of the wicked will be charged against them."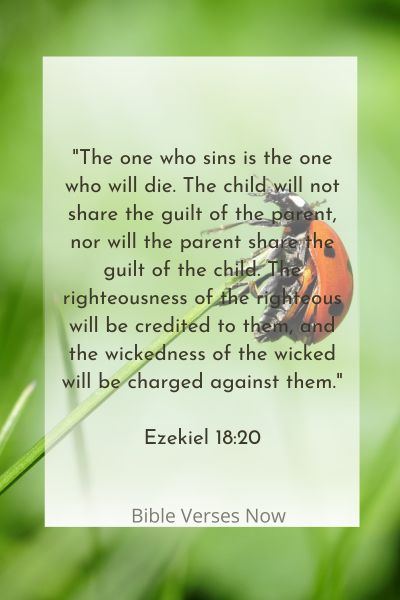 "Fathers shall not be put to death for their children, nor children put to death for their fathers; each is to die for his own sin."
"In those days people will no longer say, 'The parents have eaten sour grapes, and the children's teeth are set on edge.' Instead, everyone will die for their own sin; whoever eats sour grapes—their own teeth will be set on edge."
6. Lamentations 5:7
"Our ancestors sinned and are no more, and we bear their punishment."
7. Psalm 106:6
"We have sinned, even as our ancestors did; we have done wrong and acted wickedly."
8. 1 Corinthians 15:22
"For as in Adam all die, so in Christ all will be made alive."
9. Galatians 6:7
"Do not be deceived: God cannot be mocked. A man reaps what he sows."
10. Romans 14:12
"So then, each of us will give an account of ourselves to God."
Exploring the Consequences of Ancestral Wrongdoings in the Bible
11. Genesis 3:16-19
"To the woman he said, 'I will make your pains in childbearing very severe; with painful labor you will give birth to children. Your desire will be for your husband, and he will rule over you.' To Adam he said, 'Because you listened to your wife and ate fruit from the tree about which I commanded you, 'You must not eat from it,' Cursed is the ground because of you; through painful toil you will eat food from it all the days of your life. It will produce thorns and thistles for you, and you will eat the plants of the field. By the sweat of your brow you will eat your food until you return to the ground, since from it you were taken; for dust you are and to dust you will return.'"
12. 2 Samuel 12:10
"Now, therefore, the sword shall never depart from your house, because you have despised me and have taken the wife of Uriah the Hittite to be your wife."
13. 2 Samuel 13:28-29
"Absalom ordered his men, 'Listen! When Amnon is in high spirits from drinking wine and I say to you, 'Strike Amnon down,' then kill him. Don't be afraid. Haven't I given you this order? Be strong and brave.' So Absalom's men did to Amnon what Absalom had ordered."
14. 1 Kings 16:2
"I lifted you up from the dust and appointed you ruler over my people Israel, but you followed the ways of Jeroboam and caused my people Israel to sin and to arouse my anger by their sins."
15. 2 Kings 21:11-12
"'Manasseh king of Judah has committed these detestable sins. He has done more evil than the Amorites who preceded him and has led Judah into sin with his idols. Therefore, this is what the LORD, the God of Israel, says: I am going to bring such disaster on Jerusalem and Judah that the ears of everyone who hears of it will tingle.'"
16. 2 Chronicles 29:6-7
"Our parents were unfaithful; they did evil in the eyes of the LORD our God and forsook him. They turned their faces away from the LORD's dwelling place and turned their backs on him."
17. Micah 6:7-8
"Will the LORD be pleased with thousands of rams, with ten thousand rivers of olive oil? Shall I offer my firstborn for my transgression, the fruit of my body for the sin of my soul? He has shown you, O mortal, what is good. And what does the LORD require of you? To act justly and to love mercy and to walk humbly with your God."
18. 1 Corinthians 10:11
"These things happened to them as examples and were written down as warnings for us, on whom the culmination of the ages has come."
19. Hebrews 12:1-2
"Therefore, since we are surrounded by such a great cloud of witnesses, let us throw off everything that hinders and the sin that so easily entangles. And let us run with perseverance the race marked out for us, fixing our eyes on Jesus, the pioneer and perfecter of faith. For the joy set before him he endured the cross, scorning its shame, and sat down at the right hand of the throne of God."
20. Romans 6:23
"For the wages of sin is death, but the gift of God is eternal life in Christ Jesus our Lord."
The Impact of Fathers' Sins in Scripture
21. 2 Samuel 12:14
"But because by doing this you have shown utter contempt for the LORD, the son born to you will die."
22. 1 Kings 11:11-12
"So the LORD said to Solomon, 'Since this is your attitude and you have not kept my covenant and my decrees, which I commanded you, I will most certainly tear the kingdom away from you and give it to one of your subordinates.'"
23. 1 Kings 15:11-13
"Asa did what was right in the eyes of the LORD, as his father David had done. He expelled the male shrine prostitutes from the land and got rid of all the idols his ancestors had made. He even deposed his grandmother Maakah from her position as queen mother, because she had made a repulsive image for the worship of Asherah. Asa cut it down and burned it in the Kidron Valley."
24. 2 Kings 23:24-25
"Furthermore, Josiah got rid of the mediums and spiritists, the household gods, the idols and all the other detestable things seen in Judah and Jerusalem. This he did to fulfill the requirements of the law written in the book that Hilkiah the priest had discovered in the temple of the LORD."
25. Psalm 106:38-39
"They shed innocent blood, the blood of their sons and daughters, whom they sacrificed to the idols of Canaan, and the land was desecrated by their blood."
26. Isaiah 14:21
"Prepare a place to slaughter his children for the sins of their ancestors; they are not to rise to inherit the land and cover the earth with their cities."
27. Jeremiah 32:18
"You show love to thousands but bring the punishment for the parents' sins into the laps of their children after them. Great and mighty God, whose name is the LORD Almighty."
28. Ezekiel 18:14-18
"But suppose this son has a son who sees all the sins his father commits, and though he sees them, he does not do such things: 'He will not die for his father's sin; he will surely live.'"
29. Matthew 23:29-32
"'Woe to you, teachers of the law and Pharisees, you hypocrites! You build tombs for the prophets and decorate the graves of the righteous. And you say, 'If we had lived in the days of our ancestors, we would not have taken part with them in shedding the blood of the prophets.' So you testify against yourselves that you are the descendants of those who murdered the prophets. Go ahead, then, and complete what your ancestors started!'"
30. Luke 11:50-51
"Therefore this generation will be held responsible for the blood of all the prophets that has been shed since the beginning of the world, from the blood of Abel to the blood of Zechariah, who was killed between the altar and the sanctuary. Yes, I tell you, this generation will be held responsible for it all."
Redemption and Forgiveness in the Face of Inherited Sins
31. Isaiah 1:18
"'Come now, let us settle the matter,' says the LORD. 'Though your sins are like scarlet, they shall be as white as snow; though they are red as crimson, they shall be like wool.'"
32. Ezekiel 18:21-22
"But if a wicked person turns away from all the sins they have committed and keeps all my decrees and does what is just and right, that person will surely live; they will not die. None of the offenses they have committed will be remembered against them. Because of the righteous things they have done, they will live."
33. Acts 3:19
"Repent, then, and turn to God, so that your sins may be wiped out, that times of refreshing may come from the Lord."
34. Romans 8:1
"There is therefore now no condemnation for those who are in Christ Jesus."
35. Ephesians 1:7
"In him we have redemption through his blood, the forgiveness of sins, in accordance with the riches of God's grace."
36. Colossians 1:13-14
"For he has rescued us from the dominion of darkness and brought us into the kingdom of the Son he loves, in whom we have redemption, the forgiveness of sins."
37. 1 John 1:9
"If we confess our sins, he is faithful and just and will forgive us our sins and purify us from all unrighteousness."
38. Psalm 32:5
"Then I acknowledged my sin to you and did not cover up my iniquity. I said, 'I will confess my transgressions to the LORD.' And you forgave the guilt of my sin."
39. Psalm 103:12
"As far as the east is from the west, so far has he removed our transgressions from us."
40. 1 Peter 2:24
"He himself bore our sins in his body on the cross, so that we might die to sins and live for righteousness; 'by his wounds you have been healed.'"
Bible Verses About Breaking the Cycle of Generational Guilt
441. Ezekiel 18:30-32
"Therefore, you Israelites, I will judge each of you according to your own ways, declares the Sovereign LORD. Repent! Turn away from all your offenses; then sin will not be your downfall. Rid yourselves of all the offenses you have committed, and get a new heart and a new spirit. Why will you die, people of Israel? For I take no pleasure in the death of anyone, declares the Sovereign LORD. Repent and live!"
42. Galatians 5:1
"It is for freedom that Christ has set us free. Stand firm, then, and do not let yourselves be burdened again by a yoke of slavery."
43. Romans 6:6-7
"For we know that our old self was crucified with him so that the body ruled by sin might be done away with, that we should no longer be slaves to sin—because anyone who has died has been set free from sin."
44. 2 Corinthians 5:17
"Therefore, if anyone is in Christ, the new creation has come: The old has gone, the new is here!"
45. Galatians 6:8
"Whoever sows to please their flesh, from the flesh will reap destruction; whoever sows to please the Spirit, from the Spirit will reap eternal life."
46. Ephesians 4:22-24
"You were taught, with regard to your former way of life, to put off your old self, which is being corrupted by its deceitful desires; to be made new in the attitude of your minds; and to put on the new self, created to be like God in true righteousness and holiness."
47. Colossians 3:5-5
"Put to death, therefore, whatever belongs to your earthly nature: sexual immorality, impurity, lust, evil desires and greed, which is idolatry. Because of these, the wrath of God is coming. You used to walk in these ways, in the life you once lived."
48. 1 Thessalonians 5:22-23
"Reject every kind of evil. May God himself, the God of peace, sanctify you through and through. May your whole spirit, soul, and body be kept blameless at the coming of our Lord Jesus Christ."
49. James 4:7-8
"Submit yourselves, then, to God. Resist the devil, and he will flee from you. Come near to God, and he will come near to you. Wash your hands, you sinners, and purify your hearts, you double-minded."
50. 1 Peter 1:14-16
"As obedient children, do not conform to the evil desires you had when you lived in ignorance. But just as he who called you is holy, so be holy in all you do; for it is written: 'Be holy, because I am holy.'"
Understanding the Grace and Mercy of God in the Old Testament
51. Exodus 34:6-7
"And he passed in front of Moses, proclaiming, 'The LORD, the LORD, the compassionate and gracious God, slow to anger, abounding in love and faithfulness, maintaining love to thousands, and forgiving wickedness, rebellion, and sin. Yet he does not leave the guilty unpunished; he punishes the children and their children for the sin of the parents to the third and fourth generation.'"
52. Psalm 103:8-10
"The LORD is compassionate and gracious, slow to anger, abounding in love. He will not always accuse, nor will he harbor his anger forever; he does not treat us as our sins deserve or repay us according to our iniquities."
53. Joel 2:13
"Rend your heart and not your garments. Return to the LORD your God, for he is gracious and compassionate, slow to anger and abounding in love, and he relents from sending calamity."
54. Jonah 4:2
"He prayed to the LORD, 'Isn't this what I said, LORD, when I was still at home? That is what I tried to forestall by fleeing to Tarshish. I knew that you are a gracious and compassionate God, slow to anger and abounding in love, a God who relents from sending calamity.'"
55. Nehemiah 9:17
"They refused to listen and failed to remember the miracles you performed among them. They became stiff-necked and in their rebellion appointed a leader in order to return to their slavery. But you are a forgiving God, gracious and compassionate, slow to anger and abounding in love. Therefore, you did not desert them."
Conclusion
The exploration of "The Sins of the Father" Bible verses provides us with a deeper understanding of the intricate relationship between individual actions and their repercussions on future generations.
While the Bible acknowledges the reality of generational consequences, it also offers a message of hope and redemption. Through repentance, forgiveness, and a transformation of the heart, individuals can break the cycle of inherited guilt and find reconciliation with God.