Life is a mystery. You never know when an emergency can happen or when you'll have to make a difficult choice that will alter your life.
Planning will enable you to be ready for any unforeseen circumstances, which will eventually enable you to save time and money. To be ready for whatever life may bring, Bible verses on preparation for the future is an essential article to read.
Bible Verses on Preparation for the Future
To preserve what matters most to you your life, family, and loved ones crucial it's to plan for the future and be ready for unexpected circumstances.
The Bible teaches that we should be responsible stewards of the resources that God has given us, and that includes preparing for the future.
Hebrews 13:21
may he equip you with all you need for doing his will. May he produce in you, through the power of Jesus Christ, every good thing that is pleasing to him. All glory to him forever and ever! Amen.-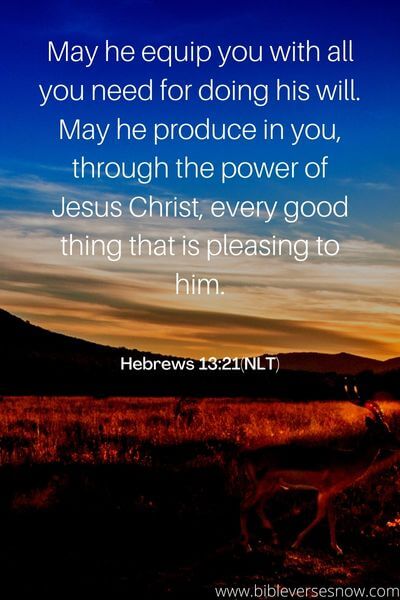 This verse is part of a letter written to a group of believers in the early Christian church.
It encourages the readers to follow God's will and to strive to do things that are pleasing to him, through the help and guidance of Jesus Christ.
Proverbs 22:6
Train up a child in the way he should go, and when he is old he will not depart from it.-
This line is frequently interpreted to suggest that if you instill excellent morals and appropriate conduct in children at an early age, they will remember those lessons as they grow up and continue to make moral decisions.
It implies that the habits and values we form while we are young might have a long-lasting effect on who we are as adults.
Psalm 138:8
The LORD will work out his plans for my life for your faithful love, O LORD, endures forever. Don't abandon me, for you made me.-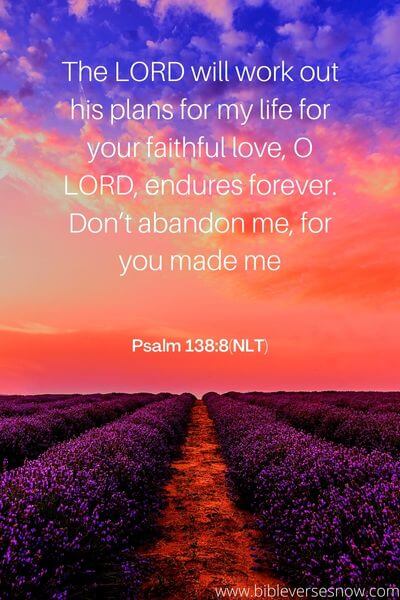 This verse expresses faith in God's plan and His capacity to fulfill His purpose for the speaker.
God's love and care for His people are consistent and enduring, as suggested by the words "thy faithful love, O Lord, endures forever."
2 Timothy 3:16
All Scripture is breathed out by God and profitable for teaching, for reproof, for correction, and for training in righteousness.-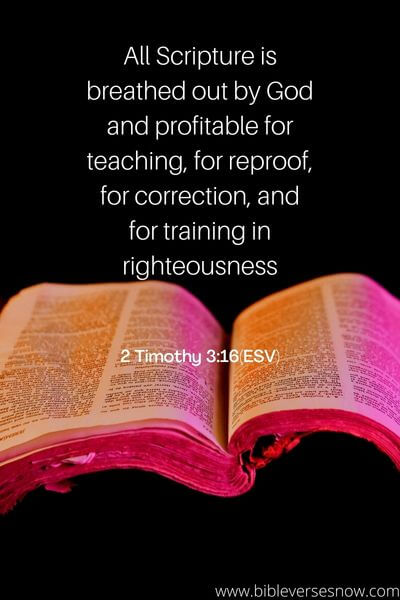 This verse is frequently cited as evidence for the significance of the Bible and the notion that it is a work of divine inspiration.
The term, "breathed out by God" denotes that the Bible's words were inspired and directed by God rather than being merely the product of human authors.
The verse continues by stating that the Bible can be used for a number of things, such as instruction, reproof, correction, and training in righteousness.
This means that believers can use the Bible as a guide as they seek to live righteously and faithfully.
Deuteronomy 4:9
Only take heed to yourself, and diligently keep yourself, lest you forget the things your eyes have seen, and lest they depart from your heart all the days of your life. And teach them to your children and your grandchildren.-
This verse is a part of a longer passage when God gives instructions to the Israelites on how to remember and obey his rules and directives.
The Israelites were admonished to keep these memories fresh in their minds and to pass on their faith and knowledge to future generations because they had recently witnessed God's might and faithfulness in leading them out of slavery in Egypt and into the Promised Land.
Bible Verses About Preparation
The Bible teaches that we should be responsible and wise in preparing for the future, but at the same time not to be anxious or worried about it, but trust in God's provision and care for us.
Proverbs 24:27
Prepare your work outside; get everything ready for yourself in the field, and after that build your house.-
This verse gives the reader advice on how to organize their activities and concentrate on finishing crucial tasks before moving on to less crucial things.
This counsel can be taken more widely as a reminder to attend to one's commitments and responsibilities before pursuing personal interests or desires.
1 Peter 3:15
But sanctify the Lord God in your hearts: and be ready always to give an answer to every man that asketh you a reason of the hope that is in you with meekness and fear.-
This text exhorts Christians to be ready to share their hope in Christ with others and to do so in a kind and respectful manner.
It serves as a reminder that our faith should not be something we keep to ourselves but rather something we are willing to share with others and stand up for with respect and love.
Matthew 24:44
Because of this, you also be ready, for the Son of Man comes in that hour you do not expect.-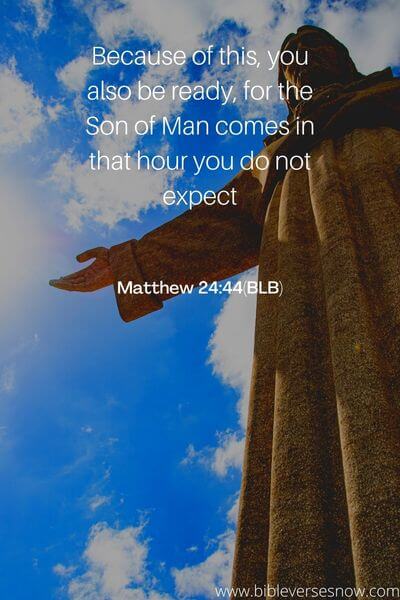 In this text, Jesus cautions his followers to be ready for his imminent return because it will occur at an unexpected time.
He advises them to remain vigilant and ready because they are unsure of when the moment will be.
This verse is frequently interpreted as a reminder to Christians to always be prepared for Christ's return and to live godly lives.
1 Corinthians 9:24
Do you not know that in a race all the runners run, but only one receives the prize? So run that you may obtain it.-
Paul encourages believers to continue in their faith by using the analogy of a race in this text from his letter to the Corinthian church.
Paul likens living a Christian life to a race that we must run with perseverance in order to win.
He exhorts Christians to pursue spiritual perfection and to persevere since there is immense reward for being steadfast.
2 Timothy 4:2
Preach the word! Be ready in season and out of season. Convince, rebuke, exhort, with all long-suffering and teaching.-
Timothy is urged by Paul to "preach the word," which is a reference to the Christian faith and the message of Jesus.
Timothy is also told to always be prepared to encourage and teach people while doing so with kindness and compassion.
Bible Verses on Planning and Preparation
The Bible teaches that planning is important and necessary for achieving our goals and living a responsible and fulfilling life.
Proverbs 19:21
Many are the plans in the mind of a man, but it is the purpose of the LORD that will stand.-
This verse serves as a reminder that eventually, God's will and not necessarily our own intentions or desires will be carried out in our lives.
It is crucial to put our faith in God's plan and ask for His direction when making decisions rather than depending only on our own judgment.
Jeremiah 29:11
For I know the thoughts that I think toward you, says the LORD, thoughts of peace and not of evil, to give you a future and a hope.-
Proverbs 16:3
Commit to the LORD whatever you do, and he will establish your plans.-
This verse is frequently used as a source of consolation and inspiration, reminding us that God has a purpose and plan for each of our lives that is good and hopeful.
It serves as a reminder that even in the face of adversity or hardships, God is with us and has a plan for us.
Psalm 37:5
Commit your way to the LORD, Trust also in Him, and He will do it.-
This text exhorts the reader to put their faith in God and to give Him control of their goals and aspirations.
It serves as a reminder that God is in complete control and reigns supreme, and we can put our faith in Him to lead and direct our lives.
Proverbs 21:5
The plans of the diligent lead surely to abundance, but everyone who is hasty comes only to poverty.-
The significance of meticulous planning and perseverance in reaching achievement is emphasized in this text.
It implies that people who are careful, plan ahead, and work hard will ultimately benefit, but those who act hurriedly or carelessly may find themselves in a challenging or disadvantageous situation.
Bible Verses on Being Prepared
The Bible teaches that being prepared is important and necessary for facing the challenges and opportunities of life.
Luke 21:36
But stay awake at all times, praying that you may have strength to escape all these things that are going to take place, and to stand before the Son of Man.-
Jesus is discussing the end times with his followers in this passage.
He is also mentioning the signs that will happen before his return.
He gives them advice to be watchful and to seek God's help in order to be able to face the challenging days ahead and stand before him when he returns.
1 Corinthians 16:13
Be on your guard; stand firm in the faith; be courageous; be strong.-
This verse's main point is to persevere and be steadfast in the face of difficulty.
Ecclesiastes 11:8
But if a man live many years, and rejoice in them all; yet let him remember the days of darkness; for they shall be many. All that cometh is vanity.-
This text serves as a reminder that no one's achievement or position of power is everlasting, and that everyone will eventually be held accountable for their deeds.
Proverbs 27:1
Do not boast about tomorrow, for you do not know what a day may bring.-
This verse promotes humility and serves as a reminder to rely on God's wisdom and purpose rather than our own limited knowledge and skills.
Proverbs 20:13
Do not love sleep or you will grow poor; stay awake and you will have food to spare.-
The implication of this verse is that striving for success and financial security requires hard effort and diligence, and that being aware and focused can help us get there.
What does the bible say about being prepared for the future?
In our daily lives, the concept of "being prepared" tends to pop up occasionally.
While some of us appear to function just fine with less planning, others seem to take the idea of preparedness extremely seriously.
In Matthew 25:1-13, we see the parable of the wise and foolish virgins, who waited for the arrival of the bridegroom.
The wise virgins brought extra oil for their lamps, while the foolish virgins came unprepared.
The stupid virgins ran out of oil when the bridegroom was delayed, and they were unable to join the banquet.
This parable reminds us of the value of being prepared for the future, regardless of when it will arrive.
What Does the Bible Say About Preparing for Hard Times?
Going through hard times is challenging. Most people do not enjoy the idea of going through trying times.
The loss of loved ones, sicknesses, and anxieties are a few experiences that you may be able to relate to in your own life.
Although difficult situations are never enjoyable, God may teach us a lot through them if we are prepared for the situation.
The Bible instructs us that rather than disregarding or taking challenges and difficult times for granted, we should plan ahead and be ready for them.
1 Peter 5:8 says, "Be sober-minded; be watchful. Your adversary the devil prowls around like a roaring lion, seeking someone to devour."
This verse serves as a reminder that we are continuously being put to the test and that we should be ready for trials and challenging times.
Bible Verses About Future Success
The Bible declares that God is in control of everything and that he has a purpose for everyone in our lives.
This demonstrates that God is ultimately in charge of both our achievements and failures and that he is able to work for our good even in trying situations.
Hard work, perseverance, and complete trust in God's plan for our lives can all contribute to achieving success in the future.
Proverbs 16:3
Commit your actions to the LORD, and your plans will succeed.-
God will assist us in achieving our objectives and establishing our plans if we put our trust in him and ask for his direction in our endeavors.
This passage of the Bible exhorts us to rely on God's knowledge and direction as we make choices and carry out our lives.
Philippians 4:13
Christ gives me the strength to face anything.-
With these words of encouragement and motivation, we are reminded that no matter what difficulties we may encounter, God is always with us and will give us the fortitude and bravery we need to persist and succeed.
Through the strength and might of God, we can overcome any difficulty or problem we encounter.
Psalm 37:4
Take delight in the LORD, and he will give you your heart's desires.-
When we look to God for joy and contentment, he will grant our heart's desires.
Here, we are urged to place our faith in God and to look to him for fulfillment rather than to the things of this world.
James 4:10
Humble yourselves before the Lord, and He will exalt you.-
This scripture teaches that if we submit to God and humble ourselves, He will exalt us and give us glory and respect.
Jeremiah 29:11
For I know the plans and thoughts that I have for you,' says the LORD, 'plans for peace and well-being and not for disaster, to give you a future and a hope.-
According to the verse, rather than harming or putting his people through hardship, God prefers to reward them and make them prosperous.
This should serve as a constant reminder that God is in charge, and He has a plan for our life.
Bible Verses About the Next Step in Life
The Bible teaches that we should seek God's guidance and wisdom in making decisions about our next steps in life.
Deuteronomy 31:8
Do not be afraid or discouraged, for the LORD will personally go ahead of you. He will be with you; he will neither fail you nor abandon you.-
This verse aims to reassure the Israelites that God is leading the road and will be by their side no matter what obstacles they encounter.
Because of this, they need not be afraid or disheartened.
2 Corinthians 5:17
Therefore if anyone is in Christ, he is a new creation. The old has passed away. Behold, the new has come.-
Here, Paul emphasizes that through faith in Jesus, a person is fundamentally changed, the old self is gone and the new self is here.
This change is not just in terms of behavior, but also in terms of one's standing before God, which is made right through faith in Jesus.
Revelation 21:5
Then the one who sits on the throne said, "And now I make all things new!" He also said to me, "Write this, because these words are true and can be trusted.-
God is speaking to John, saying, that He is going to make all things new; this means that the old will pass away and everything will be renewed.
Bible Verses About Looking Forward to the Future
Looking forward to the future can be a positive and exciting experience.
It can give us hope, motivation, and a sense of purpose. It can also help us set goals and make plans to achieve those goals.
Job 17:9
Yet a righteous one holds to his way, and the one with clean hands grows stronger.-
Here, Job saw that hardship would result in character strength in the lives of Christians who encountered adversity and remained resilient and faithful.
Hebrews 12:1
Therefore, since we are surrounded by such a huge crowd of witnesses to the life of faith, let us strip off every weight that slows us down, especially the sin that so easily trips us up. And let us run with endurance the race God has set before us.-
This text encourages us believers to persevere in our faith, even when faced with difficulties, by reminding us of the examples set by those who have gone before us.
Galatians 2:20
I have been crucified with Christ; it is no longer I who live, but Christ lives in me; and the life which I now live in the flesh I live by faith in the Son of God, who loved me and gave Himself for me.-
Here, Paul states that the life he lives now is no longer his own life but he lives by faith in Jesus who loved him and gave himself for him.
Philippians 3:12
Not that I have already obtained this or am already perfect, but I press on to make it my own, because Christ Jesus has made me his own.-
Paul is acknowledging that he has not yet fully achieved the goal of spiritual maturity in Christ.
He is straining to grasp everything that Christ Jesus has called him to, not resting on his past success or current position.
Instead, he is pressing toward the future.
Psalm 119:105
Your word is a lamp for my feet and a light on my path.-
In this verse, the Psalmist is saying that God's Word guides and illuminates his path, giving him the confidence of overcoming obstacles ahead.
Proverbs About Preparing for the Future
Below are 9 proverbs about preparing for the future:
1. "An ounce of prevention is worth a pound of cure."
2. "Fail to plan, plan to fail."
3. "He who fails to plan, plans to fail."
4. "The early bird catches the worm."
5. "Look before you leap."
6. "Forewarned is forearmed."
7. "If you want to succeed, you have to plan for it."
8. "The best time to plant a tree was 20 years ago. The second best time is now."
9. "By failing to prepare, you are preparing to fail."
Conclusion
In summary, preparation for the future involves setting goals, making a plan, financial planning, education, professional development, taking care of your well-being, and building a support network.
By taking these steps, you can increase your chances of achieving your goals and living a fulfilling life.