The Bible teaches that confidence in oneself should be based on the qualities and abilities that God has bestowed upon us and that we should not be proud.
There are inspirational biblical verses. We will be studying the Bible, which includes the confidence, power, and courage needed to tackle life successfully.
Best Bible Verses for Confidence
Philippians 4:13
I can do all things through Christ who gives me strength.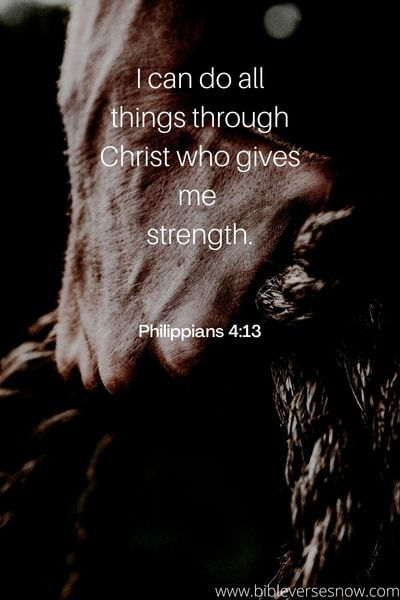 This verse serves as a powerful reminder that no matter how difficult a task may appear, you have the strength and bravery to complete it.
It is easy to become disheartened or overwhelmed, but with faith and confidence in yourself, you can overcome any obstacle.
It is critical to remember that while confidence is necessary, it is also critical not to become overconfident.
Too much self-esteem can lead to impulsive actions and foster an environment of arrogance and entitlement. So try to keep your head up and be conscious of your limitations.
Joshua 1:9
Have I not commanded you? Be strong and courageous. Do not be afraid; do not be discouraged, for the Lord your God will be with you wherever you go.-
Faith in oneself and faith in God are vital components of confidence. This verse urges us to be solid in our views and to have faith that God will always walk alongside us, no matter what.
It's also a reminder to take chances and move outside of our comfort zones, for God is with us even when things seem strange.
Psalm 27:1
The Lord is my light and my salvation whom shall I fear? The Lord is the stronghold of my life of whom shall I be afraid?-
The idea of this scripture is that we may trust God to protect us even when we are afraid or worried. He is our "light" and "salvation" in times of adversity.
His presence is like a sturdy fortress, keeping us safe and secure so we don't have to fear what life throws at us.
Whatever the circumstances, we may count on God's constancy. He is always there for us, and his power will carry us through.
We can find solace in knowing that God is in control and that he will be our security even in the darkest or most uncertain of times.
Proverbs 3:5-6
Trust in the Lord with all your heart and lean not on your own understanding; in all your ways submit to him, and he will make your paths straight.-
This verse encourages us to concentrate on God's will in our lives and to trust Him and His intentions.
We can have confidence that if we trust and submit to the Lord, He will lead us in the proper direction and keep our paths straight and true.
Romans 8:38-39
For I am convinced that neither death nor life, neither angels nor demons, neither the present nor the future, nor any powers, neither height nor depth, nor anything else in all creation, will be able to separate us from the love of God that is in Christ Jesus our Lord.-
In other words, Paul is emphasizing that no matter what we go through, we can have faith in God's love for us.
This assurance originates from the belief that God loves us unconditionally and will always be present with us.
Whatever we face, we can be confident that God's love for us will never fail.
What is a Good Scripture for Confidence?
2 Corinthians 12:9-10
But he said to me, 'My grace is sufficient for you, for my power is made perfect in weakness.' Therefore I will boast all the more gladly about my weaknesses, so that Christ's power may rest on me. That is why, for Christ's sake, I delight in weaknesses, in insults, in hardships, in persecutions, in difficulties. For when I am weak, then I am strong.-
Confidence emerges from the knowledge that we are loved, accepted, and treasured by God.
Paul argues in this verse that God's grace is sufficient for us, and His strength is made perfect in our weaknesses. This means that even when we feel insufficient, God does not see us that way.
What is Confidence in the Word of God?
Confidence in God's word is trusting that His word is real and that He will follow His promises.
We can have faith in God's word because of the promises He offers us in His word and the power of the Holy Spirit at work in our lives.
Confidence in God's word is a type of certainty that brings us comfort, serenity, and joy in the midst of life's trials and tribulations. It is a faith that remains firm even when all else appears to be in flux.
How Does the Bible Build Self-Confidence?
Believers can learn to see themselves as God sees them, which is as individuals of enormous value and worth, through reading and studying scripture.
Every individual is formed in the image of God, according to the Bible, and through faith in Jesus Christ, they are made new and enabled to live a life of purpose and importance.
Furthermore, the Bible offers hope and solace in the face of trials and tribulations. In the verses I gave in my earlier answers, for example, we can see that God promises to be with us, to help us, to strengthen us, and to comfort us, even in the darkest of times.
This knowledge can empower us to tackle life's obstacles with faith, hope, and courage.
Bible Verses for Confidence in Self
Ephesians 2:10
For we are God's handiwork, created in Christ Jesus to do good works, which God prepared in advance for us to do.-
The passage essentially encourages us to have faith in ourselves and in God's plan for our life. We may be confident that we have the talents needed to carry out the excellent works that He has prepared for us.
This passage can provide consolation and encouragement if we feel overwhelmed or lack confidence.
Knowing that we are His workmanship and that He has already provided us with the tools we require for success might give us the confidence to step out in faith and trust in Him.
1 John 4:4
You, dear children, are from God and have overcome them, because the one who is in you is greater than the one who is in the world.-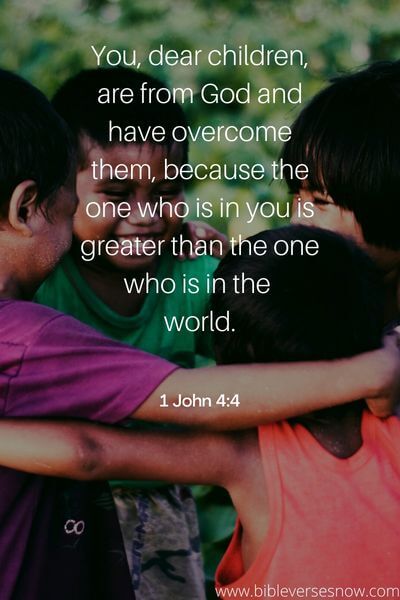 It's necessary to believe in ourselves, but it's much more important to believe in God. We can have more confidence in ourselves when we genuinely understand God's love for us and our own worth in His eyes.
When we concentrate on God and His promises, we can have more faith in our own skills. We can confront any difficulty because we know God is with us and will give us the bravery and power we need to overcome it.
Bible Verses for Confidence and Courage
Deuteronomy 31:6
Be strong and courageous. Do not be afraid or terrified because of them, for the Lord your God goes with you; he will never leave you nor forsake you.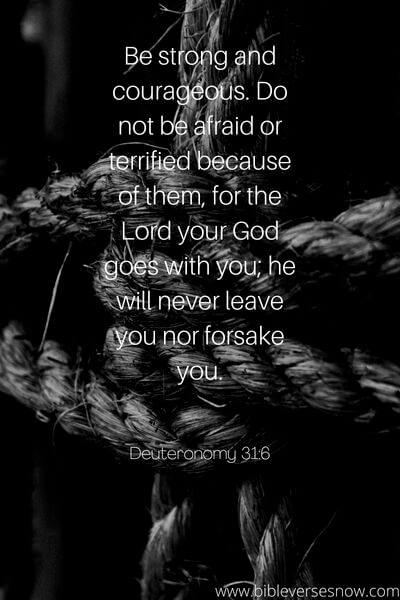 This verse, like many others in the Bible, talks of courage and power. It provides us with courage and strength when we are feeling overwhelmed by our situations.
We can be assured that God is with us and that we do not need to be terrified. He offers us the ability to conquer our fears and any barriers that may arise.
Finally, this verse reminds us that no matter what we encounter, God will always be with us and will never abandon us.
We can rest assured that He will never abandon or abandon us. He will give us the confidence to face our fears and the strength to persevere.
Psalm 23:4
Even though I walk through the darkest valley, I will fear no evil, for you are with me; your rod and your staff, they comfort me.-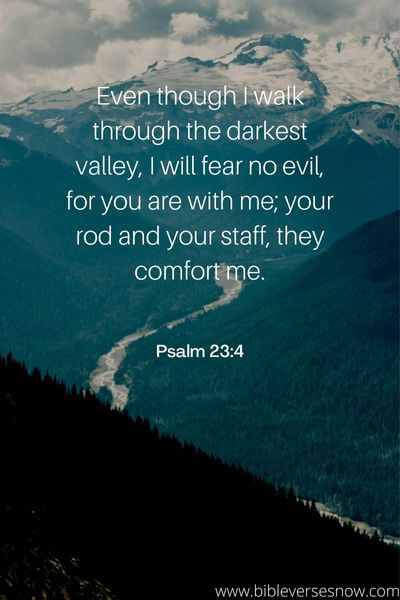 This verse reminds us that no matter what we face, God is with us, protecting us and giving us the courage and strength to keep going.
When we are overwhelmed and fearful of the darkness, these words give us the assurance that we can face anything because God is with us, guiding us, and supplying us with all the comfort and courage we require.
Isaiah 41:13
For I am the Lord your God who takes hold of your right hand and says to you, Do not fear; I will help you.-
This scripture assures us that God is with us and that we need not be scared. He is with us and will not desert us, and we can rely on Him for support and protection.
We can also take heart from the fact that He is our guardian, and that no matter how daunting the hurdle, He is our defender and will help us get over it.
Scripture on Trust and Confidence in God
The belief and dependence on God's character, strength, and promises are referred to as trust and confidence in God.
This entails trusting God and recognizing that He is in charge, even when situations are unpleasant or unknown.
Trusting God entails admitting that His ways are greater than ours and that He has a good plan for our life, even if we don't comprehend it.
Knowing God and experiencing His faithfulness in the past provides a solid basis for trusting Him in the future.
Trusting and believing in God brings us comfort and hope because we know He is always working for our good and His glory.
John 14:1
Do not let your hearts be troubled. You believe in God; believe also in me.-
This verse emphasizes the necessity of having faith in both God and Jesus.
Jesus is reassuring His disciples and assuring them that despite their difficulties and uncertainties, they may find peace by putting their faith and confidence in God and in Him.
Even when things are challenging, we can have faith in God's love and presence with us, as well as in Jesus' role as the road to the Father.
Psalm 56:3-4
When I am afraid, I put my trust in you. In God, whose word I praise, in God I trust; I will not be afraid.-
The psalmist acknowledges that his trust in God outweighs any fear or harm from others because he knows God is with him and will protect him.
This verse reminds us that when we are fearful or in a tough situation, we can choose to put our trust in God, knowing that He is always with us and will keep us safe.
We can overcome fear and find calm by focusing on God's word and His promises.