God is in control Bible verses talks about our power in the battle of life. It's not just the physical battles we face, but also the spiritual battles we face. God does not want you to be worried about what happens next. He wants you to be concerned with his purpose, your destiny, and His plans for your life. That's the reason behind this list of Bible verses that keeps me calm.
God is in Control Bible verses
A being who has boundless power is referred to or described as being omnipotent meaning "all-powerful". The prophets of the old were used by God to demonstrate his sovereignty and show that God rules the heavens and earth and therefore is in control of whatever situation we find ourselves in.
Matthew 11:28-30 KJV
Come unto me, all ye that labor and are heavy laden, and I will give you rest. Take my yoke upon you, and learn of me; for I am meek and lowly in heart: and ye shall find rest unto your souls. For my yoke is easy, and my burden is light.-

Matthew 11:28-30 KJV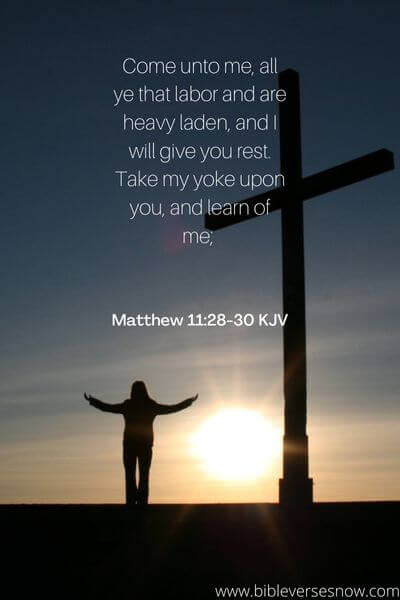 All of you who toil and are burdened, come to me, and I will give you rest. Jesus is beckoning the heartbroken to come. Your financial situation is difficult. Your partner is unfaithful, and your debts are increasing. The order has arrived. Bring it to the One who created our faith and is its author and finisher.
Matthew 5:11-12 KJV
Blessed are ye, when men shall revile you, and persecute you, and shall say all manner of evil against you falsely, for my sake. Rejoice, and be exceeding glad: for great is your reward in heaven: for so persecuted they the prophets which were before you.-

Matthew 5:11-12 KJV
Every one of their stories, from Abraham to Moses to Shadrach, Meshach, and Abednego, has one thing in common: pain. Despite this, God was in control.
But the Bible offers us comfort that our minor suffering will pass. To live a life that promotes the Kingdom rather than the flesh, Christ Jesus exhorts us to embrace the difficulties and suffering that come with it. God doesn't put us in difficult situations only to make our life difficult. He guides us toward challenging obedience that will change us into the likeness of His Son Jesus so that we may experience his power, consolation, and joy.
Psalm 34: 19-20 KJV
Many are the afflictions of the righteous: but the Lord delivereth him out of them all. He keepeth all his bones: not one of them is broken.-

Psalm 34: 19-20 KJV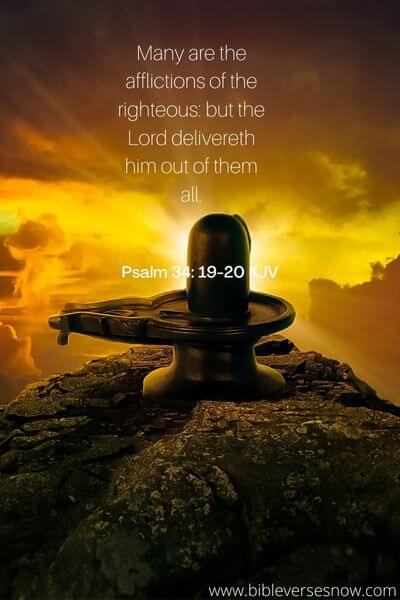 The sufferings of the righteous are numerous, but the Lord delivers him from all of them.
Every time we experience pain, and feel alone, which is a devastating aspect of pain,  If we let Christ into every area of our lives at every moment, knowing full well that He is aware of our suffering,  we will triumph over our suffering.
During the time of Jesus, diseases and suffering were usually seen as the result of sin.
The implication is that those who suffered "deserved it."  Some pain is indeed caused by people. But the situation with the blind man was unique; Jesus answered,  "This man and his parents have not sinned; rather, God's works are being made evident in him."
What Does God Say About Being in Control?
We used to be uninformed and stubborn, easy targets for sin, driven by our hormones in every way, carrying a chip on our shoulder, receiving hatred and hating in return. But when God, our kind and loving Savior stepped in, all of that was averted.
But Jesus warned that when He did come, the unbelievers would not see or know Him. The word "unbelievers" here alludes to doubters. However, because of the assurance of redemption we have in Him, we will see Jesus once more.
We can take on tomorrow's challenges, such as life's pressures and critical race theory, and be in control of these things, knowing that Jehovah has got our backs.
Does the bible say God is in control? Yes! in Isaiah 44:24 The Bible says 'Thus saith the Lord, thy redeemer, and he that formed thee from the womb, I am the Lord that maketh all things; that stretcheth forth the heavens alone; that spreadeth abroad the earth by myself.
John 14:19 KJV
Many are the afflictions of the righteous: but the Lord delivereth him out of them all. He keepeth all his bones: not one of them is broken.-

John 14:19 KJV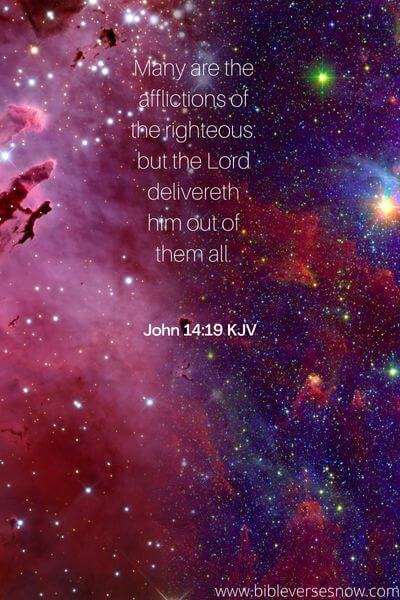 According to Scripture, I am fortified by trust in Christ and can do all things. After His resurrection, Jesus said that the Father's promise—the Holy Spirit—would teach us all truth.
The moment of glory has arrived. We can face tomorrow because of a powerful one who is with us. We live because he lives. The single most important turning point in history is the Resurrection of the Lord Jesus Christ.
Isaiah 41:10 KJV
Fear thou not; for I am with thee: be not dismayed; for I am thy God: I will strengthen thee; yea, I will help thee; yea, I will uphold thee with the right hand of my righteousness.-

Isaiah 41:10 KJV
According to the Bible, God is in charge of everything in the universe, including all events, people, and objects.
Fear not, for I am your God; do not be discouraged, for I am with you; I will bolster you with my righteous right hand; I will assist you, and I will uphold you. God does not guarantee that we would never experience hardship. However, He assures us that He, the Lord, will be present to support, keep, and guard us.
How The Bible Assures Us That God is in control.
The Oxford Dictionary states that the word "omnipresent" was created between 1600 and 1610 and was mostly borrowed from medieval Latin. Why does it say that God is omnipresent? Simply speaking, it implies that God is everywhere. Psalm 139:7 confirms God's omnipresence: Whither shall I go from thy spirit? or whither shall I flee from thy presence?
Psalm 125:2 MSG
Mountains encircle Jerusalem, and God encircles his people— always has and always will.-

Psalm 125:2 MSG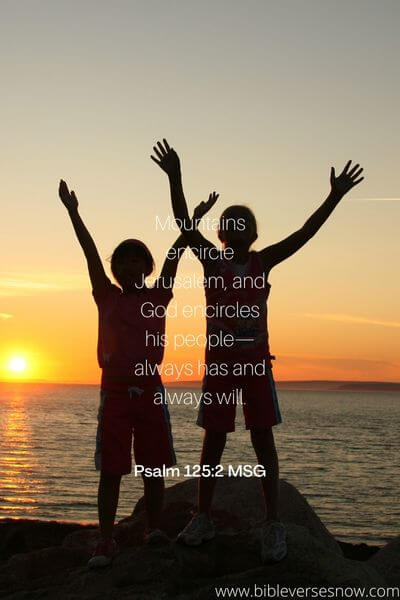 Mount Zion to the north, Mount of Olives to the east, and other mountains on the other three sides encircle Jerusalem. God surrounds and shields us with his favor and lovingkindness, just as Jerusalem serves as a shield.  This passage is giving a literary comparison of God's protection giving the assurance that God is in control.
Daniel 4:36-37 MSG
"At the same time that I was given back my mind, I was also given back my majesty and splendor, making my kingdom shine. All the leaders and important people came looking for me. I was reestablished as king in my kingdom and became greater than ever. And that's why I'm singing—I, Nebuchadnezzar—singing and praising the King of Heaven: Everything he does is right, and he does it the right way. He knows how to turn a proud person into a humble man or woman.-

Daniel 4:36-37 MSG
Nebuchadnezzar maintained an aura of majesty and splendor, and he received the same respect and admiration that he had received previously.
This doxology appears to have come from his heart, and it is quite likely that his conversion was genuine and that he was a true convert to Judaism based on the confession he makes as well as the honor and worship he expresses to God. In the end, King Nebuchadnezzar knew who controls the earth.
Jeremiah 29:11 MSG
I know what I'm doing. I have it all planned out—plans to take care of you, not abandon you, plans to give you the future you hope for.-

Jeremiah 29:11 MSG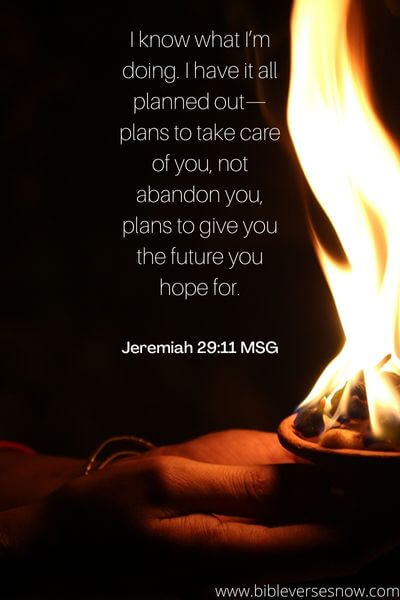 For us, God has excellent intentions. He seeks to lavishly bless his offspring. Furthermore, nothing can prevent Him from carrying out those intentions due to His sovereignty. Continue to pray and beg God to shower you with his overflowing goodness.
Do not be alarmed because I am with you; do not be discouraged because I am your God; for I will strengthen you; yes, I will assist you; yes, I will support you with the right hand of my righteousness.
Do not worry God is in control Bible verse?
Worrying is a state of faithlessness. faithlessness is a state of sinfulness. The Bible says for without faith it is impossible to please Yahweh.
Philippians 4:6 KJV
Be careful for nothing, but in everything by prayer and supplication with thanksgiving let your requests be made known unto God.-

Philippians 4:6 KJV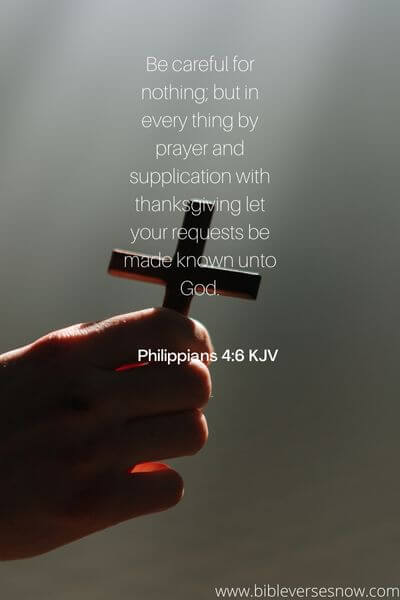 God is in control verse psalm
The phrase "in control" was originally supposed to signify the equivalent of supreme authority and comes from the Latin 'superanus'  through the French souveraineté. One of the most contentious conceptions in political science and international law, sovereignty is strongly tied to the challenging principles of independence and state and governance. The concept of state sovereignty could lead to a possible understanding of God's sovereignty.
It sometimes brings the question; with all the happenings in the world, is God truly ruling in the affairs of men? The truth is He made all things beautiful (not until sin came), and He has got a plan B for believers; the resurrection and the life (eternal life).
Psalm 103:22 KJV
Bless the Lord, all his works in all places of his dominion: bless the Lord, O my soul.-

Psalm 103:22 KJV
David talks about God's sovereignty, which is one of His core characteristics. With this, we know that God is completely in charge of everything in the universe, including all people. Just as God told Prophet Jeremiah that before he was born, he hath known him and hath set a path that he should follow. This expressly explains God's control and sovereignty.
Psalm 23: 1-3 KJV
The Lord is my shepherd; I shall not want. He maketh me to lie down in green pastures: he leadeth me beside the still waters. He restoreth my soul: he leadeth me in the paths of righteousness for his name's sake.-

Psalm 23: 1-3 KJV
The Hebrew phrase known as the tetragrammaton is used in this verse to translate the word "LORD." David wonderfully explains how God is his shepherd by drawing on his experience as a shepherd child.
These four characters, yodh, he, waw, and he, translate to YHWH in English. This is frequently written as Jehovah or even Yahweh. This is the title given to Israel's covenant-keeping God in the Bible.
God is in control of my life
Jesus said I am the way, the truth, and the life. the truth here is if we haven't surrendered to God through Jesus; we are in control of our lives. Total surrender means God now takes over. We live to fulfill His purpose and live a life orchestrated by him.
Deuteronomy 31:6 KJV
Be strong and of a good courage, fear not, nor be afraid of them: for the Lord thy God, is he that doth go with thee; he will not fail thee, nor forsake thee.-

Deuteronomy 31:6 KJV
Joshua 1:5 KJV
There shall not any man be able to stand before thee all the days of thy life: as I was with Moses, so I will be with thee: I will not fail thee, nor forsake thee.-

Joshua 1:5 KJV
When Joshua led the Israelites out of slavery in Egypt and into the Promised Land, God made Joshua a reassuring promise, because he let go of his life, giving full control to his maker. This scripture details that promise.
Relax God is in Control Bible Verse
Knowing that God is in control brings serenity since God is always in charge of everything. For me, faith entails having the complete assurance that God is in charge of my life and is looking out for my interests so why should I panic?
"God not only sees where you are, He sees where you can be."-

Joyce Meyer
God is in charge, therefore I can be thankful for everything. Have faith because God is in charge. There is no need to worry or stress since there must always be something to learn if God does not act arbitrarily.
 My flesh and my heart faileth: but God is the strength of my heart and my portion forever.-

Psalm 73:26 KJV
With God in charge, I am confident that everything will turn out for the best in the end since God never finishes anything on a bad note. My heart and flesh are weak, but God is my refuge and my strength always. Whatever you're dealing with, there is no pit too deep for God to enter and pull you out of. Knowing that the same God who controls life's happy periods also controls its awful moments is consoling. A fantastic approach to remembering that God is in control is to take pleasure in the unexpected meetings that come our way.