The Bible speaks of the importance of marriage but also emphasizes the importance of restoring a broken relationship. It speaks of forgiveness and healing and encourages both men and women to be loving and supportive.
Divorce is not seen as the ideal situation, but is acceptable in certain circumstances, such as when there has been abuse or adultery.
Ultimately, the Bible provides comfort and hope and encourages divorced women to look to the future and find peace.
Bible Verse for Divorced Woman
Divorce is a difficult experience for everyone involved, but it can be particularly challenging for women. Today's divorced women often face unique financial, emotional, and social challenges that can make them feel overwhelmed, isolated, and uncertain about their future.
Divorce is a difficult process for any woman, and it can be even more challenging when faced with the stigma that often comes with it. Women may feel isolated, embarrassed, or ashamed after divorcing, but it's important to remember that they are not alone.
From a financial standpoint, divorced women often find themselves with limited resources. After a divorce, a woman.
Divorce can be a difficult process for many women, and the Bible can provide guidance and support that help them through it.
Matthew 19:6
So then, they are no longer two but one flesh. Therefore what God has joined together, let no one separate.-
This verse speaks to the sanctity of marriage and emphasizes the importance of preserving the unity of the marriage bond.
It is often interpreted to mean that divorced women are not allowed to remarry, as this would be seen as breaking the union of marriage.
This interpretation, however, is not universally accepted, and there are other interpretations of this verse that allow for remarriage in some circumstances.
Romans 8:28
And we know that in all things God works for the good of those who love him, who have been called according to his purpose.-
This verse is often used to comfort and encourage those who have been through difficult times, such as those who have gone through a divorce.
This verse serves as a reminder that no matter what happens, God is always with us and has a good plan for our lives, and that whatever happens, it will work out for good.
Divorced women can take comfort in this verse, knowing that God is still in control of their lives and working for their good.
Proverbs 3:5-6
Trust in the Lord with all your heart, and do not lean on your own understanding. In all your ways acknowledge Him and He will make your paths straight.-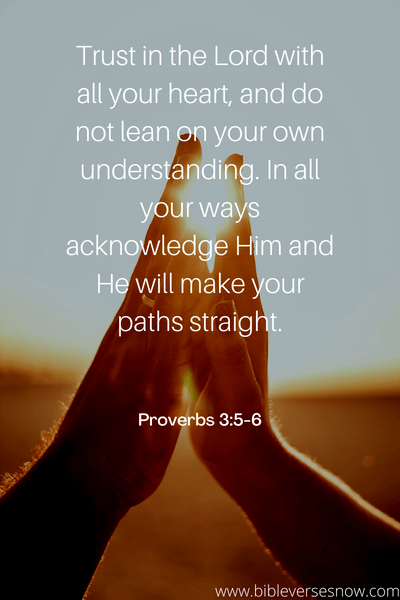 This verse is great advice and encouragement to trust and rely on God's faithfulness. The verse says
This is an encouragement to trust in the Lord rather than relying on ourselves, especially in difficult times like divorce.
It reassures us that God will lead us in the right direction, bring us comfort, and provide for us even in the toughest of times.
What Does God Say about a Divorced Woman?
They believe that God's love and presence are available to all people, regardless of their marital status or past experiences, and that God offers comfort, guidance, and hope to those who seek Him.
Divorced women can turn to God for support, healing, and direction for their lives, and find comfort in knowing that they are never alone.
Hebrews 13:5b
I will never fail you. I will never abandon you.
God's love and faithfulness are unwavering and constant, and He is always with us, no matter what our circumstances may be.
For divorced women, this verse can offer a source of comfort and encouragement, reminding them that God is always with them, and offering love and support, even in the midst of difficult or challenging experiences.
Isaiah 41:10
So do not fear, for I am with you; do not be dismayed, for I am your God. I will strengthen you and help you; I will uphold you with my righteous right hand.-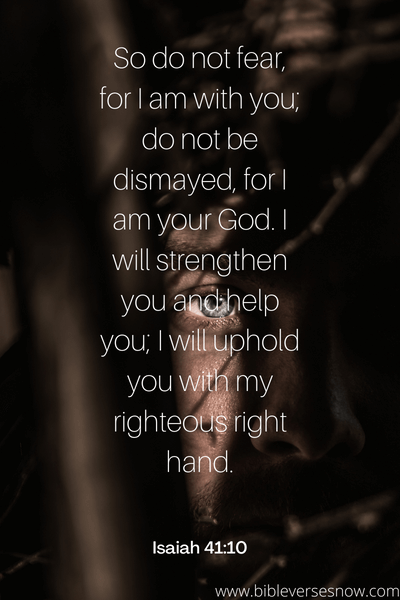 It can be a difficult and trying experience to go through a divorce, but it is important to remember that there is always strength and hopes to be found.
According to this verse, a divorced woman should remember that God is always ahead of her and can provide reassurance and comfort throughout the entire process.
With God by her side, she can have the strength to continue on and find joy and peace in her life once again.
Peter 5:7
Cast all your anxiety on Him because He cares for you.-
This is a reminder that even though life might be difficult and unfair, God will always be there for us in our time of need.
Divorced women can use this verse as a source of strength and hope, knowing that God cares for them and will provide the supernatural help they need during difficult times.
What Does the Bible say about a Divorced Person?
According to the Bible, a divorced person is not viewed in a negative light, however, it does not condone the practice.
The Bible instead encourages people to work on their marriages and stay together. In the book of Matthew, Jesus spoke against divorce, saying that it should be a last resort.
The Bible also encourages couples to seek reconciliation and forgive one another. Furthermore, it states that God hates divorce and that it should be avoided when possible.
Despite this, the Bible acknowledges that sometimes divorce is the only option, but it still encourages people to end the marriage in a peaceful, respectful way.
What Verse in the Bible Supports Divorce?
There is no verse in the Bible that directly supports divorce. However, there are passages that acknowledge the existence of divorce and provide guidelines for it.
Matthew 5:32
But I tell you that anyone who divorces his wife, except for sexual immorality, makes her the victim of adultery, and anyone who marries a divorced woman commits adultery.-

Matthew 5:32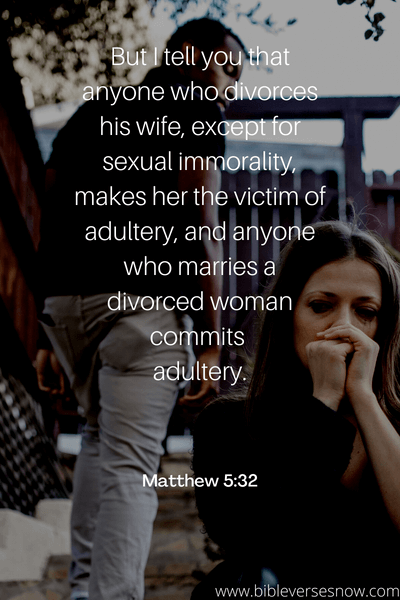 Jesus is addressing the subject of divorce and laying out a strict standard for it. He says that anyone who divorces his wife, except in cases of sexual immorality, is causing her to commit adultery. And anyone who marries a divorced woman also commits adultery.
This scripture makes it clear that divorce is to be avoided if possible and that it should only occur in extreme cases involving sexual immorality.
Jesus was making it clear that divorce would have dire consequences and should not be taken lightly.
What Does God Say about Getting Married after Divorce?
God's Word makes it very apparent that He has established marriage as a union between one man and one woman, and that this union is legally binding for as long as both parties are alive.
The Bible does allow for divorce in some circumstances, but it also makes it very plain that this does not remove either person's obligation to faithfulness, and they are not permitted to remarry as long as the other partner is still living.
Matthew 5:31
Furthermore it has been said, 'Whoever divorces his wife, let him give her a certificate of divorce.-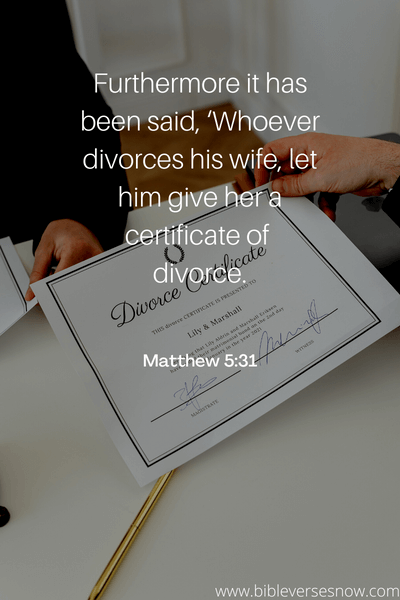 This verse is often cited by Christians as evidence of God's stance on divorce and remarriage.
According to Jesus' teaching, divorce is only acceptable in cases of sexual immorality, and remarriage after divorce (unless it is in the case of sexual immorality) is considered adultery.
This verse is often used to support the idea that divorce and remarriage are not ideal and should only be done in limited circumstances.
It is also used to encourage individuals to consider the sanctity of marriage and to approach it with commitment and care.
Divorce and Remarriage Bible Verses
Divorce is the legal termination of a marriage. The process and laws surrounding divorce vary by jurisdiction but typically involve filing a petition or complaint, serving notice to the other party, and obtaining a court order. Remarriage is the act of marrying again after a divorce or the death of a spouse.
Divorce and remarriage are both common social phenomena that have affected many people around the world.
While the decision to separate and divorce is a difficult one, remarriage is often seen as a way to find new happiness and a new start.
But what does the Bible say about these actions?
Romans 7:1-3
Or do you not know, brethren (for I speak to those who know the law), that the law has dominion over a man as long as he lives? For the woman who has a husband is bound by the law to her husband as long as he lives…….-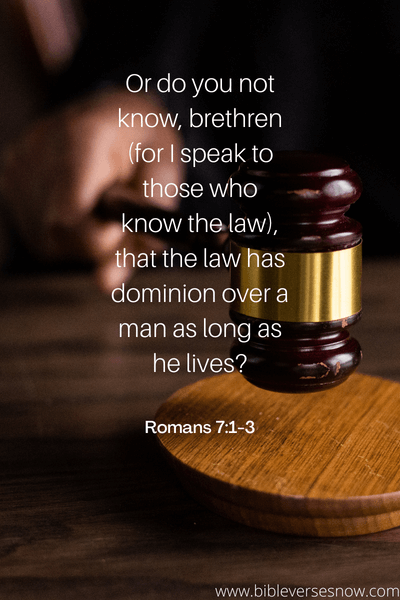 Paul is using the example of marriage and the law to illustrate a point about sin and the law. He is not making a direct statement about divorce and remarriage, but the example he uses can be applied to these topics.
According to this passage, as long as a person is alive, the law (in this case, the law of marriage) has authority over them.
A married woman is bound to her husband by law as long as he is alive. If her husband dies, she is released from that law and is free to remarry without being considered an adulteress.
1 Corinthians 7:10-11
Now to the married I command, yet not I but the Lord: A wife is not to depart from her husband. But even if she does depart, let her remain unmarried or be reconciled to her husband. And a husband is not to divorce his wife.-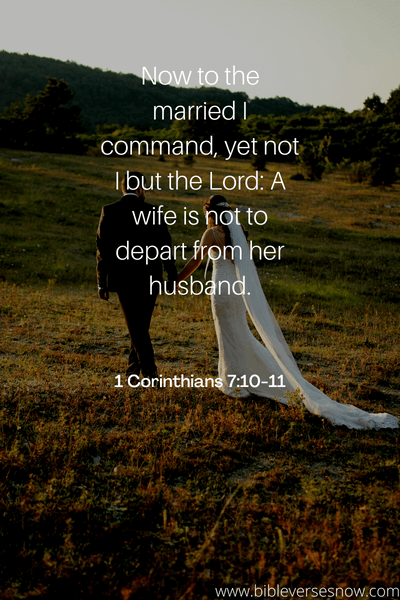 The verse is emphasizing that divorce should not be taken lightly and is discouraged, but if it does occur, the individuals should either remain single or reconcile their relationship.
This aligns with the overall Christian teachings of valuing marriage as a sacred union and promoting forgiveness and reconciliation in relationships.
Bible Verse for Divorce Healing
God's strength can be found in prayer, scripture, and fellowship with other believers. When feeling doubts or fears, she can turn to prayer to be comforted and to find the reassurance she needs.
Scriptures can also provide direction and guidance during this tough time and provide peace and solace.
The process of healing from a divorce can be difficult and challenging, but it is possible with the word of God;
Psalm 34:18
The Lord is close to the brokenhearted and saves those who are crushed in spirit.-
This verse offers comfort and hopes to those who are feeling brokenhearted and crushed in spirit. It reminds us that God is close to those who are hurting and is ready to bring salvation and healing.
This verse can provide comfort and encouragement to those who are going through the difficult process of divorce and help them find hope and strength in God's love and care.
Matthew 11:28-30
Come to me, all you who are weary and burdened, and I will give you rest. Take my yoke upon you and learn from me, for I am gentle and humble in heart, and you will find rest for your souls. For my yoke is easy and my burden is light.-
This verse provides healing to those who are going through a divorce in several ways:
Rest
The verse promises rest to those who are weary and burdened, which is often a common feeling for those going through a divorce. This promise of rest can bring comfort and a sense of calm to those who are feeling overwhelmed.
Peace
Jesus promises peace to those who come to him, which can be especially important for those who are going through the stress and turmoil of a divorce. This peace can bring a sense of stability and security during a difficult time.
Support
Jesus offers to take on the burdens of those who come to him and promises to help them. This can be a source of strength and support for those who are struggling to cope with the changes and challenges that come with a divorce.
Healing
By offering rest, peace, and support, Jesus is providing a pathway to healing for those who are going through a divorce. He is inviting those who are hurting to come to him and receive the help they need to move forward and find healing.
There are many factors that influence the decision to divorce and remarry. The most common reasons for divorce include infidelity, incompatibility, communication problems, drug and alcohol abuse, financial strain, and domestic violence.
On the other hand, the main reasons for remarriage are often finding a new partner who shares the same interests and values, the desire to have companionship, and the belief that a second chance may lead to a happy and fulfilling marriage.