My body, my choice is a phrase that is frequently used in relation to reproductive rights and the freedom to make decisions about one's own body. Several verses emphasize the significance of caring for our bodies and making decisions that respect God and show his presence in our lives.
But these 21 Bible verses about my body my choice will explain and emphasize the significance of taking care of one's body and making decisions that glorify God.
21 Bible verses about my body my choice
My body, my choice is a statement that is frequently used to describe the idea that a person has the right to make decisions regarding their own body, including reproductive health and medical care.
It is crucial to note that the Bible does not directly address the specific topic of reproductive rights or the use of the phrase my body, my choice.
However, there are some biblical concepts and Bible verses with explanations that might help Christians tackle such challenges.
1 Corinthians 6:19-20
19 Or do you not know that your body is a temple of the Holy Spirit within you, whom you have from God? You are not your own

20 for you were bought with a price. So glorify God in your body.-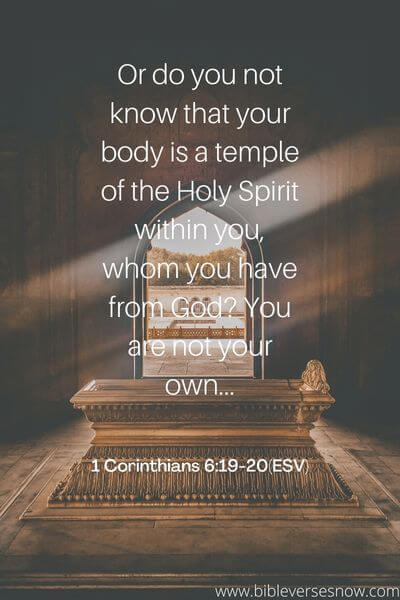 Paul compares the Corinthian Temple of Aphrodite to the body, which is the Holy Spirit's temple. As a place of worship, the temple. We don't belong to us for two reasons:
The Spirit that possesses our bodies is not our own, but rather one that was given to us "by God."
We have already been paid for; everything was purchased with the blood of Christ
The Holy Spirit, "who is in you," is the owner of the temple which is the believer's body. God consequently owns our bodies, and they are not for our use or disposal. They must be utilized for the function that God intended.
Romans 8:23
And not only that, but also we ourselves, having the first fruits of the Spirit, even we ourselves groan within ourselves, waiting eagerly for our adoption as sons and daughters, the redemption of our body.-
In a similar manner to how creation groans, Paul exhorts the Christians in Rome at the time to anxiously await the redemption of our bodies.
If we pay attention to the Spirit, we already have that yearning. Once a person believes in Jesus, the Holy Spirit is given to them and begins to reside inside of them.
Romans 12:1
I appeal to you therefore, brothers, by the mercies of God, to present your bodies as a living sacrifice, holy and acceptable to God, which is your spiritual worship.-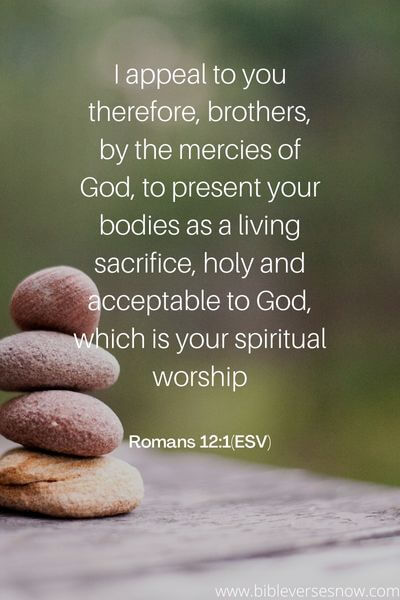 Merriam-Webster dictionary defines sacrifice as an act of offering to a deity something precious; the surrender of something for the sake of something else.
Paul advised the Roman Christians to offer themselves up to God as a living sacrifice rather than an animal sacrifice on an altar, as required by the Mosaic Law.
Bible verses about personal choice
When we are given two or more alternatives, we have the capacity to choose. Choice is the clearest manifestation of free will since it gives us the ability to mold our lives precisely as we choose.
Choice, however, is challenging since it entails giving something up. Inherently, choosing one thing entails sacrificing another.
Based on the rational choice theory, each actor chooses the alternative that will maximize their interests and bring them the most utility, or benefit.
Psalm 37:5
Commit your way to the LORD, Trust also in Him, And He shall bring it to pass.-
Committing our way to God is a thing of choice due to trust. For a Christian, having confidence in Christ simply means having faith in God to complete the good deeds He began in our life when we were first rescued, and having faith in God's Spirit to operate in us for our Christian development.
In fulfilling our purpose on it, wisdom demands that as humans, God has given us the free will to choice. But pleasing the father, and choosing to fulfill purpose in Him is primary
Romans 12:2
Don't copy the behavior and customs of this world, but let God transform you into a new person by changing the way you think. Then you will learn to know God's will for you, which is good and pleasing and perfect.-
Paul emphasizes that while he formerly lived for the approval and admiration of men, he no longer does to support his teaching on the issue.
Instead, he has recruited a wide range of adversaries for himself in his quest to satisfy God alone. Stand you amongst them and be separate.
There are certain trends virtual and social in society, as Christians, we do not always have to copy. We do not have to imitate and look like them.
Bible verses about Body
The physical component of the human organism, the human body is made up of extracellular and live cells and is divided into many tissues, organs, and systems.
The Bible says we are made in the image of God.  Man is a spirit that has a soul living in a body.
Matthew 26:41
Watch and pray that you may not enter into temptation. The spirit indeed is willing, but the flesh is weak.-
God is encouraging us in this text, and His intention is to remember us because the Bible instructs us to "rejoice continually, pray without ceasing, and give thanks in all situations" as God's plan for us in Christ Jesus.
However, we may also learn from the Lord's words that prayer has immense power and is the most effective tool He has given us for resisting Satan's temptations.
Jesus spoke to himself as one who should watch and pray a few different times. One was the evening before the cross.
When Jesus went to the Garden of Gethsemane with His disciples, He prayed, "let this cup pass over me."
Matthew 10:28
Do not be afraid of those who kill the body but cannot kill the soul. Rather, be afraid of the One who can destroy both soul and body in hell.-
There are several ways to use the word "soul." It is a translation of the Hebrew term nephesh and the Greek word psyche, both of which denote a living, breathing being, an animal life, hunger, and other meanings with like derivations.
A soul is always a living, breathing animal or man, as well as the life of a breathing creature that is contained in the blood, and it can never refer to an eternal portion of a man or an animal.
Man is a spirit that has a soul that lives in a body. Man is only capable of killing our physical bodies.
Our baptism already accounted for the death of our life. We now live a new life because of our trust in Jesus Christ. Because of Christ's intercession for you, your life is hidden in God.
Bible verses about body health
Health is "a condition of total physical, mental, and social well-being and not only the absence of sickness and disability," according to the World Health Organization.
In general, a person's environment has a significant impact on both his or her health state and quality of life.
It is becoming more widely accepted that efforts and wise lifestyle decisions made by individuals and society as a whole are just as important in maintaining and enhancing health as the development and use of health science.
3 John 1:2
Dear friend, I hope all is well with you and that you are as healthy in body as you are strong in spirit.-
I wish above all things that thou mayest prosper and be in good health even as thy soul prospers. This payer was addressed to Gaius, and it had three implications.
1. Physical well-being
2. Spiritual wellness; and
3. Success in secular matters.
Every Christian has the right to pray for these three things, which are so essential to our daily comfort. If we fervently pray for them, we would likely receive more of all three for our Father is a generous God.
The Bible says Blessed be the God and Father of our Lord Jesus who hath blessed us.
1 Corinthians 10:31
So, whether you eat or drink, or whatever you do, do all to the glory of God.-

1 Corinthians 10:31(ESV)
Giving God glory isn't just in primary actions or activities; it entails our whole thinking and acts. The food we eat, the places we want to go, the party wish to vote for, the policy we'd wanna fight for.
All of these must be consistent with divinity. How do we know this? It is through God's word. Giving God glory means ascribing to Him our capabilities, and our merits because it is by Him that we've been able to function.
Bible verses about putting vaccines in your body
By encouraging the immune system to combat dangerous substances, vaccination can provide active protection against them.
British physician Edward Jenner created the first vaccine in 1796 by using the cowpox virus (vaccinia) to provide immunity against smallpox.
Concerning the necessity for vaccinations to prevent sickness, notably the COVID-19 vaccine, Christians and the broader public disagree, and this has been a very divisive subject in terms of rights, faith, and health.
Mark 7:15
There is nothing from without a man, that entering into him can defile him: but the things which come out of him, those are they that defile the man.-
Having a body that serves as the Holy Spirit's temple is an honor. The Spirit of God was housed in all the beauty of Solomon's temple in Jerusalem.
However, the Holy Spirit is in-dwelling in this era. Jesus said to the gathering once again, "Listen to me, everyone, and comprehend this.
Nothing from the outside can enter a guy and render him "unclean." Instead, what makes a guy "unclean" is what comes out of him.
1 Thessalonians 4:4
Then each of you will control his own body and live in holiness and honor.-
Paul is emphasizing the value of holiness to the Christians at Thessalonica. The passage before made an explicit reference to keeping sexual purity.
This was no easy undertaking in Hellenistic (Greek) civilization. Paul urges his audience to exercise self-control in this passage as he carries on that topic.
Controlling our bodies isn't about just sexual sins. It includes drugs and other things we put in our body
In order to respect God and refuse unwanted sexual desires, one must learn to control their body. It is a discipline that honorably views the body as a component of one's being that has been given to God.
Finally, the Bible does not provide a clear set of laws or instructions for how Christians should address every issue concerning reproductive health or human body treatment.
Instead, it offers principles and ideals to help Christians make informed, responsible, and compassionate decisions concerning these concerns.