Seeing the best in someone entails putting more emphasis on their characteristics, capabilities, and talents rather than their weaknesses and defects.
It requires changing one's viewpoint from one that is negative to one that is positive and making an effort to recognize and appreciate the excellent qualities in others.
Bible Verses About Seeing the Best in Others
A significant ability that can help create closer ties, promote understanding, and establish trust is the ability to see the best in others.
It involves seeking other people's potential, talents, and traits even when they are not immediately apparent. A positive attitude and a sense of hope are necessary for any successful partnership.
It's necessary to keep in mind that everyone has something valuable to contribute. Each person is unique in their traits, abilities, and gifts.
Even if someone isn't currently expressing themselves well, it's crucial to keep in mind that they have the capacity to change and improve.
There are numerous verses in the Bible that stress the significance of seeing the best in others. let's see them here
Philippians 2:3
Do nothing out of selfish ambition or vain conceit. Rather, in humility value others above yourselves.-
The verse admonishes humility and putting others before ourselves by prioritizing others' needs before ourselves.
It also cautions against acting out of rivalry or pride and instead encourages people to treat others with love and selflessness.
1 Corinthians 13:7
Love bears all things, believes all things, hopes all things, endures all things.-
Love is defined by its nature and traits, which include being patient and forgiving, consistently thinking the best in others, holding onto hope and optimism even in trying situations, and persevering through difficulties.
This is an illustration of how to support and understand others no matter what their behavior or situation may be.
Matthew 7:12
So in everything, do to others what you would have them do to you.-
This verse, often known as the Golden Rule, is about treating others with the same compassion and respect that we would like to be treated.
We may create relationships and foster a positive community by concentrating on the positive traits and intentions of people.
Galatians 6:10
Therefore, as we have opportunity, let us do good to all people, especially to those who belong to the family of believers.-
This verse addresses Christians' responsibilities to others in their community, not just those of their own faith, but also those of other faiths.
It serves as a reminder to us that we should not just focus on ourselves and our own needs, but also on the needs of others. We should share Christ's love with everyone, especially those who may not share our convictions.
We should strive to see the best in others, regardless of their beliefs or circumstances. We should look for ways to connect with individuals around us and show them love, grace, and mercy.
This is the best approach to genuinely express your affection towards our fellow man.
Romans 12:10
Be devoted to one another in love. Honor one another above yourselves.-
This serves as a reminder that we should reflect Christ's love and endeavor to see the good in everyone around us.
We can implement this in our daily lives by attempting to be more understanding and patient with others. We should take the time to listen and be open to learning about diverse points of view.
We can also look for methods to aid and support others by offering encouragement or assistance when needed.
Finally, we should all seek to see the best in others and show the kind of love and compassion that Jesus demonstrated.
What Does the Bible Say About finding the Best in Others?
The Bible instructs us to go beyond simply tolerating others and actively attempt to do good, even toward those who are difficult to comprehend or love.
In other words, rather than allowing negative attitudes to weigh us down, we can choose to look for the best in others and do good, even to those who may not appreciate or understand us.
The Bible teaches Christians to see the best in others and to look for the good in everyone.
These verses admonish Christians to look for the good in people and to demonstrate compassion, kindness, and forgiveness.
1 Peter 3:8
Finally, all of you, be like-minded, be sympathetic, love one another, be compassionate and humble.-
This verse underlines the necessity of treating others with love and compassion and looking for the best in them.
Christians are encouraged to be humble, and tender-hearted, and to exhibit sympathy and brotherly love to everyone.
Christians who possess these characteristics can strive to see the best in others and form strong, caring connections with those around them.
Colossians 3:12-13
Therefore, as God's chosen people, holy and dearly loved, clothe yourselves with compassion, kindness, humility, gentleness and patience. Bear with each other and forgive one another if any of you has a grievance against someone.-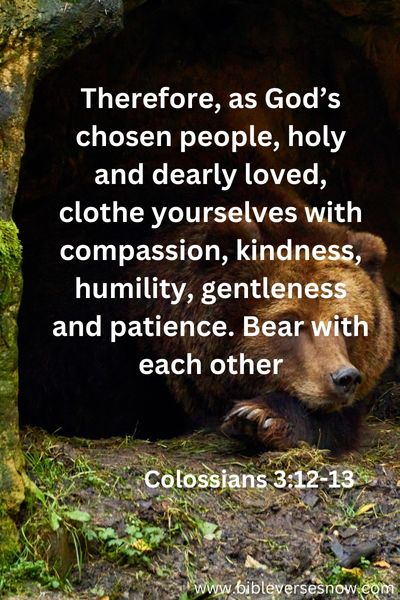 It is critical to be deliberate when looking for the best in others. Rather than focusing on a person's flaws, we should endeavor to uncover their positive traits and recognize the unique abilities they possess.
We should attempt to accept them as they are and be patient and compassionate to them when they make mistakes. We must be willing to give others the benefit of the doubt and refrain from passing judgment.
We can extend compassion and appreciation to others through our words and actions. We should take the time to hear what others have to say, encourage them, and celebrate their victories and accomplishments.
Finally, it comes down to providing grace, showing respect, and offering support.
John 13:34
A new command I give you: Love one another. As I have loved you, so you must love one another.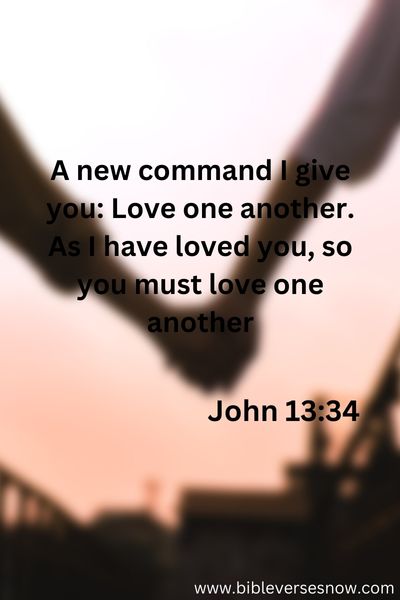 This verse underlines the significance of loving others despite their flaws and differences in order to show God love and respect.
Finding the best in others and treating them with love, compassion, and understanding are all part of this.
Lord Help me to See the Good in Others
It's common to find it challenging to see the good in people, particularly when we may not share or concur with their beliefs, attitudes, or actions.
But even if it isn't always obvious, it's crucial to acknowledge that everyone has the ability to be good.
Finding the characteristics in others that you admire is the first step to seeing the good in them.
Consider their interpersonal skills or areas of interest. It can be a deed of kindness they committed or a talent they have. You can find the positive aspects of these traits by concentrating on them.
Try to understand why they do or think the things they do. Everyone has their own reasoning behind their actions, and getting to the root of their behavior can help you better understand their perspective.
Even if you don't agree with them, you can try to find the motivation or purpose behind their actions.
Finally, try to look for opportunities to appreciate and encourage them. A simple compliment or words of encouragement can go a long way.
Valuing their opinions and recognizing their strengths will help you to see the best in them.
Believing the Best in Others
Having faith in others can be a powerful way to connect with the world. As a result, we provide the benefit of the doubt to everyone we meet and give them the opportunity to demonstrate that they have good intentions.
It can also lead to more meaningful and deeper interactions in both our personal and professional life.
Adopting this perspective necessitates viewing the world with optimism and hope rather than cynicism and skepticism.
We must believe that people have good intentions and the capacity to do good, even if that capacity is not always fulfilled.
This entails lowering our defenses and becoming more vulnerable and open to new experiences.
The ability to see the best in people inspires us to do the same for ourselves. It enables us to accept responsibility for our own mistakes and failings while also appreciating the importance of our unique talents and abilities.
We can gain more self-assurance, security, and fulfillment by doing this.
In the end, having faith in people requires us to take a chance and do so, which can occasionally be challenging.
Bible Verses About Caring for Others
The Bible contains numerous teachings and examples of how to care for others. Caring for others is one of the most powerful ways to develop spiritually because it gives a moral foundation and bridges the gap between our beliefs and our actions in life.
This article will look at several Bible scriptures that promote having a connection with God by caring for others.
Matthew 25:40
The King will reply, 'Truly I tell you, whatever you did for one of the least of these brothers and sisters of mine, you did for me.-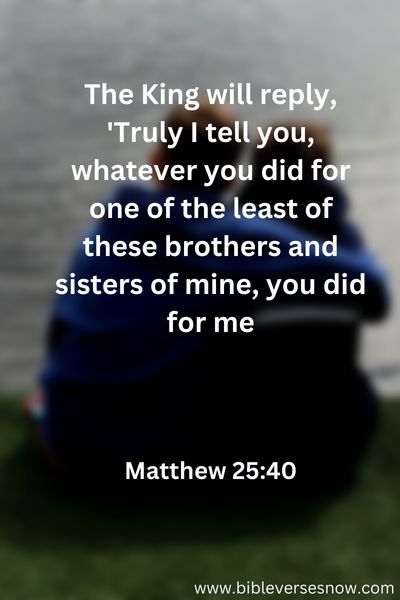 This verse underlines the necessity of caring for people and serving them as if they were Jesus.
It emphasizes Christians' obligation to be kind and sympathetic to all people, regardless of their circumstances.
1 John 3:17
If someone has enough money to live well and sees a brother or sister in need but shows no compassion how can God's love be in that person?-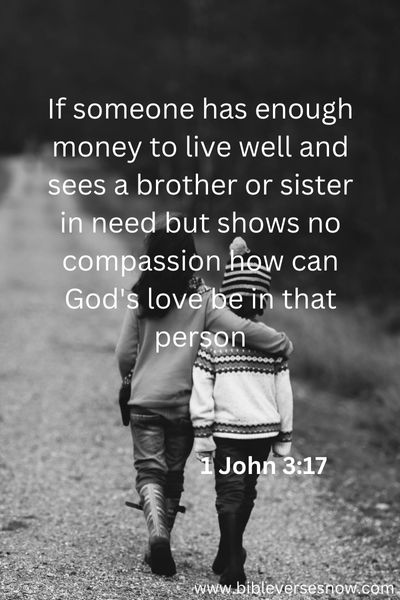 This verse reminds us that we must all endeavor to help those in need.
We should be looking for ways to aid our neighbors and those in need, whether through monetary donations or volunteering our time.
We should also be seeking methods to connect with others.
James 1:27
Religion that God our Father accepts as pure and faultless is this: to look after orphans and widows in their distress.-
We are reminded that the fundamental core of religion is compassion, love, and kindness to those in need.
We must not just think of ourselves, but also of those around us, and extend a helping hand to those in the most need.
This can take many forms, including monetary donations, volunteer time, and emotional support. It is not always easy and can be difficult to venture beyond of our own comfort zone to assist others.
However, it is ultimately necessary for living a life of meaning and purpose. We may generate a ripple effect of compassion by taking the time to care for others, which will have a beneficial impact on the planet.
Hebrews 13:2
Do not forget to show hospitality to strangers, for by doing so some people have shown hospitality to angels without knowing it.-
The passage reminds believers to be friendly and kind to all people, even strangers, and foreigners. However, this goes beyond being nice.
It encourages believers to go above and beyond simple hospitality and kindness to all people and to go out of their way to serve and care for them.
This is a direct mandate from God, and it serves as a reminder that when we demonstrate hospitality to others, we never know what beautiful things will happen.
Offering tangible assistance or support is part of being hospitable to others. This can involve giving individuals in need food, housing, or clothing.
It can also entail providing emotional or spiritual support, such as spending time listening to someone who is struggling and praying for them.
Bible Verses About Seeing the Good in Everything
What does the Bible teach about seeing the good in all circumstances? I believe we all understand what it is to see the positive in anything.
But I do have a couple of questions for you: Do we deserve rewards based on our own goodness, or does God's benevolence bring us blessings?
Do good people always get awful things from God, or do bad people always get bad things? This will discuss these and other concerns about seeing the good in everything we do.
Romans 12:21
Do not be overcome by evil, but overcome evil with good.-
This verse encourages us to seek out and focus on the positive aspects of every situation, no matter how challenging.
When confronted with a task, it is all too easy to become overwhelmed by its negative elements. However, this statement advises us to take a step back and look for the positives.
For example, if you're battling with a challenging task at work, it can be difficult to notice the positive aspects of it.
However, by looking for the positive, you may discover that the task is assisting you to learn and grow and that it will finally make you a better person.
The same can be said about any circumstance, whether it's about personal relationships or global events. There is no such thing as a perfect situation.
1 Thessalonians 5:16-18 
Rejoice always, pray continually, give thanks in all circumstances; for this is God's will for you in Christ Jesus.-
The Bible teaches us that God is in control, and it is His will that we trust Him and remain faithful regardless of what happens. Even in the middle of adversity, we may discover joy if we look for it.
Paul's comments encourage us not to grow too discouraged or lose faith. We can celebrate and give thanks for the good, the bad, and the ugly, knowing that God will see us through it all.
Taking a minute to be thankful and to focus on the positive might help us gain perspective and optimism.
Colossians 3:2
Set your minds on things above, not on earthly things.-
This verse encourages us to look for the good even in the midst of adversity. We may rejoice because we know God is with us and will assist us in carrying our load.
Prayer and thanksgiving are simple yet powerful actions that can help us find the good in any situation. We can be grateful to God for the blessings, love, and hope he provides.
In conclusion, look for the best in others. Help them succeed by doing everything you can to better their lives and personal success.
Most people want to help you in order for you to help them. It is not difficult to recognize the best in others; all we have to do is open our eyes and be kind, empathetic, and tolerant.
We don't need to change who we are; we only need to adjust how we see others. We shall see that there is nothing wrong with anyone except ourselves because they are a reflection of us if we do this.