There are many different Bible verses about supporting others. When someone is having a hard time, it can be helpful to share a well-known Bible verse with them to help them remember how much God loves them.
Reaching out to those who are less fortunate and finding ways to let them know they are not alone can be very meaningful. While you may lose patience when you are going through a difficult time, reading scripture can inspire a new beginning.
God is always watching from above. And the following verses from the Bible that talk about doing good can help us understand this aspect of Christianity.
Bible verses about supporting others
Galatians 6:2
Bear ye one another's burdens, and so fulfil the law of Christ.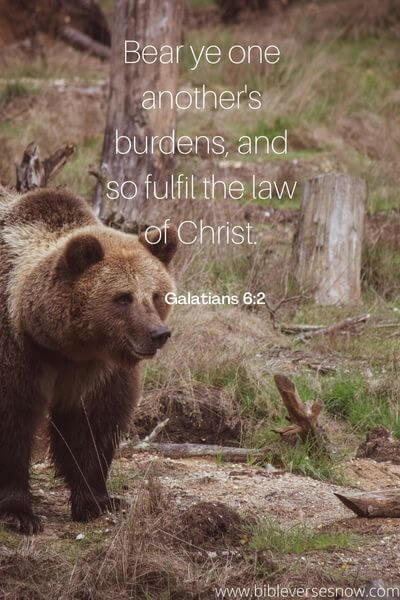 Paul urges spiritual people to restore those who aren't walking in the Spirit or have fallen prey to worldly sin.
A spiritual believer is commanded to assist in the restoration of a brother or sister who has sinned but to do so gently and with Christ-like consideration.
We are all called to "bear one another's burdens, and in so doing fulfill the law of Christ" and have a responsibility to help and uplift one another as believers.
But to do good and to communicate forget not: for with such sacrifices God is well pleased.
Christians are frequently commanded to show kindness to others.
Those who have been saved should be grateful and joyful to God and should also exhort others to enter the kingdom.
By helping others, we can also lead them to Christ through our deeds.
This is my commandment, That ye love one another, as I have loved you.
The Lord Jesus Christ, forsook His heavenly glory to become a man and come to earth, In order to live His life as the ideal example of how God wants all of His children to live.
According to this verse from the Bible, we are to mirror the character of Christ's love. As a result, one must be humble, give, and serve. These characteristics should define how we interact with other people, especially with other Christians.
Let's try to live our lives in a spirit and truth that is pleasing to the Lord. In order to benefit the Body and bring honor to our Lord, let's love one another as Christ loved us.
Give to him that asketh thee, and from him that would borrow of thee turn not thou away.
Jesus offers yet another illustration of what it means to support one man by helping him. He is modeling this kind of conduct for His followers and for all of us.
The main message is that those who follow Jesus should triumph over evil by doing good deeds.
Jesus instructs His followers to freely give to the poor and lend to anyone who requests it. While following these instructions may seem challenging, we are expected to put our faith in God and do as he says.
Jesus is showing how powerful it is to choose to give. More importantly, despite giving away what God has freely given to you, you have made the decision to trust Him to continue to provide for you.
He that hath pity upon the poor lendeth unto the LORD; and that which he hath given will he pay him again.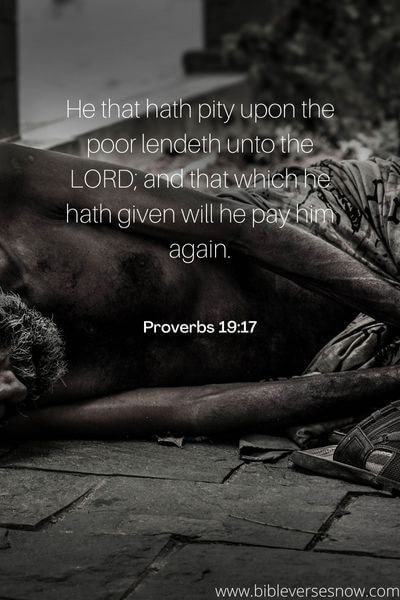 Scripture encourages genuine concern for one another's needs, especially those of the underprivileged.
Charity glorifies God, and those who provide for the poor fulfill both God's will and their own good deeds.
The word "lend" implies that those who are generous will receive rewards from God, though perhaps not in the form of material wealth but rather in the form of spiritual blessing.
The Corinthians were urged by Paul to give generously to the aid of struggling Christians. He emphasized to the Corinthians that Jesus gave up His heavenly riches and became poor so that believers could benefit, and that we should imitate that way of living.
Bible verses about doing good for others
Share with the Lord's people who are in need. Practice hospitality.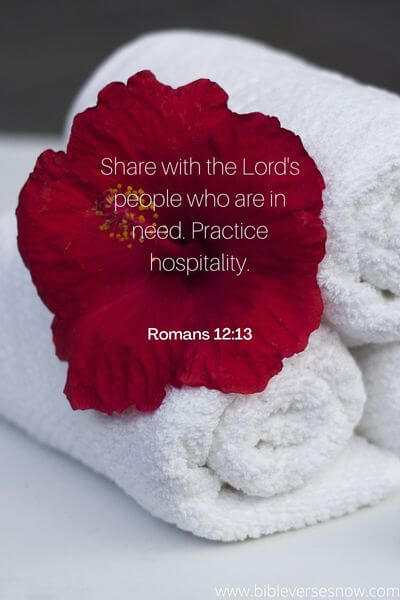 God teaches us to be generous by providing numerous examples of generosity throughout the Bible. Here, Paul has stated that Christians should be devoted to one another in general.
They ought to respect and cherish one another as brothers would. The command in this verse outline concrete ways we can carry out that.
We must help meet the needs of other Christians, according to Paul. And we must be sacrificial one with another and not selfish like the unbelievers.
In the same way, let your light shine before others, that they may see your good deeds and glorify your Father in heaven.
Jesus referred to His followers as the light of the world and then as the salt of the earth, respectively.
Jesus' instruction to be "the light of the world" is put into practice in this verse. By carrying out the good deeds that God has planned for them, followers of Jesus show the world their light.
Let's work to improve through humbly obeying His Word in order to advance in grace and in our understanding of the Lord Jesus Christ.
Let's walk in the Spirit so that, by the power of the Holy Spirit who dwells within us, we may receive the fullness of God and be satisfied in Him. We can become more like Christ by acting in this way.
Do not withhold good from those to whom it is due, when it is in your power to act.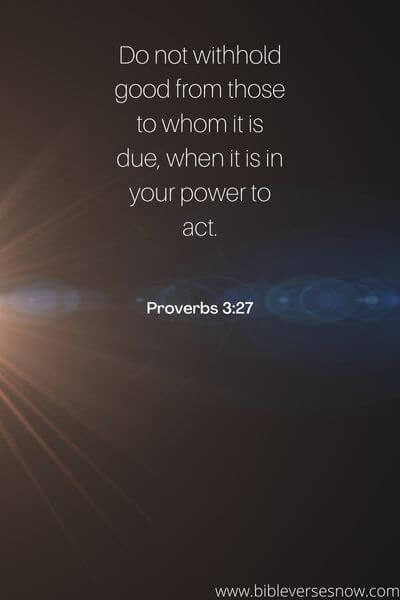 King Solomon emphasizes this as a duty in this verse by using the words do not withhold good. That implies that we have a duty to provide others with this "good."
It is expected of servants and employees to work diligently and sincerely as unto the Lord in order to honor their employer. While employers or masters ought to treat their workers fairly.
Employers can reward dependable, effective workers with promotions, gifts of appreciation, or pay increases. Young people can respect and honor older people
Galatians 6:2
Carry each other's burdens, and in this way you will fulfill the law of Christ.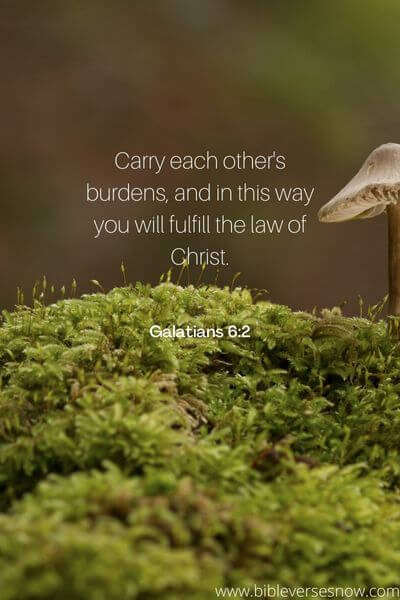 Paul is instructing the Galatian Christians on how to coexist peacefully as Spirit-filled followers of Christ.
In order to fulfill the command to "come alongside and help one another," which is stated to be a fulfillment of the law of Christ, one must acknowledge that each of us has areas of life where we are burdened, discouraged, and deeply burdened.
It is only through the power of the indwelling Holy Spirit in the life of a spiritual believer, or a Christian, who is walking in spirit and truth, that the law can be fulfilled through love for God and love for our brothers and sisters in Christ.
Bible verses about helping others grow
Leviticus 25:35
"If your brother becomes poor and cannot maintain himself with you, you shall support him as though he were a stranger and a sojourner, and he shall live with you."
In the old testament, Moses makes us understand that if there is a poor person around us who can not take care of himself, it is our duty to assist such individuals.
It is our responsibility to support one another because by so doing, we obey the commandment of God that says we should love our neighbor as we love ourselves.
Deuteronomy 15:11
"There will always be poor people in the land. Therefore I command you to be openhanded toward your fellow Israelites who are poor and needy in your land."
In this Bible verse, God speaks through Moses instructing us that they will always be poor people among us, so it is our duty as Godly people to assist and help them. For by so doing, we lend to God and not to man.
Galatians 6:9
"And let us not grow weary of doing good, for in due season we will reap, if we do not give up."
We have been reassured by Apostle Paul that we should not grow weary and tired of doing good to others no matter how they may pay us back with evil.
Just like Jesus, we should continually do good for in due time we will reap and be rewarded if we do not give up.
why pray for others bible verses
Isaiah 25:4
 "For you have been a stronghold to the poor, a stronghold to the needy in his distress, a shelter from the storm and a shade from the heat; for the breath of the ruthless is like a storm against a wall."
Prophet Isaiah magnifies God's name in this Bible considering how God has been a stronghold to the poor and needy among them.
When we go through the storms of life, we must rest assured that God is our shelter in the storms of life and from the heat of our enemies.
Isaiah 58:10
 "If you pour yourself out for the hungry and satisfy the desire of the afflicted, then shall your light rise in the darkness and your gloom be as the noonday."
For all those laboring in God's vineyard, this portion gives us hope that God will make their light rise in the darkness, and their gloom will be as noonday because of their gift of services to others.
Matthew 10:8
"Heal the sick, raise the dead, cleanse those who have leprosy, drive out demons. Freely you have received; freely give."
This Bible verse instructs us that all those that have been blessed with spiritual gifts, they should not monetize their gifts, because freely were they given, freely should they give out.
Bible verses relating to helping others
Proverbs 11:25
"Whoever brings blessing will be enriched, and one who waters will himself be watered."
In this Bible portion, King Solomon writes that who so ever brings blessing will himself be enriched. And to every soul that waters, Himself will God water.
This goes to show that for every good deed we do for people, none will be in vain. As we bless the poor among us, God Himself will also bless and water us.
Luke 6:28
 "Give, and it will be given to you. A good measure, pressed down, shaken together and running over, will be poured into your lap. For with the measure you use, it will be measured to you."
Jesus makes us understand that when we give, our Heavenly Father will give us bountifully.
Keeping all our riches to ourselves alone is not the lifestyle of believers, we are expected to share with others, and by so doing, God will be glorified.
Proverbs 22:9
"The generous will themselves be blessed, for they share their food with the poor."
This Bible verse makes us understand that all those that are generous to the needy will be blessed by God, this is because they have not forgotten the poor people among them.
We are expected to be helpful to the poor, sick, and needy, among us. Because whoever lends to them, lends to God.
Acts 9:36
 "Now there was in Joppa a disciple named Tabitha, which, translated, means Dorcas. She was full of good works and acts of charity."
Among Tabitha's good deeds were creating clothing for the neighborhood widows, taking care of God's servants, and being of help to the needy.
As believers, we should live this type of lifestyle. We should always be of help to the needy among us because by so doing, we obey God's command.