Infertility is not a contemporary issue. Numerous people in the Bible who were trying to get pregnant battled the same longing, guilt, and doubt that modern couples face.
Why this occurrence is a mystery that will never be clarified, these responses won't tell you why you're infertile, but they'll show you how to deal with the anguish.
Bible Verses for Infertility
The Bible has several references to infertility and childbearing, with many passages offering comfort and hope to those who are struggling with infertility.
Infertility is described by doctors as the inability to become pregnant or to give birth to a living child.
Some passages highlight the power of God to bring children to couples who are unable to conceive, while others encourage trust in God's plan and timing.
Here are a few Bible verses that may provide comfort and hope for those dealing with infertility:
Psalms 113:9
He settles the childless woman in her home as a happy mother of children. Praise the LORD.-
This scripture urges childless couples to celebrate and thank God for His goodness and faithfulness by emphasizing His ability to reward childless couples with children.
It also serves as a reminder that even people who are experiencing infertility can find happiness and pleasure in God's blessings.
Genesis 25:21
Isaac prayed to the LORD on behalf of his wife, because she was childless. The LORD answered his prayer, and his wife Rebekah became pregnant.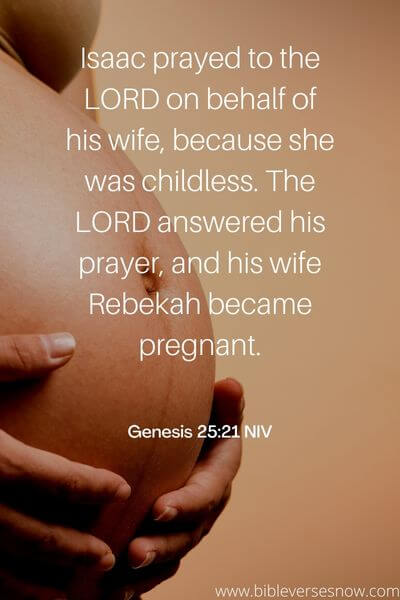 This is an illustration of how God answered the prayer of an infertility-stricken couple. Because Rebekah was unable to conceive, Isaac prayed to God on her behalf. Isaac's request was heard by God, and Rebekah conceived.
This demonstrates that God is able to respond to the prayers of couples who are experiencing infertility and serves as a reminder that He is a God who hears and responds to the cries of his people.
Bible Verses Fertility
The Bible speaks about fertility and childbearing in several passages, and it often presents fertility as a blessing from God.
The Bible teaches that children are a gift from God and that God is the one who blesses couples with children.
It also teaches us to trust in God's plan and timing and to have faith that He will provide for our needs and answer our prayers in His own way and time.
Deuteronomy 7:13-14
He will bless the fruit of your womb, the crops of your land—your grain, new wine and olive oil—the calves of your herds and the lambs of your flocks in the land he swore to your ancestors to give you.-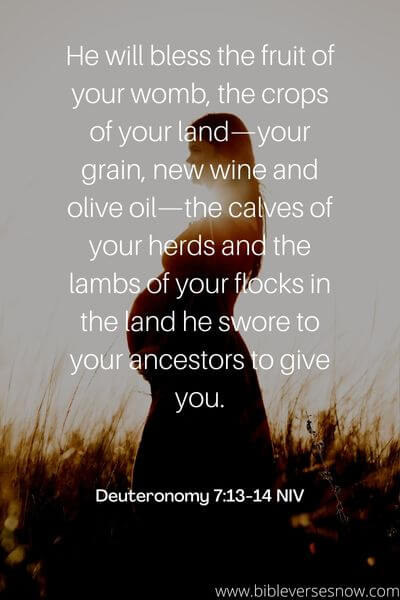 God reminds the Israelites of his promise to bless them. The passage emphasizes the blessings God will give to the Israelites, including increasing their numbers and blessings on the crops, and the blessings of the animals of the land.
Verse 14 specifically states that God will bless them more than any other people and that none of their men or women will be childless, nor any of their livestock without young. This can serve as a reminder of God's goodness and faithfulness.
Psalms 127:3
Children are a heritage from the LORD, offspring a reward from him.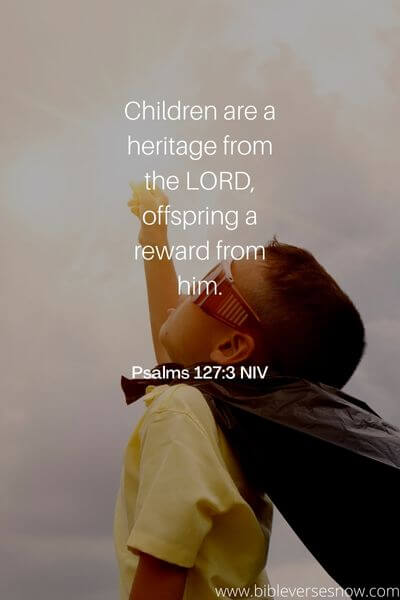 Children are a blessing and a reward from God to couples, the presence of children in a household is a sign of God's favor and that they bring joy and purpose to a family.
Also, children are responsible and trust God, and parents should raise them with love, guidance, and instruction.
Bible Verses on Infertility Treatment
It's important to remember that while the Bible teaches us to trust in God and to have faith in His plan and timing, it also encourages us to take action and use the resources and knowledge available to us.
In this case, it's important to seek medical help and explore options for treating infertility.
James 5:14
Is anyone among you sick? Let them call the elders of the church to pray over them and anoint them with oil in the name of the Lord.-
The Bible encourages Christians to seek help through the community of faith and to pray for one another. This can be a great source of comfort and support while dealing with infertility.
It also encourages us to take action and use the resources and knowledge available to us. In this case, it's important to seek medical help, explore options for treating infertility, and get support from the church.
Philippians 4:6-7
Do not be anxious about anything, but in every situation, by prayer and petition, with thanksgiving, present your requests to God. And the peace of God, which transcends all understanding, will guard your hearts and your minds in Christ Jesus.-
This reminds us that God is in control and that we can bring our worries and concerns to Him through prayer.
It encourages us to have a thankful attitude, which can help us to focus on the blessings that we do have, and to trust that God is working in our lives.
Even in difficult situations, we can experience the peace of God, which goes beyond human understanding.
Bible Says About Infertility
The Bible encourages us to trust in God's plan and timing and to have faith that He will provide for our needs and answer our prayers in His own way and time.
It's important to note that the Bible also recognizes that infertility is not always a result of sin or lack of faith, it simply happens and God understands that.
 Is Infertility a Sign from God
Hannah is one of the most well-known biblical examples of an infertile lady. Hannah, who was in such agony that Eli believed she was intoxicated, cried out to the Lord in 1 Samuel, pleading with Him to give her a child.
In this example, God has intentionally decided not to answer the prayers of a mother who longs for a child so desperately.
Infertility is a proven method that God uses to reveal more about Himself to us, awaken His Word inside us, and further transform us into the likeness of His Son.
Understanding you cannot accomplish anything on your own power, will, or strength is one of the most profound lessons God has taught us through infertility.
Romans 5:3-5
Not only so, but we also glory in our sufferings, because we know that suffering produces perseverance; perseverance, character; and character, hope. And hope does not put us to shame, because God's love has been poured out into our hearts through the Holy Spirit, who has been given to us.-
Infertility presents numerous opportunities to put our faith and character to the test. Our sinful hearts and actions are revealed throughout the fight.
One of the most difficult elements of infertility is that a couple is frequently surrounded by friends and relatives who seem to be having no trouble getting pregnant or expanding their households. This can quickly turn into a propensity toward unhappiness, rivalry, and resentment.
Bible Verses About Male Infertility
The Bible does not specifically address the issue of male infertility. However, it does teach about trusting in God's plan and timing and having faith that He will provide for our needs and answer our prayers in His own way and time, for His plan and purpose for us are not evil.
Isaiah 40:31
but those who hope in the LORD will renew their strength. They will soar on wings like eagles; they will run and not grow weary, they will walk and not be faint.-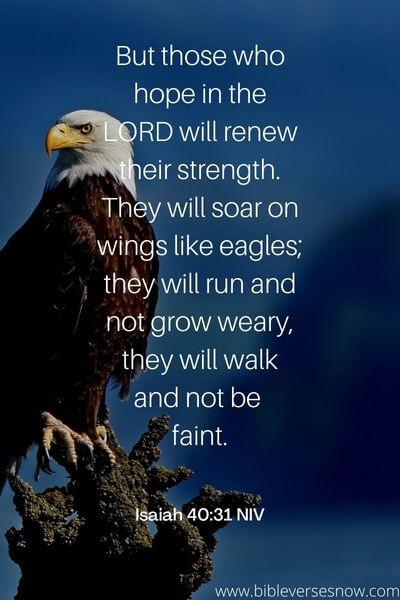 The Bible encourages us to put our hope in the Lord, reminding us that He is a source of strength and endurance and that through Him we can overcome any obstacle. the passage also represents freedom and liberation.
This bible verse can be especially comforting for those dealing with male infertility as it reminds us that with God, we can have the strength to face any challenge and endure difficult situations.
It reminds us that we don't have to go through it alone and that God will renew our strength.
Bible Verses for a Childless Woman
The suffering a woman goes through when struggling with infertility is very severe. Every time she sees a family with kids, it feels like someone is ripping her heart out.
She only needs to trust God and rely on Him for His intervention.
Give Him your suffering and cry out to Him about your greatest wish to become a mother, and perhaps in due time, God will open your womb as He did with Sarah, Rebekah, Hannah, and countless other women in the world.
God's love for you is unwavering and consistent, and He is by your side no matter what.
Hebrews 11:11
And by faith even Sarah, who was past childbearing age, was enabled to bear children because she considered him faithful who had made the promise.-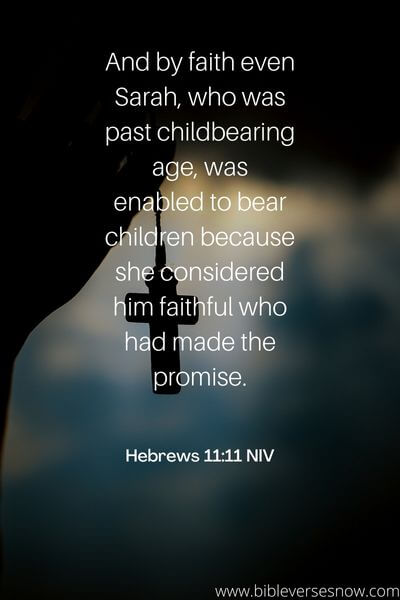 Sarah was barren and was unable to have children. But by faith, she received the strength to conceive a child, and she bore Isaac, even though she was past the age of childbearing.
Sarah believed in God's promise and that her faith in God's faithfulness was the source of her strength. It's an encouragement for all of us to trust in God's promise, even when things seem impossible.
Bible Verses for Trying to Conceive
We've witnessed God's faithfulness time and time again in my life, proving that his timing is superior to ours. Trust Him; He cares more about you than you do.
He wants the best for you. even as you continue to wait for a baby, God is dependable. The difficult journey of infertility can result in a character that has been demonstrated if we are dependent on Him and obedient.
Exodus 23:25-26
Worship the LORD your God, and his blessing will be on your food and water. I will take away sickness from among you, and none will miscarry or be barren in your land. I will give you a full life span.-
God's promise to the Israelites was that if the Israelites worship and follow Him, He pledges to bless them with excellent health and procreation.
The blessings God will bestow upon the Israelites, include the eradication of disease among them and the guarantee that none of their women would miscarry or become barren. It serves as a reminder that God has the ability to heal, bless, and bestow.
Mark 11:24
Therefore I tell you, whatever you ask for in prayer, believe that you have received it, and it will be yours.-
We should not underestimate the importance of faith and belief when we pray, if we truly believe that we will receive what we ask for in prayer, we will.
Bible Verses for Conception
Motherhood is a gift to humanity, and having children is a blessing from the Lord. There are numerous instances of women who were thought to be infertile in the Bible.
The Lord answered the prayers of several of these mothers who asked for children. This should encourage anyone who may be praying for a child today since God is able to deliver a couple from any infertility condition and heal them.
1 Samuel 1:20
So in the course of time Hannah became pregnant and gave birth to a son. She named him Samuel, saying, "Because I asked the Lord for him."-
Hannah was deeply distressed about her infertility. She prayed to the Lord and made a vow that if God would give her a son, she would dedicate him to the Lord's service.
God answered her prayer, and she gave birth to a son, whom she named Samuel, meaning "asked of God" or "heard by God". Hannah's faith in God was rewarded, God heard her prayer, and gave her a son.