Unlock the power of the word and manifest abundance in your life with these encouraging Bible verses for manifestation. From faith to abundance, dive deep into the divine wisdom of scripture and awaken the abundance within.
The purpose of using Bible verses for manifestation is to align one's thoughts and beliefs with the principles and promises of God's word in order to attract abundance, blessings, and positive change into one's life.
You can attract positivity, abundance, and blessings into their lives by meditating on and applying these bible verses. The idea of manifestation is to have faith in God's power and trust that his plan for abundance and prosperity can be realized by adhering to biblical principles.
Bible verses for manifestation
Manifestation is the process of making your desires and intentions a reality through positive thinking, visualization, and action.  It is the act of attracting what you want and needs into your life by connecting your thoughts, emotions, and actions with your desires.
The basic concept behind manifestation is that what you focus on, believe in, and consistently act on will become your reality.
The following verses remind us of the power of positive thinking, faith, and trust in God's promises. You can help manifest abundance and blessings into your life by introducing these verses into your daily life and focusing on them with intention and positivity.
Joshua 1:8
This book of the law shall not depart out of thy mouth, but thou shalt meditate therein day and night, that thou mayest observe to do according to all that is written therein: for then thou shalt make thy way prosperous, and then thou shalt have good success.-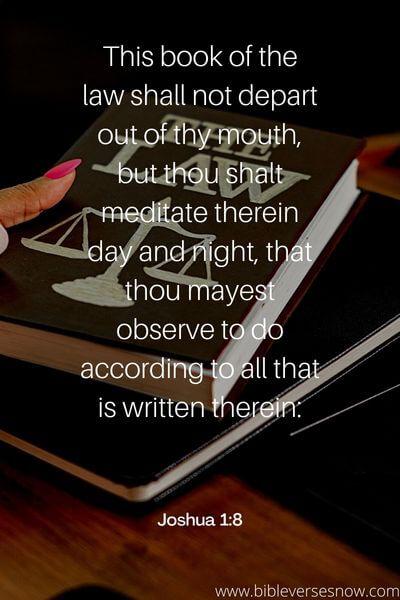 God instructs Joshua in this verse to meditate on the book of the law day and night and to do what it says. The idea is that if Joshua follows this advice, his path will be prosperous and successful.
This verse can be interpreted to mean that if you follow the guidance of God's word and constantly meditates on it, you will find success and prosperity in your life.
Mark 11:24
Therefore I say unto you, What things soever ye desire when ye pray, believe that ye receive them, and ye shall have them.-
It is a Bible verse from the New Testament that is part of Jesus Christ's teachings. In this verse, Jesus taught his disciples about how powerful prayer is and the importance of having faith in their prayers being answered.
By combining the power of prayer and positive thinking, it is believed that you can attract whatever you desire into your life. This verse serves as a reminder that manifestation starts with belief and faith in the outcome.
The emphasis is on believing and having faith in God rather than simply asking. It also emphasizes the concept of whatever you believe with faith shall come to pass.
Matthew 7:7
Ask, and it shall be given you; seek, and ye shall find; knock, and it shall be opened unto you.-
This verse serves as a reminder that manifestation demands both belief and faith in God, as well as taking action to achieve your goals.
You are putting yourself in a position to attract abundance and blessings into your life by asking God for what you want, looking for opportunities and resources that will bring you closer to your goal, and consistently pursuing your desires.
Mark 11:24
Therefore I say unto you, What things soever ye desire, when ye pray, believe that ye receive them, and ye shall have them.-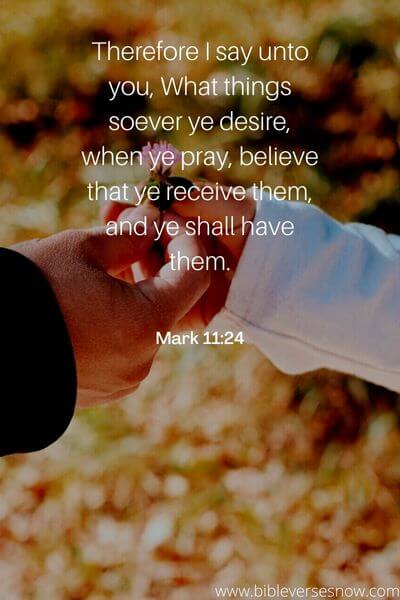 By believing in God that your desires have already manifested, you are putting your thoughts and energy into the manifestation of your desires, which can help to bring them into your reality.
Philippians 4:13
I can do all things through Christ who gives me strength.-
The apostle Paul expresses his confidence in his ability to handle any situation or challenge through the strength and support of Jesus Christ in this verse.
He is saying that with Christ's help, he can accomplish anything he sets his mind to.
This serves as a reminder that manifestation necessitates a strong belief in oneself and one's abilities, as well as a relationship with God who can provide support and guidance.
You can achieve anything you set your mind to with this combination of self-belief and spiritual support.
Bible verses on the manifestation of the sons of God
This manifestation is the result of a transformation that takes place within an individual as a result of their relationship with God, allowing them to better reflect his nature and character in the world.
As you grow closer to God, you begin to resemble him and exhibit his characteristics such as love, compassion, and wisdom.
Philippians 2:15
That you may be blameless and innocent, children of God without blemish in the midst of a crooked and twisted generation, among whom you shine as lights in the world.-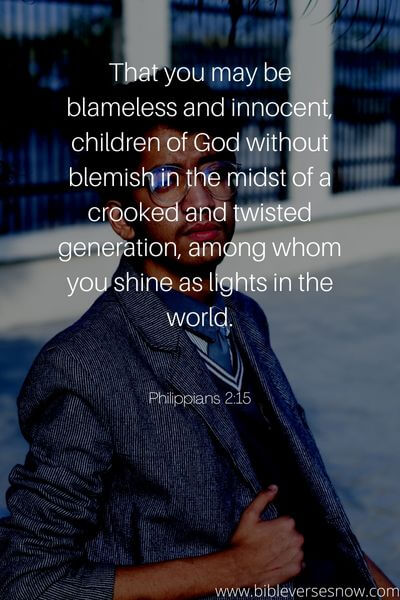 This verse talks about living a pure and blameless life, reflecting God's character and shining as lights in a world full of darkness and moral decay.
Encouraging Christians to live life in a way that brings glory to God and has a positive influence on those around them.
Romans 8:19
For the creation waits with eager longing for the revealing of the sons of God.-
Paul is saying that all of creation is eagerly awaiting the day when Christ's followers will be revealed in their full glory as God's children. This reveals the concept of "manifestation" or the desire of creation to be redeemed and liberated from its current state of the world.
This verse can be understood as a declaration of hope and a reminder that, as followers of Christ, we are waiting for the salvation of all creation, not just our own.
1 John 3:2
Beloved, we are God's children now; it does not yet appear what we shall be, but we know that when He appears, we shall be like Him, for we shall see Him as He is.-
John is speaking to the believers and reminding them of their status as God's children.
He claims that their true nature as God's children has not yet been manifested, but that it will be when Jesus Christ returns.
This verse expresses hope for the future manifestation of the believer's true nature as God's children.
It reminds us that our current state does not fully represent who we are and that our true identity will be revealed in all its glory one day.
Scriptures on the manifestation of God's promises
God's promises are certain and trustworthy, and we can have faith and hope in their fulfillment.
The Bible encourages us to keep our hope in God's promises even when we cannot see them fulfilled.
2 Peter 3:13
But according to his promise we are waiting for new heavens and a new earth in which righteousness dwells.-
The verse talks about the idea that Christians are looking forward to God's promise of a new creation in which righteousness will reign supreme. It reminds believers to be patient and steadfast in their faith, knowing that God's plans and promises will be fulfilled in due time.
The fulfillment of God's promise to create a new heaven and earth where righteousness will reign. The passage encourages believers to hold fast to their faith, knowing that God's promise of a renewed and purified creation will be fulfilled in the end.
Galatians 3:29
And if you are Christ's, then you are Abraham's offspring, heirs according to promise.-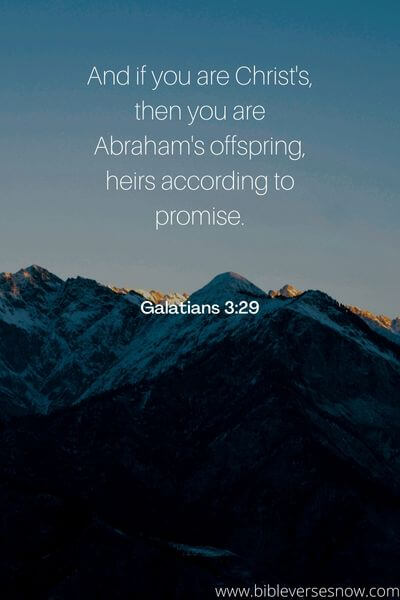 People of all backgrounds and ethnicities, regardless of ancestry, can become children of God and inheritors of His promises through faith in Jesus Christ.
In this context, promise refers to salvation, spiritual blessings, and a share in God's people's inheritance.
Bible verses on the manifestation of God's glory
The display or revelation of God's greatness, power, and beauty is referred to as the manifestation of God's glory.
God's glory is frequently associated with His presence and works in the Bible. God's glory is revealed to humanity through His actions, both in creation and in salvation.
John 1:14
And the Word became flesh and dwelt among us, and we have seen his glory, glory as of the only Son from the Father, full of grace and truth.-
The phrase "and we have seen his glory" refers to the ability of those who witnessed Jesus' life and ministry to see and experience God's divine glory through Jesus.
This means that people can encounter God's love and forgiveness through Jesus, as well as the truth about God and His will for their lives.
2 Corinthians 3:18
And we all, with unveiled face, beholding the glory of the Lord, are being transformed into the same image from one degree of glory to another. For this comes from the Lord who is the Spirit.-
It is a verse about the transformative power of seeing God's glory and the role of the Holy Spirit in that process.
Christians can experience a deeper understanding of God's glory through the Holy Spirit, leading to a transition in their lives and a closer resemblance to Jesus.
How does God manifest in your life?
God's manifestation in your life can be felt in a variety of ways, and it is frequently a deeply personal experience. You can experience God's presence and manifestation in your lives through faith and a relationship with Him.
God is said to manifest in people's lives in the following ways:
Prayer and personal reflection: You can encounter God's presence through prayer, meditation, and other spiritual practices.
In the presence of the Holy Spirit: Christians frequently encounter God's manifestation in the form of the Holy Spirit, who brings comfort, peace, and guidance into their lives.
By means of answered prayers and miracles: Some people experience God's manifestation in the form of answered prayers and miraculous events in their lives.
God can also show up in people's lives through the actions and words of others, such as a friend, family member, or pastor who offers comfort and support.
Many people encounter God's presence and glory in the beauty and majesty of the natural world.
Examples of manifestation in the Bible
God manifested His presence, power, and love in various ways that continue to inspire and encourage Christians today. Here are a few noteworthy examples:
The feeding of 5,000 by Jesus
Jesus demonstrated His power and compassion in Matthew 14 by feeding 5,000 people with only five loaves of bread and two fish.
This occurrence is regarded as a powerful manifestation of Jesus' power and compassion. Jesus demonstrated that He had come to meet the physical and spiritual needs of the people by feeding 5,000 people with only five loaves of bread and two fish.
This miracle also demonstrated that Jesus was more than just a teacher or prophet; He was the Son of God, with the power to perform miracles.
The burning bush
In Exodus 3, Moses encountered a burning bush that was not consumed by the flames. God spoke to Moses from the burning bush, revealing His presence in a visible and powerful way.
The burning bush is a symbol of the Holy Spirit, which is frequently described in the Bible as fire. The Holy Spirit indwells us but does not consume us, just as the bush burned but was not consumed.
The event is a powerful demonstration of God's presence and power. From the bush, God spoke directly to Moses, demonstrating His willingness to communicate with His people and guide them through difficult times.
The fact that the bush burned but was not consumed by the flames also demonstrated that God was with Moses and would protect him and the Israelites on their journey.
Faith and manifestation
In the Bible, faith, and manifestation are closely related concepts, with faith serving as the foundation for the manifestation of God's promises and power in our lives
We can receive the fullness of what God has promised and experience His presence, guidance, and provision in a tangible and powerful way through faith.
James 2:17 
In the same way, faith by itself, if it is not accompanied by action, is dead." This verse teaches us that faith must be accompanied by action in order to be effective and to bring about the manifestation of God's promises in our lives.-
This verse is used to emphasize the idea that for faith to be genuine and effective, it must be accompanied by action. In other words, faith in God must be supported by actions that demonstrate that faith.
It also talks about the importance of putting one's faith into action rather than having a passive or theoretical faith.
Mark 11:24
Therefore I tell you, whatever you ask for in prayer, believe that you have received it, and it will be yours." This verse teaches us that the manifestation of our prayers and desires depends on our faith and belief in God's ability to answer them.-
When you pray with conviction and unwavering faith, your prayer will be answered. This bible verse also encourages a positive and optimistic attitude towards prayer and encourages you to trust in the power of God for answered prayers.