As a Christian, optimism is rooted in God's goodness and the ultimate victory of love and light over darkness and evil. Christians believe that God is sovereign and in control of all things and that even during trials and hardships, God is at work for our good and His glory.
One of the most famous verses in the Bible, Romans 8:28, states, "And we know that in all things God works for the good of those who love him, who have been called according to his purpose." This verse teaches that God can bring good out of even the most difficult circumstances and that we can trust Him.
Moreover, Christians believe in the hope of eternal life through faith in Jesus Christ. This hope gives believers a perspective that extends beyond the challenges of this life and helps them to remain optimistic in the face of trials.
Optimism as a Christian is not based on a naive belief that everything will always be easy or turn out how we want it to. Instead, it is based on the confidence that God is with us, working for our good, and that, ultimately, all things will be made right through Him.
Bible Verses For Optimism
I can do all things through Christ who strengthens me.
The Lord is my light and my salvation; whom shall I fear? The Lord is the strength of my life; of whom shall I be afraid?
For I know the plans I have for you," declares the Lord, "plans to prosper you and not to harm you, plans to give you hope and a future.
And we know that in all things God works for the good of those who love him, who have been called according to his purpose.
Trust in the Lord with all your heart and lean not on your own understanding.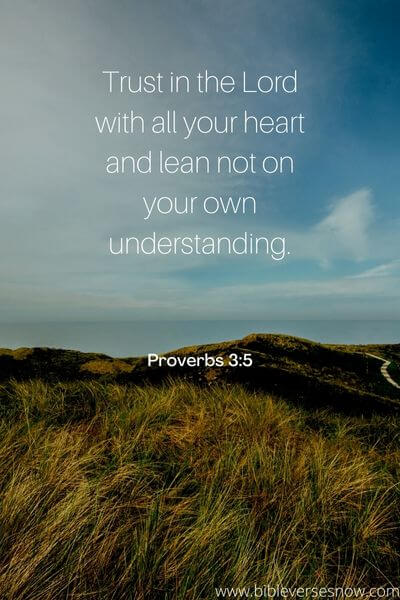 The Lord is my strength and my shield; my heart trusts in him, and he helps me. My heart leaps for joy, and with my song I praise him.
Therefore do not worry about tomorrow, for tomorrow will worry about itself. Each day has enough trouble of its own.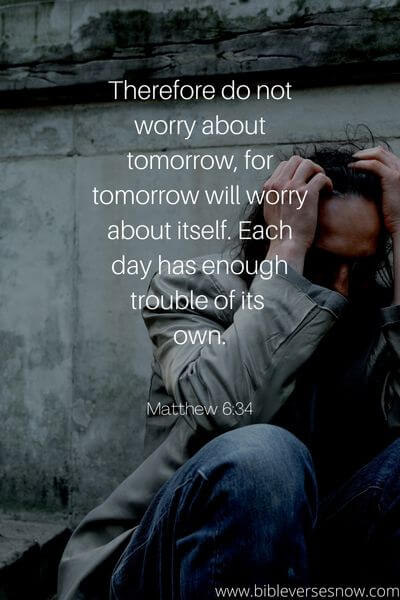 But those who hope in the Lord will renew their strength. They will soar on wings like eagles; they will run and not grow weary, they will walk and not be faint.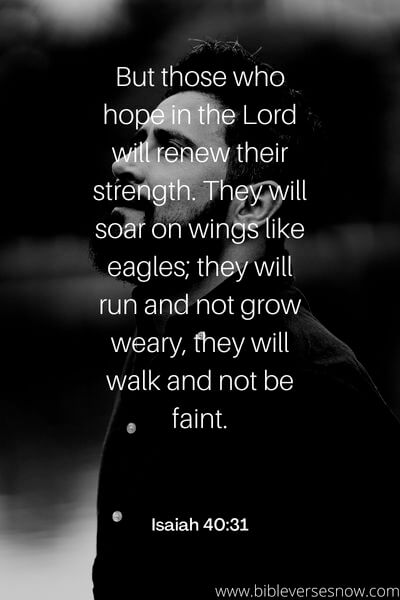 For everything there is a season, a time for every activity under heaven.
The steadfast love of the Lord never ceases; his mercies never come to an end; they are new every morning; great is your faithfulness.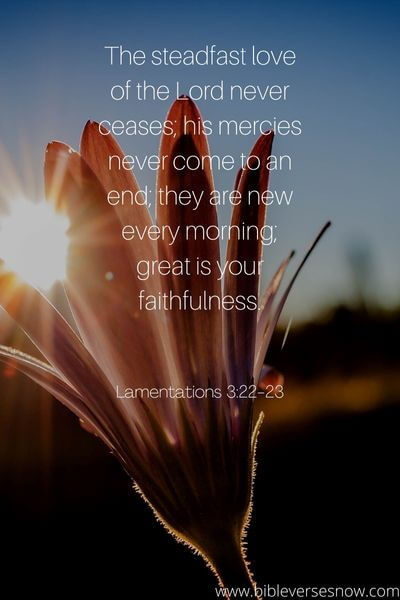 'Blessed is the one who trusts in the Lord, whose confidence is in him.
Rejoice always, pray continually, give thanks in all circumstances; for this is God's will for you in Christ Jesus.
I have told you these things, so that in me you may have peace. In this world you will have trouble. But take heart! I have overcome the world.
Do not be anxious about anything, but in every situation, by prayer and petition, with thanksgiving, present your requests to God.
The Lord your God is with you, the Mighty Warrior who saves. He will take great delight in you; in his love he will no longer rebuke you, but will rejoice over you with singing.
Be strong and courageous. Do not be afraid or discouraged because of the king of Assyria and the vast army with him, for there is a greater power with us than with him.
Though the mountains be shaken and the hills be removed, yet my unfailing love for you will not be shaken nor my covenant of peace be removed," says the Lord, who has compassion on you.
But seek first his kingdom and his righteousness, and all these things will be given to you as well.
The Lord is my shepherd, I lack nothing. He makes me lie down in green pastures, he leads me beside quiet waters, he refreshes my soul.
Optimism Bible KJV
And we know that all things work together for good to them that love God, to them who are the called according to his purpose.
Now the God of hope fill you with all joy and peace in believing, that ye may abound in hope, through the power of the Holy Ghost.
Be of good courage, and he shall strengthen your heart, all ye that hope in the LORD.
For I know the thoughts that I think toward you, saith the LORD, thoughts of peace, and not of evil, to give you an expected end.
But they that wait upon the LORD shall renew their strength; they shall mount up with wings as eagles; they shall run, and not be weary; and they shall walk, and not faint.
The LORD is my light and my salvation; whom shall I fear? the LORD is the strength of my life; of whom shall I be afraid?
And we have known and believed the love that God hath to us. God is love; and he that dwelleth in love dwelleth in God, and God in him.
For I reckon that the sufferings of this present time are not worthy to be compared with the glory which shall be revealed in us.
Let not your heart be troubled: ye believe in God, believe also in me.
What does the Bible say about optimism?
According to the Bible, optimism is a virtue that brings joy and hope. The Book of Proverbs has numerous verses affirming optimism and encouraging readers to trust God and His promises.
Ecclesiastes 3:11 says that God has a plan for everything, and humans should trust in His plans and remain optimistic for the future.
Philippians 4:4-7 encourages believers to "rejoice in the Lord always" and to find joy in the "peace of God which transcends all understanding." This is a call to remain positive, even in difficult times, as God is always with us.
Finally, Romans 15:13 highlights the power of hope and optimism, and a believer's trust in God should lead to joy and peace.
Optimistic faith meaning
Optimistic faith refers to a positive and hopeful attitude or belief in the future, despite present difficulties and uncertainties. It involves having trust and confidence that things will eventually work out for the better, even in the face of obstacles or setbacks.
This type of faith is often associated with resilience, perseverance, and a willingness to take risks or try new things. People with optimistic beliefs tend to believe that they will eventually succeed or achieve their goals, even if they encounter setbacks.
Optimistic Bible characters
Several lively Bible characters inspire us to maintain a positive outlook on life, even in adversity. Here are a few examples:
David – Despite facing many challenges, including being anointed king while still a young boy and later being pursued by King Saul, David remained optimistic and steadfast in his faith in God.
Joseph – Despite being sold into slavery by his brothers and falsely accused of a crime, Joseph maintained his positive attitude and ultimately rose to become the second-in-command of Egypt.
Esther – Despite being an orphan and a minority in a foreign land, Esther remained optimistic and courageous in her efforts to save her people from destruction.
Job – Despite facing incredible hardships and loss, Job remained faithful and optimistic, believing in God's sovereignty and goodness.
Paul – Despite being imprisoned and persecuted for his faith, Paul remained optimistic and steadfast in his mission to spread the gospel message.
These characters serve as role models to emulate, reminding us that we can overcome even the most challenging circumstances with faith and determination and maintain a positive outlook on life.
Was Jesus optimistic
As the savior, Jesus was very optimistic in his ministry here on earth as he always believed everything was possible with God.
Jesus preached a message of hope and love, urging his followers to trust in God and His plan for their lives. He also performed many miracles, such as healing the sick and feeding the hungry, demonstrating his belief in God's power to bring about positive change in the world.
Moreover, Jesus was known for his compassion and empathy towards others and his willingness to reach out to those marginalized or ostracized by society. This suggests that he had a positive and hopeful view of humanity and believed that people had the potential to overcome their struggles and live fulfilling lives.
Bible stories about optimism
Joseph and His Coat of Many Colors (Genesis 37-50) Joseph is sold into slavery by his jealous brothers, but he remains optimistic and faithful throughout his trials. Eventually, he becomes an influential leader in Egypt and can use his position to save his family from famine.
The Israelites Escape from Egypt (Exodus 14) After years of slavery in Egypt, the Israelites are led by Moses to escape to the promised land. Despite facing numerous obstacles, including the parting of the Red Sea, they remain optimistic and faithful, believing that God will guide them to safety.
David and Goliath (1 Samuel 17) David, a young shepherd boy, faces the giant warrior Goliath in battle. Despite being vastly outnumbered and outmatched, David remains optimistic and relies on his faith in God to give him the strength to defeat Goliath.
The Widow's Oil (2 Kings 4:1-7) A widow in debt can miraculously pay off her creditors by pouring a small amount of oil into an endless supply. This story shows how faith and optimism can lead to abundance, even in financial hardship.
Paul and Silas in Prison (Acts 16:16-40) Paul and Silas are arrested and imprisoned for preaching the Gospel. Despite being beaten and chained up, they sing and pray, remaining optimistic and trusting in God's plan. Their faith leads to a miraculous release from prison.
Christian optimism
Christian optimism is the belief that no matter what challenges or difficulties we face in life, God is ultimately in control and has a plan for our lives that is good and purposeful. It is the idea that we can find hope and joy in even the most difficult circumstances because we trust in God's love and provision.
Christian optimism is grounded in the belief that God is sovereign and loving and that he is actively working in our lives for our good. This does not mean that Christians are immune to hardship or pain, but it does mean that we can approach these difficulties with a sense of hope and trust in God's faithfulness.