The Bible has encouraged and admonished us to seek peace and pursue it, and in addition, the bible urged us to be at peace with all men.
In the book of Matthew the bible went further to tell us that blessed are the peacemakers for they shall be called the son's God.
These bible verses have made us understand how important our peace and that of others are to God, as he is peaceful, and he wants us to enjoy such peace.
Bible Verses for Survivors
There are so many Bible verses that promote peace as God himself is a peaceful God and enjoys the serenity that such brings.
It was recorded in the bible that God visited Adam in the cool of the evening, that is to make us understand that God himself is peaceful and enjoys peace.
The LORD also will be a stronghold for the oppressed,-
A stronghold in times of trouble and those who know Your name will put their trust in You,
for you,o lord have not forsaken those who seek You.
The book of Psalms was written by King David in praise of God following a successful victory over his enemies.
He most likely witnessed death and suffering, experienced worry and doubt, and yet was able to praise God for his faithfulness.
This psalm has been a source of comfort to me as I am reminded on a daily basis how little control I have over my current circumstances and that God is our refuge in times of trouble and that he will not abandon those who seek him.
Do not take revenge, my dear friends, but leave room for God's wrath, for it is written: "It is mine to avenge; I will repay," says the Lord.-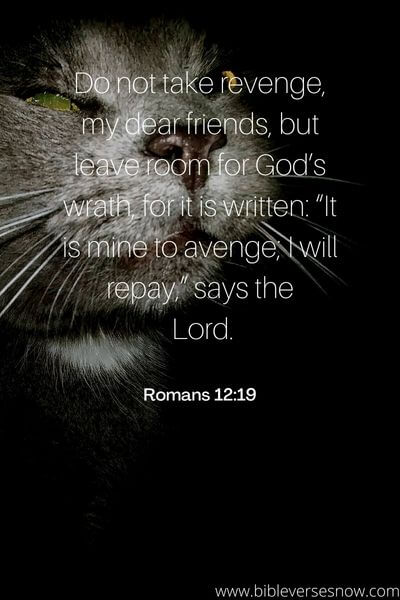 Jesus commanded us to be kind to those who hate us and to bless them, just as Paul made a similar statement in his letter to the Church in Rome.
The question of seeking retribution has an answer for the Christian which implies Never taking revenge despite how heinous the act committed against one or loved one, as a Christian is never to seek revenge on another.
God, however, is all-knowing and embodies ideal justice.
He will always administer the appropriate amounts of justice and mercy, as well as the greatest amount of good for the greatest number of people, in a way that honours him and bestows goodness on his creation.
 Vindicate the weak and fatherless;-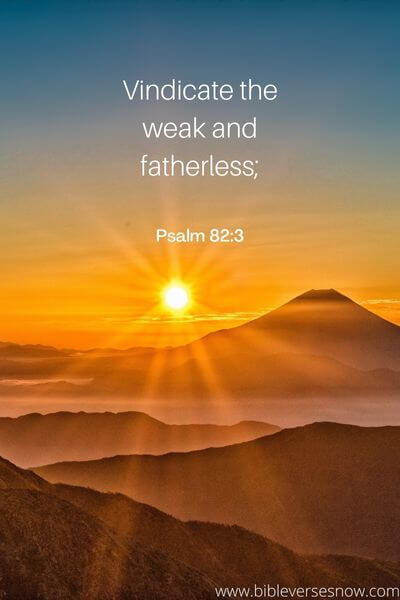 Do justice to the afflicted and destitute.
Rescue the weak and needy and deliver them out of the hand of the wicked.
Stop doing evil and start doing good; seek justice and end oppression; deliver justice to the fatherless and advocate for widows.
Give the fatherless and the weak justice, uphold their right to their due and Save the vulnerable and the helpless; deliver them from evil.
The biblical call entails paying attention to the wrongs and then taking action to correct them by reversing oppression and Maintaining the rights of the poor and oppressed; defending the cause of the weak and fatherless.
Don't say, "I will get even for this wrong." Wait for the LORD to handle the matter.-
Solomon advised his son not to consider exacting revenge on anyone but allowing the LORD to deal with his enemies rather than take matters into his own hands.
Anger and ideas of self-defence and retaliation come naturally when someone hurts you, for we ourselves also were sometimes foolish, disobedient, deceived, following various lusts and pleasures, dwelling in malice and envy, hostile, and hating one another," said Paul in reference to man's natural tendencies (Titus 3:3).
A noble and intelligent man will repay good for bad rather than returning evil for evil, avoiding the blinding danger of resentment and revenge, calming his foes with compassion and patience, and praising God in a challenging situation.
Survivor Biblical Meaning
How does it feel to be a survivor? Today, we talk about all kinds of survivors: cancer survivors, abuse survivors, tornado survivors, earthquake survivors, and so on.
It's great to be a survivor, but I want to do more than that, I don't want to be satisfied with just surviving; I want to win, to be an overcomer.
But the ability to be a spiritual survivor in this world is far more important than the ability to survive on a desert island, in the Australian outback, or even to win a million dollars. We want to understand what it means to be a Spiritual Survivor.
What does the Bible say about Survivor?
They shall come and shall see my glory, and from them, I will send survivors to the nations.
John Piper once said something that has stuck with me over the years: Missions exist because worship doesn't.
There are millions of people around the globe who do not have the opportunity to witness Christ's glory, which is why we send missionaries.
The main goal of the mission is for people to adore Jesus Christ and experience his majesty in every country.
Those who will be most useful and effective in the missionary enterprise will be people whose lives have been marked by God's discipline.
They will be survivors who have learned what it means to run with endurance in the race that is set before us.
God uses the tough things in life to build the kind of character that makes a person useful in tough situations.
Survivor in the Bible
The outcomes are impossible to predict solely based on the human experience.
They are easily unanticipated when prophetic interpretation is based on tradition.
The student should pay close attention in these lessons to how modern Israel, like Israel in Christ's time, has been preparing for a tragic surprise by misinterpreting and misapplying promises of victory for the church.
According to the quotations we've studied thus far, how many of God's professed people survive the decimating destruction?
Consider again Isaiah 10:19, Isaiah 17:4-6, and Jeremiah 11:15—17.
Though your people, O Israel, be as the sand by the sea, only a remnant will return. Destruction has been decreed, sweeping… across the entire land." Isaiah 10:22–23.
What does Zion say right before her victory? How are the apparent defeat and victory contrasted?
"O Lord … Other masters besides You have had dominion over us, but only You are mentioned by name. … We have been in Your sight, O Lord, as a pregnant woman is in pain and cries out in her pangs as the time of her delivery approaches. We have been with child, in pain; we have, as it were, given birth to wind; we have not brought about any deliverance in the earth." Isaiah 26:12-18.
Bible Verses about Surviving Hard Times
God is our refuge and strength, a very present help in trouble.-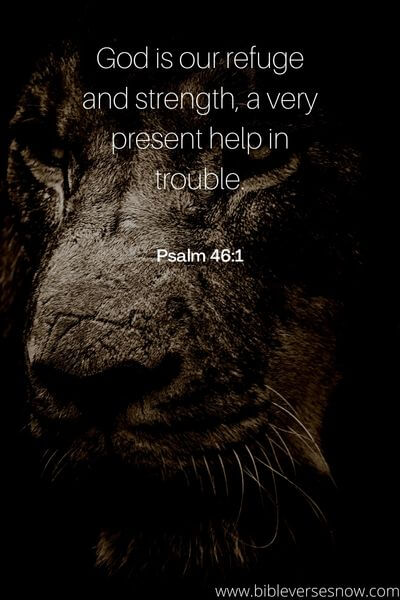 God is our refuge and strength, according to Psalm 46:1.
He has manifested himself to be so in the course of his providence in the past, and he has promised to be so in the future, and he will not fail to keep his promise.
Are we threatened by visible or invisible enemies? God is our refuge, to whom we can flee and find safety.
Have we work to do, a war to fight, and sufferings to bear? God is our strength, bearing our burdens and preparing us for all our services and sufferings.
Are we oppressed by trials and tribulations? He is a present help in trouble: yea, a present help, a present help, a help found exceedingly or tried very much.
The LORD is a refuge for the oppressed, a stronghold in times of trouble.-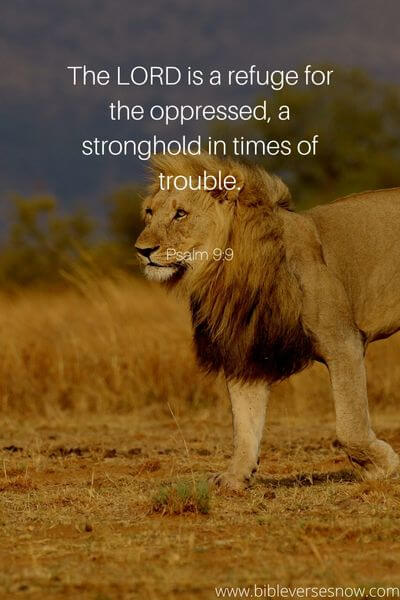 This psalm inspires hope and trust in God; in his power and providence, and in his gracious presence with his church even in the darkest of times.
We can apply it to spiritual enemies and the assurance that we will triumph over them through Christ.
He is a Help, a present Help, a Help discovered, one whom we have discovered to be so; a Help at hand, one who is always near; we cannot wish for a better, nor will we find the like in any creature.
Let those who build their confidence on a floating foundation be troubled by the troubled waters, but let not those who are led to the Rock and find firm footing be alarmed.
Even in difficult times, there is joy in the church, the church will not be moved, as promised once God dwells richly in our hearts through his word, we will be established and helped; let us trust and not be afraid.
Give your burdens to the LORD, and he will take care of you. He will not permit the godly to slip and fall.-
Whoever thou art that art burdened, and whatever the burden is; whatever affliction God sendeth to thee; all thy trials and troubles, crosses and distresses, cares and fears, nay, all thy affairs, lay upon the Almighty's shoulders, and commit to him by faith and prayer, with a confident expectation of a good outcome.
He addresses his speech to himself, or to his own soul, as he does frequently in this book, as well as to all good men in similar circumstances.
Whatever blessings God has given thee to enjoy, commit to his custody and use for his glory; and especially commit the keeping of thy soul to him.
Alternatively, whatever thou desirest God to give thee, leave it to him to give thee in his own way and time.
No temptation has seized you except what is common to man. And God is faithful; He will not let you be tempted beyond what you can bear. But when you are tempted, He will also provide an escape, so that you can stand up under it.-
This verse implies that the strength of our temptations will be proportional to the strength God gives us to resist them.
Many people interpret this verse to mean that God will not allow bad things to happen in life that you are unable to handle.
Paul in this verse refers specifically to carnal temptations as Carnal temptations are not new or unusual, but are "common to mankind" and faced in our daily lives.
Paul was encouraging the Corinthian church to anchor themselves to God for the spiritual strength to resist falling into sin but anchor themselves to God, they must only worship the one true God.
Short Bible Verses about Strength in Hard Times
Search for the LORD and for his strength; continually seek him.-
Let our praises bring glory to God, Allowing others to be edified and taught so that strangers to him will come to adore him.
Let us triumph and put our faith in God.
Those who glorify God's name are permitted to glory in it.
Let the everlasting covenant be the great source of our joy, and his people of old be remembered with gratitude to him.
Show forth his salvation, his Christ-promised salvation, from day to day.
We have reason to celebrate that on a daily basis, because we benefit from it on a daily basis, and it is a subject that can never be exhausted.
Finally, be strong in the Lord and in the strength of His might.-
The overall motivation for Paul's instructions is introduced in this verse.
This is strength from the Lord and through the Lord.
Paul began his letter with a prayer for wisdom and knowledge for the Ephesian Christians.
After discussing the practical application of that wisdom, Paul emphasizes that the believer does not rely on his or her own strength, but on the power of God, to triumph in life's battles.
Paul's depiction of these elements will conclude with a focus on prayer in which he will once again ask God for strength and success, Only by relying on God, through these spiritual tools, can we overcome spiritual evil and succeed at living out God's will.
The LORD gives his people strength. The LORD blesses them with peace.-
His special people, his covenant people, whom he has chosen for himself; these are surrounded by infirmities, and are weak in themselves; but there is strength for them in Christ: the Lord promises it unto them and bestows it on them, and which is a pure gift of his grace unto them.
This may especially regard that strength, power, and dominion, which will be given to the people of the highest in the latter day; because it follows, on account of the everlasting covenant.
The Lord will bless his people with internal peace, which is peculiar to them, and to which wicked men are strangers; and which arises from a comfortable apprehension of justification by the righteousness of Christ.
The LORD is my light and my salvation; whom shall I fear? The LORD is the stronghold of my life; of whom shall I be afraid?.-
The Lord is my light; he is my comrade in trouble, my solace in trouble, and my saviour in trouble.
Although David admits that he shone like the moon with borrowed light, the light that God conveyed to him and reflected upon his followers, referred to him as the light of Israel.
God is our light because he reveals to us our natural and moral state as well as the one into which we can and must be brought by grace in order to be saved.
He also reveals the obstacles in our path, the challenges, the opponents, and the opposition we must face and how we might be able to defeat them.
Bible Verses for Domestic Violence Survivors
But You have seen, for You observe trouble and grief, To repay it by Your hand. The helpless commits himself to You; You are the helper of the fatherless.-
This is a response to the wicked person who claims God does not see his actions.
David insists that God sees every detail of the anguish and grief inflicted on the helpless by the wicked.
Mischief and vexation are two Hebrew words that cover both physical and emotional suffering, God is not only aware of what evil people do; He is also aware of the pain it causes.
The apostle Paul assures believers in Romans 8 that nothing can separate them from God's love revealed in Christ Jesus. They can rely on the truth that "all things work together for good for those who love God, for those who are called according to his purpose" (Romans 8:28).
David believes that the Lord will hear the cries of the oppressed and put an end to the persecution brought on by the wicked.
In righteousness you shall be established; you shall be far from oppression, for you shall not fear; and from terror, for it shall not come near you.-
In righteousness shalt thou be established – This is appropriate language for a city or commonwealth.
The idea is that it would be built not through deception, rapine, and conquest, as many cities have been, but through the prevalence of justice.
Thou shalt not be oppressed – That is, thou shalt not be oppressed by others as the connection requires.
The Hebrew would have an active meaning, as in 'be thou far from oppression,' that is, be far from oppressing others.
But the prophet's intention is to promise rather than command, and the idea is that they should no longer be afraid of the violence of others.
In righteousness shalt thou be established, thou shalt be far from oppression because thou shalt not fear; and from terror, because it shall not come near thee.
Peace I leave with you; My peace I give to you. I do not give to you as the world gives. Do not let your hearts be troubled; do not be afraid.-
I leave you in peace this was a common form of benediction among Jews and it is the invocation of peace and happiness's blessings.
It came from Him who had the authority to make peace and bestow it on all, Ephesians 2:15, and this specifically refers to the consolation he gave to his disciples in light of his impending death.
He had exhorted them not to be troubled John 14:1, and he had given reasons why He explained why he was leaving them; he promised to return; and he assured them that the Holy Spirit would come to comfort, teach, and guide them.
He provided for their peace in the face of his impending departure through all of these truths and promises.
There is no fear in love; but perfect love casts out fear, because fear involves torment. But he who fears has not been made perfect in love.-
We do not need to be afraid when we experience God's love in our lives and share it with others.
The future punishment for those who do not believe is unimportant to the "abiding" believer, as God's love in our lives has a two-way relationship that gives us confidence and security.
The ability to live out His love is evidence of our faith in Him, as well as the path for us to follow in order to gain eternal rewards.
In other words, those who are afraid of punishment lack a complete and mature relationship with God.
This is true for unbelievers, but it also applies to believers who are not growing in Christ. The maturing believer is the one who can look forward to the future with joy rather than fear.
Stories of Survivors in the Bible
As we all know, the Christian Life is a vast subject and it is defined by a variety of opposing forces such as struggles, successes, quandaries, resolutions, love, hatred, victory, defeat, and much more.
The Bible appears to have its fair share of seemingly contradictory themes.
It is a book of temptations, defeat, trials, tragedies, woes, and punishment, but it also contains hope and salvation, as we see our own lives reflected in the Scriptures, it is so encouraging to know that this book itself provides solutions for surviving our seemingly never-ending woes and tragedies.
The Big Flood
It occurred at a time when the world was almost perfect, Everything is incredible! Consider the most fertile land, rich in gold, silver, and precious stones.
The water bodies are pure, the hills and forest are covered in tall, beautiful trees, and various fruits and grains abound.
However, the people were affected by the gravity of sin as Humans were exceptionally evil. Their heart intentions were consistently evil and the Lord regretted creating them (Genesis 6:5,6).
However, there was one man who was thought to be blameless and he found favor in God's eyes (Genesis 6:8,9).
The flood was the punishment for the antediluvian people's sin, because of their unbelief, tragedy befell them.
They could have been saved if they had repented and heeded the Lord's warning about the impending flood.
The 7-Year Plague During Joseph's Time
Another powerful story of surviving tragedy in the Bible is the seven-year plague.
Years ago, the king summoned Joseph, then a jailer, to interpret his dreams.
The dream involved seven lean cows devouring seven fat cows.
Another story told of seven withered heads of grain devouring seven fat heads.
This was interpreted by Joseph as seven years of plenty followed by seven years of famine and Joseph advised Pharaoh to appoint a wise man to govern Egypt's land and save one-fifth of the produce during the prosperous years.
Joseph was thought to be the best candidate for the job.
He gave him his signet ring and appointed Joseph as Pharaoh's personal aide.
Through God's wisdom, Joseph managed the Pharaoh's household and the entire land of Egypt.