As children of God, God expects us to completely rely on him, He is a loving and caring father who wants to have a close relationship with his people, and wants us to trust in Him and rely on Him.
This article Bible verses on depending on God will explain how we can depend on God more even in times of trouble.
Bible Verses on Depending on God
Different people have different beliefs about God, and whether or not they depend on God is centered around this belief.
For believers, depending on God is a central aspect of their faith. They trust in his supernatural power, they turn to him for guidance, protection, and comfort, and they pray to God and study his word.
And there are also people who do not believe in God or any higher power and therefore do not depend on God in the traditional sense. They may rely on themselves, family, friends, and other sources of support and guidance.
Our dependence on God, our Heavenly Father, was intended to be constant and unwavering.
Dependence on God entails complete faith and reliance on Him and His written word. It is the conviction that God is all-inclusive.
Today's world constantly tempts us to attempt to rely on ourselves or anyone else but God, but nothing will compare to what He provides once depending solely on God becomes your heart's desire.
With each of these verses. You will be confident that God will never let you down, You will receive unfathomable blessings from God, and completely understand that man can accomplish nothing without God.
Total dependence on God Bible Verse
Total dependence here means trusting in the truthfulness, sufficiency, might, and the word of God.
Therefore, be certain that your trust is firmly rooted in your dependence on your personal Savior, Jesus.
Break free of your false security cocoon and grow in faith a like a tree planted by the riverside.
Prioritize God's kingdom over your own, Pray for more effective ways to give back, and refrain from expanding your storage facilities.
Even in times of spiritual famine, faith that is based on Jesus bears fruit, sprouting the green leaves of God's love. Dependence rests in the peace and love of God.
Proverbs 3:5-6
Trust in the LORD with all your heart and lean not on your own understanding; in all your ways submit to him, and he will make your paths straight.-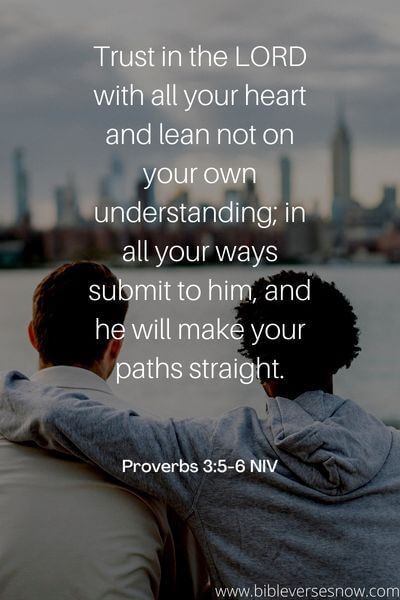 This verse's overarching message is to put your trust in Our Lord because He is the only one who can guide you in any circumstance.
Because you don't always know what to do, you will be misled if you rely solely on your wisdom or intelligence. You will find the right answer if you include God in each and every step you take to make things right.
What does the Bible say about depending on God?
God said to Moses "You will meet a hardened dictator in Egypt, where I am sending you. You'll find yourself in a predicament that only I can save you from.
So give up depending on your flesh, including your meekness and humility. You won't be able to do the task I'm calling you to if you don't.
All of your skills will be useless until I make them holy. Put all of your faith in my name and my strength."
Every Christian in today's world may face the same situation. We might attempt to fulfill what we believe God desires in the body.
But just as He did with Moses, the Lord declares to us, "You can only approach me on holy ground, which is the only acceptable ground.
No flesh will stand in my presence, therefore you can't have any faith in your own. What you can bring up inside yourself never serves my purposes."
The only way we win is if we have God as our strength and fortress.
Isaiah 41:13
For I am the LORD your God who takes hold of your right hand and says to you, Do not fear; I will help you.-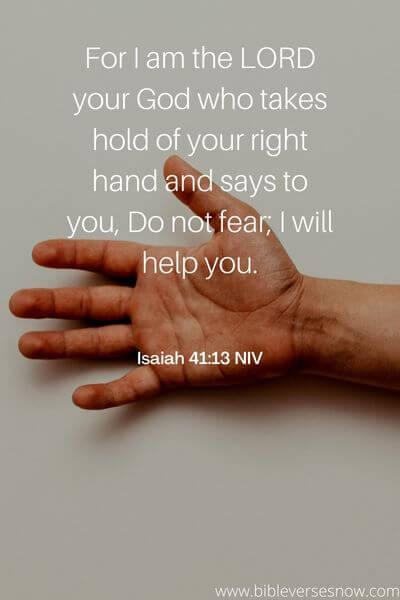 The Lord has other possibilities even when we become overwhelmed by several challenges. Despite the fact that we might not be able to see a route forward, God is still with us. He offers to be our source of support and optimism.
God wants us to depend on him, as long as we put our faith in Him, He will undoubtedly guide us.
No matter how challenging the circumstance appears to be, Jesus provides us the strength to face every fear and shows up to assist us. Look up if you're not sure which way to go today.
Bible Verses on Relying on God
Relying on God typically entails trusting in a higher power to help and direct you through trials and obstacles in life.
It also entails having confidence in the power's plan for you and in how things will turn out in the end.
People who hold onto this concept might find solace and strength in it, which can help them deal with challenging situations and maintain hope for the future.
The following verses will explain why as a believer, you should be completely dependent on Christ.
Psalms 121:1-2
I lift up my eyes to the mountains— where does my help come from? My help comes from the LORD, the Maker of heaven and earth.-
The verse is expressing trust and dependency on God, in which the psalmist is looking to God as his source of help and protection.
The metaphor of the mountains, which are often seen as powerful and majestic, is used to indicate that God is even more powerful and majestic than the mountains.
It is an expression of trust in God, who is the maker of heaven and earth, as the source of help and protection for the individual, especially in times of need.
And this verse is also an act of worship to God as the creator, and that He is sovereign over all.
Psalms 18:2
The LORD is my rock, my fortress and my deliverer; my God is my rock, in whom I take refuge, my shield and the horn of my salvation, my stronghold.-
God is a powerful and reliable source of protection and deliverance. The metaphor of God as a "rock" is used to indicate God's strength and solidity.
A "fortress" and "stronghold" are also used to express the sense of security and protection provided by God. God is also described as a "deliverer", indicating that God is able to rescue his children from danger.
The metaphor of the "shield" and "horn of salvation" is also used to indicate God's protection and ability to provide victory in battle.
Benefits of Depending on God
There are many benefits to depending on God, as trusting in him can have a positive impact on your life. Here are a few:
A sense of peace and inner calm: depending on God provides a sense of comfort and security in difficult situations and a sense of peace and inner calm during times of stress and uncertainty.
Hope and optimism: relying on God will provide a sense of hope and optimism, especially in the face of adversity, knowing that there is a supreme God watching over and caring for us.
Inheritance of the Kingdom of Heaven: God will take me to His Kingdom in Heaven for eternal Life – And I will dwell in the house of the Lord forever.
For our own good, let's pray to God every day and put our trust in Him.
Bible Verses About not Relying on Your Own Strength
As humans, we can either choose to rely on our own physical strength or we can choose to rely on the supernatural strength of God.
It's a choice, but let's see what the bible says about a man who chooses to depend on his own strength and walk his own path and neglects the path of God.
Jeremiah 17:5
This is what the LORD says: "Cursed is the one who trusts in man, who draws strength from mere flesh and whose heart turns away from the LORD.-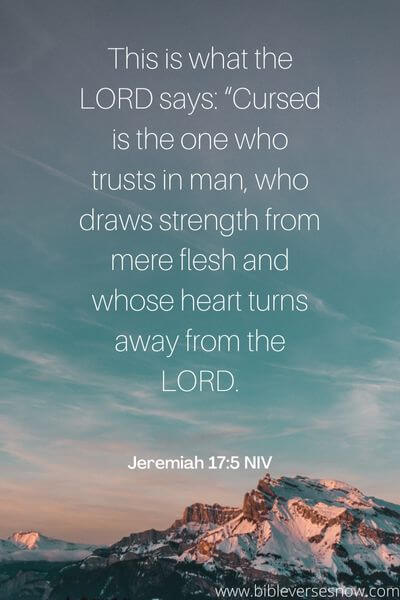 Someone who disbelieves in God and relies on their own resources or looks to others for support and assistance.
Such a person is doomed to a life that is withered and barren.
He will inevitably meet with adversity, misery, and death. Those who put their faith in the Lord, on the other hand, are amply blessed.
Even in the midst of trying circumstances, this person flourishes prospers, and thrives.
Being physically strong is not everything in life. In the end, being strong means having a firm belief that God will provide for our needs and lead us through.
To get through challenging circumstances, we must rely on God and not just ourselves.
You Can Count on God's Scriptures
I'm extremely appreciative of trustworthy individuals who keep their word. Not everyone is the same.
I've encountered people who avoid accountability, push forward with their personal agendas at the expense of others and make promises they'll never keep. They injure, disappoint, or irritate other people by leaving them in the dark.
But God never abdicates His duty to care for us. He also doesn't make promises that He won't keep. He can be trusted implicitly.
He always follows through on his promises. His word is a source of hope and faith for us. He is our reliable source.
"I am counting on the Lord; yes, I am counting on him. I have put my hope in his word" – psalm 130:5.
Psalms About Depending on God
Throughout the Psalms, the psalmist frequently expresses their trust and dependence on God as a powerful and reliable source of protection, deliverance, and salvation.
Many Psalms contain hymns of praise and thanksgiving to God, as well as prayers for protection, guidance, and forgiveness.
The Psalmist presents his petitions and problems to God, imploring God for help and comfort, but always trusts that God will hear and answer his prayers.
Thus, we should strive to imitate the psalmist's relationship with God as it is one of deep trust and faith, a two-way relationship in which the psalmist feels confident that God will hear and respond to their prayers and petitions, but also one in which the Psalmist freely expresses his devotion, adoration, and gratitude to God.
Psalms 37:23-24
The LORD makes firm the steps of the one who delights in him; though he may stumble, he will not fall, for the LORD upholds him with his hand.-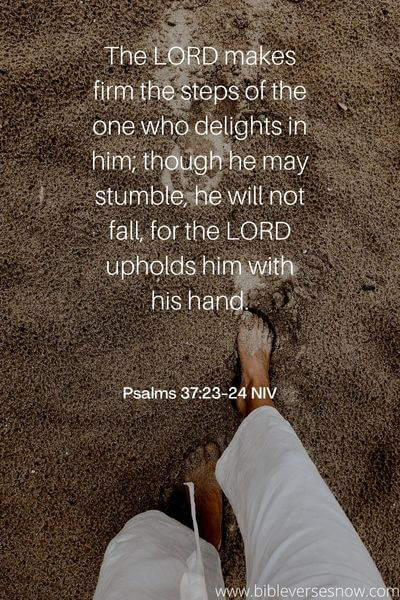 This serves as a reminder that God is directing and keeping vigil over the steps of the virtuous. God will be there to hold and sustain us, so even if we stumble and fall, we won't be totally ruined.
Additionally, it states that if a person lives a righteous life, which includes keeping God's commandments, they are in his favor.
Psalms 28:7 NIV
The LORD is my strength and my shield; my heart trusts in him, and he helps me. My heart leaps for joy, and with my song I praise him.-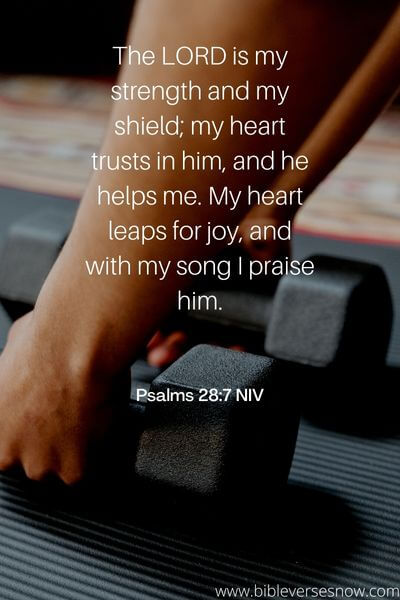 This verse is David's petition, a plea for help to the Lord, expressing his helplessness, his bitterness of heart, and the pain that seems to be piercing his soul.
He raises his hands in surrender to God's holy temple and in recognition of the fact that God alone is his rock and refuge as he cries out to Him for help.
Bible Stories About Depending on God
Praise be to the LORD my Rock, who trains my hands for war, my fingers for battle. He is my loving God and my fortress, my stronghold and my deliverer, my shield, in whom I take refuge, who subdues peoples under me. – Psalm 144:1-2
David understands that the Lord gives him the strength to be strong in the face of his foe's persecution.
A shield not only offers a warrior physical defense, but it also helps the warrior feel more self-assured.
Experienced Christians frequently remember numerous situations when the Lord provided for and shielded them. Every win offers the chance to celebrate and express gratitude.
David acknowledges the difference between himself and those who wickedly reject God in his prayer to God.
David expects to be saved from the fate of bad people because he honors the Lord. David has confidence in God's protection because of his past experiences, and he urges all of God's people to accept this idea.
Isaiah says that the Lord gives His people authority. The Lord does not tire or get tired. Isaiah 40:28–31 says.
He gives those who lack strength courage and strengthens the weak. Those who wait for the Lord will be strengthened. They will run without becoming tired, stroll without fainting, and soar like eagles.
Depending on God's Sermon
Depending on God explore various biblical passages and teachings that encourage individuals to put their trust in God and rely on Him for guidance, strength, and protection.
Examples of individuals in the Bible who exemplified this type of dependence on God, such as Abraham, Moses, and David, were able to achieve great things because of their trust in God.
Psalm 28:7 that I mentioned earlier. It says, The Lord is my strength and my shield; in him my heart trusts, and I am helped; my heart exults, and with my song, I give thanks to him.
The verse is pointing out that when we Trust in the Lord we are helped and we are strengthened by Him, and we have a reason to exult and give thanks to Him.
There are blessings and benefits to depending on God in one's daily life, such as peace, joy, and the ability to handle difficult situations with grace and resilience.
In depending on God we let go of our pride and our own self-reliance, and we humbly acknowledge our need for God's guidance and provision.
I personally want to encourage you to take practical steps in your own lives to strengthen your dependence on God, such as through prayer, reading the Bible, and spending time in worship and fellowship with other believers.