Emotional attachment is a complex and sensitive human condition. Often, it is the start of a relationship that may develop into something more serious. Bible verses on emotional attachment also aimed at Unpredictability, frequent emotional outbursts and sudden behavior changes that can be difficult for individuals who are emotionally attached to their partners to deal with.
Bible verses on emotional attachment
Emotional attachment can also be spoken of in terms of the bonds of friendship and fellowship. Proverbs 17:17 says, "A friend loves at all times, and a brother is born for a time of adversity."
It's important to remember that our emotional attachments should be grounded in love and should not become idolatrous or unhealthy. As 1 John 4:8 says, "Anyone who does not love does not know God, because God is love."
Philippians 3:13-14
13 Brothers, I do not consider that I have made it my own. But one thing I do: forgetting what lies behind and straining forward to what lies ahead

14 I press on toward the goal for the prize of the upward call of God in Christ Jesus.-
Paul is his determination to press on and pursue the goal of living a faithful and obedient life in Christ.
He recognizes that he has not yet fully attained this goal, but he is committed to continuing to strive for it.
In order to do so, he says that he must forget what lies behind him and focus on what lies ahead.
This bible verse is a reminder that our past experiences and relationships, while they may have had an impact on our lives, should not hold us back from moving forward and living out our faith in the present.
Instead, we should let go of any negative emotions or attachments that may be hindering us and focus on the goal of living a faithful and obedient life in Christ.
Proverbs 15:14
The heart of him who has understanding seeks knowledge,
but the mouths of fools feed on folly.-
This verse is a for everyone reminder to be cautious about becoming too emotionally attached to things or people that may not be wise or beneficial.
The wise person seeks knowledge and understanding and is able to make informed decisions and avoid getting caught up in folly or foolishness.
In contrast, the fool may become emotionally attached to things that are not in their best interest and may make impulsive or unwise decisions as a result.
Psalm 147:3
He heals the brokenhearted and bandages their wounds.-
God is a source of healing and strength for those who are struggling with difficult emotions or attachments.
It suggests that God is able to help us let go of negative emotions and attachments and find healing and wholeness in Him.
It is a promise of hope and comfort for those who are struggling with emotional pain.
Genesis 2:24
Therefore a man shall leave his father and his mother and hold fast to his wife, and they shall become one flesh.-
This verse is often understood to refer to the emotional and physical attachment that exists between a husband and wife in marriage.
The phrase "hold fast" suggests a strong emotional attachment, while the phrase "one flesh" suggests a deep physical and emotional connection.
In this sense, the verse is describing the way in which a husband and wife should be emotionally attached to one another in marriage.
what does the bible say about emotional attachment
The Bible emphasizes the importance of love and emotional attachment in relationships, whether they are romantic relationships or friendships.
They encourage us to show love and affection towards others and to be emotionally present and supportive in our relationships.
The Bible has many passages that speak to the importance of emotional attachment and the role it plays in relationships. Here are a few examples:
Philippians 4:6-7
6 Be anxious for nothing, but in everything by prayer and supplication, with thanksgiving, let your requests be made known to God

7 and the peace of God, which surpasses all understanding, will guard your hearts and minds through Christ Jesus.-
Paul calls us to let go of all our worries and seek God's peace and trust in his care, rather than becoming overly attached to people or circumstances in a way that causes anxiety or worry.
bible verses about feelings and emotions
Feelings and emotions are an important part of what makes us human. They are our subjective internal experiences of the world around us.
Feelings are our emotional reactions to events or circumstances. They can be positive, such as happiness, love, or excitement, or negative, such as sadness, anger, or fear.
Feelings can be strong or weak and can change quickly or last for a long time.
The Bible has a lot to say about feelings and emotions. Here are a few passages that might be helpful to consider:
Ephesians 4:31
Let all bitterness and wrath and anger and clamor and slander be put away from you, along with all malice.-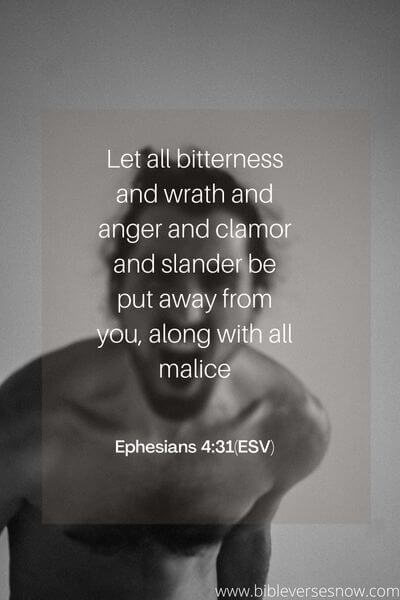 This verse is instructing believers to rid themselves of negative emotions and behaviors such as bitterness, anger, and malice.
It encourages Christians to cultivate love, kindness, and forgiveness in their hearts and to speak and act in ways that reflect these virtues.
Ecclesiastes 11:10
Remove vexation from your heart, and put away pain from your body, for youth and the dawn of life are vanity.-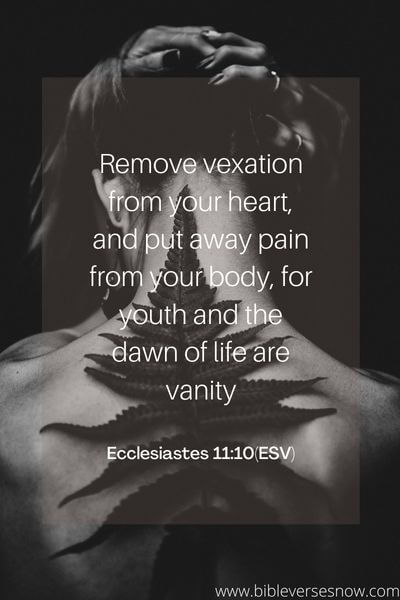 The Bible is warning us to let go of stress and suffering because youth and the early years of life are fleeting and ultimately meaningless.
It suggests that focusing on these temporary, superficial things will only bring frustration and disappointment and that it is better to let go of them and find peace and contentment in other things.
Deuteronomy 31:8
Do not be afraid or discouraged, for the LORD will personally go ahead of you. He will be with you; he will neither fail you nor abandon you.-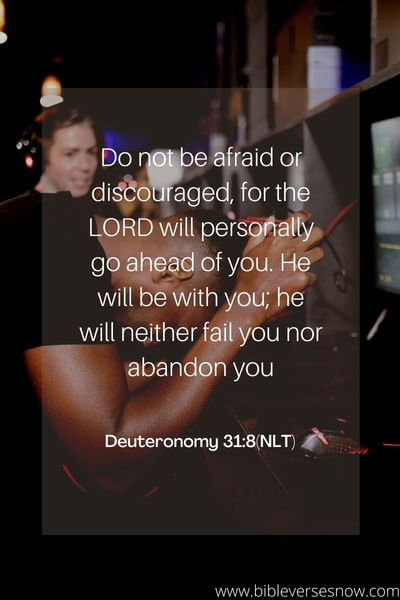 This verse is meant to reassure the children of God to get rid of their negative feeling and trust in God that God will always be with them and will never abandon them.
It encourages the reader to trust in God and not be afraid, even in difficult or uncertain times.
In relation to feelings and emotions, this verse could be interpreted as a message of comfort and reassurance, reminding the reader that they are not alone and that God is always present to support them.
List of bible verses for different emotions
Happiness: a feeling of joy or pleasure
Sadness: a feeling of sorrow or unhappiness
Anger: a feeling of resentment or frustration
Fear: a feeling of anxiety or trepidation
Surprise: a feeling of amazement or shock
Love: a feeling of affection or strong attachment
Jealousy: a feeling of resentment or resentment towards someone's success or possessions
Envy: a feeling of covetousness or longing for something that someone else has
Anxiety: a feeling of worry or unease
Guilt: a feeling of having done something wrong or improper
This is just a small sampling of the many emotions that people can experience. Emotions are complex and can be difficult to understand and describe, but they play an important role in our lives and help us to navigate the world around us and we will be looking at three bible verses that talk about some of these emotions.
John 14:27
Peace I leave with you; my peace I give you. I do not give to you as the world gives. Do not let your hearts be troubled and do not be afraid.-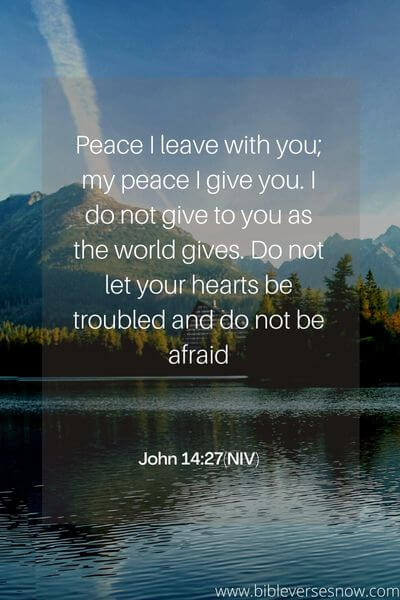 This verse is from the book of John in the New Testament of the Bible. It is part of a conversation between Jesus and his disciples, in which he is trying to comfort and reassure them as he prepares to leave them.
In this verse, Jesus is telling his disciples that he is leaving them with a peace that is different from the kind of peace that the world offers.
He is also encouraging them not to be troubled or afraid, even in the face of difficult circumstances.
1 John 1:9
But if we confess our sins to him, he is faithful and just to forgive us our sins and to cleanse us from all wickedness.-
If we confess our sins, God will forgive us and cleanse us from all wickedness. This can be related to emotions in the sense that confessing our sins and seeking forgiveness can bring us a sense of peace and emotional healing.
When we hold onto guilt or shame for things that we have done wrong, it can weigh heavily on us emotionally and cause us to feel distressed or troubled.
However, when we confess our sins and receive God's forgiveness, it can bring us a sense of relief and release from these negative emotions.
Romans 5:8
But God shows his love for us in that while we were still sinners, Christ died for us.-
This verse is describing the love that God has for humanity, even when we are not deserving of it. It is saying that God's love for us is so great that he sent Jesus to die for us, even when we were still sinners and had not yet turned to him for forgiveness.
This verse explains God's emotions in that it reminds us of the depth of God's love for us and the feelings of love, gratitude, and humility that this should inspire in us.
Bible verses on Divine Connections
A divine connection is a connection or relationship that is believed to be influenced or guided by the power of God.
Some people believe that they have a divine connection with God like king David in the bible, while others believe that they have a divine connection with certain people or events in their lives.
These connections can be a source of guidance, inspiration, and meaning for individuals and can play an important role in their spiritual or religious beliefs and practices.
Psalm 23:1-6
1 The LORD is my shepherd,
I shall not want.

2 He makes me lie down in green pastures;
He leads me beside quiet waters.

3 He restores my soul;
He guides me in the paths of righteousness
For His name's sake.

4 Even though I walk through the valley of the shadow of death,
I fear no evil, for You are with me;
Your rod and Your staff, they comfort me.

5 You prepare a table before me in the presence of my enemies;
You have anointed my head with oil;
My cup overflows.

6 Surely goodness and lovingkindness will follow me all the days of my life,
And I will dwell in the house of the LORD forever.-
The psalm speaks to the idea of God as a loving shepherd who guides and protects his people. The psalm describes God as providing for all of the speaker's needs and leading them in the right paths.
It also speaks to the idea of God being present with the speaker in times of trouble and providing comfort and protection.
Overall, the psalm suggests that God is a loving and caring presence in the lives of those who trust in him and that he will always be there to provide for and guide them through life's challenges.
Jeremiah 29:11
For I know the thoughts that I think toward you, saith the LORD, thoughts of peace, and not of evil, to give you an expected end.-
This verse is a message of hope and encouragement for the people of Israel. It reminds them that even in difficult circumstances, God is with them and has a plan for their future.
It suggests that God is a loving and caring presence in their lives and that he will always be there to guide and protect them.
Bible Verses God has Emotions
The concept of God and the attributes ascribed to God vary among different religions and belief systems.
In some belief systems, God is believed to be a being with emotions and personal characteristics, while in others, God is seen as a more abstract concept and is not thought to possess personal characteristics such as emotions.
It is important to note that these are beliefs and there is no objective way to prove or disprove the existence or nature of God.
The Bible is filled with passages that depict God as having emotions. Here are a few examples:
John 3:16
For God so loved the world that He gave the only begotten Son, so that everyone believing in Him should not perish, but should have eternal life.-
It is important to note that the Bible describes God as a being who is beyond human understanding and that his nature is ultimately mysterious and unknowable.
However, it is clear from various passages in the Bible that God is portrayed as having emotions, including love, joy, anger, and compassion.
Bible Verses on Emotional Health
Emotional health is a state of well-being in which an individual is able to cope with the normal stresses of life, work productively, and contribute to his or her community.
It is important to take care of your emotional health in order to live a balanced and fulfilling life
Here are a few Bible verses that may be helpful for emotional health:
Psalm 73:26
My flesh and my heart may fail, but God is the strength of my heart and my portion forever.-
This verse is expressing the idea that our physical body and emotions may fail, but God will always be a source of strength and support.
It suggests that God is the speaker's "portion," or the most important and significant part of their life.
This can be a comforting thought for anyone struggling with emotional difficulties, as it reminds them that they are not alone and that they can find strength in their faith.
Psalm 34:18
The LORD is near to the brokenhearted And saves those who are crushed in spirit.-
God is close to and supportive of those who are experiencing emotional pain and distress.
It also says that God can bring salvation or deliverance to those who are "crushed in spirit," which could refer to a feeling of intense hopelessness or despair.
This verse can be a source of hope and encouragement for anyone going through a difficult time emotionally, as it reminds them that God is present with them and can bring healing and restoration.
Bible Verses of Emotional Healing
Emotional healing is the process of addressing and resolving difficult or painful emotions, thoughts, and memories.
Emotional healing is an important aspect of overall well-being and can help improve mental and physical health, as well as relationships and quality of life if you are having these troubles, the bible is one place you should visit.
The Bible contains many passages that address emotional healing and offers guidance and comfort for those who are struggling with emotional pain but let us take a look at two.
Exodus 14:14
The LORD himself will fight for you. Just stay calm.-
God will help us to heal from our emotional wounds and to find peace and strength in Him, even in the midst of difficult circumstances.
It can be a comforting and reassuring reminder that we are not alone in our struggles, and that God is always with us to provide support and guidance.
1 Peter 5:10
And after you have suffered for a little while, the God of all grace, who has called you to His eternal glory in Christ, will Himself restore you, secure you, strengthen you, and establish you.-
God will use our struggles and hardships as opportunities to heal and strengthen us emotionally, and to help us to grow and mature in our faith.
It can be a reassuring reminder that God is sovereign and in control and that He is working everything together for our good and His glory.
What Does the Bible Say about Detaching with Love?
Our creator encourages us to act with kindness and compassion, to be patient and understanding, and to seek peace and reconciliation whenever possible.
Detaching with love, in this context, might involve setting boundaries or distancing ourselves from harmful or toxic relationships, while still seeking to love and care for the other person from a distance.
It might also involve letting go of our own anger or resentment, and choosing to forgive and bless those who have wronged us.
Luke 14:26
If anyone comes to Me and does not hate his own father, mother, wife, children, brothers, sisters, yes, and even his own life, he cannot be My disciple.-
It's important to note that this verse should not be taken as a command to literally hate one's family or to neglect one's responsibilities towards them.
Rather, it's meant to convey the idea that one's commitment to Jesus should take priority over everything else in one's life.
What Does the Bible Say about Emotional Detachment
Emotional detachment is a psychological term used to describe a lack of emotional connection or attachment to a person, situation, or environment.
It can be a temporary or permanent state, and it can be either healthy or unhealthy, depending on the context.
The Bible does not specifically mention the concept of emotional detachment, but it does offer guidance on how to relate to others and manage our emotions in a healthy way.
1 Corinthians 6:1-2
Does any one of you, when he has a complaint civil dispute with another believer, dare to go to law before unrighteous men non-believers instead of placing the issue before the saints God's people?

2 Do you not know that the saints God's people will one day judge the world? If the world is to be judged by you, are you not competent to try trivial insignificant, petty cases?-
Overall, the Bible encourages us to trust in God and to rely on him for strength and support, rather than trying to handle everything on our own or with the help of our friends.
It also advises us to be mindful of our thoughts and emotions and to seek out healthy, positive relationships that can help us to cope with the challenges of life.
Summary
In the Bible, emotional detachment is often viewed as a virtue, as it is seen as a way to guard against being controlled by one's emotions and to remain focused on God.
In the New Testament, the apostle Paul writes about the importance of being spiritually minded and not being conformed to the world.
This includes being detached from worldly things, including emotions. In Colossians 3:2, Paul writes, "Set your minds on things above, not on earthly things."
This verse suggests that Christians should focus their thoughts and emotions on spiritual matters and not be overly attached to the things of the world.