The term "empty" is among the most ominous in all of the Bible. Both positive and negative things might be meant by this. The term "empty" is among the most ominous in all of the Bible. Both positive and negative things might be meant by this. It totally depends on how you perceive it whether you see emptiness as a good or bad thing. We will see 19 Bible verses on emptiness here in this article.
Bible verses on Emptiness
When dealing with the world, emptiness in the Bible is practically inevitable. It's something we are continually exposed to starting at a young age. This subject is addressed frequently in the Bible, which has been written over thousands of years by countless authors.
Isaiah 45:18
For the LORD is God, and he created the heavens and earth and put everything in place. He made the world to be lived in, not to be a place of empty chaos. "I am the LORD," he says, "and there is no other.-
This verse is designed to induce the Israelites (God's children) to put unwavering confidence in the true God.
As Isaiah asserted, He (God) did not create the earth in vain (He did not form it to remain a vast desert without inhabitants). He formed it so man and various tribes of animals can adapt and yield abundance for their support.
Ephesians 5:6
Let no one deceive you with empty words, for because of these things the wrath of God comes upon the sons of disobedience.-
Speaking of unbelievers (Ephesians 5:5), Paul issues a warning against individuals who want to sway Christians from their fundamental views on sexual morality using empty (hollow) words. Nobody should trick Christians into thinking the verse before was just empty rhetoric.
"Empty" refers to an absence of information; these are abstract concepts. These fancy sentences don't speak God's truth at all.
Ecclesiastes 5:7
For in many dreams and in many words there is emptiness. Rather, fear God.-
This verse has several translation issues arising from text corruption, but they do not impact the overall meaning, which contrasts the various words belonging to the dreams and vanities of paganism with the fear of the one and only God.
What does the bible say about emptiness?
The word "emptiness" appears frequently in the Bible.
The Bible makes it clear that God did not create the universe merely for our amusement and fulfillment but rather for our fulfillment and, more importantly, for our discovery of the Spirit, who is waiting for us to call him into our hearts and thoughts.
Matthew 11:28-29
28 Come to me, all who labor and are heavy laden, and I will give you rest.
29 Take my yoke upon you, and learn from me, for I am gentle and lowly in heart, and you will find rest for your souls.-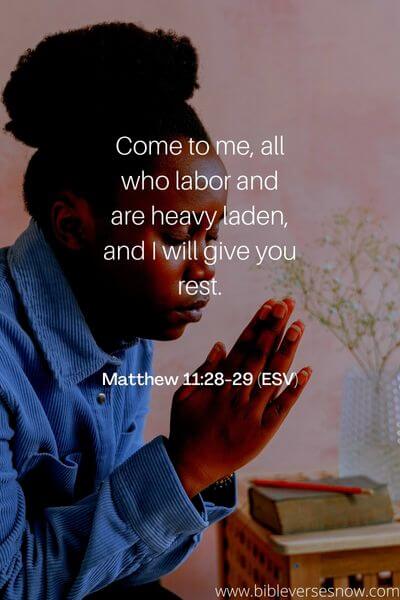 Jesus invites people who are worn out and weary to come to him in these brief verses from Matthew's gospel, these are people who have been working hard and are worn out. Because they have been handling everything on their own and with their own strength, they are likewise empty.
Perhaps they had the incorrect priorities. Perhaps they are misinterpreting what God expects of them. Whatever the case, it appears that their efforts have been dishearteningly fruitless.
These worn-out souls are being invited to come to Jesus, who offers them comfort, rest, and renewal.
Jesus doesn't guarantee a day off from labor. The three main themes of this text are work, learning, and service. Jesus urges us to take his yoke in the very next sentence, and a yoke is a tool used for labor.
Bible verses about feeling emptiness
Many people in today's culture experience loneliness. There are moments when you could feel hopeless or empty inside. Have you given up?
Do you believe that no matter what you do, nothing is successful? Many people experience similar emotions, but they are unsure of how to deal with them. However, what does the Bible teach about feeling empty?
Romans 15:13
I pray that God, the source of hope, will fill you completely with joy and peace because you trust in him. Then you will overflow with confident hope through the power of the Holy Spirit.-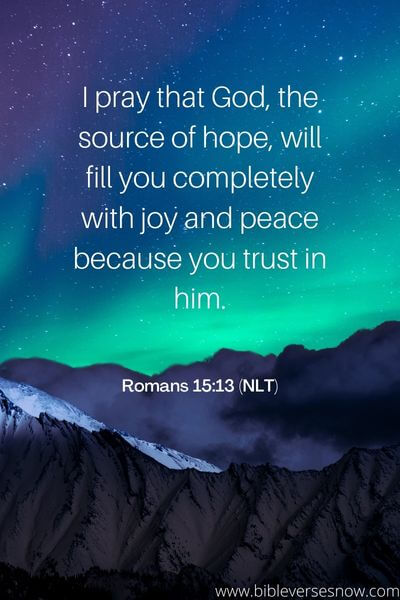 A Christian's attitude toward the future and the extent to which the future is reflected in the present is embodied by the triad of hope, joy, and peace.
God is the only source (1 Timothy 6:17) and author (1 Peter 1:3) of our hope.
God does not say that we may have hope, but that we may abound therein. Such hope may be like an anchor to the soul to keep it safe and steady whenever we feel emptiness.
Psalm 36:9
For the fountain of life is with You; In Your light we see light.-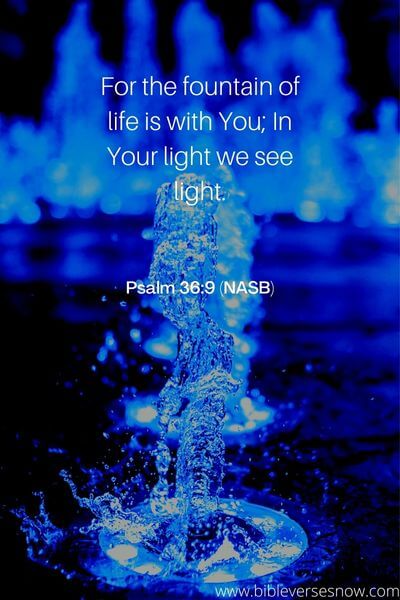 David has given thanks to God for His kindness and blessings to people (Psalm 36:5–8). The offer of salvation is the greatest of these blessings.
As a result, David here extols the Lord for being the source of life and the giver of light. This is in relation to the gospel of John; that Jesus entered the earth to provide life and light to those who trust in Him (John 1:3; 14:6).
John 10:10
The thief comes only to steal and kill and destroy. I came that they may have life and have it abundantly.-
Jesus is introducing Himself as the Good Shepherd. He is effectively informing the Pharisees that He is the Messiah, the same Lord who David referred to as "my Shepherd" in Psalm 23:1.
Only God can fill the emptiness verse
The only true answer to every issue is God, who is the source of all strength. God is all-knowing, all-powerful, and all-present. We are hopeless and powerless apart from God. Our only path to mental tranquility is to put our trust in Him.
Psalm 90:14
Satisfy us in the morning with your unfailing love, that we may sing for joy and be glad all our days.-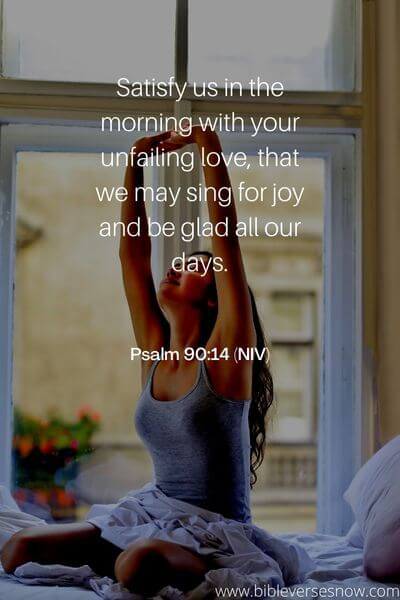 A heart content with the knowledge of God's love is the only thing that can provide lifelong joy. This implies that only God can, in the end, fill the emptiness of the human heart.
Bible verses about filling emptiness
How can the void in our hearts, thoughts, and souls be filled? We can find the solutions to this question in the Bible. It is brimming with profound truths that can help us through the difficulties of life and discover joy.
Romans 5:8
But God demonstrates his own love for us in this: While we were still sinners, Christ died for us.-
Why did Christ have to die in order to save us? In other words, He died in our place.
We earned God's wrathful judgment because of our sin and emptiness. Death was due to us. Christ bore the penalty for our sins when He died on the cross. He suffered and lost his life for us.
Isaiah 40:31
But they who wait for the LORD shall renew their strength; they shall mount up with wings like eagles; they shall run and not be weary; they shall walk and not faint.-
Not only is God powerful, but he is powerful for us, which is what makes him so awesome. God's glory is not only that he is powerful, but also that he enjoys using that power to benefit those who are in need.
Galatians 6:9
Let us not grow weary in well-doing, for in due time we will reap a harvest if we do not give up.-
God grants us His own Spirit by placing our faith in Christ for the remission of our sins. End-time deliverance of eternal life will only come through that Spirit (Galatians 6:6–8). We will reap if we do not become weary and discouraged.
Here, it is implied that a man cannot expect to be rewarded unless he persists in doing good till the end of his days.
1 Corinthians 15:58
Therefore, my beloved brothers, be steadfast, immovable, always abounding in the work of the Lord, knowing that your toil in the Lord is not in vain.-
Paul cautions the Corinthian populace and even us readers not to be influenced. We must remain steadfast in the Lord, thus we shouldn't allow anything to sway us.
Because we are aware that our efforts are not in vain, we must always dedicate ourselves completely to the Lord.
Bible verses about being incomplete
There aren't many explanations about what life is all about in the Bible. However, it does provide instructions on how to lead a good life. Trust is the most significant factor in life. You can put your complete trust in God, including the choices you make on a daily basis.
 John 15:4
Remain in me, and I will remain in you. For a branch cannot produce fruit if it is severed from the vine, and you cannot be fruitful unless you remain in me.-
John used the word "abiding" in Christ in a variety of ways, but he always refers to someone who professes saving faith and "holds fast" to that conviction (Hebrews 4:14; 10:23).
The emphasis is typical, as in this instance, on individuals who allow the power of Christ to facilitate their spiritual lives.
That suggests obedience and tenacity. Christians must lovingly obey Christ in order to progress from spiritual emptiness to "abundant fruit" (John 15:9–10).
Matthew 4:4
Jesus answered, "It is written: 'Man shall not live on bread alone, but on every word that comes from the mouth of God.-
The implication of this verse is not that, just as the soul lives by the word of God and the doctrines of the Gospel, so the body lives by bread although this is undoubtedly true but rather that God is not dependent on bread alone to satiate man's hunger and to sustain and preserve his life.
He is free to use other methods and to command whatever he pleases to accomplish these ends.
John 1:3
All things came into being through Him, and without Him not even one thing came into being that has come into being.-
This suggests a distinction between those things that emerge from nothing and the One who has always been. To put it another way, there is one thing that did not "come into being" or "begin to exist." God is this one and only thing.
Signs of spiritual emptiness
Losing interest in your regular church activities or performing them only from a sense of duty
negative or pessimistic thinking about God or religion
Feeling as if Bible study or other religious pursuits have lost their meaning
Bible story about emptiness
The Bible Story of Zacchaeus (Luke 19:1-10)
As a tax collector in the city of Jericho, Zacchaeus was made aware that the prophet Jesus was passing through.
Zacchaeus hurried ahead of the crowd and climbed up into a sycamore tree to get a better view of Jesus because he was "small in stature.
" When Jesus arrived, he saw Zacchaeus in the tree and beckoned to him, telling him to hurry and come down because he had to stay at his home for the day.
Zacchaeus was ecstatic, but the people around him "grumbled," or complained, saying that Jesus had entered to be the guest of a sinner.
He remarked to Jesus when he got to Zacchaeus' house: "See, Lord, I give the poor half of my possessions. In addition, I repay everybody I've cheated four times over.
" Zacchaeus' actions demonstrate the sincerity of his repentance and faith.
The generosity with which Zacchaeus gave up half of his possessions serves as an illustration of the kind of open-handedness that distinguishes people whose hearts have been changed by the gospel.
Then, because Zacchaeus was also an ancestor of Abraham, Jesus proclaims that salvation has come to this home.
This shows that with God, anything is possible, and even a wealthy person can be rescued via his deeds.
Zacchaeus demonstrates that he is not just a natural descendant of Abraham but also a real son of Abraham.