The devil wouldn't be fighting us in this way if our destinies weren't always bigger than our circumstances. Never should what we are going through cause us to lose focus on our goals.
To fulfill our destiny, we must rise above our present circumstances. The Bible is full of stories that teach us about the importance of striving for greatness.
We can use the lessons from Destined for greatness bible verse to help guide us on our journey toward greatness.
Destined for Greatness Bible Verse
In the Bible, the concept of greatness is often tied to the idea of serving God and fulfilling one's purpose or calling in life.
The Bible also teaches us that our destiny is not predetermined but rather determined by our own actions and choices.
We have the power to make ourselves great if we choose to do so.
1 Peter 2:9
But you are a chosen people, a royal priesthood, a holy nation, God's special possession, that you may declare the praises of him who called you out of darkness into his wonderful light.-
This verse is emphasizing the special status of believers in Jesus as chosen by God and set apart for a purpose: to proclaim the praises of God to the world.
This is in line with the overall theme of 1 Peter, which is to encourage believers to stand firm in their faith despite suffering and persecution.
Genesis 12:2
And I will make of you a great nation, and I will bless you and make your name great, so that you will be a blessing.-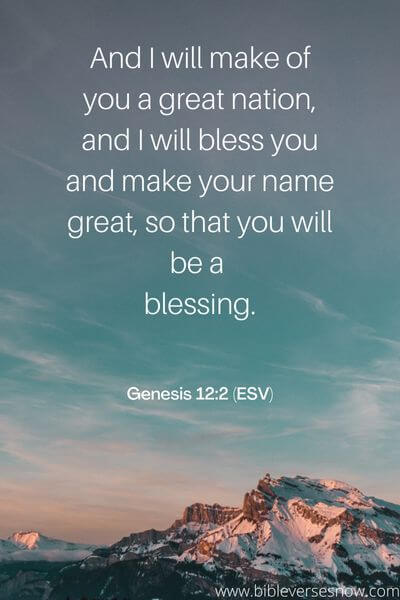 This verse is part of God's promise to Abram (later called Abraham) in which God tells him that he will make him into a great nation and bless him.
This promise is significant because it lays the foundation for the Israelites, who are descendants of Abram and become the chosen people of God.
Psalm 71:21
Thou shalt increase my greatness, and comfort me on every side.-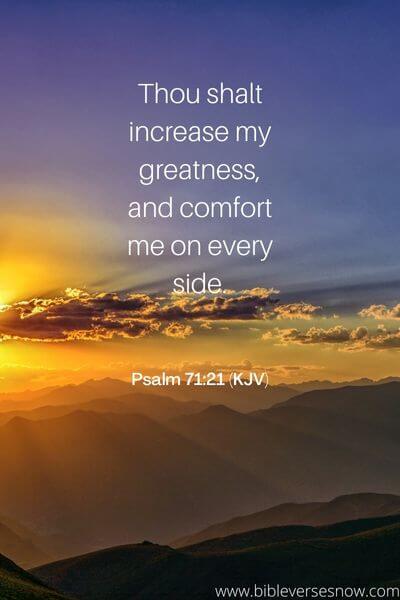 This verse is part of a prayer to God in which the Psalmist expresses his trust in God's ability to help him in his times of need.
The Psalmist expresses a belief that God will increase his greatness, and it may imply that the Psalmist will be delivered from his troubles and will be blessed by God.
Luke 1:15
For he will be great in the sight of the Lord; and he will drink no wine or liquor, and he will be filled with the Holy Spirit while still in his mother's womb.-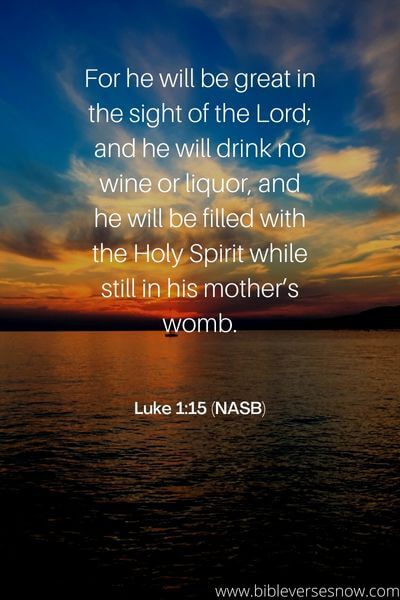 This verse is part of the angel's announcement to Zacharias, the father of John the Baptist, about the birth of his son.
He will be great in the sight of the Lord, in other words, God will highly honor him.
He will be filled with the Holy Spirit even before he is born, which means that he will be set apart for a special purpose and will be empowered by the Holy Spirit to carry out his mission as a prophet.
Philippians 4:13
For I can do everything through Christ, who gives me strength.-
This is a reminder that we are not alone and that Christ is always with us, strengthening and empowering us to face any challenge that comes our way.
Destined for Greatness Meaning
A person is said to be "destined for greatness" if they are thought to have the capacity or aptitude to achieve great achievement or distinction in their life or work.
It implies that the individual in question possesses a unique skill or quality that distinguishes them and increases the likelihood that they will make big achievements.
Destined Bible Verse
According to the Bible, God has a specific plan and purpose for each person, and that plan is often referred to as one's "destiny."
Ephesians 2:10
For we are God's handiwork, created in Christ Jesus to do good works, which God prepared in advance for us to do.-
This verse is emphasizing that believers are created in Christ Jesus for the purpose of doing great works.
Psalm 37:23
The steps of a man are established by the Lord, and He delights in his way.-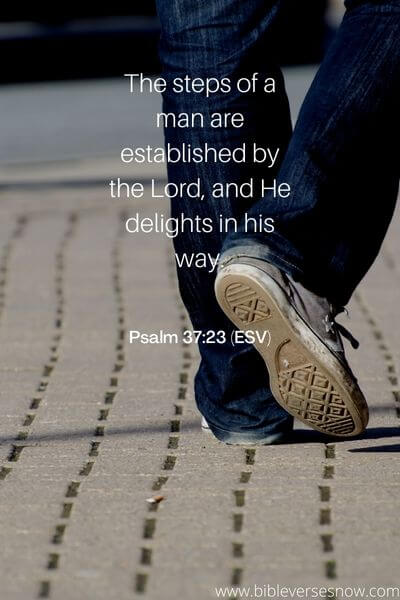 This verse is a reminder that when we trust in the Lord and live a righteous life, we can be sure that God is guiding our steps and that He is pleased with the path we are on.
It also implies that good men who trust in the Lord can trust in the Lord's guidance and protection.
Romans 8:28
And we know that in all things God works for the good of those who love Him, who have been called according to His purpose.-
This verse is a reminder that believers can trust that God is in control of all things and that He is working for their good, even in difficult situations.
Jeremiah 29:11
For I know the plans I have for you, declares the Lord, plans to prosper you and not to harm you, plans to give you hope and a future.-
This verse is a source of comfort and encouragement for the Israelites and for all believers today, that God has a plan for our lives, that He will take care of us, and that He will give us hope and a future.
Proverbs 3:5-6
Trust in the Lord with all your heart and lean not on your own understanding; in all your ways submit to Him, and He will make your paths straight.
These verses remind us that trusting in the Lord and submitting to His will is essential for living a wise and blessed life.
Greatness Bible Verses
The Bible views greatness as being in service to God and others, rather than seeking power or status for oneself.
Jesus, for example, taught that the greatest among us should be servants of all (Mark 10:43-44).
Matthew 23:12
For whoever exalts himself will be humbled, and whoever humbles himself will be exalted.-
This is a warning against pride and self-exaltation, and an encouragement to humility.
It is a reminder that the way of humility is the way to true greatness and exaltation, and that the way of pride leads to shame.
Matthew 11:11
 Truly, I say to you, among those born of women there has arisen no one greater than John the Baptist. Yet the one who is least in the kingdom of heaven is greater than he.-
This verse is emphasizing the superiority of the kingdom of heaven, which is established by Jesus, over the old covenant, and the importance of faith in Jesus over mere external righteousness.
Isaiah 61:1
The Spirit of the Lord God is upon me; because the Lord hath anointed me to preach good tidings unto the meek; he hath sent me to bind up the brokenhearted, to proclaim liberty to the captives, and the opening of the prison to them that are bound;-
This verse is a reminder of the mission and purpose of Jesus, which is to bring salvation, healing, and freedom to all who are in need, especially the poor, the brokenhearted, the captives, and the prisoners.
Psalm 8:6
You have given him dominion over the works of your hands; you have put all things under his feet.-
This verse is part of a psalm in which the Psalmist is reflecting on the greatness of God and the majesty of His creation.
The verse is a reminder that we are not just another species on earth, but we are specially made by God, and we have a special purpose and value in His eyes.
Psalm 66:3
Say to God, "How Your great works make those who hate You afraid! They will have to obey You because of Your great power.-
This is a call to join the Psalmist in recognizing the greatness and power of God and giving Him the praise and worship He deserves.
You are Destined for Greatness Bible Verse
The Bible is full of inspiring verses that remind us of our potential and the greatness we can achieve.
One such verse is found in Jeremiah 29:11, which reads, "For I know the plans I have for you," declares the Lord, "plans to prosper you and not to harm you, plans to give you hope and a future."
This verse reminds us that God has great plans for us and that we are destined for greatness.
It encourages us to trust in God's plan for our lives and have faith in ourselves as we pursue our dreams.
Bible Verses on Grace for Greatness
Grace plays a significant role in our lives and can be found in a variety of contexts.
The Bible contains many verses that speak of grace and its power to help us become great.
Romans 11:6
And if by grace, then it cannot be based on works; if it were, grace would no longer be grace.-
This verse is emphasizing that salvation by grace, which means unmerited favor from God, cannot be earned or deserved through works.
It is a reminder that salvation is not something we can earn or deserve, but it's a gift from God, given to us freely through faith in Jesus.
2 Timothy 2:1
You therefore, my son, be strong in the grace that is in Christ Jesus.-
This verse is emphasizing the importance of grace in Christ Jesus, which is the means by which believers are strengthened and empowered to fulfill their duties and responsibilities as Christians.
2 Corinthians 12:9
And he said unto me, My grace is sufficient for thee: for my strength is made perfect in weakness. Most gladly therefore will I rather glory in my infirmities, that the power of Christ may rest upon me.-
This verse is emphasizing that the grace of Christ is sufficient to overcome any weakness or difficulty that believers may face.
Destined for Greatness Sermon
Then Simeon blessed them and said to Mary, his mother: "This child is destined to cause the falling and rising of many in Israel, and to be a sign that will be spoken against, 35 so that the thoughts of many hearts will be revealed. And a sword will pierce your own soul too." –
God had a purpose for Jesus to accomplish.
A destiny is something over which a person has no authority or influence.
If God had a plan for Jesus' life, including where and when he would be born and the influence his life would have, then God also has a plan for each of our lives (I John 3:1).
In verses 34-35 of the passage above, we see that Jesus's life was to be a sign that awakened and pointed men's hearts to God.
When we believe God has a great destiny for our lives then it will lead to joy because we know that whatever we go through will serve to better equip us to fulfill God's promise for our lives.
For with God nothing is ever impossible and no word from God shall be without power or impossible of fulfillment.-
Faith in God's words empowers us to do the impossible.
Faith empowers us to fulfill God's destiny for our lives and has a great impact on the lives of others.
In summary, greatness in the Bible is not about achieving fame, wealth, or power but about serving God and others and fulfilling one's purpose in life.