A lot of people have heard the phrase "Give the devil a chance" and they may even know what it means. Sometimes, in life, we make choices that allow the devil to have an opportunity to work his evil.
But how do you stop this from happening? Discover Don't give the devil a chance bible verse that will help you understand how you can keep others away from sin.
Don't Give the Devil a Chance Bible Verse.
The Bible says resist the devil and it shall flee from you. Submit yourself therefore to God, draw near to God and He will draw near to you.
Clean your hands and purify your hearts. Stay away from sin. Do not lust worldly pleasures, humble yourself in the sight of the Lord and he shall lift you up.
Don't speak ill of others and judge not. Know the company you keep. Not every event you should attend and not every movie you should watch. These are avenues that might have you sin. Avoid them completely.
Then Joshua said to the people, "Sanctify yourselves [for His purpose], for tomorrow the Lord will do wonders (miracles) among you."-

Joshua 3:5 AMP
Consecration means to dedicate to a sacred purpose. An occurrence in the book of Joshua emphasizes the necessity of being consecrated or pure in our connection with God.
One of the first steps of standing your ground in God is consecration. The children of Israel were ready to cross the Jordan River into the Promised Land after forty years in the desert. "Joshua informed the people, 'Consecrate yourself because tomorrow the LORD will perform incredible things among you,'".
The Bible commands us to be a holy people, distinct from the world: "Therefore come out from among them and be separate, declares the Lord." I will accept you if you do not touch anything dirty. For without holiness it is impossible to see God. When you become a believer you are made whole.
Now faith is the assurance (title deed, confirmation) of things hoped for (divinely guaranteed), and the evidence of things not seen [the conviction of their reality—faith comprehends as fact what cannot be experienced by the physical senses].-

Hebrews 11:1 AMP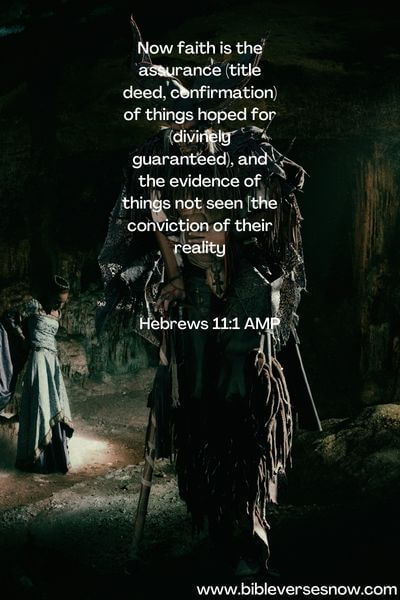 We would have to understand faith as per religious inclination and faith as per trust in God within Christianity. Faith is the evidence of things hoped for but not seen. And without faith, it is absolutely impossible to please the Father. Being faithless is not being sinful. However, what is the use of a loud roar of a lion without strength?
Faith is what drives us within, the very confidence of our religion. Faith is a basic component of our existence, the solid foundation beneath all that makes life worthwhile. Faith is required for things to turn out. The ability to tackle issues requires faith. Every day is God's day, the day you choose to believe is your day– Bishop David oyedepo
Submit yourselves, then, to God. Resist the devil, and he will flee from you.-

James 4:7 NIV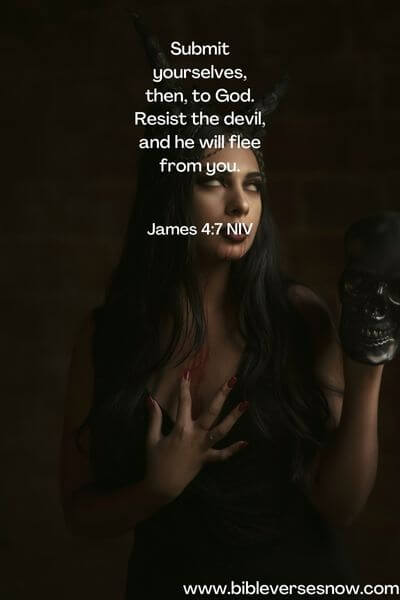 Submitting ourselves to god means loving god and being ready to do His will. When we pray we wait to listen. Hearing God is as important as life itself. Of course, when a soldier gets into the battlefield, he works with the instruction of his commander.
When God speaks the wise listen. Many times, we are too busy even in the place of prayer we are not there. That even when God is speaking we can't hear- Rev Emem Jacob
And when the day of Pentecost was fully come, they were all with one accord in one place.

2 And suddenly there came a sound from heaven as of a rushing mighty wind, and it filled all the house where they were sitting.

3 And there appeared unto them cloven tongues like as of fire, and it sat upon each of them.

4 And they were all filled with the Holy Ghost, and began to speak with other tongues, as the Spirit gave them utterance.-

Acts 2:1 KJV
Baptism is a Christian religious practice that involves immersing them in water to represent purity or regeneration and entrance to the Christian Church.
In several faiths, baptism and name-giving are conducted on young children like those in Catholic churches. Baptism symbolizes that, just as Christ died and was buried, the baptized person is submerged (physically or metaphorically) beneath the water.
It indicates that we are dead to sin and therefore rise to live for Him and later with Him. the bible says when Jesus was getting ready for His ministry, whilst being baptized with water the holy Ghost came on him and baptized Him with fire.
John the Baptist hath already prophesied that there comes One mightier than him whose shoes lace he wouldn't be able to lose. After Jesus's death and ascension, the holy spirit which is the promise of the Father came to be with us. And so when the disciples were gathered in the Upper room, behold, baptism.
Not giving the devil chance is by getting ever connected to God. How do we connect with the father in the secret place? It is through the baptism of the Holy Ghost.
The Devil Will Try to Discourage You Bible Verse.
The devil is a tempter, a liar. Lucifer (popularly referred to as the devil) tempted Jesus after Jesus' 40 days fast. Prophet Habakkuk shows us a good example of the true child of God. No matter what happens to you, do not be discouraged. Continue to praise for it shall pass away too.
Habakuk 3:17-19 KJV
Although the fig tree shall not blossom, neither shall fruit be in the vines; the labour of the olive shall fail, and the fields shall yield no meat; the flock shall be cut off from the fold, and there shall be no herd in the stalls:

18 Yet I will rejoice in the Lord, I will joy in the God of my salvation.

19 The Lord God is my strength, and he will make my feet like hinds' feet, and he will make me to walk upon mine high places. To the chief singer on my stringed instruments.-

Habakuk 3:17-19 KJV
God is the source of all things and from Him were we created "Through Christ who strengtheneth me, I can do all things." Yes, the verse is about Paul learning to deal with both riches and poverty without getting sidetracked from his life's goal.
No matter the present situation or maybe the devil is trying to be fast. that there is light at the end of the tunnel- for joy comes in the morning
Philippians 4:13 KJV
I can do all things through Christ which strengtheneth me.-

Philippians 4:13 KJV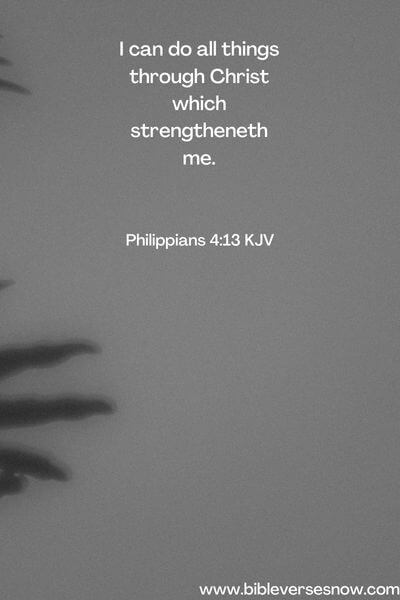 Martin Luther's passionate 16-minute address came to an end with  "When we allow freedom ring when we let it ring from every village and every hamlet, from every state and every city, we will be able to speed up that day when all of God's children, Black men and white men, Jews and Gentiles, Protestants and Catholics, will be able to join hands and sing in the words of the old Negro spiritual, 'Free at last! Free at last! Thank God Almighty, we are free at last!'".
He meant that with God all things are possible. Years later Barack Obama( black) became the first black US president.
How does the devil discourage us? He wearies us that God's Word is a lie. That it is not yes and so. That we can only do some things when Christ strengthens us. That we are not good enough. Meanwhile, God is saying you are beautifully and wonderfully made, and that He hath chosen us.
If God is the creator if he knows who we are, and if we will be rewarded for our actions one day, we may presume he has a plan for us—something we can accomplish. We can't do everything, but we can do everything he wants.
Job 1:11 AMP
But put forth Your hand now and touch (destroy) all that he has, and he will surely curse You to Your face.-

Job 1:11 AMP
Satan's intention was to discourage Job.  That if God would only take away Job's benefits. Satan threatens God, saying, "He will curse you to your face." If Satan can convince Job that he is being punished by God, he may fall into one of two traps.
He may discard his good practices because he believes they are insulting to God. Better yet, from the accuser's perspective, he will grow enraged at God for his unjust punishment and leave God entirely. Even job's wife asked him to deny God. However, his faith was fixed on God. He said 'I will wait until my change comes'. (Job 14:14)
What Does the Bible Say About the Devil?
The devil is a principle of evil independent from God. A created being turned evil (a fallen angel), The devil is that angel (satan) who due to pride fell off his glory and stopped serving in the presence, becoming the opposite of God. he is personified with the name Lucifer.
As Satan is generally regarded as the snake who persuaded Eve to eat the forbidden fruit, he is frequently represented as a serpent.
The devil is recognized in the Bible as "the dragon" and "the ancient serpent" as seen in the Book of Revelation. Beelzebub is the name of a Philistine god (particularly, a kind of Baal, from Ba'al Zebûb, lit. "Lord of Flies"), but it is also employed as a synonym for the devil in the New Testament.
Matthew 4:7 AMP
Jesus said to him, "On the other hand, it is written and forever remains written, 'You shall not test the Lord your God.-

Matthew 4:7 AMP
After Jesus had fasted for forty days and nights. The devil came to tempt Him. It's critical to remember that God never tempts anyone to sin (James 1:13).
It is only the devil. The Bible says he that sins is of the devil. At various times in the Old Testament, Satan had always been the accuser of God's people.
John 13:2 AMP
It was during supper, when the devil had already put [the thought of] betraying Jesus into the heart of Judas Iscariot, Simon's son-

John 13:2 AMP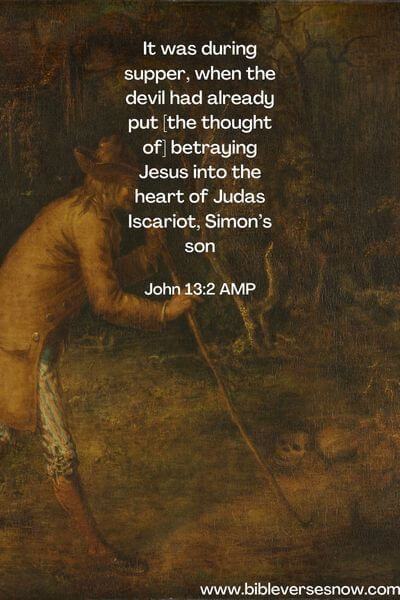 To betray means to lead astray; to deliver to an enemy by treachery. Judas who had decided to be a handy tool of the devil hath to exhibit one of the characteristics of his master- the devil. he betrayed Jesus. His actions fulfilled Jesus's words that you cannot serve two masters.
Genesis 3:5 AMP
 For God knows that on the day you eat from it your eyes will be opened [that is, you will have greater awareness], and you will be like God, knowing [the difference between] good and evil.-

Genesis 3:5 AMP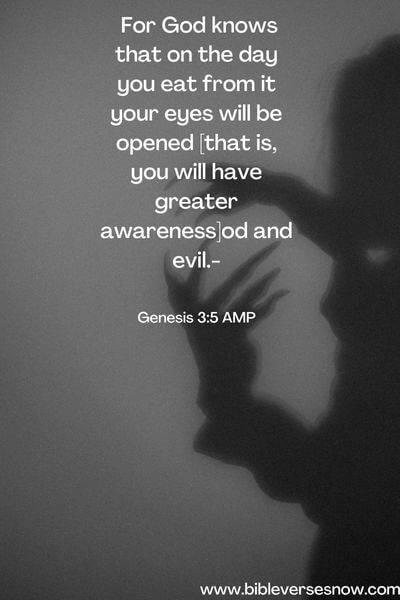 The snake now makes a claim, lying about the effects of eating from the tree and stating that God was aware that if they ate it, their eyes would be opened, and they would know good and evil like himself.
Let us not forget that this was the first lie the woman ever heard. In terms of experience, her thinking was likewise immature at the time. He lied to the woman, and that is how we God had to send Jesus to redeem us from sin into His everlasting light.
Bible Verses About Not Letting The Devil Steal Your Joy.
Turn to God's word when discouragement and other negative thoughts and feelings arise! Recharge your mind and spirit with the truth! When you are disheartened, focus on God and glorify Him in the middle of your difficulties. You will be encouraged, and God will show Himself to you on a regular basis.
2 Corinthians 4:9 KJV
Persecuted, but not forsaken; cast down, but not destroyed;-

2 Corinthians 4:9 KJV
One example is the persecution Paul faced on his missionary journeys. People often did not welcome the gospel of Christ and abused Paul for preaching it.  Despite all that Paul faced in his voyages as a missionary- shipwrecks, snake bites, stoning.
He didn't let the devil steal his joy. However, they were unable to stop him because of God's continued protection and empowerment. The Bible clearly states that the Devil is a thief, and the thief comes to steal, kill, and destroy our joy.
But, we are comforted that Jesus has come so that we might have joy and have it in full. We might be plagued in a series of ways from endemics to pandemics and crime. However, we take consolation in the finished work of Christ.
I Samuel 1:19-20 KJV
And they rose up in the morning early, and worshipped before the Lord, and returned, and came to their house to Ramah: and Elkanah knew Hannah his wife; and the Lord remembered her.

20. Wherefore it came to pass, when the time was come about after Hannah had conceived, that she bare a son, and called his name Samuel, saying, Because I have asked him of the Lord.-

I Samuel 1:19-20 KJV
Hannah was a God-fearing woman who longed to be a mother. She was one of two women married to Elkanah. She was dealing with infertility. In Biblical times and up until now barrenness was and is a source of embarrassment and shame.
Elkanah married her, and he had a second wife who could have children. Elkanah was indifferent to Hannah's infertility. The Bible makes it obvious how much he loved her and how much suffering she underwent because of the other wife.
After years of praying with the Lord, God rewarded her with grace and the answer she had hoped for. She became pregnant and gave birth to Samuel- a great prophet in the land who anointed Saul and David as kings.
Job 14:14 KJV
If a man die, shall he live again? all the days of my appointed time will I wait, till my change come-

Job 14:14 KJV
Job, is an affluent man with exceptional piety.  Despite the awful loss of his property, children, and, eventually, his own health, Job refuses to blaspheme God. Even when his wife asked him to deny God.
From paul to Hannah and to Job, one thing we discover is that these people did not let the devil steal their joy. They endured, and as the bible says there remaineth a rest therefore for the people of God. They received their rest in God.