Bible verses about gifts from God; The talents of God begin to show up in our life the moment we are born. A special sort of love that is felt right away and endures forever is given to us as a link with our Creator. By using our gifts as a special expression of God's love, we are able to create heaven on earth thanks to our connection to this great Source. I'll explain to you in this article with bible verses how significant these gifts are and how they might strengthen your relationship with God.
BIBLE VERSES ABOUT GIFTS FROM GOD
God's gifts are great to receive. God's gifts help us to remember who we are and why we are here. Gifts from God serve as a reminder that even when it doesn't feel like it or seems impossible, the Lord is always with us. We are inspired by God's gifts, which also provide us with dreams and visions as well as hope and solace during difficult or sad times. Gifts from God serve as a reminder of how deeply we should love one another not just3 because we are dependent on one another, but also because we enjoy one another's companionship and support.
James 1:17
Every good gift and every perfect gift is from above and cometh down from the Father of lights, with whom is no variableness, neither shadow of turning.-
James exhorts followers of Christ to remind themselves of the following: "God gave you everything excellent in your life. All the good you already have and desire comes from him. When our circumstances change, God remains the same. When our hardships began, He didn't suddenly turn into a horrible God. All the good in our life still comes from Him; He never changes.
1 Peter 4:11 KJV
If any man speaks, let him speak as the oracles of God; if any man minister, let him do it as of the ability which God giveth: that God in all things may be glorified through Jesus Christ, to whom be praise and dominion forever and ever. Amen.-

The passage 1 Peter 4:11 encourages Christians to adopt Jesus' perspective on suffering. It should be viewed as a necessary component of achieving God's plan for our lives on earth. People who willingly suffer for Christ change their life's trajectory away from mind-numbing sins.
Romans 6:23 KJV
For the wages of sin is death; but the gift of God is eternal life through Jesus Christ our Lord.-
Paul claims that God offers eternal life as a free gift via Christ, our Lord. When we put our faith in Christ, God accepts the price of Christ's death for our sins and credits us with Christ's blameless life. As a result, He gives us the gift of eternal life with Him, where we will share in His splendor.
1 Corinthians 12:9 KJV
To another faith by the same Spirit; to another the gifts of healing by the same Spirit.-
Every believer receives one or more spiritual gifts from the Spirit for the benefit of others and to be applied in church service. Nobody earns or obtains gifts on their own. The fact that someone has one or the other gift does not elevate them above other Christians because the same Spirit distributes them freely as He deems fit.
Ephesians 2:8 KJV
For by grace are ye saved through faith; and that not of yourselves: it is the gift of God.-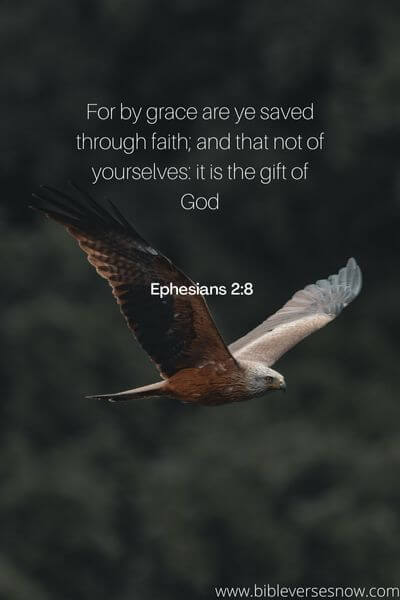 Paul does not want anyone to believe that their salvation depends on anything they have ever done or will ever do. No activity is sufficient to bring about our own redemption. The sins we have committed cannot be atoned for by good works. A gift is salvation. It is also a gift that can only be given by God. We cannot save someone else, no matter how much we would like to. Eternal life is a gift that only God can give. Instead, we are obligated to communicate the gospel, live it, and pray for others' salvation while also encouraging others to mature in God's favor. Salvation must come from the Lord, and He does so at His discretion.
BIBLE VERSES ABOUT GIFTS AND TALENTS
You undoubtedly think of the various people in your life when you consider your talents and gifts. Gifts provide you with the opportunity to appreciate and honor the gifts of others. Gifts and talents are both very useful authorities. While gifts are considered to be more individualized items given to us by others that help us succeed, talents are thought of as our innate abilities.
1 Peter 4:10-11 KJV
10 As every man hath received the gift, even so minister the same one to another, as good stewards of the manifold grace of God.

11 If any man speak, let him speak as the oracles of God; if any man minister, let him do it as of the ability which God giveth: that God in all things may be glorified through Jesus Christ, to whom be praise and dominion for ever and ever. Amen.-
By using the spiritual abilities that God has given them, Peter exhorts his readers and us to think clearly and to love fully. As God provides the means and opportunities, they are to use their gifts, and they are to do so in order to glorify God.
James 1:17
Every good gift and every perfect gift is from above, and cometh down from the Father of lights, with whom is no variableness, neither shadow of turning.-
God is the source of all good things. More good exists than most people are aware of. James has been talking about how even challenges are excellent and perfect gifts. Everything we possess is an unmerited gift from God. Every gift from God is a bonus after adoption and salvation.
2 Timothy 1:6 KJV
Wherefore I put thee in remembrance that thou stir up the gift of God, which is in thee by the putting on of my hands.-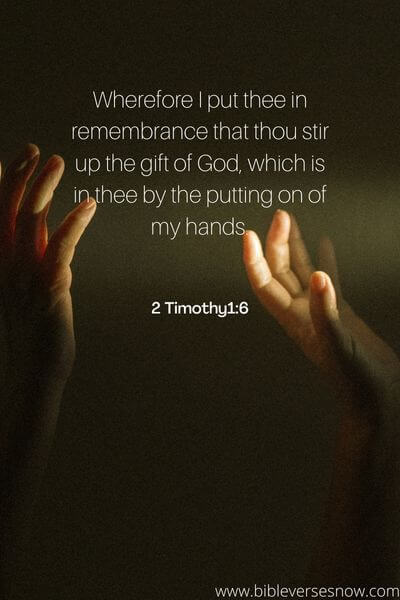 In the passage, Timothy is being prayed for, as Paul points out, and he comes from a devout family. Paul also reassures Timothy that they both serve the same God, who has given them a spirit of "strength and love and self-control," and that they are both in his service.
1 Corinthians 12:4-5
4 Now there are diversities of gifts, but the same Spirit.

5 And there are differences of administrations, but the same Lord.-
Every believer receives one or more spiritual gifts from the Spirit to be used for the betterment of the community and in the service of the church. No one earns or gets their own gifts. The same Spirit distributes them freely to anyone He pleases, so having one or the other gift does not elevate one Christian above another.
Finding your talent is similar to searching for the ideal pair of jeans; the "perfect" pair will always feel exactly right. But keep in mind that you are special and that you might not like the style that everyone else does. Never give up! Experiment! You could find that what works best for you also benefits your family and friends the most.
Bible verses about gifts from God KJV
I firmly think that every person on earth is endowed with God's love and the ideal plan. The ability to be a child of our heavenly Father, who is the only perfect creature who has ever existed, has been given to each and every one of us. He cares about us so greatly that he sent his son, Jesus Christ, to this place to take our place and die. He is imaginative, strong, and intelligent enough to foresee our needs before we even ask them.
Romans 11:29
For the gifts and calling of God are without repentance.-
Giving and receiving a gift from God are both joyful experiences. He has indeed blessed us with His Gifts. It is our responsibility to give back by using God's gifts to further our talents and bring happiness, joy, and hope into the lives of others.
Bible verses about receiving gifts
It's enjoyable and fun to give gifts. Consider why individuals do it for a time if you don't receive many. Gratitude is necessary for this situation. You don't have to go out and buy expensive gifts for the holidays, but you can still show someone special how much you care during this season of giving.
1 Peter 4:10
As every man hath received the gift, even so minister the same one to another, as good stewards of the manifold grace of God.-
As faithful stewards of God's grace in all of its manifestations, each of you should use whatever gift you have been given to serve others (1 Peter 4:10). Early church members could live their lives in a way that would both personally and collectively exalt God as a result of this assertion.
Ephesians 4:7
But unto every one of us is given grace according to the measure of the gift of Christ.-
Every Christian is a member of the one, big family of followers of Jesus. God simultaneously bestows many talents on individuals in order for them to fill the various roles required to carry out His goals on earth. Each Christian can delight in our oneness and concentrate on serving God to the best of their abilities rather than worrying about any gifts they might lack.
Act 20:35
I have shewed you all things, how that so laboring ye ought to support the weak, and to remember the words of the Lord Jesus, how he said, It is more blessed to give than to receive.-
Why then do we find getting things to be satisfying? Here are just a few of the many benefits of receiving a great physical product in the mail. You can hold it in your hands. In the digital world, we live in, everything takes place virtually. Receiving something physical in today's society is unusual, and it almost always comes as a surprise.
Child a gift from God Bible verses
God gave us children as a gift. It is a significant holiday celebrated alongside Christmas. Spending on children will help them grow up wise and healthy. They should put them through such discipline and education in order to educate them on how to do things correctly. Because all parents want the same thing for their children love and care children should be loved and respected by their parents in the same way that God does.
Psalm 127:3-4
3 Lo, children are a heritage of the LORD: and the fruit of the womb is his reward.

4 As arrows are in the hand of a mighty man; so are children of the youth.-
The Lord grants parents the priceless possession of children, just as a father leaves an inheritance to his offspring. Children should not be viewed as a burden but as a blessing. The unborn child is a gift from the Lord, not just a piece of waste to be discarded.
Jeremiah 1:5
Before I formed thee in the belly I knew thee; and before thou camest forth out of the womb I sanctified thee, and I ordained thee a prophet unto the nations.-
According to Jeremiah 1:51, the Lord had definite plans for everyone's life even before we were conceived in our mother's womb. This text is usually understood by scholars to indicate that God foreknew our future.
The Bible contains many texts that say that children are a gift from God. The message is clear: God gave us these blessings, and we should appreciate them, whether verses directly mention children (Psalm 127:3-5) or just life and creation (Genesis 1:22-31). We must never forget that our children are special because we are all created in God's likeness. We owe them for being here, and it is our responsibility to guarantee that they develop into honorable people who will benefit our society.
EVERY DAY IS A GIFT BIBLE VERSES
It's up to you to make the most of each day as a gift. Tell yourself you are grateful for everything positive in your life as often as you can. It can be challenging to express gratitude when things are difficult, but try doing so while grinning and considering how you could make your life better.
Psalm 118:24
This is the day which the LORD hath made; we will rejoice and be glad in it.-
The sun, moon, and stars were created by Jesus, the eternal creator. We do owe him our gratitude. He is more brilliant than the sun in the morning. But even while we celebrate every new day, we do so not just because it gives us another chance to live, love, and declare God's goodness, but also because of the amazing salvation that Jesus made possible.
Matthew 6:34
Take therefore no thought for the morrow: for the morrow shall take thought for the things of itself. Sufficient unto the day is the evil thereof.-
Jesus advises those who are really destitute to not worry about food or clothing every day. God provides food for the birds and lovely clothing for the lilies, but His children are far more precious than the birds. Anxious feelings cannot lengthen a person's life by even an hour. Jesus instructs His people to put their faith in God to meet their true needs instead.
Hebrews 10:25
Not forsaking the assembling of ourselves together, as the manner of some is; but exhorting one another: and so much the more, as ye see the day approaching.-
You are given today as a gift. Be wise with it. There are only lessons to be learned from blunders in life. Live in the now, reflect on the past, and look to the future. The window will open if a door closes. It will all work out if it is meant to.
The stairway might not always be simple to climb, but one thing is always certain: Until you take the first step, it won't turn into an escalator. There is hope at the end of the tunnel, not an approaching train.
JESUS IS A GIFT FROM GOD BIBLE VERSES
A gift from God is Jesus. One of the most lovely and important truths about the love affair between Jesus and God is that. Jesus' heart beats in the same manner as your heart does when you breathe, when your heart breaks, when you cry, and when you are glad because tears are a sign of love.
2 Corinthians 9:15
Thanks be unto God for his unspeakable gift.-
The chance to contribute and the positive effects that follow generous giving ultimately offer individuals who give in obedience to Christ a great sense of significance and satisfaction in the scripture above.
Isaiah 9:6
For unto us a child is born, unto us a son is given: and the government shall be upon his shoulder: and his name shall be called Wonderful, Counsellor, The mighty God, The everlasting Father, The Prince of Peace.-
God rewards His servant by giving him a child for you in Isaiah 9. He declares that via this child, lives will be produced, righteousness will abound, peace will spread, and the Lord's wisdom will flow out of Him in profusion.
Act 4:12
Neither is there salvation in any other: for there is none other name under heaven given among men, whereby we must be saved.-
The only road to heaven is via Jesus Christ. You can learn a lot about Jesus and how he can deliver you from hell by reading the Bible and attending church. It's eye-opening to realize that Jesus went to the cross for me and was raised from the dead.
In Jesus Christ, I have received a new life that replaces my previous one. He claimed that if we look for him, we shall find him (Jeremiah 29:13). Read the Bible every day, please.
Spiritual Gifts from God
In his letter to the brethren at Corinth, Apostle Paul dedicated the first 10 verses of the book of 1 Corinthians chapter 12 to address the topic of spiritual gifts. He emphasized the fact that while there are different gifts, the spirit remains the same.
Exhorting the Corinthians, Paul enumerates the various spiritual gifts to include spirit of wisdom, spirit of understanding, spirit of prophecy, tongues, spirit of healing, spirit of miracle, interpretation of tongues. Let's read from the concerned portions
1 Corinthians 12:28
And God hath set some in the church, first apostles, secondarily prophets, thirdly teachers, after that miracles, then gifts of healings, helps, governments, diversities of tongues.-
The Bible is replete with divinely given spiritual gifts. Spiritual gifts are innate in all of us, yet they can be improved and developed over the course of a lifetime. God has endowed each of us with the capacity to communicate our testimonies. We should spread it to others most effectively through prayer and small-group sessions.
WHAT ARE THE SEVEN 7 MAJOR GIFTS FROM GOD
The seven major gifts of the spirit in the Bible are listed in the book of 1 Corinthians chapter 12 from verse 8 to 10 to include: Wisdom, knowledge, faith, working of miracle, prophecy, discerning spirits, tongues and Interpretation of tongues.
James 1:5
If any of you lack wisdom, let him ask of God, that giveth to all men liberally, and upbraideth not; and it shall be given him.-
Other major gifts of God in the Bible could be seen in the letter of Apostle Paul addressed to the Romans. Thus, ministry, teaching, exhortation, giving, compassion, are among the major spiritual gifts recorded in the Bible.
Romans 12:6-7
6 Having then gifts differing according to the grace that is given to us, whether prophecy, let us prophesy according to the proportion of faith;

7 Or ministry, let us wait on our ministering: or he that teacheth, on teaching.-
The Bible is very clear about how much God loves us. According to John 3:16, "For God so loved the world that he gave his only Son, that whomever believes in him should not perish, but have everlasting life.
We may be confident that when it comes to divine gifts, we have only begun to experience the seven main ones. Now is the time to humble ourselves as we accept His abundant gifts and wrap our spiritual thinking around them.