In the face of tumultuous storms, raging hurricanes, and devastating natural disasters, humanity often finds itself humbled by the uncontrollable forces of nature. It is during these challenging times that our hearts and minds turn to a higher power, seeking solace, protection, and guidance.
The act of prayer for bad weather unites individuals, communities, and nations, transcending boundaries and beliefs as we collectively lift our voices in faith and trust.
Join us as we delve into the realm of prayer for bad weather, exploring the profound impact it can have on our spirits, the reassurance it provides in times of uncertainty, and the strength it instills within us to face the storms of life with unwavering hope and resilience.
Prayer For The Bad Weather
Dear Heavenly Father, we come before You in humble prayer as we face the challenges and uncertainties brought by bad weather. We recognize Your sovereignty over all creation, and we seek Your guidance and protection during these turbulent times.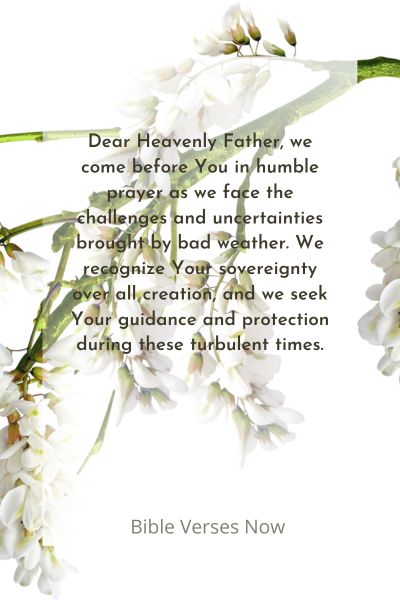 Lord, we ask for Your mercy and grace to be upon us. Protect us from the destructive forces of nature and keep us safe from harm. We pray for Your divine intervention to calm the storms, subside the winds, and bring relief from the harsh conditions.
In the midst of the storm, may we remember Your promise that You will never leave us nor forsake us. Help us to hold fast to our faith and trust in Your goodness, even when circumstances seem overwhelming.
We also pray for the brave men and women working in emergency response and relief efforts. Grant them wisdom, skill, and protection as they serve others in times of crisis.
Bless their endeavors and multiply their efforts to bring aid and comfort to those in need. We offer this prayer in the name of Jesus, who calms the storms and brings peace. Amen.
1. Prayer for Protection during Storms and Hurricanes
Dear Heavenly Father, I humbly come before You, recognizing Your power over all creation. As storms and hurricanes rage, I seek Your divine protection for myself, my loved ones, and all those in their path. Surround us with Your sheltering presence and keep us safe from harm. Guide us to find refuge in Your arms and grant us peace amidst the chaos. In Jesus' name, I pray. Amen.
"He made the storm be still, and the waves of the sea were hushed."
2. Seeking Divine Guidance in Times of Severe Weather
Gracious Lord, in the face of severe weather, I turn to You for guidance and wisdom. Help me discern the right actions to take to keep myself and others safe. Illuminate my path through the storm, leading me away from danger and towards safety. May Your voice be clear amidst the winds, reassuring me of Your presence. I trust in Your divine guidance and place my faith in You. In Jesus' name, I pray. Amen.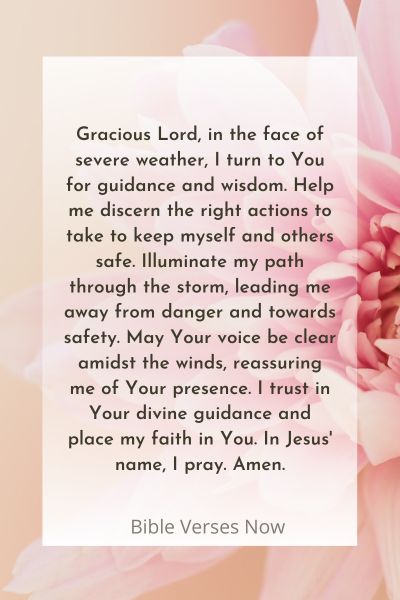 "Trust in the LORD with all your heart, and do not lean on your own understanding. In all your ways acknowledge him, and he will make straight your paths."
3. Praying for Safety and Shelter during Inclement Weather
Heavenly Father, as the skies darken and the weather turns fierce, I seek Your protection and provision for safety and shelter. Surround those exposed to inclement weather with Your loving care. Provide them with refuge from the storm, a safe haven where they can find solace and protection. Extend Your helping hand to those in need and grant them the comfort of knowing You are near. In Jesus' name, I pray. Amen.
"For you have been my refuge, a strong tower against the enemy."
4. Finding Strength and Calmness in the Midst of Storms
Dear Lord, when life's storms rage around me, I pray for strength and calmness to face them. Grant me the inner fortitude to stand firm, unwavering in my faith, knowing that You are with me. Help me find peace in the midst of chaos, knowing that Your power is greater than any storm I may encounter. May Your presence bring serenity to my heart and mind. In Jesus' name, I pray. Amen.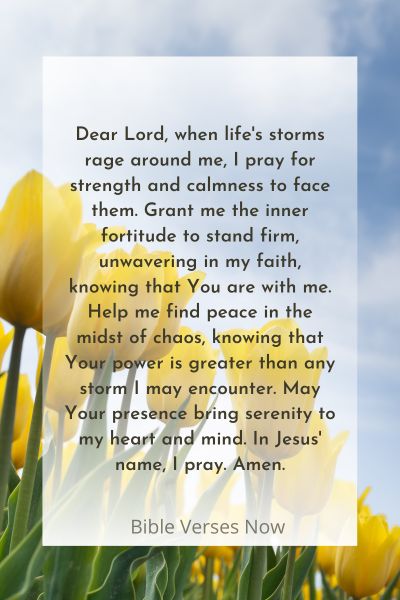 "Be still, and know that I am God."
5. A Prayer for the Restoration of Calm after a Natural Disaster
Heavenly Father, in the aftermath of natural disasters, we come before You with heavy hearts. We ask for Your mercy and grace to restore calm and peace to the affected areas. Bring comfort to those who have lost loved ones, homes, and livelihoods. Provide strength and resilience to communities as they rebuild. May Your healing touch bring hope and renewal to all those affected. In Jesus' name, we pray. Amen.
"Fear not, for I am with you; be not dismayed, for I am your God; I will strengthen you, I will help you, I will uphold you with my righteous right hand."
6. Seeking Comfort and Peace during Challenging Weather Conditions
Dear Lord, as challenging weather conditions, surround us, we seek Your comforting presence. Wrap Your arms of love around us, providing solace to those feeling anxious and afraid. Grant us an inner peace that surpasses understanding, reminding us that You are in control. Help us find strength in Your promises and hold onto the hope that carries us through the storms of life. In Jesus' name, we pray. Amen.
John 14:27
"Peace I leave with you; the peace I give to you. Not as the world gives do I give to you. Let not your hearts be troubled, neither let them be afraid."
7. Praying for the Well-being of Those Affected by Bad Weather
Loving Father, we lift up to You all those who have been affected by bad weather. Pour out Your mercy and compassion upon them, providing comfort to the hurting and strength to the weary. Bring healing to the injured, restoration to the broken, and provision to those in need. May Your love and care be evident in their lives, surrounding them with support and encouragement. In Jesus' name, we pray. Amen.
Psalm 34:18
"The LORD is near to the brokenhearted and saves the crushed in spirit."
8. An Appeal for God's Mercy and Protection in Times of Adverse Weather
Merciful God, as adverse weather threatens, we humbly come before You, seeking Your mercy and protection. Have compassion on us, O Lord, and spare us from harm. Shield us from the destructive forces of nature and grant us safety in Your loving arms. May Your divine intervention bring peace and deliverance from the impending danger. In Jesus' name, we pray. Amen.
Psalm 57:1
"Be merciful to me, O God, be merciful to me, for in you my soul takes refuge; in the shadow of your wings I will take refuge, till the storms of destruction pass by."
9. Finding Hope and Resilience in the Face of Storms and Tornadoes
Heavenly Father, in the face of storms and tornadoes, we cling to the hope and resilience found in You. Strengthen our faith and grant us the courage to stand firm in the midst of adversity. Help us trust in Your unfailing love, knowing that even in the darkest moments, You are our refuge and strength. May we emerge from the storms stronger and more determined to live for You. In Jesus' name, we pray. Amen.
Isaiah 40:31
"But they who wait for the LORD shall renew their strength; they shall mount up with wings like eagles; they shall run and not be weary; they shall walk and not faint."
10. A Prayer for Quick Recovery and Healing after a Devastating Weather Event
Gracious God, in the aftermath of a devastating weather event, we come before You, seeking Your healing touch and restoration. Bring swift recovery to those who have suffered loss and devastation. Provide them with the necessary resources, support, and strength to rebuild their lives. May Your grace abound, bringing comfort and hope to all those affected. In Jesus' name, we pray. Amen.
Joel 2:25
"I will restore to you the years that the swarming locust has eaten."
11. Praying for the Strength to Rebuild after Severe Weather Damage
Dear Lord, as we face the aftermath of severe weather damage, we pray for strength and perseverance to rebuild what has been lost. Grant us resilience and determination to overcome obstacles and rebuild our lives, homes, and communities. Provide us with wisdom and guidance as we navigate the path of restoration. May Your unfailing love and grace sustain us through the rebuilding process. In Jesus' name, we pray. Amen.
Isaiah 58:12
"And your ancient ruins shall be rebuilt; you shall raise up the foundations of many generations; you shall be called the repairer of the breach, the restorer of streets to dwell in."
12. Seeking God's Guidance for Emergency Response Teams during Bad Weather
Heavenly Father, we lift up in prayer all the emergency response teams working tirelessly during bad weather conditions. Grant them wisdom, discernment, and protection as they rescue and assist those in need. Surround them with Your divine presence, guiding their steps and giving them strength. Provide them with the resources necessary to carry out their duties effectively. In Jesus' name, we pray. Amen.
Psalm 25:5
"Lead me in your truth and teach me, for you are the God of my salvation; for you, I wait all the day long."
13. A Prayer for Unity and Support among Communities Affected by Extreme Weather
Lord, in times of extreme weather, we pray for unity and support among communities affected by these conditions. Unite hearts and minds, fostering a spirit of compassion and cooperation. Help us come together to offer assistance, comfort, and encouragement to one another. May Your love shine through us as we reach out and lend a helping hand. In Jesus' name, we pray. Amen.
Galatians 6:2
"Bear one another's burdens, and so fulfill the law of Christ."
14. Praying for the Comfort and Peace of Mind for Those Fearing Bad Weather
Gracious God, we lift up to You all those who fear bad weather and its potential dangers. Grant them comfort and peace of mind, knowing that You are their ultimate protector. Calm their anxious hearts and replace their fear with trust in Your loving care. Surround them with Your peace that surpasses all understanding. In Jesus' name, we pray. Amen.
Philippians 4:7
"And the peace of God, which surpasses all understanding, will guard your hearts and your minds in Christ Jesus."
15. An Expression of Gratitude for God's Protection during Dangerous Weather Conditions
Heavenly Father, we come before You with grateful hearts, acknowledging Your faithful protection during dangerous weather conditions. Thank You for guarding us from harm and keeping us safe. We praise You for Your lovingkindness and faithfulness that never waver. Help us never to take Your protection for granted but to always be thankful for Your watchful care. In Jesus' name, we pray. Amen.
Psalm 121:7-8
"The LORD will keep you from all evil; he will keep your life. The LORD will keep your going out and your coming in from this time forth and forevermore."
Conclusion
In times of bad weather, our prayers become a lifeline connecting us to the unfailing love and protection of our Heavenly Father. Through prayer, we find solace, guidance, and strength to navigate the storms that rage around us. We seek divine intervention, not only for our own safety but also for the well-being of those affected by adverse weather conditions.
Our prayers unite us in a common purpose, fostering unity, compassion, and support among communities facing these challenges together. As we offer our heartfelt prayers, we also express gratitude for God's unwavering presence and protection during dangerous weather conditions. In the midst of uncertainty, our prayers serve as a reminder of the power of faith and the comfort found in knowing that we are never alone.
Let us continue to lift our voices in prayer, seeking God's grace, mercy, and restoration in times of bad weather, and trusting in His sovereignty to bring calmness, healing, and renewal to our lives and our world.