Thursday Blessings is a way of expressing gratitude and invoking blessings upon oneself and others on Thursdays. The idea behind Thursday's gifts is to start the day or week with a positive and grateful attitude, acknowledging the goodness and mercy of God.
Some people may recite specific prayers or scriptures on Thursdays Others may express their gratitude for the blessings they have received and ask for more benefits in the days ahead.
Thursday blessings can also involve reaching out to others and offering encouragement and support. This can be done through acts of kindness, such as sending a thoughtful message, giving a small gift, or offering a helping hand to someone in need.
Thursday Blessings Bible Verse
Beloved, I wish above all things that thou mayest prosper and be in health, even as thy soul prospereth.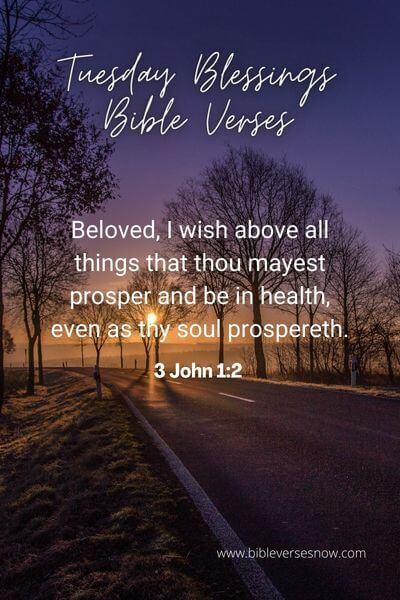 And he led them out as far as to Bethany, and he lifted up his hands, and blessed them. And it came to pass, while he blessed them, he was parted from them, and carried up into heaven.
Commit thy works unto the Lord, and thy thoughts shall be established.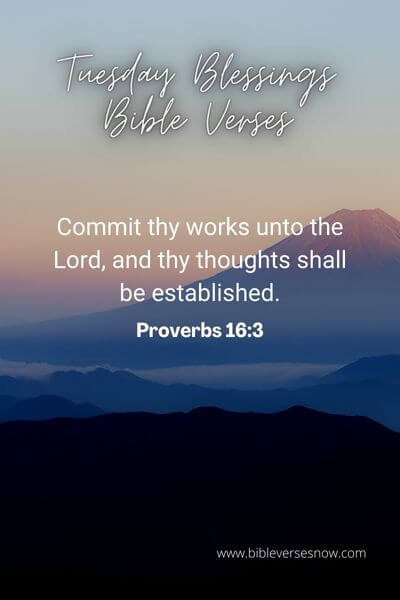 Bring ye all the tithes into the storehouse, that there may be meat in mine house, and prove me now herewith, saith the Lord of hosts, if I will not open you the windows of heaven, and pour you out a blessing, that there shall not be room enough to receive it.
That thy way may be known upon earth, thy saving health among all nations.
Blessed is the man that trusteth in the Lord, and whose hope the Lord is. For he shall be as a tree planted by the waters, and that spreadeth out her roots by the river, and shall not see when heat cometh, but her leaf shall be green; and shall not be careful in the year of drought, neither shall cease from yielding fruit.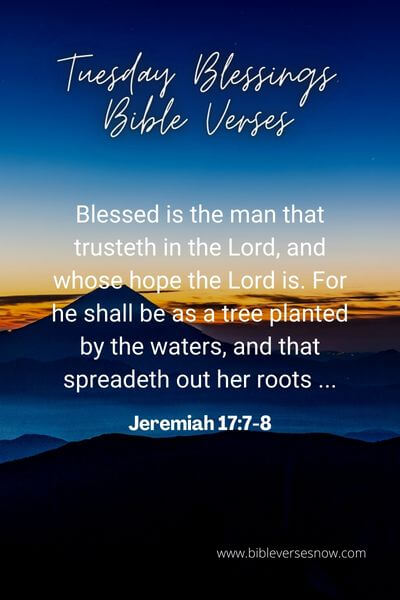 Now the God of peace, that brought again from the dead our Lord Jesus, that great shepherd of the sheep, through the blood of the everlasting covenant, Make you perfect in every good work to do his will, working in you that which is wellpleasing in his sight, through Jesus Christ; to whom be glory for ever and ever. Amen.
Let Israel rejoice in him that made him: let the children of Zion be joyful in their King.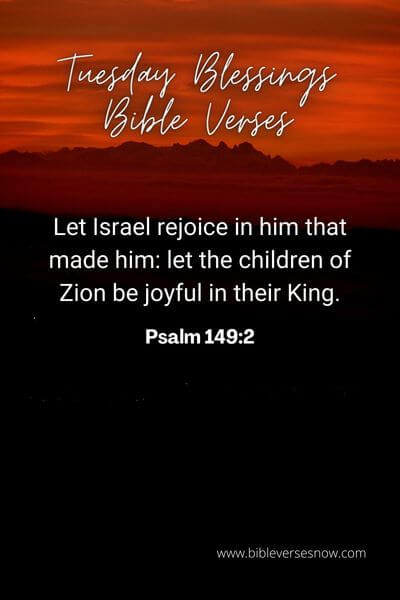 Every good gift and every perfect gift is from above, and cometh down from the Father of lights, with whom is no variableness, neither shadow of turning.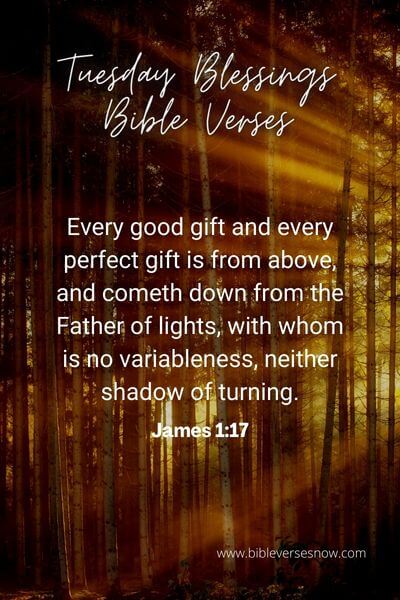 O taste and see that the Lord is good: blessed is the man that trusteth in him.
11. Proverbs 16:20
He that handleth a matter wisely shall find good: and whoso trusteth in the Lord, happy is he.
12. 1 Peter 3:9
Not rendering evil for evil, or railing for railing: but contrariwise blessing; knowing that ye are thereunto called, that ye should inherit a blessing.
13. Luke 6:38
Give, and it shall be given unto you; good measure, pressed down, and shaken together, and running over, shall men give into your bosom. For with the same measure that ye mete withal it shall be measured to you again.
14. Luke 6:45
A good man out of the good treasure of his heart bringeth forth that which is good; and an evil man out of the evil treasure of his heart bringeth forth that which is evil: for of the abundance of the heart his mouth speaketh.
15. Proverbs 16:7
When a man's ways please the Lord, he maketh even his enemies to be at peace with him.
16. Mark 10:29-30
And Jesus answered and said, Verily I say unto you, There is no man that hath left house, or brethren, or sisters, or father, or mother, or wife, or children, or lands, for my sake, and the gospel's, But he shall receive an hundredfold now in this time, houses, and brethren, and sisters, and mothers, and children, and lands, with persecutions; and in the world to come eternal life.
17. 2 Corinthians 9:8
And God is able to make all grace abound toward you; that ye, always having all sufficiency in all things, may abound to every good work.
18. Psalm 119:2
Blessed are they that keep his testimonies, and that seek him with the whole heart.
19. Philippians 4:19
But my God shall supply all your need according to his riches in glory by Christ Jesus.
20. Numbers 6:24-26
The Lord bless thee, and keep thee: The Lord make his face shine upon thee, and be gracious unto thee: The Lord lift up his countenance upon thee, and give thee peace.
Good morning Thursday Blessings With Bible Verse
21. Psalm 103:1
Bless the Lord, O my soul, and all that is within me, bless his holy name.
22. Psalm 28:7
The Lord is my strength and my shield; in him my heart trusts.
23. Psalms 5:3
My voice shalt thou hear in the morning, O LORD; in the morning will I direct [my prayer] unto thee, and will look up.
24. Isaiah 26:3
You will keep in perfect peace him whose mind is steadfast, because he trusts in You.
25. James 1:5
If any of you lacks wisdom, he should ask God, who gives generously to all without finding fault, and it will be given to him.
Bible verse positive Thursday blessings
26. Romans 15:13
May the God of hope fill you with all joy and peace as you trust in him, so that you may overflow with hope by the power of the Holy Spirit.
27. Numbers 6:24-26
The Lord bless you and keep you; the Lord make his face shine on you and be gracious to you; the Lord turn his face toward you and give you peace.
28. Colossians 3:15
Let the peace of Christ rule in your hearts, since as members of one body you were called to peace. And be thankful.
29. Psalm 28:7
The Lord is my strength and my shield; my heart trusts in him, and he helps me. My heart leaps for joy, and with my song I praise him.
30. 2 Corinthians 13:14
May the grace of the Lord Jesus Christ, and the love of God, and the fellowship of the Holy Spirit be with you all.
Thursday Blessings Bible quotes.
May your Thursday be as sweet as yours, and may God's blessings fill your heart with peace and joy."
"May your Thursday be filled with moments of joy, laughter, and love, and may you feel God's presence in every moment."
"May God's love and blessings shine upon you this Thursday and always, and may you feel his guidance and protection in all that you do."
"On this Thursday, may you be filled with the strength and courage to overcome any obstacle, and may you be blessed with abundance and prosperity."
"May your Thursday be a day of blessings and miracles, and may God's grace and favor be upon you always."
"May your Thursday be a day of renewal and growth, and may you be blessed with new opportunities and open doors."
"May God's blessings pour down upon you like rain, and may you be filled with gratitude and joy on this beautiful Thursday."
Thursday Prayer Wishes
Dear Lord, as we begin this new day and week, we come to you with grateful hearts. We thank you for the blessings you have bestowed upon us and the opportunity to experience another day of life.
We pray that you guide and strengthen us as we go through the day, giving us the wisdom and discernment to make wise decisions and be a light in this world. We ask that you provide us with the resources to accomplish our goals and help others in need.
Lord, we also ask that you bless our loved ones, friends, and those struggling. May they feel your love and presence in their lives and experience the peace that only you can give.
We pray in the name of Jesus, our Lord and Savior. Amen.
Frequently asked questions on Thursday blessings bible verse