Holy Tuesday is a term used in the Christian tradition to describe the Tuesday of Holy Week when the Pharisees and Sadducees over various subjects challenged Jesus.
Tuesday blessings include prayers, quotes, and affirmations that inspire, motivate, and uplift people. Some common themes of Tuesday's blessings include gratitude, positivity, hope, and faith.
Tuesday blessings are expressions of good wishes, prayers, and positive thoughts for a person on a Tuesday. They aim to inspire, motivate, uplift, and encourage people to have a productive, joyful, and peaceful day while strengthening their faith and spirituality.
Tuesday Blessings Bible Verses
Fear thou not; for I am with thee: be not dismayed; for I am thy God: I will strengthen thee; yea, I will help thee; yea, I will uphold thee with the right hand of my righteousness
Now the God of peace, that brought again from the dead our Lord Jesus, that great shepherd of the sheep, through the blood of the everlasting covenant,Make you perfect in every good work to do his will, working in you that which is wellpleasing in his sight, through Jesus Christ; to whom be glory for ever and ever. Amen.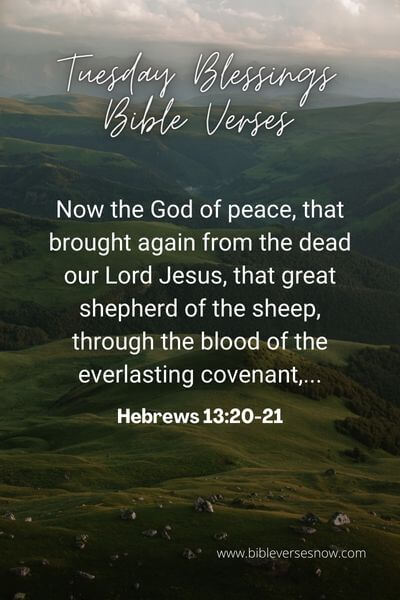 Every good gift and every perfect gift is from above, and cometh down from the Father of lights, with whom is no variableness, neither shadow of turning.
For it is God which worketh in you both to will and to do of his good pleasure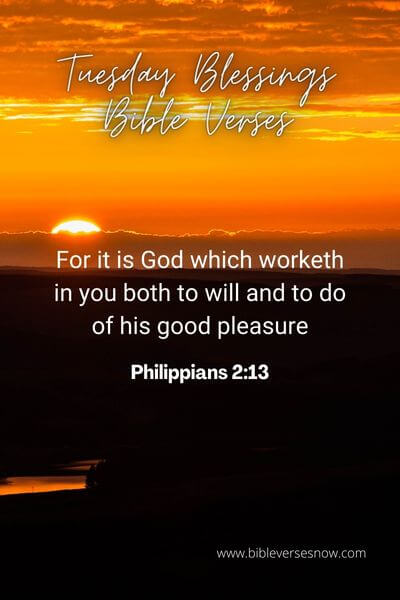 Blessed is the man that trusteth in the Lord, and whose hope the Lord is.For he shall be as a tree planted by the waters, and that spreadeth out her roots by the river, and shall not see when heat cometh, but her leaf shall be green; and shall not be careful in the year of drought, neither shall cease from yielding fruit
And God is able to make all grace abound toward you; that ye, always having all sufficiency in all things, may abound to every good work.
In that I command thee this day to love the Lord thy God, to walk in his ways, and to keep his commandments and his statutes and his judgments, that thou mayest live and multiply: and the Lord thy God shall bless thee in the land whither thou goest to possess it
The Lord bless thee, and keep thee:The Lord make his face shine upon thee, and be gracious unto thee:The Lord lift up his countenance upon thee, and give thee peace.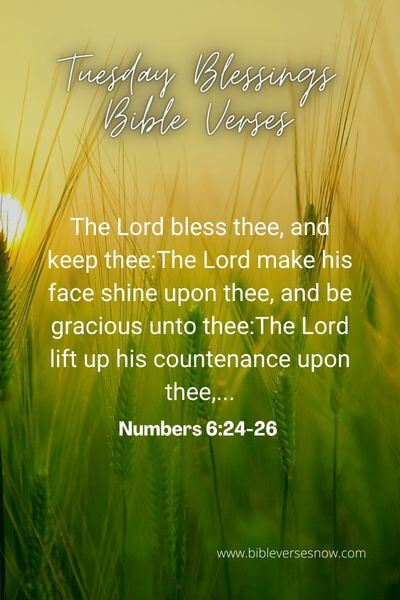 Bring ye all the tithes into the storehouse, that there may be meat in mine house, and prove me now herewith, saith the Lord of hosts, if I will not open you the windows of heaven, and pour you out a blessing, that there shall not be room enough to receive it
The grace of our Lord Jesus Christ be with you all. Amen"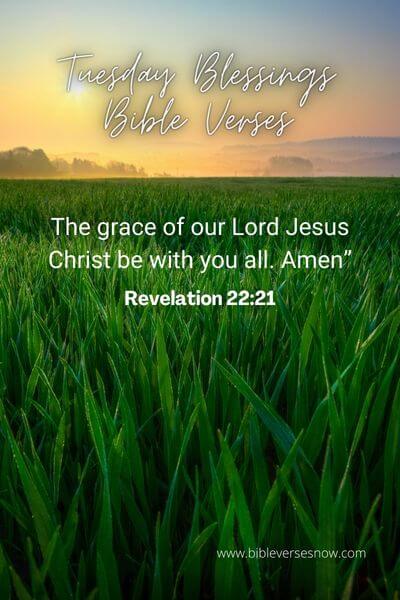 11. James 1:25
But whoso looketh into the perfect law of liberty, and continueth therein, he being not a forgetful hearer, but a doer of the work, this man shall be blessed in his deed
12. Habakkuk 3:19
The Lord God is my strength, and he will make my feet like hinds' feet, and he will make me to walk upon mine high places. To the chief singer on my stringed instruments
13. 1 Corinthians 9:8
Say I these things as a man? or saith not the law the same also?
14. Jeremiah 17:7-8
Blessed is the man that trusteth in the Lord, and whose hope the Lord is.For he shall be as a tree planted by the waters, and that spreadeth out her roots by the river, and shall not see when heat cometh, but her leaf shall be green; and shall not be careful in the year of drought, neither shall cease from yielding fruit
15. John 20:29
Jesus saith unto him, Thomas, because thou hast seen me, thou hast believed: blessed are they that have not seen, and yet have believed"
16. 1 Peter 3:2
While they behold your chaste conversation coupled with fear.
17. Ezekiel 34:26
And I will make them and the places round about my hill a blessing; and I will cause the shower to come down in his season; there shall be showers of blessing.
18. 1 Peter 3:9
Not rendering evil for evil, or railing for railing: but contrariwise blessing; knowing that ye are thereunto called, that ye should inherit a blessing.
19. Philippians 4:23
The grace of our Lord Jesus Christ be with you all. Amen.
20. Psalm 23:1-2
The Lord is my shepherd; I shall not want.He maketh me to lie down in green pastures: he leadeth me beside the still waters.
21. Philippians 4:11
Not that I speak in respect of want: for I have learned, in whatsoever state I am, therewith to be content.
22. Jeremiah 29:11
For I know the thoughts that I think toward you, saith the Lord, thoughts of peace, and not of evil, to give you an expected end.
23. Deuteronomy 28:1
And it shall come to pass, if thou shalt hearken diligently unto the voice of the Lord thy God, to observe and to do all his commandments which I command thee this day, that the Lord thy God will set thee on high above all nations of the earth.
Good morning Tuesday Blessings Bible Verses
24. Mark 1:35
And in the morning, rising up a great while before day, he went out, and departed into a solitary place, and there prayed.
25. Mark 12:29
And Jesus answered him, The first of all the commandments is, Hear, O Israel. The Lord our God is one Lord.
26. Psalm 90:17
And may the Lord our God show us his approval and make our efforts successful. Yes, make our efforts successful.
27. Romans 8:28–31
And we know that all things work together for good to them that love God, to them who are the called according to [his] purpose.
28. Genesis 8:22
As long as the earth remains, there will be planting and harvest, cold and heat, summer and winter, day and night.
29. Psalms 57:8
Awake up, my glory, awake, psaltery and harp: I [myself] will awake early.
30. Luke 1:78
Because of God's tender mercy, the morning light from heaven is about to break upon us.
31. Mark 1:35
Before daybreak the next morning, Jesus got up and went out to an isolated place to pray.
32. Psalms 5:7
But as for me, I will come [into] thy house in the multitude of thy mercy: and in thy fear will I worship toward thy holy temple.
33. Malachi 4:2
But for you who fear my name, the Sun of Righteousness will rise with healing in his wings and you will go free, leaping with joy like calves let out to pasture.
34. 2 Peter 1:19
Christ the Morning Star shines in your hearts.
35. Psalm 46:5
Create in me a clean heart, O God. Renew a loyal spirit within me.
36. Exodus 14:13
Don't be afraid just stand still and watch the Lord rescue you today. The Lord himself will fight for you just stay calm.
Tuesday Blessings and Prayers
Tuesday blessings and prayers are a way to start the day with positive energy and seek divine guidance for the day ahead.
May the Lord fill your heart with joy and peace throughout the day. May Tuesday be a beautiful day for you that is fruitful in every way. Let this Tuesday morning be blessed as you go through the day that you would feel Christ's love and have peace of mind.
May God bless you with His presence that will keep you through every moment of the day. May Tuesday start with the Lord and His abundant blessings for you! May He grant you faith, joy, and peace
Holy Spirit, we thank You for this Tuesday. Lord, we know that despite all of the stresses and.
Dear God, I come before You this Tuesday morning filled with love and gratitude. Thank You for the blessings of this new day that I am grateful You have provided. I lift my prayer to You seeking guidance, strength, and peace.
May these Tuesday blessings and prayers provide comfort, inspiration, and guidance. Remember that with each new day comes new opportunities to grow, learn, and serve others. May your Tuesday be filled with blessings, joy, and peace.
Tuesday Inspirational Blessings
May this Tuesday bring you an abundance of inspiration and blessings?
May you have the courage to pursue your dreams and the strength to overcome obstacles.
May you find joy in the simple moments and appreciate the beauty of the world around you.
May you be surrounded by love and positivity and be a source of inspiration and positivity for others.
Remember that each day is a gift, and may you make the most of this Tuesday and every day that follows.
Tuesday Religious Quotes
Trust in the Lord with all your heart and lean not on your own understanding; in all your ways submit to him, and he will make your paths straight.

Rejoice always, pray continually, give thanks in all circumstances; for this is God's will for you in Christ Jesus.

I am the way, the truth, and the life. No one comes to the Father except through me.

For God so loved the world that he gave his one and only Son, that whoever believes in him shall not perish but have eternal life.

Let us not become weary in doing good, for at the proper time we will reap a harvest if we do not give up.

Be strong and courageous. Do not be afraid or terrified because of them, for the Lord your God goes with you; he will never leave you nor forsake you.

And whatever you do, whether in word or deed, do it all in the name of the Lord Jesus, giving thanks to God the Father through him.

The Lord is my rock, my fortress, and my deliverer; my God is my rock, in whom I take refuge, my shield and the horn of my salvation, my stronghold.

And we know that in all things God works for the good of those who love him, who have been called according to his purpose.

I can do all this through him who gives me strength.
People often seek blessings through prayer, meditation, or other spiritual practices, and many believe that expressing gratitude for blessings received can bring even more blessings into their lives.
Additionally, blessings can be seen as a reminder of the interconnectedness of all things and the importance of showing kindness and compassion to others.