The Bible is God's written word. It is not a social etiquette textbook or handbook. The Bible does not instruct you on how to speak or act in every circumstance.
It does, however, provide us with a wealth of recommendations from which we can make some common sense conclusions about how to live our lives in accordance with the traits found in the Bible, namely "truth" and "love."
In this acticle, I'll show you what the bible say about talking too much and where God wants us to talk and listen while we're among other people, as well as why not speaking more isn't as horrible as you believe.
We are created in God's image. A person's behaviour is always influenced by a combination of the four primary temperaments: Choleric, Sanguine, Phlegmatic, and Melancholy. The easy grin and conversational nature of the Sanguine are frequently used to describe them. They are sociable, fun-loving, and talkative.
Sanguine has no strangers, and once you introduce yourself, they become friends. They are storytellers. An example of a sanguine who was in the company of Jesus was Peter. This guy was basically and often replying to the Lord.
He spoke in season and out of seasons. Fr. Aumann posits in his Spiritual Theology that temperament is "the pattern of inclinations and reactions that proceed from the physiological constitution of the individual".
He added that "no two souls will follow the same path to perfection."  "Grace does not destroy or replace nature; it works through and perfects nature …to the perfecting of the saints.
The more we may work to understand ourselves, make the most of our assets, and overcome our flaws, the more probable it is that the lovely diversity of saints waiting there will accept us.
We need to find God, and he cannot be found in noise and restlessness. God is the friend of silence. See how nature – trees, flowers, grass- grows in silence; see the stars, the moon, and the sun, how they move in silence… We need silence to be able to touch souls.-Mother Theresa
What Does The Bible Say About Talking Too Much?
Can talking excessively cause us to sin? What does the Bible say? The Bible cautions us against being excessively talkative or talking too much. According to Proverbs 10:19, "When words are plentiful, transgression is not lacking, but whoever controls his lips is shrewd," talking excessively leads to sin. Truthfully, the smart person avoids talking much.
Ecclesiastes 10:14 MSG-
Fools talk way too much,Chattering stuff they know nothing about.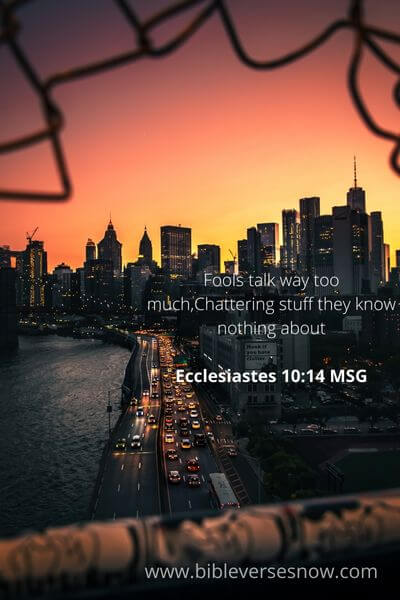 The term "fool" in this context is rather archaic, which connotes a clumsy, muddled thinker. The fool also multiplies words. In addition to speaking badly, he also speaks too much.
Although talkativeness is one of the traits of a fool, this prediction is based on the person prating about subjects he has no knowledge of, as the remainder of the verse demonstrates.
He speaks as if he is fully informed and that human intellect is unrestricted. Man cannot predict the future. However, it is true that no man can accurately forecast the future.
What Does The Bible Say About Talking Too Much KJV?
Jesus said that our tongues reveal the sincerity of our faith. Jesus was responding to the Pharisees in Matthew 12 who were criticizing him. He made it quite plain to them that their behavior demonstrated that their faith was really a façade, for out of the mouth proceeds from the abundance of the heart.
To put it another way, everything we say and do is a mirror of our inner selves. It would be prudent to keep in mind that when we talk too much, we are compelled to speak for ourselves rather than follow the guidance of the Holy Spirit.
James 1:26 KJV
If any man among you seem to be religious, and bridleth not his tongue, but deceiveth his own heart, this man's religion is vain.-
What exactly does it mean to restrain one's tongue? Is it OK to harbor wicked intentions in our hearts yet be able to control our speech? That might be a place to start for even the Bible says that even a fool is considered intelligent when he keeps quiet, and a man of intelligence is seen as one who keeps his mouth shut.
What Does The Bible Say About Talking A Lot?
Believers need to be aware that the Bible prohibits using too many words when a few will do. Or, to put it another way, everything we say and does reflects who we truly are. It would be wise to keep in mind that if we talk excessively, we are forced to speak on our own behalf rather than heed the prompting of the Holy Spirit.
Mark 9:5–6 KJV
And Peter answered and said to Jesus, Master, it is good for us to be here: and let us make three tabernacles; one for thee, and one for Moses, and one for Elias. For he wist not what to say; for they were sore afraid
After the transfiguration, when Peter witnessed what happened there, and so could not keep his cool. Along with his delight, Peter also experienced fear. He was confused.
His initial thought was to try to convince them to stay because he could tell that they were just getting ready to leave. He had to talk! He was speaking on his own behalf. The Bible clearly states in v 6 that he actually hath nothing to say.
Proverbs 10:19 KJV
In the multitude of words there wanteth not sin: but he that refraineth his lips is wise-
King Solomon the author of the Book of Proverbs declares that constant speech results in sin. It's not intended for this to be taken literally. The key is that a knowledgeable person understands when to stop speaking.
In fact, it's best to keep quiet while in doubt than to say something you'll later regret. Scripture has a wealth of guidance on the value of restraint in speaking. It would be wise to note not that when we talk too much we are bound not to follow the leads of the Holy Spirit-we would be speaking for ourselves.
What Does The Bible Say About Talking Less?
Later, the apostle James claims that one of the most difficult things to do is to control one's tongue. Melancholics are prone to solitude, reflection, and introspection. One who is so self-aware and conscientious will experience intimacy with God quite naturally.
James 1:19 KJV
Wherefore, my beloved brethren, let every man be swift to hear, slow to speak, slow to wrath:-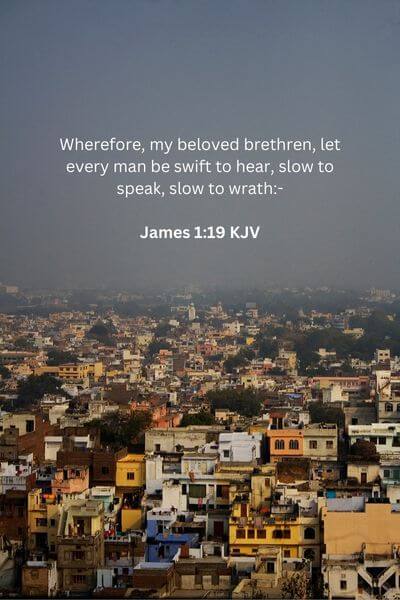 Those who put their confidence in and obey God develop the ability to modify their speaking and listening pace. We can afford to take the time to comprehend if God is genuinely in charge. We may react in a constructive way rather than just reacting on the spot. Doubting that God is in control causes us to speak more quickly and think more slowly.
In order to obtain what we desire, we Christians shouldn't be fixated on making sure we are heard and understood. We experience a loss of control when we respond to our initial impulses and responses. And we will become upset when we feel like we are losing control. You cannot hear while talking at the same time. Knowledgeable people are careful with their remarks, and intelligent people have good spirits.
What Does The Bible Say About Not Talking Too Much?
Being reminded that our words are not self-generating is convicting. According to Christ, a person's words are ultimately inspired by their own heart, intellect, and spirit.  If taking too much would likely lead us to sin. Then definitely not talking too much reduces the such possibility.
Luke 22:34 KJV
And he said, I tell thee, Peter, the cock shall not crow this day, before that thou shalt thrice deny that thou knowest me.-

Luke 22:34 KJV
When Jesus told Peter during the Last Super that he would deny him three times before the cock would crow. Peter shrugged and disagreed. He did not listen to what the Lord said. He responded that he was ready to go to prison with Jesus.
Even in times of prophecy, we have to listen more than we speak. some people in the place of prayer would rather pray and pray and keep praying without also listening to hear from the Father.