When we accomplish something, we ought to be happy about it. One of the most crucial aspects of life is accomplishment, but there is a lot of misunderstanding about what it really means to do something.
Sometimes we may believe that the Bible teaches that future rewards will result from our present triumphs. However, what does Bible verse about accomplishments reveal to us?
Bible Verse About Accomplishments
It's crucial to remember that happiness isn't a continual state of ecstasy. Happiness is an overall feeling of having more good feelings as a result of accomplishments.
The accomplishment that you are intrinsically motivated to seek, especially those centered on personal improvement and community, might help enhance happiness
Genesis 1:31 KJV
And God saw every thing that he had made, and, behold, it was very good.
The whole creation story is an embodiment of God's accomplishment: His handiwork. The Bible gives credence to God and behold, it was very good. What an accomplishment. Not just was it done but it was done well
2 Corinthians 8:11
Now therefore perform the doing of it; that as there was a readiness to will, so there may be a performance also out of that which ye have.-
Paul's counsel is as applicable today as it was then, particularly in our line of employment. What we begin, we must complete.
This instruction may appear to be too obvious to warrant reference in the Bible. However, Christians overlook the importance of this in terms of witnessing as well as productivity.
Philippians 1:6
Being confident of this very thing, that he which hath begun a good work in you will perform it until the day of Jesus Christ.-
Paul had witnessed directly God's excellent work among the Philippian believers. On Paul's second missionary tour, he and his colleagues came upon Lydia and several ladies praying by the riverbed at Philippi.
The expression of faith towards perfection Paul on God explains accomplishment in the present continuous tense. That which God hath already done yet is doing in us.
Bible Verse on Completing a Task
Completing a task means getting to finish up a given role. It brings the joy of accomplishment. What is joy?  
The emotion elicited by happiness, achievement, good fortune, or the potential of obtaining what one desire.
Genesis 1:26
And God said, Let us make man in our image, after our likeness: and let them have dominion over the fish of the sea, and over the fowl of the air, and over the cattle, and over all the earth, and over every creeping thing that creepeth upon the earth.-
In Genesis, the Bible says God did set out to create man. The whole early chapters of the Book of Genesis tell of Creation narration. When He spoke to Himself.
The Bible says in v 27 So God created man in his own image, in the image of God created he him; male and female created he them.
This verse actually denotes that God completed His task. And God saw everything that he had made, and, behold, it was very good. (a feeling of achievement)
Nehemiah 6:15
So the wall was finished in the twenty and fifth day of the month Elul, in fifty and two days.-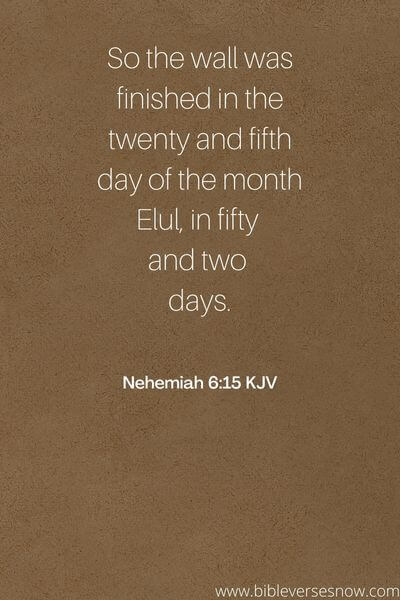 When Nehemiah learned that the walls of Jerusalem were still breached more than a half-century after the temple's reconstruction was completed, he "sat down and grieved," fasting and praying before God.
When the king gave him authority to lead the reconstruction effort, Nehemiah requested letters to the rulers whose territories he would travel through on his way to Jerusalem.
Opposition developed, exactly as it did in the tale of the construction of the temple in Ezra. Local leaders sought to undermine the Jewish endeavor through derision, but "the people had a mind to work."
Nehemiah 4:8
And conspired all of them together to come and to fight against Jerusalem, and to hinder it.-
They prayed in the following verse. 'We prayed to our God and set up a guard to protect us from their day and night" (Neh. 4:9).
Threats against the wall-builders became more frequent. Nehemiah placed guards in strategic locations.
He advised his followers not to be discouraged by their enemies. In the end, the Temple and the walls were built.
The laborious job of Nehemiah tells us that trusting God does not imply resting on our hands hoping for miraculous answers to our problems.
Achievement Congratulations Bible Verse
Achievements in life are accomplishments you've had, especially ones you're proud of.
What you consider an achievement may differ from what others consider an achievement, yet there are many similar characteristics that achievements have, such as an issue you solved or maybe a difficult procedure.
No wonder the Bible says in Philippians 2:12 ...work out your salvation with fear and trembling.
Matthew 25:23
His lord said unto him, Well done, good and faithful servant; thou hast been faithful over a few things, I will make thee ruler over many things: enter thou into the joy of thy lord.-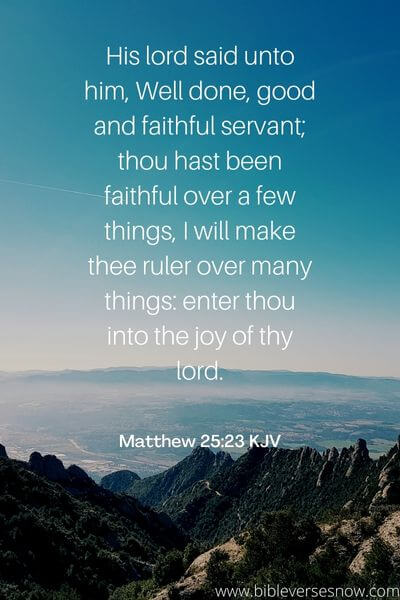 A certain businessman who went on a trip left his company in the hands of three employees. He provided money to the three guys, with the amounts ranging according to their ability.
Two of the men worked hard and profitably, while the third did not he accomplished nothing.
When the owner returned, he was happy to discover that the first two workers had done an excellent job, and he rewarded them by assigning them more responsibilities.
Congratulating them on your achievements and hard work
Nehemiah 6:15
The wall was finished on the twenty-fifth day of Elul. It had taken fifty-two days. When all our enemies heard the news and all the surrounding nations saw it, our enemies totally lost their nerve. They knew that God was behind this work.-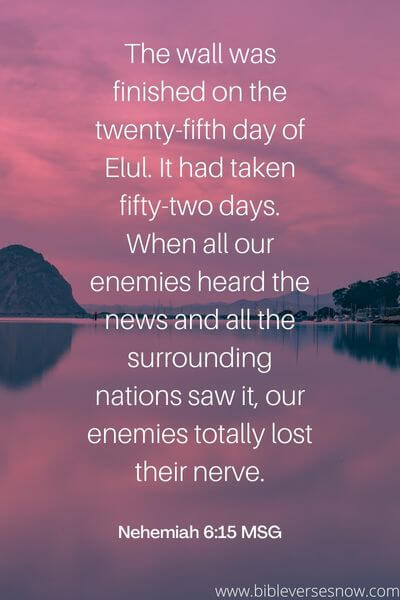 Nehemiah's return to Jerusalem most likely occurred a few years before Ezra's. Both men collaborated to rebuild the city and re-dedicate its inhabitants to God.
Nehemiah was a top officer in King Artaxerxes I's Persian court at Susa, the Persian capital city.
The construction of the wall was finished on October 2, 445 B.C. (Nehemiah 6:15-16).
Because God assisted the Jews in completing the wall, their opponents lost faith.
This was his congratulations!
Bible Verse About Success and Hard Work
Hard work works! Hard work and dedication are at the foundation of success.
psychologist Carol S. Dweck writes that growth mindsets appear in those who "think of talents and abilities as things they can develop as potentials that come to fruition through effort, practice, and instruction.
Philippians 1:9
And this I pray, that your love may abound yet more and more in knowledge and in all judgment;-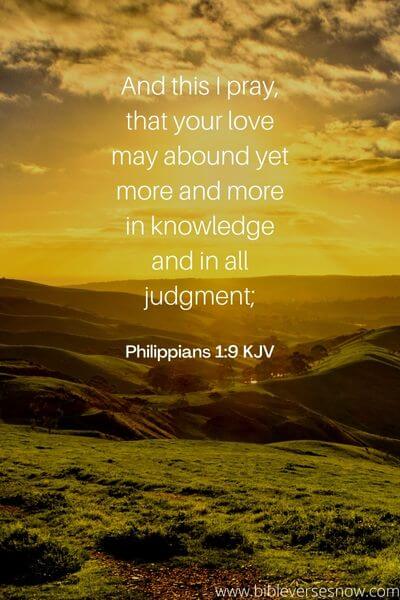 The Philippians were full of love, which they showed to Paul. Nonetheless, Paul did not hesitate to pray that their love would continue to grow.
We can have a greater love for others no matter how much we already have!
Ephesians 1:3
Blessed be the God and Father of our Lord Jesus Christ, who hath blessed us with all spiritual blessings in heavenly places in Christ.-
Because the Father has already blessed the believer with every spiritual benefit, Paul asked for a blessing from the Father (in the sense of recognizing His glory, honor, and kindness).
God's resources are always available to us. God hath already blessed us even before the world began.
The Bible in Jeremiah says 'Before I formed thee in the belly I knew thee, and before thou camest forth out of the womb I sanctified thee, and I ordained thee a prophet unto the nations'. We are blessed-programmed for success.
Jeremiah 29:11 KJV
For I know the thoughts that I think toward you, saith the Lord, thoughts of peace, and not of evil, to give you an expected end.-
God knows what He is thinking about you, and He wants you to have a happy ending. God's Word promises that outcome.
You, like Moses, may walk in victory. He was 120 years old, yet neither his eyesight nor his natural force had dimmed.
On the day he went home to be with the Lord, he literally climbed a mountain.
Is financial success synonymous with success? Is it true that successful individuals are those that acquire popularity and distinction in life?
When determining if God cares about success, we must distinguish between the world's idea of success and God's definition of success.
Only then can we comprehend what God considers to be a success in the life of a believer. What does God think about success?
The LORD does not look at the things that humans look at," the Lord declared clearly to Samuel. People gaze at the outside, but the LORD looks at the heart
 Bible Verses About Accomplishment KJV
Accomplishments boost life pleasure while also assisting people in developing better-coping abilities and emotional resources. People move at varying speeds.
The fact that your friend got the job this year has nothing to do with your prospects of getting it next year.
Simply lower your head (but not too far, as this might disrupt your stroke) and hold on.
Philippians 2:12
Wherefore, my beloved, as ye have always obeyed, not as in my presence only, but now much more in my absence, work out your own salvation with fear and trembling.-
Why don't we just earn it since Jesus paid for all of our sins? What does "work out my salvation with dread and trembling" mean?
Our redemption and eternal life were purchased by our savior's blameless life, sacrificial death, and triumphant resurrection.
There is nothing we can do to improve on the salvation Christ paid for us.
Yes, the everlasting work of redemption has been given to us without our participation. However, figuring out salvation is a duty that we must do. I work because the Father works, Jesus replied.
working out our salvation that at the end we shall be told well done by the Father. We dwell on Earth, which means that temptations will arise.
No wonder the Bible says, and they will be defeated by the blood of the lamb and the words of their testimony.
3 John 1:2 KJV
 Beloved, I wish above all things that thou mayest prosper and be in health, even as thy soul prospereth.-
What does God say about achievement? In extending his best wishes and blessings to Gaius, John used this popular expression.
Some have misinterpreted this as a guarantee of eternal affluence and perfect health for Christians.
In this passage, John draws a parallel between the state of our health and the state of our soul.
John gave a comparison, a sort of task that we should prosper physically just as our soul is doing well in Christ. Yes, seek ye first the kingdom and every other thing will be added to you.