In a world that often feels chaotic and fast-paced, finding moments of solace, guidance, and inspiration becomes increasingly crucial. For countless individuals, turning to the timeless wisdom of the Bible has provided a source of comfort, strength, and clarity throughout the ages.
While the Bible encompasses a rich tapestry of stories, teachings, and principles applicable to people of all ages, there are certain verses that particularly resonate with adults, addressing the complexities and challenges of navigating adulthood in a rapidly changing society.
Whether one seeks guidance in making life-altering decisions, finding peace amidst personal struggles, or seeking a deeper understanding of their spiritual journey, the Bible offers a wealth of verses that speak directly to the hearts and minds of adults.
Bible Verses For Adults
"Trust in the Lord with all your heart, and do not lean on your own understanding. In all your ways acknowledge him, and he will make straight your paths."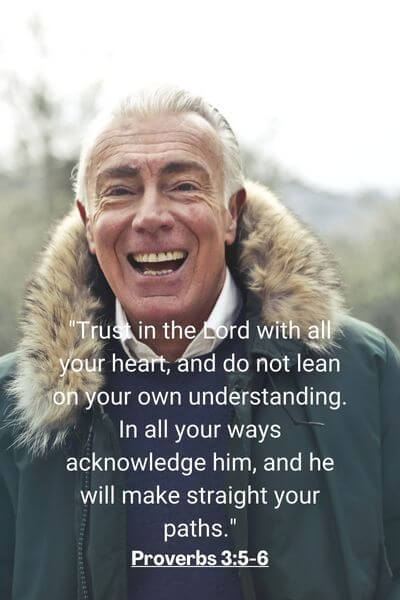 "If any of you lacks wisdom, let him ask God, who gives generously to all without reproach, and it will be given him."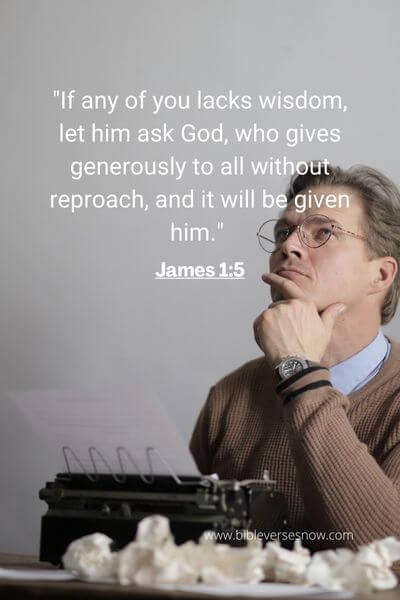 "Your word is a lamp to my feet and a light to my path."
"The heart of man plans his way, but the Lord establishes his steps."
"For the Lord gives wisdom; from his mouth come knowledge and understanding."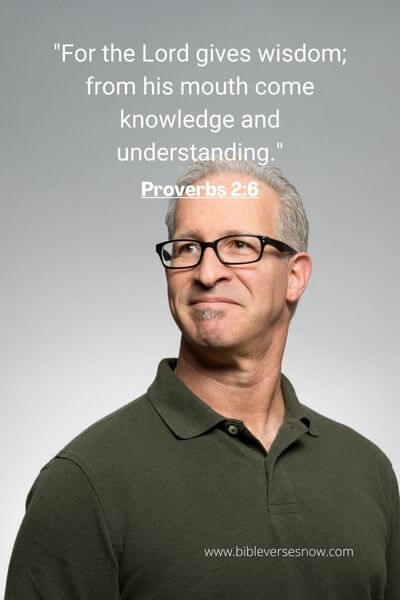 6. Proverbs 11:14
"Where there is no guidance, a people falls, but in an abundance of counselors there is safety."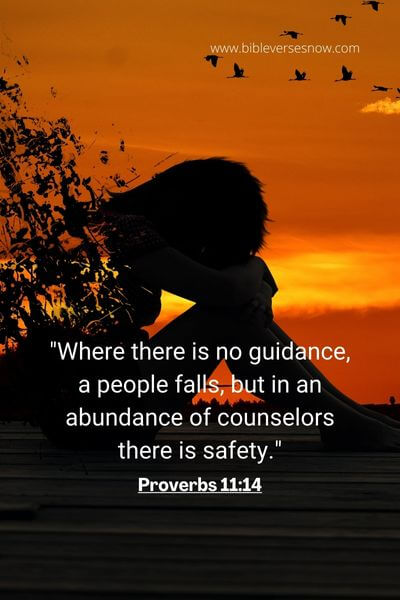 7. Psalm 32:8
"I will instruct you and teach you in the way you should go; I will counsel you with my eye upon you."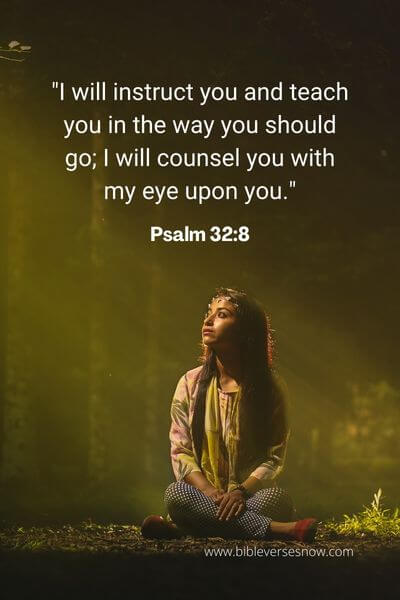 8. Proverbs 3:7-8
"Be not wise in your own eyes; fear the Lord, and turn away from evil. It will be healing to your flesh and refreshment to your bones."
9. Isaiah 30:21
"And your ears shall hear a word behind you, saying, 'This is the way, walk in it,' when you turn to the right or when you turn to the left."
10. Proverbs 12:15
"The way of a fool is right in his own eyes, but a wise man listens to advice."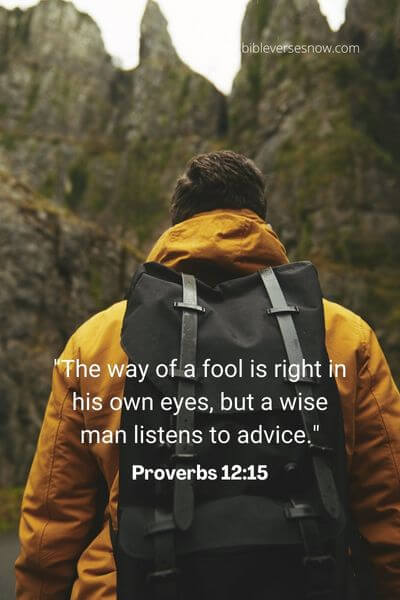 Bible Verses on Finding Strength and Courage as an Adult
11. Isaiah 41:10
"Fear not, for I am with you; be not dismayed, for I am your God; I will strengthen you, I will help you, I will uphold you with my righteous right hand."
12. Philippians 4:13
"I can do all things through him who strengthens me."
13. Joshua 1:9
"Have I not commanded you? Be strong and courageous. Do not be frightened, and do not be dismayed, for the Lord your God is with you wherever you go."
14. Psalm 46:1
"God is our refuge and strength, a very present help in trouble."
15. 2 Corinthians 12:9-10
"But he said to me, 'My grace is sufficient for you, for my power is made perfect in weakness.' Therefore I will boast all the more gladly of my weaknesses, so that the power of Christ may rest upon me. For the sake of Christ, then, I am content with weaknesses, insults, hardships, persecutions, and calamities. For when I am weak, then I am strong."
16. Isaiah 40:31
"But they who wait for the Lord shall renew their strength; they shall mount up with wings like eagles; they shall run and not be weary; they shall walk and not faint."
17. Psalm 18:32
"The Lord is my rock and my fortress and my deliverer, my God, my rock, in whom I take refuge, my shield, and the horn of my salvation, my stronghold."
18. Ephesians 6:10
"Finally, be strong in the Lord and in the strength of his might."
19. Deuteronomy 31:6
"Be strong and courageous. Do not fear or be in dread of them, for it is the Lord your God who goes with you. He will not leave you or forsake you."
20. Psalm 27:1
"The Lord is my light and my salvation; whom shall I fear? The Lord is the stronghold of my life; of whom shall I be afraid?"
Biblical Wisdom for Navigating Relationships and Marriage as an Adult
21. Ephesians 4:2-3
"With all humility and gentleness, with patience, bearing with one another in love, eager to maintain the unity of the Spirit in the bond of peace."
22. 1 Corinthians 13:4-7
"Love is patient and kind; love does not envy or boast; it is not arrogant or rude. It does not insist on its own way; it is not irritable or resentful; it does not rejoice at wrongdoing but rejoices with the truth. Love bears all things, believes all things, hopes all things, endures all things."
23. Proverbs 18:22
"He who finds a wife finds a good thing and obtains favor from the Lord."
24. Ecclesiastes 4:9-10
"Two are better than one, because they have a good reward for their toil. For if they fall, one will lift up his fellow. But woe to him who is alone when he falls and has not another to lift him up !"
25. Colossians 3:13
"Bearing with one another and, if one has a complaint against another, forgiving each other; as the Lord has forgiven you, so you also must forgive."
26. 1 Peter 4:8
"Above all, keep loving one another earnestly, since love covers a multitude of sins."
27. Proverbs 17:17
"A friend loves at all times, and a brother is born for adversity."
28. Ephesians 5:25
"Husbands, love your wives, as Christ loved the church and gave himself up for her."
29. Matthew 19:6
"So they are no longer two but one flesh. What therefore God has joined together, let not man separate."
30. Proverbs 31:10
"An excellent wife who can find? She is far more precious than jewels."
Overcoming Challenges: Bible Verses for Adult Faith and Perseverance
31. James 1:2-4
"Count it all joy, my brothers, when you meet trials of various kinds, for you know that the testing of your faith produces steadfastness. And let steadfastness have its full effect, that you may be perfect and complete, lacking in nothing."
32. Romans 5:3-4
"Not only that, but we rejoice in our sufferings, knowing that suffering produces endurance, and endurance produces character, and character produces hope."
33. 2 Corinthians 4:8-9
"We are afflicted in every way, but not crushed; perplexed, but not driven to despair; persecuted, but not forsaken; struck down, but not destroyed."
34. Isaiah 43:2
"When you pass through the waters, I will be with you; and through the rivers, they shall not overwhelm you; when you walk through fire you shall not be burned, and the flame shall not consume you."
35. Philippians 4:13
"I can do all things through him who strengthens me."
36. Psalm 34:17
"When the righteous cry for help, the Lord hears and delivers them out of all their troubles."
37. 2 Timothy 4:17
"But the Lord stood by me and strengthened me, so that through me the message might be fully proclaimed and all the Gentiles might hear it. So I was rescued from the lion's mouth."
38. Psalm 55:22
"Cast your burden on the Lord, and he will sustain you; he will never permit the righteous to be moved."
39. Romans 8:37
"No, in all these things we are more than conquerors through him who loved us."
40. Psalm 27:14
"Wait for the Lord; be strong, and let your heart take courage; wait for the Lord!"
Seeking Inner Peace: Bible Verses for Adult Stress and Anxiety
41. Philippians 4:6-7
"Do not be anxious about anything, but in everything by prayer and supplication with thanksgiving let your requests be made known to God. And the peace of God, which surpasses all understanding, will guard your hearts and your minds in Christ Jesus."
42. Matthew 11:28-30
"Come to me, all who labor and are heavy laden, and I will give you rest. Take my yoke upon you, and learn from me, for I am gentle and lowly in heart, and you will find rest for your souls. For my yoke is easy, and my burden is light."
43. Psalm 55:22
"Cast your burden on the Lord, and he will sustain you; he will never permit the righteous to be moved."
44. Isaiah 26:3
"You keep him in perfect peace whose mind is stayed on you, because he trusts in you."
45. 1 Peter 5:7
"Casting all your anxieties on him, because he cares for you."
46. John 14:27
"Peace I leave with you; my peace I give to you. Not as the world gives do I give to you. Let not your hearts be troubled, neither let them be afraid."
47. Psalm 118:5-6
"Out of my distress I called on the Lord; the Lord answered me and set me free. The Lord is on my side; I will not fear. What can man do to me?"
48. Philippians 4:13
"I can do all things through him who strengthens me."
49. Psalm 34:17
"When the righteous cry for help, the Lord hears and delivers them out of all their troubles."
50. Psalm 29:11
"The Lord gives strength to his people; the Lord blesses his people with peace."
Bible Verses on Financial Stewardship and Responsibility for Adults
51. Proverbs 3:9-10
"Honor the Lord with your wealth and with the firstfruits of all your produce; then your barns will be filled with plenty, and your vats will be bursting with wine."
52. Luke 16:10-11
"One who is faithful in a very little is also faithful in much, and one who is dishonest in a very little is also dishonest in much. If then you have not been faithful in the unrighteous wealth, who will entrust to you the true riches?"
53. 1 Timothy 6:17-18
"As for the rich in this present age, charge them not to be haughty, nor to set their hopes on the uncertainty of riches, but on God, who richly provides us with everything to enjoy. They are to do good, to be rich in good works, to be generous and ready to share."
54. Proverbs 22:7
"The rich rules over the poor, and the borrower is the slave of the lender."
55. Matthew 6:19-21
"Do not lay up for yourselves treasures on earth, where moth and rust destroy and where thieves break in and steal, but lay up for yourselves treasures in heaven, where neither moth nor rust destroys and where thieves do not break in and steal. For where your treasure is, there your heart will be also."
56. Malachi 3:10
"Bring the full tithe into the storehouse, that there may be food in my house. And thereby put me to the test, says the Lord of hosts, if I will not open the windows of heaven for you and pour down for you a blessing until there is no more need."
57. Proverbs 28:20
"A faithful man will abound with blessings, but whoever hastens to be rich will not go unpunished."
58. 2 Corinthians 9:7
"Each one must give as he has decided in his heart, not reluctantly or under compulsion, for God loves a cheerful giver."
59. Proverbs 13:11
"Wealth gained hastily will dwindle, but whoever gathers little by little will increase it."
60. Proverbs 11:25
"Whoever brings blessing will be enriched, and one who waters will himself be watered."
Discovering Purpose and Fulfillment: Bible Verses for Adult Life's Journey
61. Jeremiah 29:11
"For I know the plans I have for you, declares the Lord, plans for welfare and not for evil, to give you a future and a hope."
62. Proverbs 16:3
"Commit your work to the Lord, and your plans will be established."
63. Ecclesiastes 3:1
"For everything there is a season, and a time for every matter under heaven."
64. Romans 12:2
"Do not be conformed to this world, but be transformed by the renewal of your mind, that by testing you may discern what is the will of God, what is good and acceptable and perfect."
65. Ephesians 2:10
"For we are his workmanship, created in Christ Jesus for good works, which God prepared beforehand, that we should walk in them."
66. Proverbs 19:21
"Many are the plans in the mind of a man, but it is the purpose of the Lord that will stand."
67. Psalm 37:4
"Delight yourself in the Lord, and he will give you the desires of your heart."
68. Colossians 3:23-24
"Whatever you do, work heartily, as for the Lord and not for men, knowing that from the Lord you will receive the inheritance as your reward. You are serving the Lord Christ."
69. Matthew 6:33
"But seek first the kingdom of God and his righteousness, and all these things will be added to you."
70. Proverbs 3:6
"In all your ways acknowledge him, and he will make straight your paths."
Cultivating a Spirit of Gratitude and Contentment: Bible Verses for Adult Hearts
71. 1 Thessalonians 5:18
"Give thanks in all circumstances; for this is the will of God in Christ Jesus for you."
72. Philippians 4:12-13
"I know how to be brought low, and I know how to abound. In any and every circumstance, I have learned the secret of facing plenty and hunger, abundance and need. I can do all things through him who strengthens me."
73. Psalm 100:4
"Enter his gates with thanksgiving, and his courts with praise! Give thanks to him; bless his name!"
74. Colossians 3:15
"And let the peace of Christ rule in your hearts, to which indeed you were called in one body. And be thankful."
75. Hebrews 13:5
"Keep your life free from love of money, and be content with what you have, for he has said, 'I will never leave you nor forsake you.'"
76. 1 Chronicles 16:34
"Oh give thanks to the Lord, for he is good; for his steadfast love endures forever!"
77. Psalm 136:1
"Oh give thanks to the Lord, for he is good, for his steadfast love endures forever."
78. 1 Timothy 6:6
"But godliness with contentment is great gain."
79. James 1:17
"Every good gift and every perfect gift is from above, coming down from the Father of lights, with whom there is no variation or shadow due to change."
80. Psalm 34:1
"I will bless the Lord at all times; his praise shall continually be in my mouth."
Conclusion
Exploring Bible verses as adults can be a transformative and enriching experience. The Bible is a timeless and sacred text that offers profound wisdom, guidance, and inspiration to individuals at all stages of life.
As adults, we face a myriad of challenges, uncertainties, and questions about our purpose and the world around us. The verses found within the Bible provide comfort, encouragement, and valuable insights that can help navigate the complexities of adulthood.
Through the scriptures, we discover the power of faith, love, forgiveness, and resilience. They remind us of the importance of cultivating a strong relationship with God, seeking His guidance, and finding solace in His presence. Whether we are grappling with personal struggles, seeking direction in our careers, nurturing our relationships, or simply striving for personal growth, the Bible offers profound words of wisdom that resonate with the human experience.
Furthermore, as adults, we have the responsibility to deepen our understanding of our faith and develop a mature spirituality. Bible verses provide a rich tapestry of teachings, parables, and stories that challenge our beliefs, expand our perspectives, and invite us into a deeper connection with God. They encourage us to reflect on our actions, align them with divine principles, and strive for a life of integrity, compassion, and service.