Making a difference simply means causing a change. This also could be referred to as "impact felt", even the bible concludes on this fact to be an excellent example to the world as children of God, making a difference and creating impact is an additional growth and success in our lives as individuals. Let's have a look at what the bible verses sum up to;
25 Bible Verses on Making a Difference
Highlighted below are bible texts on making a difference, it is quite clear that impact and change started from time as its context begins in the scriptures. This is to tell you that you should work towards it as quickly as possible. The references below will be of massive help;
James 5:20
 Whoever turns a sinner from the error of his way will save his soul from death and cover over a multitude of sins.-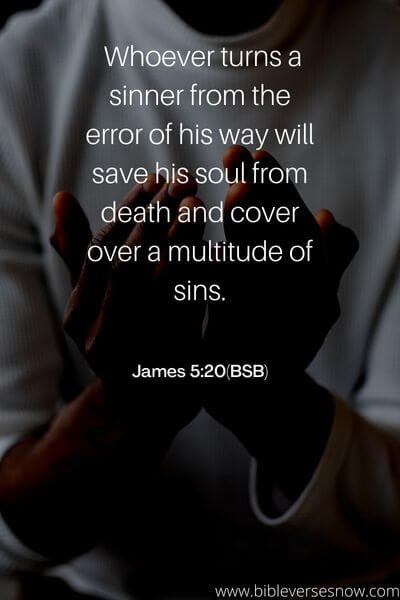 This verse is frequently taken to mean that when one assists another in turning away from sin and returning to a path of righteousness, they not only save that person's soul from spiritual death but also assist in covering or atoning for a great number of that person's sins.
In other words, the act of turning away from sin and repentance can have a transformational impact on both the repentant person and those around them.
It's vital to notice that this passage discusses the importance of repentance and the transformative power of forgiveness.
It doesn't imply that anyone has the power to decide someone else's spiritual destiny or that they may make up for another person's misdeeds.
Only God has the power to forgive and save a person's soul.
Galatians 6:1
Brothers and sisters, if someone is caught in a sin, you who live by the Spirit should restore that person gently. But watch yourselves, or you also may be tempted.-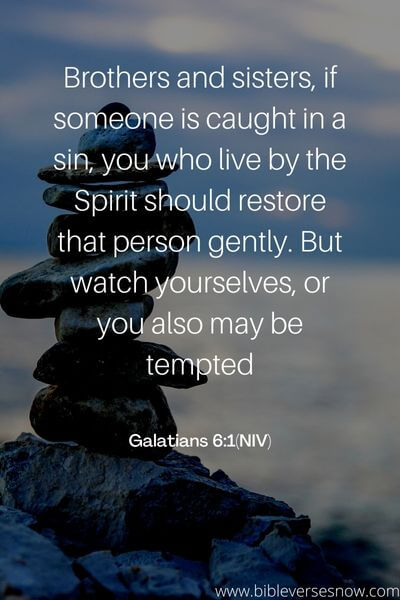 The apostle Paul is pleading with the members of the Galatian church in this verse to assist in the restoration of a person who has fallen into sin.
The word "caught" in this sentence implies that the person's misbehaviour has been made public or known to others.
Paul does not advise Christians to hunt down other people's transgressions in order to expose or criticize them.
He is urging us to respond with kindness and compassion rather than judgment when someone's sin is brought to our attention.
"You who live by the Spirit" is the crucial phrase in this verse. This describes Christians who are under the influence of the Holy Spirit rather than their own sinful nature.
In their interactions with others, especially those who have committed sin, these Christians are to be led by the Spirit.
Paul also cautions the Christians to "watch yourselves," which means they should take care not to fall prey to temptation when attempting to help someone who has fallen into sin.
Instead of approaching the problem with arrogance or self-righteousness, it is crucial to do so with grace and humility.
1 Thessalonians 5:11
Therefore encourage one another and build one another up, just as you are doing.-
This text calls on Christians to strengthen and assist one another as they grow in their faith.
In this letter to the church in Thessalonica, the apostle Paul exhorts the followers of Christ to keep up mutual support and encouragement for one another's spiritual growth.
This verse reminds Christians that they are not alone in their religion and that others are there to support and encourage them as they develop a closer relationship with God.
Luke 16:28
Because I have five brothers to warn them, so that they won't also come to this place of torment

Luke 16:28(CSB)
Jesus teaches the consequences of one's deeds in this life and the significance of helping the needy in this text by utilizing the parable of the rich man and Lazarus.
Lazarus, who was destitute and endured pain in this life, is now comforted in the afterlife, whereas the rich man in the tale is suffering in Hades because he did not use his wealth and resources to help the needy.
Abraham used the metaphor of a "huge chasm" to represent the gap between the living and the dead.
The idea that no one can pass from one side to the other implies that the choices we make in this life have long-term effects.
Hebrews 13:16
And do not neglect to do good and to share with others, for with such sacrifices God is pleased.-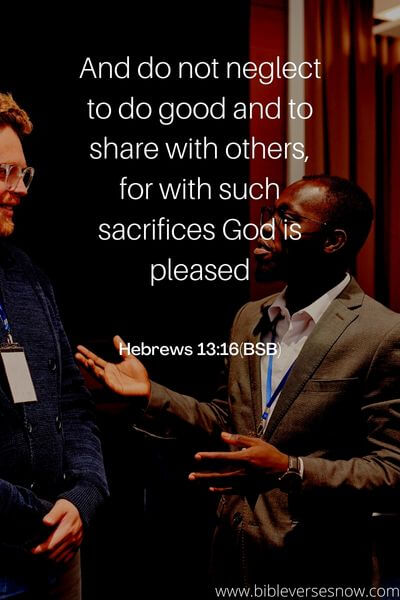 The writer of Hebrews exhorts the readers in this passage to practice generosity and charity and to seize every opportunity to do good and assist others.
The author contends that these deeds are acceptable to God and that they qualify as sacrifices since they entail a readiness to forego something valuable in order to assist others.
Instead of concentrating only on one's own interests and ambitions, the verse might be read as a call to live a life of selflessness and service to others.
It serves as a reminder that God appreciates deeds of compassion and charity, and that we ought to make an effort to live up to these ideals.
Biblical Meaning of Making a Difference
The Bible contains numerous verses that discuss the idea of making a difference. The Hebrew word for "different" in the Old Testament is "Perek," which can also mean a division or separation between two things. God instructed the Israelites to distinguish between the holy and the common in Leviticus 20:24–26, for instance, and between the clean and the unclean.
The Greek term for "different" in the New Testament is "Diaphora," which can also signify a division or split between two things.
Christians are obligated, according to Paul in Romans 12:2, to "prove what is that good, and acceptable, and perfect will of God" and to be transformed by the renewing of their minds.
By living in accordance with God's plan and acting as agents of transformation and change in the world, this argues that Christians have a responsibility to make a difference in the world.
The idea that God calls his people to be different and set apart from the world and to live in a way that reflects his values and priorities is emphasized by the biblical concept of making a difference overall.
This can entail leading a life that glorifies and honours God, as well as improving the lives of others via deeds of service and compassion.
Bible Verses on the Difference
The difference simply means exceptional, and outstanding. Being different entails that you are distinguished from others which is what God needs from us Christians, to not be like those in the world holding onto the treasures of the world and value as paramount. References are detailed below;
Romans 3:22
And this righteousness from God comes through faith in Jesus Christ to all who believe. There is no distinction.-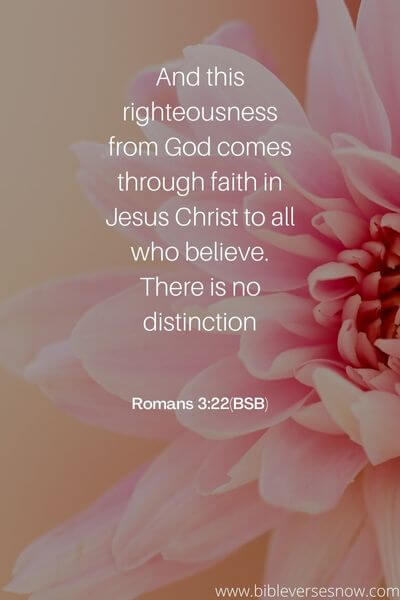 Paul is defining the idea of righteousness in this verse, which refers to the condition of being in harmony with God.
Paul asserts that we are unable to acquire or obtain this righteousness through our own efforts. Rather, it is a result of trusting in Jesus Christ.
To all who believe implies that this righteousness is accessible to everyone, regardless of their circumstances or background.
Between those who are seen as righteous and those who are not, there is no distinction. Faith in Jesus offers everyone the chance to receive righteousness.
This verse also emphasizes that God's love and mercy, rather than our deeds or merit, are what constitutes righteousness. Through our faith in Jesus Christ, God freely gives it to us.
Genesis 3:5
For God knows that when you eat from it your eyes will be opened, and you will be like God, knowing good and evil.-
This verse appears in the biblical account of humanity's first sin, the Fall, which includes these scriptures.
In the narrative, the serpent tempts the woman, Eve, to eat the fruit that God forbade her and her husband Adam from eating since it comes from the tree of the knowledge of good and evil.
The serpent tells them that by eating the fruit, their eyes would be opened and they will be able to distinguish between good and evil, making them like God.
This means that they lacked the capacity to distinguish between good and evil prior to consuming the fruit and that God alone holds this capacity.
However, God had warned Adam and Eve that they would undoubtedly perish if they ate from the tree, therefore the serpent's promise is a lie, this is in Genesis 2:17.
The Fall, which brought sin and death into the world, was actually the result of their disobedience; the serpent's ultimate goal was to trick and exploit Eve.
Matthew 25:23
His master said to him, 'Well done, good and faithful servant. You have been faithful over a little; I will set you over much. Enter into the joy of your master.-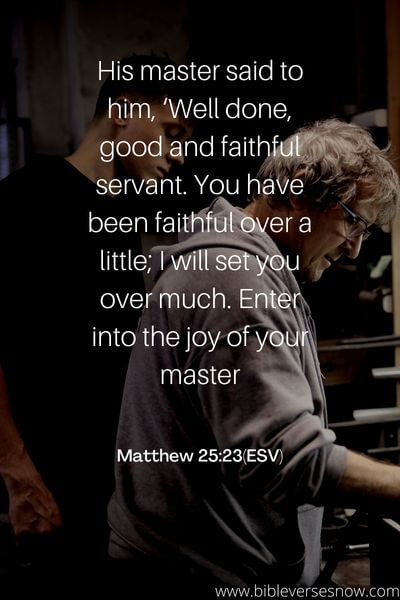 This verse is taken from the parable of the talents, which Jesus narrates in Matthew 25, where it is known as.
In the story, a master gives his workers money—referred to as talents—to invest in the market while he is abroad. The master checks in with his servants to see how they've been using the skills he has given them.
One of the faithful servants who have twice the money given to him is the one referred to in Matthew 25:23.
The master thanks him for his loyalty by increasing his tasks and placing him in a position of honor. Enter into the joy of your lord alludes to the happiness and reward the servant will experience in front of his master.
The overarching message of this verse is that God rewards people who faithfully do the duties and obligations he assigns them.
Knowing that God will reward us for our efforts inspires us to work diligently and faithfully.
Bible Verses about Little Things Making a Big Difference
Little things are likely to make big differences, you never can tell, so concluding on them or disguising is a factor you shouldn't consider at all. Some bible verses have drawn our attention to them and instructed us that little things count, we need to give heed to this note.
Luke 16:10
Whoever can be trusted with very little can also be trusted with much, and whoever is dishonest with very little will also be dishonest with much.-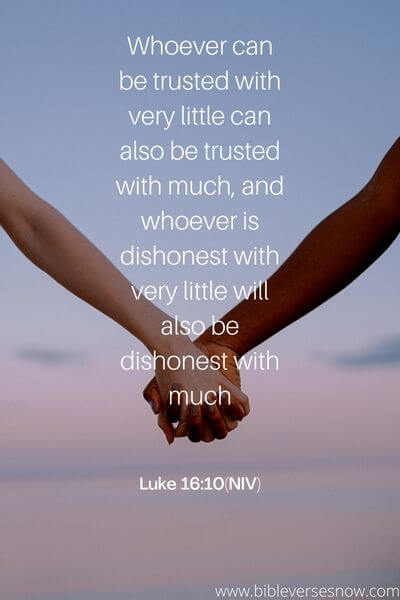 This verse is sometimes taken as a lesson on the value of honesty and integrity.
It implies that a person's character is shown by how they manage little things and that if someone is trustworthy and loyal in little things, then one can expect them to be trustworthy and loyal in bigger things as well.
On the other side, if someone is dishonest in little things, they probably are in bigger things as well.
This verse can be seen as a challenge to act consistently and to make an effort to be dependable and honest in all areas of our lives, regardless of how minor or unimportant they may seem.
It serves as a reminder that everything we do, no matter how tiny, has an impact on our reputation and character, and that it is crucial to make every effort to be faithful and honest.
Matthew 17:20
You don't have enough faith," Jesus told them. "I tell you the truth, if you had faith even as small as a mustard seed, you could say to this mountain, 'Move from here to there,' and it would move. Nothing would be impossible.-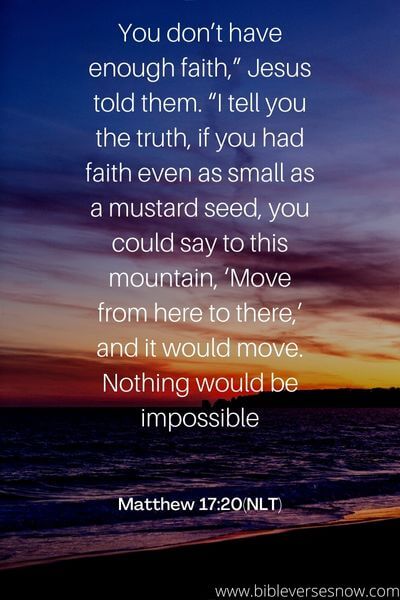 This verse is frequently understood as a lesson on the effectiveness of faith. Jesus is claiming that everyone can achieve great things if they have even a little faith.
The Bible frequently uses the image of the mustard seed to represent something small and unimportant, but Jesus is implying that even a tiny amount of faith may have a big impact.
This verse serves as a reminder to have faith and confidence in God's ability to work through us.
It serves as a reminder that even when we feel little and inconsequential, God may accomplish amazing things through us.
It serves as a reminder that, despite our circumstances, we should have confidence and trust in God's plan for our life.
Proverbs 16:3
Commit your works to the LORD and your plans will be achieved.-
This text exhorts us to put our faith in God and to look to Him for wisdom and direction in whatever we undertake.
It serves as a reminder that when we give God control over our plans and our will, He will carry them out in a way that is just and honourable to Him.
In all of our undertakings, we are urged by this scripture to rely on God's wisdom and direction rather than on our own knowledge or strength.
It serves as a reminder that when we put our trust in God, He will be there with us and enable us to do the tasks He has given us.
Galatians 2:6

As for those who were held in high esteem whatever they were makes no difference to me; God does not show favoritism they added nothing to my message.-
Paul discusses the significance of adhering to Jesus' teachings rather than relying on the approval or influence of others in this verse.
He implies that the church elders, who might have been seen as important, had nothing to do with his message.
Paul emphasizes that the message of Jesus is what matters, not the authority or prestige of those who are delivering it.
Paul also makes it plain that he does not draw judgments about people based on their social standing or personal power by saying that "God shows no partiality."
This implies that everyone is treated equally by God and that one's rank or level of influence has no bearing on how one should treat or see others.
This verse emphasizes the value of adhering to Jesus' teachings and resisting peer pressure to change one's opinions and behaviour.
It also emphasizes the idea that everyone is created equal in God's eyes and deserves respect and equality.
Bible Verses on Making an Impact
Making an impact is leaving a footprint that affects the masses. It is dropping a memorable note to people, known or unknown. The scriptures have clearly underlined such matter below let's have a look at them;
1 Corinthians 15:33
Be not deceived: evil communications corrupt good manners.-
According to a common interpretation of this phrase, being near those who conduct immorally or unethically might affect our own moral character and behaviour.
It implies that it's crucial to pay attention to who we associate with because they can have a big influence on our own behaviour and decisions.
The verse is sometimes interpreted as a cautionary tale about the risks of associating with people who lack strong moral beliefs and being selective about the people we let have an effect on us.
1 Peter 2:9
But you are a chosen generation, a royal priesthood, a holy nation, His own special people, that you may proclaim the praises of Him who called you out of darkness into His marvelous light.-
The author of this verse, the apostle Peter, is addressing a group of Christians who were dispersed throughout Asia Minor, or what is now Turkey.
He reminds them that God has chosen them to be special people because they follow Jesus Christ. In addition to being "God's particular possession," they are also a "holy nation," a "royal priesthood," and not just any regular people.
The phrase "royal priesthood" refers to the fact that believers have been given a special role as priests in God's kingdom. In the Old Testament, the priests were responsible for offering sacrifices to God and interceding on behalf of the people.
Similarly, believers in Jesus are also called to offer their lives as living sacrifices to God (Romans 12:1) and to intercede for others through prayer (James 5:16).
The term "holy nation" describes how believers have been designated by God for a certain function. They do not share the same connection to the world as atheists do.
They are people who have been called to a relationship with God and to leave the world.
The phrase "God's particular possession" also refers to believers as God's property. They are his possession, and he has a particular plan for their existence.
In this verse, Peter exhorts Christians to "proclaim the praises of God," which is another way of saying that they should tell others about how magnificent God is and all the amazing things he has done.
This is a crucial component of their mission as a holy country, a royal priesthood, and God's special possession. They are expected to spread the good news of salvation to those in their immediate vicinity as representatives of Christ.
Proverbs 27:17
As iron sharpens iron, so a friend sharpens a friend.-
This verse is frequently understood to suggest that we can learn from others and develop from them, especially those who are like us or who have comparable objectives and ideals to our own.
People can help one another to become better by engaging in healthy and meaningful connections, much as iron sharpens iron by grinding against it.
This verse can also be interpreted as a metaphor for the value of community and connections.
We are more likely to develop and advance when we are around by people who test and encourage us to be our best selves.
It's vital to remember that sharpening iron can be uncomfortable because it necessitates scraping and grinding the metal.
Similarly to this, the process of learning from and improving upon others can occasionally be uncomfortable and difficult, but it ultimately makes us stronger and more skilled.
Proverbs 13:20
He who walks with the wise will become wise, but the companion of fools will be destroyed.-
This proverb warns against the influence of one's friends and suggests that while being with fools can be harmful, being with wise people can be good for one's own wisdom.
This proverb basically means that the company we keep can have a big influence on our own thoughts, habits, and actions.
We can benefit from and apply their wisdom by choosing to surround ourselves with wise people, whereas being with fools might lead us down a perilous or disastrous path.
Bible Verse about Making Things Better
The context "making things better" entails the act of doing the right thing and doing it well, as required. Scriptural explanations are below elaborating on making things better, let's get on the different references;
John 16:33
I have said these things to you, that in me you may have peace. In the world you will have tribulation. But take heart; I have overcome the world.-
Before his death and resurrection, Jesus gave his disciples a final teaching in this verse. In it, Jesus warns his followers that they will experience hardships and tribulations in life, but that they can find comfort and fortitude in him.
He exhorts them to have courage and resist giving up because he has triumphed over the world and all its problems.
This verse serves as a reminder that, even under trying conditions, we can find solace and hope in our relationship with Jesus.
John 3:16
For God so loved the world that he gave his one and only Son, that whoever believes in him shall not perish but have eternal life.-
This scripture tells us that God loves us and that he showed that love by sending his Son, Jesus, to die in our place in order to atone for our transgressions.
It also states that if we put our faith in Jesus, we will have eternal life that is, a lasting relationship with God.
The word "world" in John 3:16 refers to everyone, not simply those who believe in Jesus.
This signifies that everyone is a recipient of God's love, regardless of their beliefs or deeds. The text also stresses the need of accepting Jesus as the only path to eternal life.
In general, John 3:16 serves as a potent reminder of God's love and grace and a call to accept the gift of redemption he extends to us.
Romans 12:2
Don't copy the behavior and customs of this world, but let God transform you into a new person by changing the way you think. Then you will learn to know God's will for you, which is good and pleasing and perfect.-
This verse is a reminder to Christians to resist letting the culture around them shape their beliefs and actions and to instead allow the Holy Spirit's regenerating power to change their minds.
In order to undergo this transition, we must let up our ego and our desires and work to align our will with that of God.
We can "test and approve" what is acceptable and pleasant to God by renewing our minds and working to understand and obey His will.
This assists us in leading a life that pleases God and exalts Him. As we strive to spread the love and truth of Christ, it also makes us more effective witnesses to others.
John 14:27
Peace I leave you, My peace I give you; not as the world gives, do I give to you. Do not let your hearts be troubled, nor fearful.-
Jesus is giving his serenity as a present to his disciples in this chapter. This serenity is distinct from the world's peace, which is frequently transient and ephemeral.
Instead, Jesus' peace is a robust peace that can support his followers in being calm and collected during adversity and uncertainty.
He exhorts them to put their faith in him and the serenity he brings rather than being fearful or anxious.
Bible Verses on Different Opinions
Opinions as we know are personal or individual views on a matter. Opinions counts when it comes to decisive motives, different views are prior and strong stand to making the right approach to things. Highlighted below are different text backing this context "different opinions"
2 Corinthians 8:10
And I give a judgment in this matter, for this is profitable for you who not only have begun from a year ago to act, but also to will.-
In this verse, Paul is encouraging the believers in Corinth to generously give to a collection that is being gathered for the believers in Jerusalem who are in need.
Paul is praising the Corinthian believers for their generosity in the letter's context and exhorting them to keep up this spirit of giving.
He stresses that having the desire to contribute is just as vital as really doing it, and he exhorts them to keep having a generous heart.
Thus, this passage serves as a reminder of the significance of being kind and providing for those in need.
It also inspires us to have a giving spirit and to be eager to assist others with our resources.
Proverbs 18:2
A fool takes no pleasure in understanding, but only in expressing his opinion
This proverb serves as a cautionary tale about the perils of being foolish or having poor wisdom or judgment.
It implies that a fool is more interested in expressing their own viewpoint or opinion than understanding a situation or learning more about it.
As the fool is not taking into account all the facts available or attempting to comprehend the perspectives of others, this can result in poor decision-making and disputes with others.
The proverb exhorts the reader to seek knowledge and wisdom as opposed to only expressing their own thoughts.
Romans 14:1
Accept him whose faith is weak, without passing judgment on his opinions.-
Paul is discussing Christians who hold various ideas or practices within the church in this text. Some of these adherents may be "weak in faith," which means they might not entirely comprehend or concur with specific doctrines or practices.
Instead of engaging in debates or discussions with these people over their differences, Paul tells the other believers to embrace and accept them.
The unity and love that should exist inside the church, rather than any particular doctrines or practices that the believers hold, are Paul's primary concerns in this verse.
Even if they hold different viewpoints or beliefs, he exhorts the believers to treat one another with love and acceptance.
This is consistent with Paul's focus on the significance of these things throughout his letters.
Bible Verses about Influencing Others
Influence is the ability to indirectly, but generally significantly, alter or change someone or something. Influencing others could be positive or negative depending on your personality and mindset. The scriptures reiterate this fact of "influence", well stated below;
John 16:13
When the Spirit of truth comes, he will guide you into all truth. He will not speak on his own but will tell you what he has heard. He will tell you about the future.-
Jesus is preparing his followers for his departure and the arrival of the Holy Spirit in his final address to them, which includes this line.
Jesus is promising his disciples in this verse that the Holy Spirit will accompany them and lead them into complete truth.
The Holy Spirit won't speak on his own; rather, he'll merely relay what he hears and let people in on future events.
This verse places a strong emphasis on the Holy Spirit's function as a guide and a source of truth for Christians.
Matthew 18:6
But if you cause one of these little ones who trusts in me to fall into sin, it would be better for you to have a large millstone tied around your neck and be drowned in the depths of the sea.-
This text is frequently taken as a cautionary tale against misguiding or encouraging others to sin. Severe punishment is symbolized by the image of being strangled by a millstone and drowning in the sea.
Jesus is arguing that suffering this punishment would be preferable to causing others to doubt their faith.
This verse can also be read in a broader context as a caution against harming people, especially those who are weak or trusting.
Jesus is highlighting the significance of treating others with care and compassion and the negative effects of doing otherwise.
Bible Lesson on Making a Difference
In James 2:14-17, This verse teaches us that faith without action is meaningless and that it is important to help those in need.
In Matthew 25:35-40, This verse teaches us that helping those in need is an act of service to Jesus himself.
In Galatians 6:9-10, This verse encourages us to persevere in doing good, even when it is difficult, and to prioritize helping others, especially those in our own faith community.