Suffering and trials are a part of human life, and many people turn to the Bible for comfort and guidance during difficult times. The Bible contains numerous verses on suffering and trials that offer hope, encouragement, and strength.
Suffering hurts or irritates us, but it is also a tool God uses to get our attention and accomplish His purposes in our lives. Thus, suffering can be seen as an opportunity for growth and transformation.
Desiring God adds that suffering can come from many sources, including persecution, disease, or natural disaster, and it is a battleground for our souls. The book of Job illustrates two ways to respond to suffering: cursing God or praising God even while suffering. In addition, suffering can prepare us for more glory.
Bible Verses on Suffering and Trials
Consider it pure joy, my brothers and sisters, whenever you face trials of many kinds, because you know that the testing of your faith produces perseverance.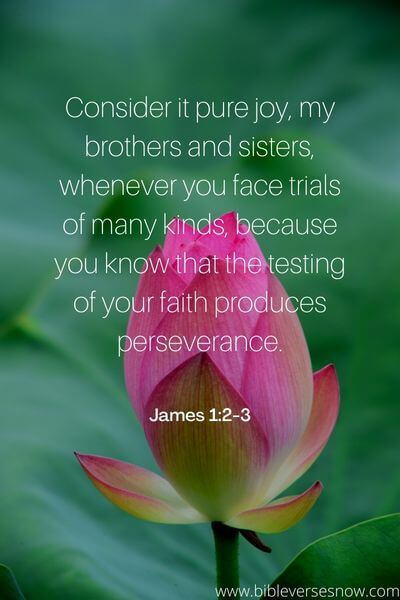 Blessed are you when people insult you, persecute you and falsely say all kinds of evil against you because of me. Rejoice and be glad, because great is your reward in heaven, for in the same way they persecuted the prophets who were before you.
I have told you these things, so that in me you may have peace. In this world you will have trouble. But take heart! I have overcome the world.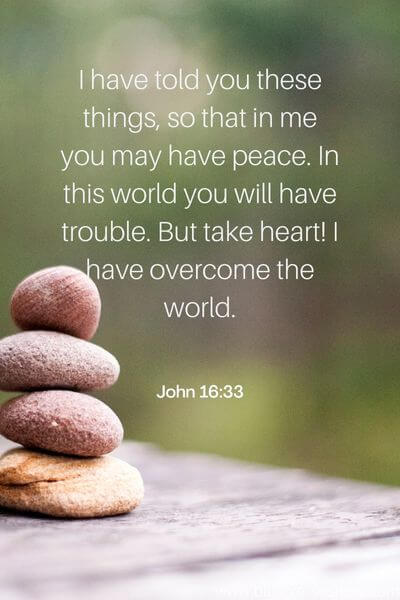 And we know that in all things God works for the good of those who love him, who have been called according to his purpose.
Therefore, since Christ suffered in his body, arm yourselves also with the same attitude, because whoever suffers in the body is done with sin.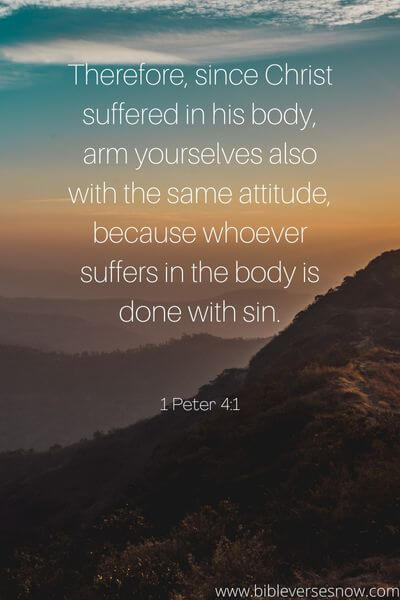 Dear friends, do not be surprised at the fiery ordeal that has come on you to test you, as though something strange were happening to you. But rejoice inasmuch as you participate in the sufferings of Christ, so that you may be overjoyed when his glory is revealed.
But he said to me, 'My grace is sufficient for you, for my power is made perfect in weakness.' Therefore I will boast all the more gladly about my weaknesses, so that Christ's power may rest on me.
For just as we share abundantly in the sufferings of Christ, so also our comfort abounds through Christ.
And not only that, but we also boast in our sufferings, knowing that suffering produces endurance, and endurance produces character, and character produces hope.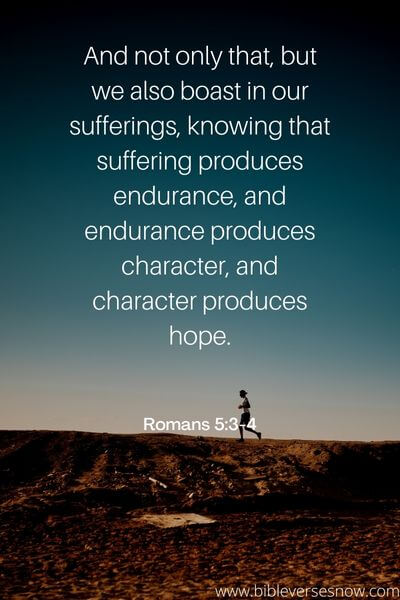 So do not throw away your confidence; it will be richly rewarded. You need to persevere so that when you have done the will of God, you will receive what he has promised.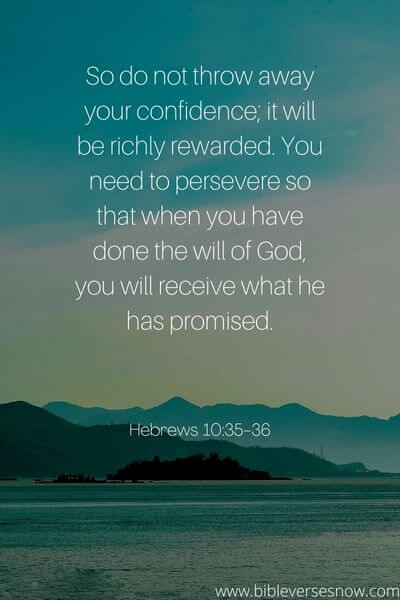 What Does the Bible say about trials and suffering
The Bible has numerous verses about trials and suffering, and many of these verses offer encouragement and hope to those going through difficult times.
Some of the key messages from these verses include the idea that suffering can produce endurance and character, that Christians should expect to face trials and tribulations, and that those who remain steadfast in their faith will ultimately be rewarded.
One of the most well-known verses about trials and suffering is Romans 8:18. This verse reminds Christians that no matter how complex their current circumstances may be, they can have hope and confidence in the promise of eternal life.
Bible verse that talks about trials
11. 2 Corinthians 1:8-10
For we do not want you to be unaware, brethren, of our affliction which came to us in Asia, that we were burdened excessively, beyond our strength, so that we despaired even of life; indeed, we had the sentence of death within ourselves so that we would not trust in ourselves, but in God who raises the dead; who delivered us from so great a peril of death, and will deliver us, He on whom we have set our hope.
12. 2 Corinthians 12:7-10
Because of the surpassing greatness of the revelations, for this reason, to keep me from exalting myself, there was given me a thorn in the flesh, a messenger of Satan to torment me—to keep me from exalting myself! Concerning this I implored the Lord three times that it might leave me.

And He has said to me, "My grace is sufficient for you, for power is perfected in weakness." Most gladly, therefore, I will rather boast about my weaknesses, so that the power of Christ may dwell in me.
13. 1 Corinthians 10:13
No temptation has overtaken you but such as is common to man; and God is faithful, who will not allow you to be tempted beyond what you are able, but with the temptation will provide the way of escape also, so that you will be able to endure it.
14. Matthew 5:10-12
Blessed are those who have been persecuted for the sake of righteousness, for theirs is the kingdom of heaven. "Blessed are you when people insult you and persecute you, and falsely say all kinds of evil against you because of Me. Rejoice and be glad, for your reward in heaven is great; for in the same way they persecuted the prophets who were before you.
15. Malachi 3:3
He will sit as a smelter and purifier of silver, and He will purify the sons of Levi and refine them like gold and silver, so that they may present to the Lord offerings in righteousness.
What does the Bible say about overcoming trials?
The Bible has several verses that talk about overcoming trials. One such verse is 1 Peter 5:10. Another verse, James 1:12 and encourages us to persevere through trials.
The Bible also acknowledges that suffering and trials are a part of the Christian life. In 2 Timothy 3:12. Additionally, 1 Peter 4:12-13 encourages us not to be surprised when we face trials but to rejoice in the opportunity to share in Christ's sufferings.
Despite our difficulties, the Bible assures us that God loves His children and works all things together for their good (Romans 8:28). Trials and tribulations are not simply difficulties but an opportunity to mature in Christ and strengthen our faith.
Ultimately, with God's help, we can overcome trials and emerge stronger and more faithful on the other side.
Bible Verses for Suffering
16. 2 Corinthians 1:3-4
Praise be to the God and Father of our Lord Jesus Christ, the Father of compassion and the God of all comfort, who comforts us in all our troubles, so that we can comfort those in any trouble with the comfort we ourselves receive from God.
17. Romans 8:18
I consider that our present sufferings are not worth comparing with the glory that will be revealed in us.
18. Psalm 34:19
The righteous person may have many troubles,
but the Lord delivers him from them all.
19. 2 Corinthians 4:17
For our light and momentary troubles are achieving for us an eternal glory that far outweighs them all.
20. Romans 8:35
Who shall separate us from the love of Christ? Shall trouble or hardship or persecution or famine or nakedness or danger or sword?
21. 1 Peter 4:1
Therefore, since Christ suffered in his body, arm yourselves also with the same attitude, because whoever suffers in the body is done with sin.
22. 1 Peter 3:14
But even if you should suffer for what is right, you are blessed. "Do not fear their threats; do not be frightened."
23. Philippians 1:29
For it has been granted to you on behalf of Christ not only to believe in him, but also to suffer for him.
What does God say about trials?
The Bible has several verses that offer insights into God's perspective on trials. One such verse is James 1:2-4.
Another verse that offers encouragement in the face of trials is Proverbs 3:5-6, which advises us to trust in the Lord with all our hearts and not to rely on our understanding.
Moreover, the Bible teaches that God is still in control even when we face trials and that He wants us to trust Him so that we can mature.
Romans 5:3-5 also reminds us that trials can lead to character development and deepening our faith.
While facing trials can be challenging, the Bible assures us that God is with us and can use our struggles to strengthen our faith and character.
Bible Verses about Trials and Struggles
24. 1 John 5:4
For everyone born of God overcomes the world. This is the victory that has overcome the world, even our faith.
25. Hebrews 12:1
Therefore, since we are surrounded by such a great cloud of witnesses, let us throw off everything that hinders and the sin that so easily entangles. And let us run with perseverance the race marked out for us.
26. John 1:5
The light shines in the darkness, and the darkness has not overcome it.
27. 1 Timothy 6:12
Fight the good fight of the faith. Take hold of the eternal life to which you were called when you made your good confession in the presence of many witnesses.
28. 1 John 4:4
You, dear children, are from God and have overcome them, because the one who is in you is greater than the one who is in the world.
29. 1 John 1:9
If we confess our sins, He is faithful and just to forgive us our sins, and to cleanse us from all unrighteousness.
30. Revelation 3:20
Look! I'm standing at the door and knocking. If any hear my voice and open the door, I will come in to be with them, and will have dinner with them, and they will have dinner with me.
Suffering can take many forms, such as financial hardship, physical problems, and relationship issues. However, it is believed that God allows suffering for a reason and purpose, which may not always be immediately evident.
The purpose of trials is to test our faith, humility, submission, and values. We can either resist God and waste our difficulties or benefit by trusting and depending on Him, leading to spiritual maturity and eternal rewards.