Many situations in life call for patience. It is not just a quality of the young to be patient. If getting married is something you really want, waiting for it is not an easy effort.
You can utilize the different Bible verses on waiting for marriage as guidance to wait until the right time comes, with God's guidance.
Marriage is a timeless notion. Marriage, also known as matrimony or wedlock, is a culturally, religiously, and legally recognized relationship between two persons(male and female) known as spouses. It specifies their rights and duties, as well as their rights and obligations to their children and in-laws. It is regarded as a cultural universal.
God defined marriage from the beginning as one man and one woman united together, oneness, indivisibility, and the union that occurs. Marriage is a God-given blessing that enriches and fulfills our lives.
Best Bible Verses on Waiting for Marriage
Genesis 1:27-28 KJV
So God created man in his own image, in the image of God created he him; male and female created he them. And God blessed them, and God said unto them, Be fruitful, and multiply, and replenish the earth, and subdue it: and have dominion over the fish of the sea, and over the fowl of the air, and over every living thing that moveth upon the earth.-
The Bible goes on to state that when God created Eve "He took her to the man. 'This is now bone of my bones and flesh of my flesh,' Adam remarked.
As a result, a man will leave his father and mother and marry his wife, and they will become one flesh. It's worth noting that God arranged the first marriage in Eden.
Marriage is a gift from God. And His marriage to Eve exemplifies God's vision for the marriage of one man and one woman.
Genesis 2:24 KJV
Therefore shall a man leave his father and his mother, and shall cleave unto his wife: and they shall be one flesh.-
Marriage entails spiritual, emotional, and physical intimacy. "Therefore shall a man leave his father and his mother, and shall cleave unto his wife: and they shall be one flesh. Married couples are supposed to be linked in every manner.
It is a man's destiny to abandon his parents by transferring his devotion from them to his bride.
Providing for, living with, and caring for her must take precedence over providing for and caring for his parents.
He must be steadfast in his devotion to his wife. There is an implied covenant or contract. The husband's dedication must be unwavering, and the two will become one flesh.
Bible Verses For Singles Who Want To Get Married
Romans 12:1
I beseech you therefore, brethren, by the mercies of God, that ye present your bodies a living sacrifice, holy, acceptable unto God, which is your reasonable service.-
Paul argues that, just as the Jews presented sacrificed animals to God, Christians should offer themselves, our bodies, to Him as living sacrifices.
In other words, the only reasonable response to God's kindness in bestowing everlasting life on us is to offer our lives as a sacrifice for Him to utilize for His purposes right now, by holiness.
1 Corinthians 6:20 KJV
For ye are bought with a price: therefore glorify God in your body, and in your spirit, which are God's.-
Paul now continues his discussion of why it is important for Christians to avoid sexual immorality. His final argument, which he began in the preceding verse, is that Christians do not belong to themselves. God paid for our salvation. We are instructed to praise God with our bodies.
Bible Verses about Waiting for the Right Person
Ephesians 5:31-32 KJV
For this cause shall a man leave his father and mother, and shall be joined unto his wife, and they two shall be one flesh. This is a great mystery: but I speak concerning Christ and the church.-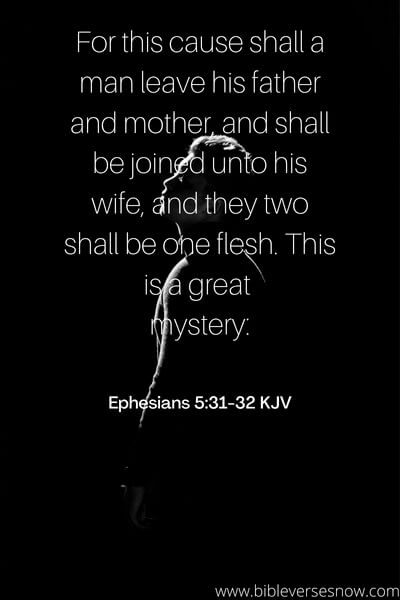 Marriage is also a metaphor that prominently illustrates the gospel. Marriage is a "secondary ordinance" because of God's grace, and it acts as a visual aid and a physical reminder of the gospel by contrasting God's connection with us to a husband's relationship with his wife.
Scriptures on Marrying the Right Person
Judges 14: 2-3
And he came up, and told his father and his mother, and said, I have seen a woman in Timnath of the daughters of the Philistines: now therefore get her for me to wife. Then his father and his mother said unto him, Is there never a woman among the daughters of thy brethren, or among all my people, that thou goest to take a wife of the uncircumcised Philistines? And Samson said unto his father, Get her for me; for she pleaseth me well.-
Love, at first sight, is a powerful, yet perilous, force. It is perfectly conceivable for us to fall in love with someone we have no business falling in love with, as Samson did in this case.

In addition, while love, at first sight, is lovely, it does not persist forever in its first form.
We may be drawn to the sensation of love itself rather than the person on whom we are fixated at first glance. 
Marriage is a thing of destiny. Marrying a person would go a long way to impact how we fulfill our destiny.

The admonition to the Israelites not to intermarry with the pagan countries around them applies to Christians today in the sense that a Christian must not marry someone who is not a Christian, thereby merging themselves with an unbeliever.

No matter Samson's plan to fight the Philistines, using his destiny(marriage) as a fulcrum was not in accordance with the instruction given to the Israelites.

Proverbs 31:10 KJV
Who can find a virtuous woman? for her price is far above rubies.-
This verse depicts the ideal lady as the greatest model of a good wife and mother. She is not born in this state; she achieves it via a process of refining, which is the work of the Holy Spirit.
A woman who desires to serve God aspires to be like this ideal model. The Bible says, they that wait" if you wait you will eat the fruit of the land
Waiting for Marriage As A Christian
Patience is a fruit of the Holy Spirit. Do not be conformed to this world, but be transformed, changed, be different. Waiting means you're holding on to time. Time is the unit measurement for destiny.
1 Cor. 6:19-20 
What? know ye not that your body is the temple of the Holy Ghost which is in you, which ye have of God, and ye are not your own? For ye are bought with a price: therefore glorify God in your body, and in your spirit, which are God's.-
The Bible says that we should reserve sexual intimacy for marriage for no other reason than that we belong to God if we are Christians.
Intercourse outside of marriage is not only a sin against ourselves and our partners, but it is also a deceptive portrayal of God and a terrible distortion of the closeness he designed to depict the everlasting intimacy of the Trinity itself.
John 15:12-13
This is my commandment, That ye love one another, as I have loved you. Greater love hath no man than this, that a man lay down his life for his friends.-
God is love and we who are His children must love just as the Father. It is a command. However, be compassionate and assist them in some manner.
God hath commanded us to love. Love is the greatest commandment. Love your neighbor even as yourself. God is love, and as His children, we must emulate the Father in our love.
Staying Pure Until Marriage Bible Verse
Hebrews 13:4
Marriage is honourable in all, and the bed undefiled: but whoremongers and adulterers God will judge.-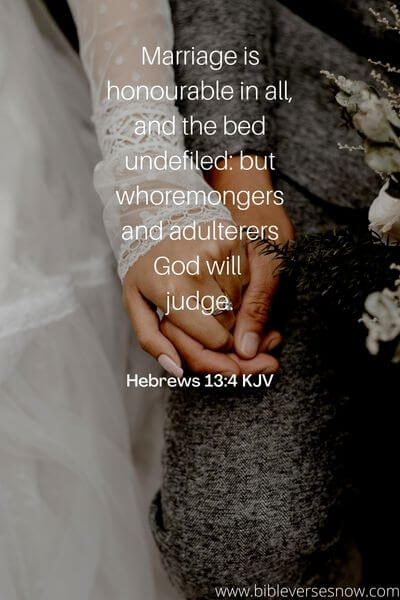 Marriage is respected by everybody, and the bed is untainted. The Greek term translated "undefiled" is only used in this same form four times in the New Testament, and it signifies "uncontaminated" or "set apart.
Sexual intimacy between a husband and wife is only to be kept between the pair.
The sexual relationship between a husband and a wife was formed by God.
In other words, sex before marriage is fornication.
Mark 10:6-9
But from the beginning of the creation God made them male and female. For this cause shall a man leave his father and mother, and cleave to his wife; And they twain shall be one flesh: so then they are no more twain, but one flesh. What therefore God hath joined together, let not man put asunder.-
How do we Stay Pure until Marriage and in Marriage?
Fornication: When two unmarried individuals have sexual relations, they defile God's excellent gift of sex.
Leviticus 20:13 KJV
If a man also lie with mankind, as he lieth with a woman, both of them have committed an abomination: they shall surely be put to death; their blood shall be upon them.-
Homosexuality: Another pollution of the marriage bed is men having sex with men or women having sex with women. (Leviticus 20:13)
Adultery: When a person who is already married has sexual relations with someone else. or when a person who is married goes to marry someone. (Matthew 5:32)
In conclusion, the subject of waiting until marriage is irrelevant because their ultimate goal is to avoid having any sexual relations at all. Others, though, may find it to be a very significant worry.
The Bible declares that having sex when in a committed relationship is acceptable (1 Corinthians 7:5), but we are not to depart from this principle (1 Corinthians 6:18). The plain message from God's Word is that we should wait until marriage.
Is it usually simple? Definitely not. In fact, it might be difficult. Your failure? No doubt. You'll keep trying and failing until you succeed. Your task is to just continue adhering to what God has revealed in His Word.