Monday is the first day of the week, so starting the week with a bounteous blessing is the best way to ensure that the rest of the week goes according to plan.
It is often seen that the first activities of the day determine how the rest of the day is programmed to work.
The same applies to the days of the week, and that is why it's good to start the week on a good foot one of the best ways to kickstart the week is to start it with God.
So many churches have made provision for daily devotions on how to schedule their spiritual exercises for the week in other to attract the due blessings accompanying such.
 God commanded we first seek his kingdom and its righteousness and all other things which include the weekly blessings will be added unto us.
Starting the week with God has already guaranteed the week's remaining days and made provisions for its blessings.
Monday blessings Bible Verses
And to every beast of the earth, and to every fowl of the air, and to everything that creepeth upon the earth, wherein there is life, I have given every green herb for meat: and it was so.-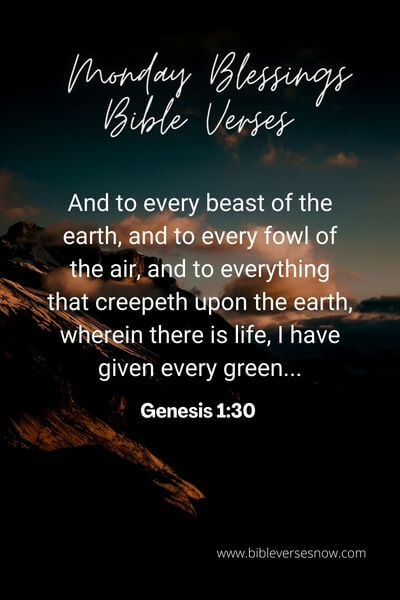 I can do all things through Christ which strengtheneth me.-
Trust in the Lord with all thine heart; and lean not unto thine own understanding. In all thy ways acknowledge him, and he shall direct thy paths.-
And the Lord, he it is that doth go before thee; he will be with thee, he will not fail thee, neither forsake thee: fear not, neither be dismayed.
Fear thou not; for I am with thee: be not dismayed; for I am thy God: I will strengthen thee; yea, I will help thee; yea, I will uphold thee with the right hand of my righteousness.-
But seek ye first the kingdom of God, and his righteousness; and all these things shall be added unto you.
Every good gift and every perfect gift is from above, and cometh down from the Father of lights, with whom is no variableness, neither shadow of turning.-
And God is able to make all grace abound toward you; that ye, always having all sufficiency in all things, may abound to every good work: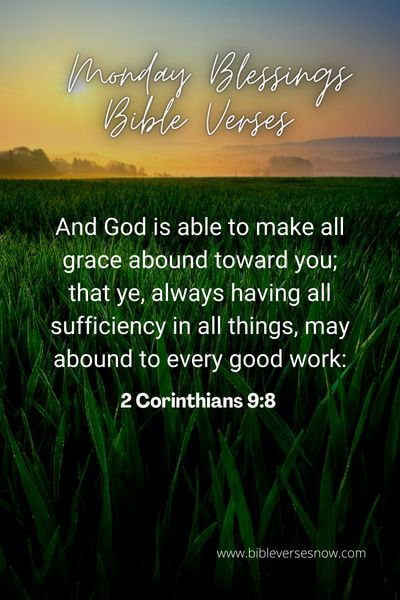 Casting all your care upon him; for he careth for you.-
This is the day which the Lord hath made; we will rejoice and be glad in it.-
Commit thy works unto the Lord, and thy thoughts shall be established.-
And the Lord shall guide thee continually, and satisfy thy soul in drought, and make fat thy bones: and thou shalt be like a watered garden, and like a spring of water, whose waters fail not.-
But my God shall supply all your need according to his riches in glory by Christ Jesus.-
Blessed shalt thou be when thou comest in, and blessed shalt thou be when thou goest out.-
The blessing of the Lord, it maketh rich, and he addeth no sorrow with it.-
Blessed be the God and Father of our Lord Jesus Christ, who hath blessed us with all spiritual blessings in heavenly places in Christ:-
The Lord bless thee, and keep thee: 

The Lord make his face shine upon thee, and be gracious unto thee: 

The Lord lift up his countenance upon thee, and give thee peace.-
Blessed is the man that trusteth in the Lord, and whose hope the Lord is. For he shall be as a tree planted by the waters, and that spreadeth out her roots by the river, and shall not see when heat cometh, but her leaf shall be green; and shall not be careful in the year of drought, neither shall cease from yielding fruit.-
Grant thee according to thine own heart, and fulfil all thy counsel.-
Jeremiah 29:11 
For I know the thoughts that I think toward you, saith the Lord, thoughts of peace, and not of evil, to give you an expected end.-

Exodus 23:25 

And ye shall serve the Lord your God, and he shall bless thy bread, and thy water; and I will take sickness away from the midst of thee.-
O taste and see that the Lord is good: blessed is the man that trusteth in him.-
In that I command thee this day to love the Lord thy God, to walk in his ways, and to keep his commandments and his statutes and his judgments, that thou mayest live and multiply: and the Lord thy God shall bless thee in the land whither thou goest to possess it.-
The Lord is my shepherd; I shall not want. 

He maketh me to lie down in green pastures: he leadeth me beside the still waters.-
He that handleth a matter wisely shall find good: and whoso trusteth in the Lord, happy is he.-
Oh how great is thy goodness, which thou hast laid up for them that fear thee; which thou hast wrought for them that trust in thee before the sons of men.-
The grace of our Lord Jesus Christ be with your spirit. Amen.-
But I say unto you which hear, Love your enemies, do good to them which hate you,  Bless them that curse you, and pray for them which despitefully use you.-
Not rendering evil for evil, or railing for railing: but contrariwise blessing; knowing that ye are thereunto called, that ye should inherit a blessing.-
And it shall come to pass, if thou shalt hearken diligently unto the voice of the Lord thy God, to observe and to do all his commandments which I command thee this day, that the Lord thy God will set thee on high above all nations of the earth:-
Beloved, I wish above all things that thou mayest prosper and be in health, even as thy soul prospereth.-
Blessed are they that keep his testimonies, and that seek him with the whole heart.-
Bring ye all the tithes into the storehouse, that there may be meat in mine house, and prove me now herewith, saith the Lord of hosts, if I will not open you the windows of heaven, and pour you out a blessing, that there shall not be room enough to receive it.-
Blessed are the peacemakers: for they shall be called the children of God.-
Blessed is the man that walketh not in the counsel of the ungodly, nor standeth in the way of sinners, nor sitteth in the seat of the scornful.-
For the Lord thy God blesseth thee, as he promised thee: and thou shalt lend unto many nations, but thou shalt not borrow; and thou shalt reign over many nations, but they shall not reign over thee.-
Bible Verses for More Blessings
Being enriched in every thing to all bountifulness, which causeth through us thanksgiving to God.-
Be not wise in thine own eyes: fear the Lord, and depart from evil. [8] It shall be health to thy navel, and marrow to thy bones.-
God shall bless us; and all the ends of the earth shall fear him.-
For the Lord taketh pleasure in his people: he will beautify the meek with salvation.-
Blessed are the pure in heart: for they shall see God.-
This book of the law shall not depart out of thy mouth; but thou shalt meditate therein day and night, that thou mayest observe to do according to all that is written therein: for then thou shalt make thy way prosperous, and then thou shalt have good success.-
The Lord will give strength unto his people; the Lord will bless his people with peace.-
Whoso findeth a wife findeth a good thing, and obtaineth favour of the Lord.-

And I will make them and the places round about my hill a blessing; and I will cause the shower to come down in his season; there shall be showers of blessing.-
Monday Morning Prayers For the Week
The Monday morning prayers can take this format,
First, thank and acknowledge God for helping you see the light of the day and ushering you into a new week, and thank him for the new week and the opportunities it brings.
Plead for his guidance me and strength to face whatever challenges that might come your way.
Asking him to help you be kind, patient, and understanding with those around you, and to always act with love and integrity.
Ask him to Bless my handwork, relationships, and all that you do this week.
Pray for peace, joy, and prosperity for yourself and for all those you love. Amen