The Bible gives us a thorough description of Satan, including his characteristics, deeds, and future.
The Devil, also known as Satan, is the adversary of God and is the leader of fallen angels known as demons. His ultimate goal is to lead people away from God and to deceive as many as possible.
He seeks to deceive, accuse, and oppress those who follow God and to bring destruction and chaos to the world. He uses various tactics to accomplish his plans, such as sowing seeds of doubt and temptation, false teaching, and creating divisions and chaos.
The Bible also makes it clear that Satan will be defeated by God. In the end, Satan will be cast into the lake of fire, where he will be punished for eternity
What the devil meant for evil bible verse
Since Satan always does wicked things, we can say of all of his deeds in this world that "he meant it for evil, but God meant it for good" (Genesis 50:20).
When Satan wills something, he does it with the ultimate goal of bringing God's people to ruin and bringing down God's glory. God's purpose in allowing Satan to function in that way is for his glory and the ultimate benefit of his people.
1 John 3:8
The one who does what is sinful is of the devil, because the devil has been sinning from the beginning. The reason the Son of God appeared was to destroy the devil's work.-
God's children are meant to live in righteousness. It says that the one who commits sin is of the devil, for the devil has sinned from the beginning.
The Son of God was revealed for this purpose: to destroy the Devil's works and to renounce sin.
Therefore, the devil is meant for evil, to tempt and lead people away from the path of righteousness.
Matthew 16:23
Jesus turned and said to Peter, "Get behind me, Satan! You are a stumbling block to me; you do not have in mind the concerns of God, but merely human concerns.-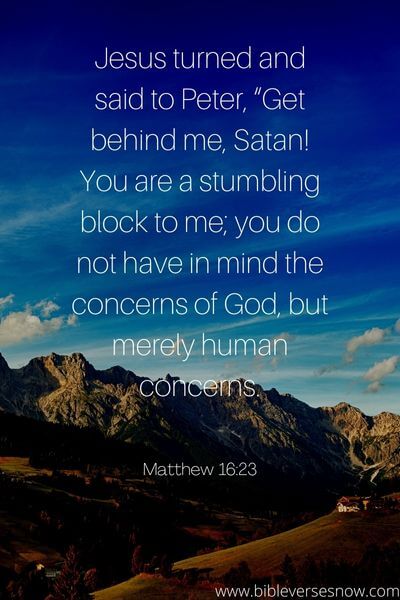 Jesus is rebuking Peter for trying to prevent him from going to Jerusalem to suffer and be crucified.
Jesus says to Peter, "Get behind me, Satan! You are a hindrance to me. For you are not setting your mind on the things of God, but on the things of man.
Jesus is not saying that Peter is literally the devil, but rather that Peter's actions are motivated by a mindset that is opposed to God's plan.
Jesus is telling Peter that his thoughts and actions are being influenced by an evil force, which in this context is the devil.
What Does The Bible Say About The Devil
The Bible says a lot about the devil, including his origin, his nature, his power, and his ultimate defeat.
The New Testament presents the devil as the supreme evil being of the universe and the enemy of both God and mankind.
2 Corinthians 11:3
But I am afraid that as the serpent deceived Eve by his cunning, your thoughts will be led astray from a sincere and pure devotion to Christ.-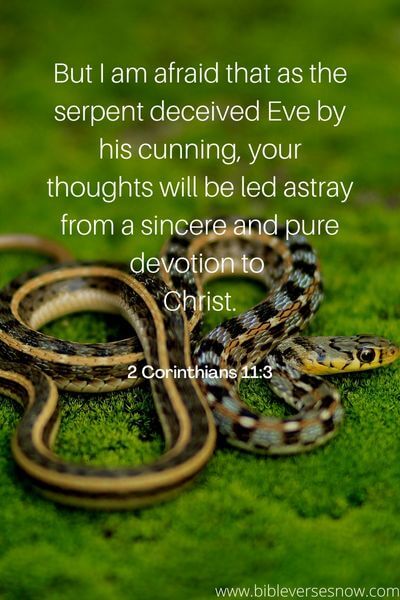 According to this verse, the bible describes the devil as a deceiver. The devil is seen as a deceiver because of his ability to manipulate and deceive people, and his desire to lead them away from God.
The Bible encourages people to be vigilant and to resist Satan's deceits by staying close to God and being grounded in the truth of the Gospel.
Revelation 12:10
And I heard a loud voice saying in heaven, Now is come salvation, and strength, and the kingdom of our God, and the power of his Christ: for the accuser of our brethren is cast down, which accused them before our God day and night.-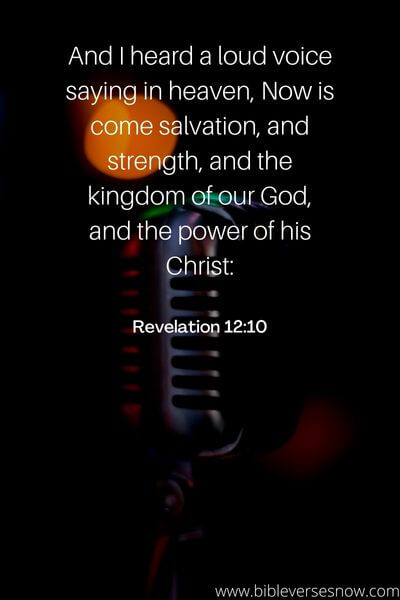 Just as in the account of Job, the devil has many evil handworks one of which includes accusing the Children of God.
In this verse, John is referring to Satan as the accuser of the brothers. Satan is making accusations and charges against those who come to God.
However, these accusations mean nothing because Jesus has already paid the price for their sins.
What Did God Say About Evil
In Christianity, it is believed that evil is the result of humanity's rejection of God and sinful nature and that God will ultimately triumph over evil through the redemption of humanity through Jesus Christ.
Moral evil is not created by God; rather, it is defined by His holiness. We have a duty to make moral decisions that satisfy God and follow His will since we bear His image.
Being God's offspring, we walk in accordance with his instruction to "overcome evil with good deeds."
In the Bible, God speaks out against evil in many passages
Isaiah 45:7
I form the light, and create darkness: I make peace, and create evil: I the LORD do all these things.-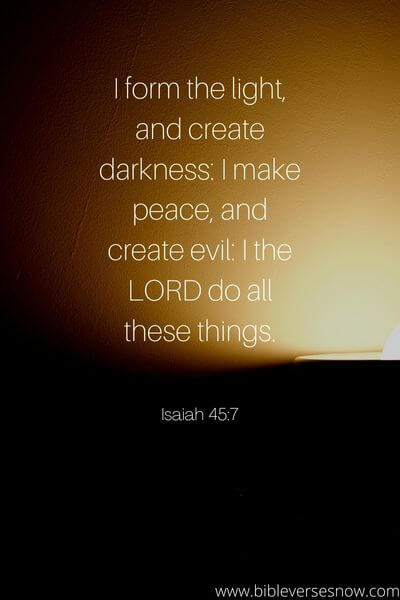 This verse is often misunderstood to mean that God is the author of evil. However, God is not the author of evil; rather, He is the ultimate power over evil. He is able to take evil and use it for good.
In a world where evil occurs constantly, God is saying in the verse that He has sovereignty over the world and everything that happens within it, including the actions of people and the consequences of those actions.
John 12:31
Now is the judgment of this world; now the ruler of this world will be cast out.-
Jesus is referring to Satan as the ruler of this world because the devil has been given authority over the world and its inhabitants.
Jesus is proclaiming that Satan and his kingdom of darkness will be judged and cast out because Jesus has conquered sin and death, and the power of Satan over the world has been broken.
Through the death and resurrection of Jesus, the devil has been defeated and the Kingdom of God is being restored.
Jesus is therefore proclaiming victory over evil because He has broken the power of Satan, and He is restoring the Kingdom of God.
What The Devil Intended For Evil Bible Verse
The devil always has a negative intent as his impact from the beginning of creation has never been a good one.
The devil's intention for evil is to lead people away from God and His truth. The devil wants to lead people into sin and corruption, and away from righteousness and holiness.
He also wants to steal, kill, and destroy the plans and purposes God has for His children.
The devil wants to deceive and manipulate people into believing lies and rejecting the truth.
He wants to sow discord, pride, and hatred among God's people. Ultimately, the devil wants to take as many people as possible away from God and into spiritual death and destruction.
John 10:10
The thief comes only to steal and kill and destroy; I have come that they may have life, and have it to the full.-
The devil's ultimate intent according to this verse is to cause harm, destruction, and death.
He is a thief who wants to take away what is valuable and important to us. He wants to steal our joy, kill our hope, and destroy our relationships.
The devil's intention and the intention of God are different. While the devil work's only to cause harm, Jesus's intentions are to bring life and abundance.
Jesus is saying that he is the opposite of the devil and that his mission is to bring salvation and healing.
Ephesians 6:11-12
Put on the full armor of God, so that you can take your stand against the devil's schemes. For our struggle is not against flesh and blood, but against the rulers, against the authorities, against the powers of this dark world and against the spiritual forces of evil in the heavenly realms.-
Paul describes the spiritual battle that believers are in and the need to put on the full armor of God to be able to stand against the devil's schemes.
The devil's intentions are to deceive and oppose humanity, and believers must be prepared to fight against these schemes by relying on God's protection and guidance.
Bible Verse What The Devil Meant For Evil God Meant For Good
The devil is meant for evil because he is a spiritual being who rebelled against God and leads a spiritual kingdom composed of demonic powers who oppose God's purposes.
In contrast, God is meant for good because He is the Creator of all things and He is the source of all love, joy, peace, and hope.
Romans 8:28
And we know that for those who love God all things work together for good, for those who are called according to his purpose.-
God has a purpose for everything that happens in the lives of believers, who are called according to His purpose.
It means that God has a plan and a reason for everything, and even when things happen that we don't understand, we can trust that God is working for our good.
John 10:10
The thief comes only to steal and kill and destroy; I have come that they may have life, and have it to the full.-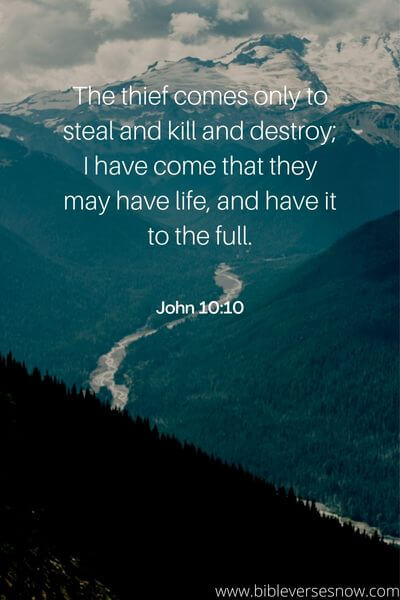 In this verse, Jesus is contrasting Himself with the devil who comes in the form of a thief, to steal and kill and destroy, while Jesus has come to give us life and have it to the full.
Jesus is offering us abundant life, which includes not only physical life but also spiritual life, a life of joy and peace, and purpose. Jesus is offering us life in all its fullness, a life that will never end.
What The Devil Meant For Evil God Uses For Good Bible verse
The phrase "what the devil meant for evil, God uses for good" is a reference to the idea that even when bad things happen, God can ultimately use them for good.
This belief is rooted in the idea that God is sovereign and in control of all things, and that He has a plan and purpose for everything that happens in our lives.
This belief is rooted in the idea that God is all-knowing, all-powerful, and all-good, and that He can bring good out of any situation.
Even when the devil intends to harm us, God can use that situation to bring about a greater good, to teach us valuable lessons, to grow our faith, and to bring glory to His name.
Genesis 50:20
You intended to harm me, but God intended it for good to accomplish what is now being done, the saving of many lives.-
Genesis 50:20 refers to the story of Joseph. Joseph's brothers had intended to do him harm out of jealousy and hatred, but God used their evil intentions for good.
God used the situation to bring about the preservation of many people by saving the nation of Israel from famine.
This phrase is a reminder that God is sovereign, and He can and will use even the darkest and most evil of intentions to bring about His good and perfect will.
2 Corinthians 4:8-9
We are hard pressed on every side, but not crushed; perplexed, but not in despair; persecuted, but not abandoned; struck down, but not destroyed.-
This passage is referring to the struggles and difficulties that the apostle Paul and the early Christians faced.
The verse suggests that even in the midst of difficult circumstances, God can bring about good. Even in the most difficult circumstances, God is with us and will bring good out of us.
What The Devil Meant For Evil, God Turned to Good Scripture KJV
Despite the fact that God is not the cause of the evil in the world and despite the fact that He frequently decides to shelter and protect us from the evil attacks of the enemy on our lives, occasionally.
He directs us through difficult times. And it will never abandon us there aimlessly.
Whatever we may go through, as challenging as it may be, there will always be a reason and a ray of optimism in his eyes. He is always trustworthy to do more good.
Genesis 45:5 KJV
Now therefore be not grieved, nor angry with yourselves, that ye sold me hither: for God did send me before you to preserve life.-
God always has a greater purpose for us like Joseph, who has been sold into slavery by his brothers and has risen to a position of power in Egypt.
This verse reminded us that God is in control and that He can use even the worst situations for good.
It also shows Joseph's forgiveness towards his brothers, he is not angry or grieved for what they did, He understands that everything happened for a greater purpose.
Jeremiah 29:11
For I know the thoughts that I think toward you, saith the Lord, thoughts of peace, and not of evil, to give you an expected end.-
God has a good plan for His people, despite any difficult or evil circumstances they may be facing.
In the context of the verse, it is written to the Israelites who were in exile, and God is assuring them that He still has a plan for their future and that it will be a good one.
What The Enemy Meant For Evil God Will Turn it Around
when something bad happens, God has the power to take that situation and use it for good.
It is a reminder of the belief that God is sovereign and in control of all things, even when things may seem difficult or unfair.
This reminder can give you hope if you are going through a challenging time right now. God will make things better.
Somehow. He is true to what He said, and He loves you dearly. Never question his ability to help you.
You will cross the black area to the opposite side. Who knows, maybe because of your challenging season of hardship, a great number of lives may be impacted for the sake of the kingdom.