In this article, our focus shall be on long prayers in the Bible. For a comprehensive read, We shall consider the following: What is Prayer? Which is the longest prayer in the Bible? Does God like long prayers? What does the Bible say about long prayer? How should we pray?
WHAT IS PRAYER?
The term "Prayer" is one of the most frequently used words in Christendom. Praying is an integral part of human behavior as we tend to make various requests from family, friends, and associates. Pray as a word has many synonyms including "request" thus making it an active verb in human communication.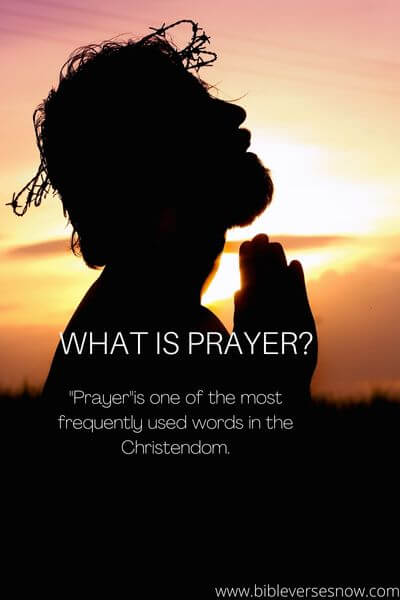 Be careful for nothing; but in every thing by prayer and supplication with thanksgiving let your requests be made known unto God.-

Philipians 4:6 KJV
However, prayer as used in Christendom could be defined as a solemn request and supplication, thanksgiving (Phil.4:6), and a verbal expression of repentance to God. The synonyms in this regard include intercession and devotion. Even invocation which is most commonly used among mysticists to communicate with their benefactor or deity is also a form of prayer. Hence, prayer is a channel of communication between an adherent(s) and the object of worship, be it the supreme God or other deities.
DOES THE BIBLE SAY ANYTHING ABOUT LONG PRAYER?
The simple answer to the above is yes! Though the Bible does not outrightly support or condemn long prayer. Jesus, in his admonition to his disciples on their request that he teach them how to pray like John the Baptist who taught his followers, responded in Matthew 6:7 "But when ye pray, use not vain repetitions, as the heathen do: for they think that they shall be heard for their much speaking" (Kjv Matt.6:7). From the above we can infer that long prayers encourage vain repetitions.
WHAT DOES THE BIBLE SAY ABOUT LONG PRAYER?
While Jesus Christ was about teaching his disciples how to pray, e began by admonishing them on how not to pray. He laid emphasis on vain repetitions and charged the disciples to watch against it.
His reasons were; (a) that was how the heathens prayed,(b) because they taught that many words move God to act. But God, Christ assured his disciples, already knows our problems and will act according to His will. (Matt.6:7-8).
However, there are instances in the Bible where long prayers were offered both in the old and the new testaments. Let us consider those instances below.
LONGEST PRAYERS IN THE BIBLE
Prayers are offered based on the heaviness of the heart and the Level of gratitude one has to present to God. The duration of prayer could be determined by many factors including the conditions and circumstances that warrant the prayer. For instance, the longest prayer recorded in the Bible in Nehemiah 9:5-38 with about 1,213 words, was necessary due to the situation at hand.
In that Bible chapter, the congregation of Israelites after returning from captivity repented from the sins that brought such divine punishment on them. In a solemn assembly, confessed and plead with God and pledged to turn away from their evil ways. (Read Nehemiah 9:5-38).
Solomon in his supplication to God and intercession on the behalf of the children of Israel offered a long prayer numbering about 1,079 words (1kings 8:23-53).
Apart from the above examples drawn from the old testament, there's also an example in the New Testament where Jesus Christ himself offered a long prayer. In the gospel of John chapter 17 from verses 1 to 26, Jesus said a prayer of protection and blessings to God for his followers as he was approaching the end of his stay with them physically on earth.
The prayer has come to be designated "the farewell prayer." Taking a whole chapter, it is the longest prayer in the New Testament and the third longest prayer in the whole Bible after King Solomon's prayer already referred to above. Again, Jesus, on the night of his arrest, prayed until the sweat on his body became blood. (Luke 22:44).
WHO PRAYED THE LONGEST PRAYER IN THE BIBLE?
Then the Levites, Jeshua, and Kadmiel, Bani, Hashabniah, Sherebiah, Hodijah, Shebaniah, and Pethahiah, said, Stand up and bless the Lord your God for ever and ever: and blessed be thy glorious name, which is exalted above all blessing and praise.-

Nehemiah.9:5 KJV
The book of Nehemiah 9 marks the first recorded longest prayer in the Bible. It was offered by the children of Israel led by their elders, the Levites, namely; Jesh'u-a, Kad'mi-el, Ba'ni, Hash-ab-ni'ah, Sher-e-bi'ah, Ho-di'jah, Sheb-a-ni'ah, and Peth-a-hi'ah (Neh.9:5). Solomon also offered an individual intercession prayer for Israel which seconded the congregational prayer in the number of words,(1kings 8:23-53) being about 134 words shorter than the prayer recorded in Nehemiah chapter 9.
The third longest prayer recorded in the Bible was offered by Jesus on one of the last days of his crucifixion. (John 17:1-26).In that prayer, Jesus committed his disciples to God the Father for protection and sanctification. It was a farewell prayer and a parting assurance.
From the above instances, one would ask, does God like long prayers? Does He answer long prayers? These are answered below.
DOES GOD LIKE LONG PRAYER?
Since the Bible is not explicit about the issue of God liking or disliking long prayers, it would be safe to answer that God sees our hearts and answers prayers according to His will. But should we wonder if God answers long prayers?
The answer is yes, God answers long prayers! He answered the children of Israel, Solomon, and Jesus Christ by harkening to all the requests they at various tabled before him.
But when ye pray, use not vain repetitions, as the heathen do: for they think that they shall be heard for their much speaking. Be not ye, therefore, like unto them: for your Father knoweth what things ye have need of, before ye ask him-

Matthew 6:7-8 KJV
However, in the New Testament, God through his son Jesus Christ, teaches us how to pray and warns against making our prayers deliberately long. . Jesus Christ particularly rebuked the Scribes who in "pretense make long Prayers" and shall so receive condemnation. (Matt. 23:14, Mark 12:40, Luke 20:47).
Having known this, we can safely conclude that God wants us to pray. But how should we pray?
HOW SHOULD WE PRAY?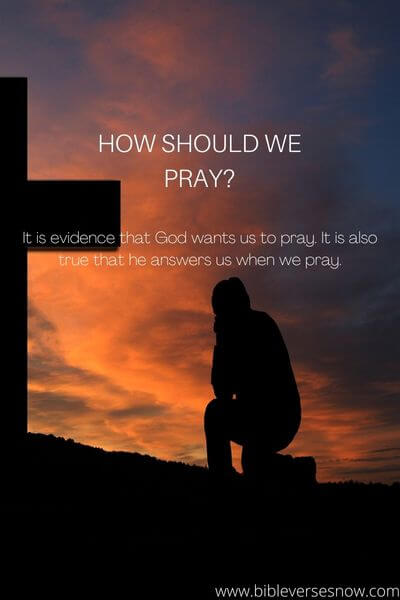 It is evidence that God wants us to pray. It is also true that he answers us when we pray. How then should we pray?
While praying, we are to guard against portraying ourselves as righteous before God.
2. We should not pray with the motive of showing others how much of a Christian we are.
3. But with humble adoration make supplication for he cares(phil.4:6)
4. And make a deliberate effort at avoiding vain repetitions (Matt.6:7) for God already knows our needs.
Prayers are a religious obligation demanded of all Christians (Luke 11:9, Luke 18:1, Phil. 4:6, John 16:24.)